Controlling the Spread of European Water Chestnut and Parrot Feather in Ontario
April 21, 2020 @ 11:00 am

-

12:00 pm

Free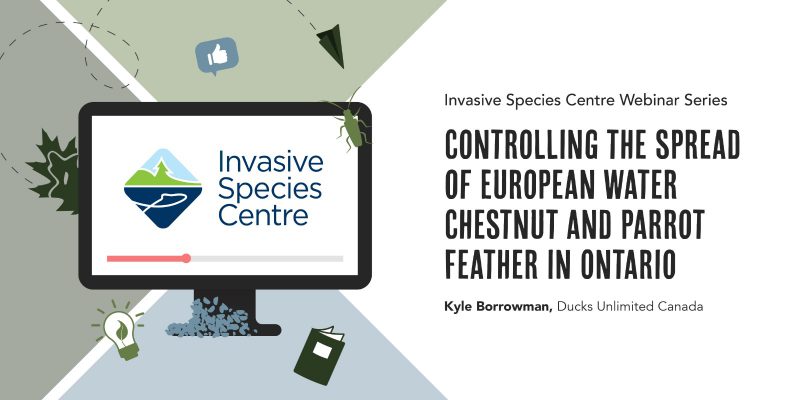 Community and resources are more important than ever right now. The Invasive Species Centre will continue to bring you new opportunities for learning and professional development using digital tools from your home.
This year, we'll be hosting a new webinar series that will feature invasive species experts and a new topic each month. Check out the information below for our first webinar taking place in April and stay tuned for more information on upcoming webinars in 2020!
Controlling the spread of European water chestnut
and parrot feather in Ontario
Presented by:
Kyle Borrowman, Ducks Unlimited Canada
This webinar will overview various control methods employed by Ducks Unlimited Canada to limit the spread and control two invasive aquatic plants, European water chestnut and parrot feather, that threaten Ontario's native plant biodiversity. European water chestnut and parrot feather both form dense mats of vegetation that outcompete native species and impede boating, angling, and other recreational water activities. Fortunately, these plants are not widespread in Ontario and are regulated under the Ontario Invasive Species Act. Active management by Ducks Unlimited Canada helps reduce existing populations and protect Ontario's environment, economy, and social well-being from further spread.
This webinar is presented in accordance with the United Nations International Year of Plant Health, which has designated April as Invasive Plant Pest and Invasive Species Month