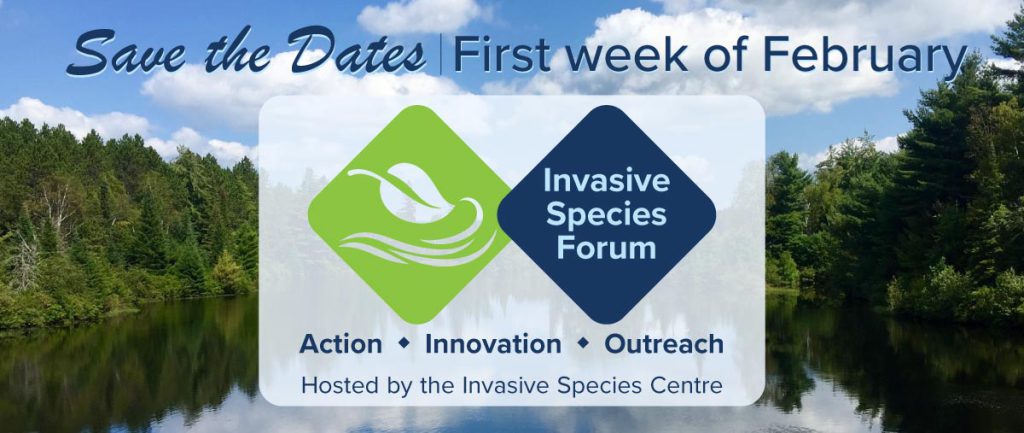 The Invasive Species Forum is an annual event that brings attention to invasive species issues, research, and advances in prevention and management occurring across Canada, and in neighbouring U.S. States.
The Invasive Species Forum showcases speakers from around the world, presenting on a diverse array of topics such as:
Invasive species and the environment
Horizon scanning, risk assessment, and new methods for prevention and early detection
Economic, social, and cultural costs and investment tool innovations
Policy updates, impacts, and intersections
Pathway and vector management
Management and action
Community science, outreach, and communications
Program, project, and species updates
Session recordings from the 2022 Invasive Species Forum are available on our YouTube channel. Use the Forum Program to help navigate the recordings.
The 2022 Invasive Species Forum is hosted by the Invasive Species Centre, in partnership with the Ministry of Northern Development, Mines, Natural Resources and Forestry.
---
Invasive Species Centre Awards
To celebrate "10 Years Together," the Invasive Species Centre launched an awards program. The awards will be given annually and will recognize and celebrate the leadership and commitment of individuals or organizations who help keep Canada's land and water free from invasive species. The core award categories recognize individuals or organizations who champion and demonstrate values of excellence, innovation, and leadership in invasive species prevention and management in Canada.
---
2021 Invasive Species Forum
Thank you to everyone who attended the 2021 Invasive Species Forum. We hope you enjoyed the presentations from our knowledgeable lineup of speakers and invasive species experts as much as we did!