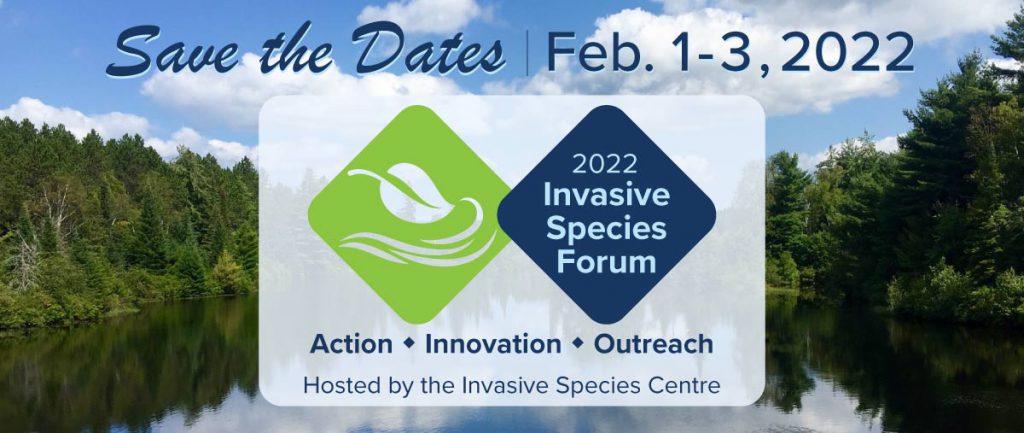 The virtual 2022 Invasive Species Forum is taking place on February 1-3, 2022. The theme is Action, Innovation, and Outreach.
The Invasive Species Forum is an annual event that brings attention to invasive species issues, research, and advances in prevention and management occurring across Canada, and in neighbouring U.S. States.
The Invasive Species Forum will showcase speakers from around the world, on a diverse array of topics such as:
Invasive species and the environment
Horizon scanning, risk assessment, and new methods for prevention and early detection
Economic, social, and cultural costs and investment tool innovations
Policy updates, impacts, and intersections
Pathway and vector management
Management and action
Community science, outreach, and communications
Poster presentations for program and project updates
Poster presentations for species updates
We're looking forward to sharing the finalized list of speakers and topics soon!
Attend the 2022 Invasive Species Forum
The fee to attend the forum are as follows (all fees include HST):
All days: $75
All days student/ youth: $30
Organization rate (5 or more people): $250
The 2022 Invasive Species Forum is hosted by the Invasive Species Centre, in partnership with the Ministry of Northern Development, Mines, Natural Resources and Forestry.
---
Diversity & Equity Scholarship
ISC supports a culture of inclusion through all of our programs, communications, and work to support our mission of connecting stakeholders, knowledge and technology to prevent and reduce the spread of invasive species.
 Working towards a Canada where land and water are protected from invasive species requires collaboration between disciplines and cultures. Recognizing this, the Annual Invasive Species Forum Diversity and Equity Scholarship allows for more inclusive exchanges among organizations and agencies working on invasive species, as well as those in industry, community scientists, youth and students.
 The scholarship provides complimentary registration for full participation in the 2022 Invasive Species Forum.
To create equitable opportunities for everyone, if you identify as a member of a community that brings diverse perspectives to invasive species work, please contact us by emailing events@invasivespeciescentre.ca.
---
Invasive Species Centre Awards
To celebrate "10 Years Together," the Invasive Species Centre is launching an awards program. The awards will be given annually and will recognize and celebrate leadership and commitment of individuals or organizations who help keep Canada's land and water free from invasive species. The core award categories will recognize individuals or organizations who champion and demonstrate values of excellence, innovation, and leadership in invasive species prevention and management in Canada.
We encourage you to nominate exceptional people and organizations in Canada who walk the walk on invasive species so that we can all celebrate their achievements together. Self-nominations are accepted and welcome!
Please submit your nominations before the deadline on Monday, Dec. 20, 2021, at 11:59 p.m. EST.
---
Financial Partnership Opportunities
Would you like to be a financial partner of the 2022 Forum? We have several different partnership levels and are happy to work with you to customize something that aligns with your budget and objectives.
Have questions about the Forum? Please contact us at events@invasivespeciescentre.ca.
---
2021 Invasive Species Forum
Thank you to everyone who attended the 2021 Invasive Species Forum. We hope you enjoyed the presentations from our knowledgeable lineup of speakers and invasive species experts as much as we did!