Invasive Species Centre BMP Database
The Best Management Practices (BMP) Database provides a collection of easily accessible resources on various invasive species in Canada. It is a tool that includes best management practices, response plans, management plans, and action plans to help individuals and organizations manage terrestrial and aquatic invasive species! 
Have a resource to add? Send us a message at info@invasivespeciescentre.ca!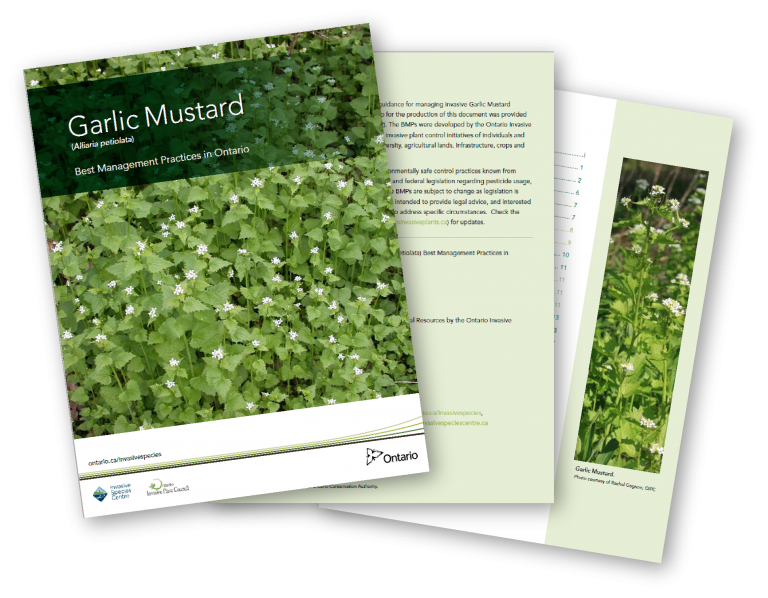 Best Management Practices: provide recommendations on how to effectively manage or control invasive species while adhering to all necessary legislation, regulations and policies.
Management Plan: provides a clear approach towards preventing and managing the spread of invasive species and their potential impacts. This document outlines approaches to achieve these objectives and goals.
Action Plan: outlines the projects or activities needed to meet the goals and objectives by identifying and prioritising invasive species management. The plan can provide information on the species habitat; guidance on setting management priorities; how to coordinate public outreach and engagement; and evaluate the socio-economic costs and benefits.
Response Plan: is a support tool/framework that provides detailed instructions to follow in the event a new invasive species is reported. It serves as a guide to help identify, assess and determine when a response is required and what type of response should be considered.
If you are viewing this table with your mobile phone, rotate your screen to landscape mode for easier use.
Species
Type of Plan
Developed by
Reference/Link
Asian Longhorned Beetle
Response Plan
United
States Department of Agriculture, Animal and Plant Health Inspection Service,
Plant Protection and Quarantine
Rose R. 2014. Asian Longhorned
Beetle Response Guidelines. Retrieved from (link)
Autumn Olive
Best Management
Practice
OIPC, partners, &
OMNRF
Warne, Amanda. 2018. Autumn
olive (Elaeagnus umbellate) Best Management Practices in Ontario. Ontario
Invasive Plant Council, Peterborough, ON. Retrieved from (link)
Autumn Olive
Best Management
Practice
Michigan Department
of Natural Resources

 

Michigan Department of Natural
Resources, Michigan Natural Features Inventory. 2012. Autumn Olive Invasive
Species - Best Control Practices. Retrieved from
(link)
Beech Bark Disease
Best Management Practice
Wisconsin
Department of Natural Resources
Wisconsin Department of Natural
Resources. 2012. Beech Bark Disease Best Management Practices for Reducing
the Movement of the Beech Scale. Retrieved from (link)
Bighead Carp
Management Plan

 

Asian Carp Working
Group
Conover, G., R. Simmonds, and M.
Whalen, editors. 2007. Management and control plan for bighead, black, grass,
and silver carps in the United States. Asian Carp Working Group, Aquatic
Nuisance Species Task Force, Washington, D.C. 223 pp. Retrieved from (link)
Bighead Carp
Response Plan
Mississippi
Interstate Cooperative Resource Association Asian Carp Advisory Committee
Mississippi Interstate
Cooperative Resource Association Asian Carp Advisory Committee.2017.
Monitoring and Response Plan for Asian Carp in the Mississippi River Basin.
Retrieved from (link)
Bighead Carp
Response Plan
Asian
Carp Regional Coordinating Committee
Asian Carp Regional Coordinating Committee. 2018. The Asian
Carp Monitoring and Response Plan. Retrieved from
(link)
Bighead Carp
Action Plan
Asian
Carp Regional Coordinating Committee
Asian Carp Regional Coordinating
Committee. 2020. Asian Carp Action Plan for Fiscal Year 2020. Retrieved from (link)
Black Carp
Management Plan

 

Asian Carp Working
Group
Conover, G., R. Simmonds, and M.
Whalen, editors. 2007. Management and control plan for bighead, black, grass,
and silver carps in the United States. Asian Carp Working Group, Aquatic
Nuisance Species Task Force, Washington, D.C. 223 pp. Retrieved from (link)
Black Carp
Action Plan
Asian Carp
Regional Coordinating Committee
Asian Carp Regional Coordinating
Committee. 2020. Asian Carp Action Plan for Fiscal Year 2020. Retrieved from (link)
Black Carp
Response Plan
Asian Carp
Regional Coordinating Committee
Asian Carp Regional Coordinating Committee. 2018. The Asian
Carp Monitoring and Response Plan. Retrieved from
(link)
Black Carp
Response Plan
Mississippi
Interstate Cooperative Resource Association Asian Carp Advisory Committee
Mississippi Interstate
Cooperative Resource Association Asian Carp Advisory Committee.2017.
Monitoring and Response Plan for Asian Carp in the Mississippi River Basin.
Retrieved from (link)
Black Locust
Best Management
Practice
OIPC, partners, &
OMNRF
Warne, Amanda. 2016. Black
locust (Robinia pseudocacia L.) Best Management Practices in Ontario. Ontario
Invasive Plant Council, Peterborough, ON. Retrieved from (link)
Black Locust
Best Management
Practice
Michigan Department of Natural
Resources

 

Michigan Department of Natural
Resources, Michigan Natural Features Inventory. 2012. Invasive Species - Best
Control Practices. Retrieved from (link)
Brazilian Elodea
Best Management
Practice
King County

 

King County Noxious Weed Control
Program. (2014). Brazilian Elodea Best Management Practices. Retrieved from (link)
Brown Marmorated Stink Bug
Best Management
Practice
FMC Professional
Solutions

 

FMC Professional Solutions.
2011. Best Management Practices Brown Marmorated Stink Bugs (BMSB). Retrieved
from (link)
Dog Strangling Vine

 

Best Management
Practice
Ontario
Invasive Plant Council (OIPC), partners, & Ontario Ministry of Natural
Resources (OMNRF)
Anderson, Hayley. 2012. Invasive
Dog-strangling Vine (Vincetoxicum rossicum) Best Management Practices in
Ontario. Ontario Invasive Plant Council, Peterborough, ON. Retrieved from (link)
Emerald Ash Borer
Management Plan

 

Regional Municipality of York
Marchant K.R. 2011. York Region
Emerald Ash Borer Management Plan. Prepared for the Regional Municipality of
York. Retrieved from (link)
Emerald Ash Borer
Management Plan

 

Davey Resource Group
Davey Resource Group. 2011.
Emerald Ash Borer Strategy City of London, Ontario. Prepared for the
Corporation of the City of London. Retrieved from (link)
Emerald Ash Borer
Management Plan

 

City of Peterborough
City of Peterborough. 2013.
Emerald Ash Borer Management Plan City of Peterborough. Retrieved from (link)
Emerald Ash Borer
Management Plan

 

County of
Simcoe, County Forests Department
Marchant K.R. 2014. A Strategic
Plan to Manage the Emerald Ash Borer in Simcoe County. Prepared for the
County of Simcoe, County Forests Department. Retrieved from (link)
Emerald Ash Borer
Management Plan

 

City of Lakeville
City of Lakeville. 2018. Emerald
Ash Borer Management Plan. Retrieved from (link)
Emerald Ash Borer
Management Plan

 

City of Mississauga
Marchant K.R. 2012. City of
Mississauga Emerald Ash Borer Management Plan. Prepared for the City of
Mississauga. Retrieved from (link)
Emerald Ash Borer
Management Plan

 

City of Guelph
Marchant K.R. 2013. City of
Guelph Emerald Ash Borer Plan. Prepared for the City of Guelph. Retrieved
from (link)
Emerald Ash Borer
Management Plan

 

Township of Selwyn
Township of Selwyn. 2017.
Emerald Ash Borer (EAB) Management Plan. Retrieved from (link)
Emerald Ash Borer
Management Plan

 

Urban Forests Innovations Inc.

 

Urban Forests Innovations Inc.
2015. Emerald Ash Borer (EAB) Management Plan. Prepared for Township of
Centre Wellington. Retrieved from (link)
Emerald Ash Borer
Response Plan
Manitoba Sustainable Development
Manitoba Sustainable
Development. 2017. Manitoba Emerald Ash Borer Response Plan. Retrieved from (link)
Eurasian Water-milfoil
Best Management
Practice
King County

 

King County Noxious Weed Control
Program. (2010). Eurasian Watermilfoil & Variable-leaf Milfoil Best
Management Practices. Retrieved from (link)
Eurasian Water-milfoil
Management Plan

 

Okanagan Basin Water Board
Okanagan Basin Water Board.
2009. Management Plan for Eurasian watermilfoil (Myriophyllum spicatum) in
the Okanagan, British Columbia. Retrieved from
(link)
Eurasian Water-milfoil
Management Plan

 

Madrone Environmental Services Ltd.

 

Madrone Environmental Service
Ltd. 2018. Eurasian Water-Milfoil Management Plan for Shawnigan Lake, BC.
Prepared for Richard J.P. Nesbitt & Shawnigan Lake School. Retrieved from (link)
Eurasian Water-milfoil
Best Management
Practice
Minnesota Department of Natural
Resources
Minnesota Department of Natural
Resources. 2017. Invasive Aquatic Plant Management Best Management Practices
Eurasian Watermilfoil (Myriophyllum spicatum). Retrieved from (link)
Eurasian Water-milfoil
Management Plan

 

NH Department of Environmental Services
NH Department of Environmental
Services. 2018. Long-Term Eurasian Water-Milfoil Management Plan. Retrieved
from (link)
Eurasian Water-milfoil
Management Plan

 

Quantitative Environmental Analysis, LLC
Quantitative Environmental
Analysis, LLC. 2008. Black Lake Eurasian Watermilfoil Management Plan.
Prepared for Black Lake Invasive Weeds Committee. Retrieved from (link)
Eurasian Water-milfoil
Management Plan

 

Fraser Basin Council
Fraser Basin Council. 2015.
Nicola Lake Eurasian Watermilfoil Management Plan – Pilot Program. Retrieved
from (link)
European Black Alder
Best Management
Practice
OIPC, partners, &
OMNRF
Anderson, Hayley. 2013. Invasive
European Black Alder (Alnus glutinosa) Best Management Practices in Ontario.
Ontario Invasive Plant Council, Peterborough, ON. Retrieved from (link)
European Buckthorn
Best Management
Practice
OIPC, partners, &
OMNRF
Anderson, Hayley. 2012. Invasive
Common (European) Buckthorn (Rhamnus cathartica): Best Management Practices
in Ontario. Ontario Invasive Plant Council, Peterborough, ON. Retrieved from (link)
European Buckthorn
Best Management
Practice
Michigan Department
of Natural Resources

 

Michigan Department of Natural
Resources, Michigan Natural Features Inventory. 2012. Invasive Species - Best
Control Practices. Retrieved from (link)
European Buckthorn
Best Management
Practice
Nature Manitoba and
City of Winnipeg
Nature Manitoba. 2014. European
buckthorn best management practices – a manual for managers and stewards of
natural areas. Winnipeg, Manitoba. Retrieved from
(link)
European Frog-bit
Management Plan

 

Lewis Creek
Association
Lewis Creek Association. 2010.
European Frogbit (Hydrocharis morsus-ranae) Management Plan for Town Farm Bay
Wetland Charlotte, Vermont 2009-2015. Retrieved from (link)
European Green Crab
Management Plan

 

Green Crab Control Committee
Green Grab Control Committee.
2002. Management Plan for the European Green Crab. Retrieved from (link)
European Green Crab
Action Plan
Natural
Resources Consultants Inc., Washington Department of Fish and Wildlife,
Department of Fisheries and Oceans Canada, Washington Sea Grant, University
of Washington, and Puget Sound Partnership
Drinkwin, J., Pleus, A.,
Therriault, T., Talbot, R., Grason, E.W., McDonald, P.S., Adams, J., Hass,
T., Litle K., 2019. Salish Sea Transboundary Action Plan for Invasive
European Green Crab. Puget Sound Partnership. Retrieved from (link)
European Water Chestnut
Management Plan

 

OARS
OARS. 2017. Water Chestnut
Management Guidance & Five-Year Management Plan for the Sudbury, Assabet,
and Concord River Watershed. Retrieved from (link)
European Water Chestnut
Management Plan

 

Maryland
Department of Natural Resources

 

Maryland Department of Natural
Resources. 2003. Water Chestnut (Trapa natans) in the Chesapeake Bay
Watershed: A Regional Management Plan. Retrieved from (link)
Fanwort
Management Plan

 

NH Department of Environmental Services
NH Department of Environmental
Services. 2018. Long-Term Variable Milfoil and Fanwort Management Plan.
Retrieved from (link)
Fanwort
Response Plan
ENSR International
ENSR International. 2005. Rapid
Response Plan for Fanwort (Cabomba caroliniana) in Massachusetts. Prepared
for Massachusetts Department of Conservation and Recreation. Retrieved from (link)
Firewood
Best Management Practice
California Firewood Task Force
California Firewood Task Force.
2017. Firewood Best Management Practices. Retrieved from (link)
Firewood
Best Management
Practice
Invasive Species Centre
Invasive Species Centre. 2018.
Firewood Best Management Practices – Jurisdictional Scan and Analysis.
Prepared for the Canadian Council on Invasive Species. Retrieved from (link)
Firewood
Best Management Practice
Canadian Council on Invasive Species
Canadian Council on Invasive
Species. (n.d.) Firewood Best Practices for Producers. Retrieved from (link)
Firewood
Best Management
Practice
 
Best Management Practices For
Arborists and Tree Care Workers. (n.d.). Retrieved from (link)
Firewood
Best Management
Practice
US Forest
Service, Department of Agriculture
US Forest Service, Department of
Agriculture. 2013. Forest Service Handbook Pacific Southwest (R5) Vallejo,
Ca. Retrieved from (link)
Firewood
Best Management
Practice
 
Tribal Best Management Practices
for Harvesting Firewood in the Ceded Territories of 1836, 1837, and 1842.
(n.d.). Retrieved from (link)
Firewood
Best Management
Practice
Colorado
Department of Agriculture, Division of Plant Industry Nursery Program
Colorado Department of
Agriculture, Division of Plant Industry Nursery Program. 2011. Best
Management Strategies for Movement and Use of Firewood in Colorado. Retrieved
from (link)
Garlic Mustard

 

Best Management
Practice
OIPC, partners, &
OMNRF
Anderson, Hayley. 2012. Invasive
Garlic Mustard (Alliaria petiolate) Best Management Practices in Ontario.
Ontario Invasive Plant Council. Peterborough, ON. Retrieved from (link)
Garlic Mustard

 

Best Management
Practice
Nature Conservancy of
Canada
Nature Conservancy of Canada
(NCC). 2007. Control Methods for the Invasive Plant Garlic Mustard (Alliaria
petiolata) within Ontario Natural Areas.V1.0. NCC – Southwestern Ontario
Region, London, Ontario. 16 pp. Retrieved from (link)
Garlic Mustard

 

Best Management
Practice
Michigan Department
of Natural Resources

 

Michigan Department of Natural
Resources, Michigan Natural Features Inventory. 2018. Invasive Species - Best
Control Practices. Retrieved from (link)
Garlic Mustard

 

Best Management
Practice
Ramsey County
Ramsey Conservation District.
2016. Garlic Mustard Best Management Practices. Retrieved from (link)
Garlic Mustard

 

Management Plan

 

Clean Annapolis River
Project (CARP)
Godwin M. (2008). Garlic Mustard
(Alliaria petiolate) Management Plan 2012 Update for the Village of Grand Pre
and Surrounding Area Nova Scotia, Canada. Retrieved from (link)
Garlic Mustard

 

Best Management
Practice
King County

 

King County Noxious Weed Control
Program. (2010). Garlic Mustard Best Management Practices. Retrieved from (link)
Giant Hogweed
Best Management
Practice
OIPC, partners, &
OMNRF
Francine MacDonald and Hayley
Anderson. 2012. Giant Hogweed (Heracleum mantegazzianum): Best Management
Practices in Ontario. Ontario Invasive Plant Council, Peterborough, ON.
Retrieved from (link)

 

Giant Hogweed
Best Management
Practice
Metro
Vancouver & Invasive Species Council of Metro Vancouver
Metro Vancouver and the Invasive
Species Council of Metro Vancouver. 2019. Best Management Practices for Giant
Hogweed in the Metro Vancouver Region. Retrieved from (link)
Giant Hogweed
Best Management
Practice
King County

 

King County Noxious Weed Control
Program. (2010). Giant Hogweed Best Management Practices. Retrieved from (link)
Grass Carp
Response Plan
Great Lakes Fishery Commission
Lake Erie Committee, Great Lakes
Fishery Commission. 2018. Lake Erie Grass Carp Adaptive Response Strategy,
2019-2023. Retrieved from (link)
Grass Carp
Response Plan
Ohio Department of
Natural Resources
ODNR Division of Wildlife. 2019.
Lake Erie Grass Carp Response Strategy: 2019-2023. Ohio Department of Natural
Resources, Division of Wildlife. Columbus, Ohio. Retrieved from (link)
Grass Carp
Management Plan

 

Asian Carp Working Group
Conover, G., R. Simmonds, and M.
Whalen, editors. 2007. Management and control plan for bighead, black, grass,
and silver carps in the United States. Asian Carp Working Group, Aquatic
Nuisance Species Task Force, Washington, D.C. 223 pp. Retrieved from (link)
Grass Carp
Response Plan
Mississippi
Interstate Cooperative Resource Association Asian Carp Advisory Committee
Mississippi Interstate
Cooperative Resource Association Asian Carp Advisory Committee.2017.
Monitoring and Response Plan for Asian Carp in the Mississippi River Basin.
Retrieved from (link)
Grass Carp
Response Plan
Asian Carp
Regional Coordinating Committee
Asian Carp Regional Coordinating Committee. 2018. The Asian
Carp Monitoring and Response Plan. Retrieved from
(link)
Grass Carp
Action Plan
Asian Carp
Regional Coordinating Committee
Asian Carp Regional Coordinating
Committee. 2020. Asian Carp Action Plan for Fiscal Year 2020. Retrieved from (link)
Hemlock Woolly Adelgid
Management Plan

 

Natural
Resources Canada, Canadian Food Inspection Agency, Silv-Econ Ltd, and Cornell
University
Emilson C., Bullas-Appleton E.,
McPhee D., Ryan K., Stastny M., Whitemore M., & MacQuarrie C. J.K.
(2018). Hemlock Woolly Adelgid Management Plan for Canada. Natural Resources
Canada, Canadian Food Inspection Agency, Silv-Econ Ltd., and Cornell University. Retrieved from (link)
Hemlock Woolly Adelgid
Management Plan

 

West Virginia
Department of Agriculture Cooperative Forest Health Protection Program

 

Kish K. 2007. West Virginia
Department of Agriculture Cooperative Forest Health Protection Program
Hemlock Woolly Adelgid Management Plan. Retrieved from (link)
Hemlock Woolly Adelgid
Action Plan
NH Division of
Forests and Lands
NH Division of Forests and
Lands. 2018. Action Plan to Slow the Spread and Manage Hemlock Woolly Adelgid
within the State of New Hampshire. Retrieved from
(link)
Himalayan Balsam
Best Management
Practice
Metro
Vancouver & Invasive Species Council of Metro Vancouver
Metro Vancouver and the Invasive
Species Council of Metro Vancouver. 2019. Best Management Practices for
Himalayan Balsam in the Metro Vancouver Region. Retrieved from (link)
Himalayan Balsam
Best Management
Practice
King County

 

King County Noxious Weed Control
Program. (2010). Policeman's Helmet Best Management Practices. Retrieved from
(link)
Hydrilla
Management Plan

 

New
York State Department of Environmental Conservation
New York State Department of
Environmental Conservation. 2018. Croton Hydrilla Control Project Five-Year
Management Plan. Retrieved from (link)
Hydrilla
Response Plan
Illinois
Hydrilla Task Force

 

Illinois Hydrilla Task Force.
2015. Early Detection Rapid Response Plan for Hydrilla verticillate in
Illinois. Retrieved from (link)
Hydrilla
Management Plan

 

Lake Austin
Hydrilla Task Force
Lake Austin Hydrilla Task Force.
2000. Lake Austin Hydrilla Management Plan. Retrieved from (link)
Hydrilla
Management Plan

 

New York City
Department of Environmental Protection
New York City Department of
Environmental Protection. 2018. Hydrilla Management Plan for New Croton
Reservoir. Retrieved from (link)
Invasive Honeysuckles
Best Management
Practice
OIPC, partners, &
OMNRF
Tassie, Danielle and Sherman,
Kellie. 2014. Invasive Honeysuckles (Lonicera spp.) Best Management Practices
in Ontario. Ontario Invasive Plant Council, Peterborough, ON. Retrieved from (link)
Invasive Honeysuckles
Management Plan

 

Illinois Department
of Natural Resources
Nyboer R. 2007. Vegetation
Management Guideline Bush Honeysuckles: Tartarian, Morrow's, Belle, and Amur
Honeysuckle (Lonicera tatarica L., L. morrowii Gray, L. x bella Zabel, and L.
maackii (Rupr.) Maxim.). Illinous Department of Natural Resources. Retrieved
from (link)
Invasive Honeysuckles
Best Management
Practice
Green Ribbon Initiative
Green Ribbon Initiative. 2019.
Oak Openings Region Best Management Practices Morrow's Honeysuckle. Retrieved
from (link)
Invasive Species
Best Management Practice
The University of Georgia
Moorhead, D.J., K.A. Rawlins,
C.W. Evans, C.E. Barlow and C.T. Bargeron. 2011. A Land Manager's Guide to
Best Management Practices (BMPs) to Prevent the Introduction and Spread of
Invasive Species. The University of Georgia. Center for Invasive Species and
Ecosystem Health, Tifton GA. BW-2011-03. 28 p. Retrieved from (link)
Invasive Species
Best Management
Practice
US
Forest Service, Department of Agriculture
US Forest Service Department of
Agriculture. 2012. Non-native Invasive Species Best Management Practices –
Guidance for the U.S. Forest Service Eastern Region. Retrieved from (link)
Invasive Species
Best Management
Practice
Minnesota
Department of Natural Resources
Minnesota Department of Natural
Resources, Division of Parks and Trails. 2012. Aquatic Invasive Species Best
Management Practices for Water Access. Retrieved from (link)
Invasive Species
Best Management
Practice
Wisconsin
Department of Natural Resources
Wisconsin Department of Natural
Resources. 2020. Best Management Practices for Boat, Gear and Equipment
Decontamination. Retrieved from (link)
Invasive Species
Best Management Practice
Wisconsin
Department of Natural Resources
Wisconsin Department of Natural
Resources. 2011. Best Management Practices (BMPs) and Other Strategies For
Minimizing the Risk of Importing Invasive Fish Species in Bait and Forage
Shipments. Retrieved from (link)
Invasive Species
Best Management
Practice
Wisconsin
Department of Natural Resources
Wisconsin Department of Natural
Resources. 2009. Wisconsin's Forestry Best Management Practices For Invasive
Species. Retrieved from (link)
Invasive Species
Best Management
Practice
The
Maryland-National Capital Park and Planning Commission Department of Parks,
Montgomery County, Park Planning and Resource Stewardship Division, &
Natural resources Stewardship Section
The Maryland-National Capital
Park and Planning Commission Department of Parks, Montgomery County, Park
Planning and Resource Stewardship Division, & Natural resources
Stewardship Section. 2015. Best Management Practices for Control of
Non-Native Invasives. Retrieved from (link)
Invasive Species
Best Management
Practice
California
Invasive Plant Council
Cal-IPC. 2012. Preventing the
Spread of Invasive Plants: Best Management Practices for Land Managers (3rd
ed.). Cal-IPC Publication 2012-03. California Invasive Plant Council,
Berkeley, CA. Available at (link)
Invasive Species
Best Management
Practice
Ministry
of Environment and Climate Change Strategy (BC Parks) and Invasive Species
Council of British Columbia
Ministry of Environment and
Climate Change Strategy (BC Parks) and Invasive Species Council of British
Columbia. 2018. Best Management Practices For Invasive Plants in Parks and
Protected Areas of British Columbia (2018 ed.). Retrieved from (link)
Invasive Species
Best Management
Practice
District
of West Vancouver
District of West Vancouver.
(2014). Best Management Practices and Target Plant Profiles Excerpt from
Invasive Plants Strategy. Retrieved from (link)
Invasive Species
Best Management
Practice
Saskatchewan
Forage Council
Saskatchewan Forage Council.
(2011). BMPs for Invasive Plant Species – Hay. Retrieved from (link)
Invasive Species
Best Management
Practice
Saskatchewan
Forage Council
Saskatchewan Forage Council.
(2010). BMPs for Invasive Plant Species – Forage Seed. Retrieved from (link)
Invasive Species
Best Management Practice
MN Invasive Species Advisory Council
MN Invasive Species Advisory
Council. 2015. Best Management Practices for Preventing the Introduction,
Establishment, and Spread of Invasive Species. Retrieved from (link)
Invasive Species
Management Plan

 

Pennsylvania
Department of Conservation and Natural Resources
Pennsylvania Department of
Conservation and Natural Resources. 2011. Invasive Species Management Plan.
Retrieved from (link)
Invasive Species
Management Plan

 

United
States Department of Agriculture Forest Service
United States Department of
Agriculture Forest Service. 2009. Invasive Species Management Strategy.
Retrieved from (link)


Invasive Species
Management Plan

 

Diamond
Head Consulting Ltd.

 

Diamond Head Consulting Ltd.
(2015). Mundy Park Forest Management Plan. Prepared for the City of
Coquitlam. Retrieved from (link)


Invasive Species
Management Plan

 

Diamond
Head Consulting & Invasive Species Council of Metro Vancouver
Diamond Head Consulting &
Invasive Species Council of Metro Vancouver. (2019). Glenbrook Ravine Park
Invasive Plant Management Plan. Prepared for Engineering and Parks and
Recreation Departments, City of New Westminster. Retrieved from (link)
Invasive Species
Management Plan

 

District
of Saanich
District of Saanich. (2013).
Invasive Species Management Strategy. Retrieved from
(link)
Invasive Species
Management Plan

 

North-South
Environmental Inc., Schollen and Company Inc., Hutchinson Environmental
Sciences Ltd., & Nortbert Woerns
North-South Environmental Inc.,
Schollen and Company Inc., Hutchinson Environmental Sciences Ltd., &
Nortbert Woerns. (2015). Westminster Ponds/Pond Mills ESA Invasive Species
Management Plan. Retrieved from (link)
Invasive Species
Management Plan

 

City
of London
City of London. (n.d.). London
Invasive Plant Management Strategy. Retrieved from
(link)
Invasive Species
Action Plan
City
of Richmond Engineering and Public Works Division - Sustainability and
District Energy Section
City of Richmond Engineering and
Public Works Division – Sustainability and District Energy Section. 2015.
City of Richmond Invasive Species Action Plan. Retrieved from (link)
Invasive Species
Action Plan
Canadian
Council of Fisheries and Aquaculture Ministers Aquatic Invasive Species Task
Group
Canadian Council of Fisheries
and Aquaculture Ministers Aquatic Invasive Species Task Group. 2004. A
Canadian Action Plan to Address the Threat of Aquatic Invasive Species.
Retrieved from (link)
Invasive Species
Action Plan
Ontario
Ministry of Natural Resources
Ontario Ministry of Natural
Resources. (2019). Anglers Action Plan. Retrieved from (link)
Invasive Species
Action Plan
Ontario
Ministry of Natural Resources
Ontario Ministry of Natural
Resources. (2019). Boaters Action Plan. Retrieved from (link)
Invasive Species
Action Plan
Ontario
Ministry of Natural Resources
Ontario Ministry of Natural
Resources. (2019). Cottagers Action Plan. Retrieved from (link)
Invasive Species
Action Plan
Ontario
Ministry of Natural Resources
Ontario Ministry of Natural
Resources. (2019). Gardeners Action Plan. Retrieved from (link)


Invasive Species
Action Plan
Ontario
Ministry of Natural Resources
Ontario Ministry of Natural
Resources. (2019). Hiking Action Plan. Retrieved from (link)
Invasive Species
Action Plan
Canadian
Council on Invasive Species
Canadian Council on Invasive
Species. (2017). National Taking Action Plan. Retrieved from (link)
Invasive Species
Response Plan
British
Columbia Inter-Ministry Invasive Species Working Group
British Columbia Inter-Ministry
Invasive Species Working Group. (2014). Invasive Species Early Detection and
Rapid Response Plan for British Columbia. Retrieved from (link)
Invasive Species
Response Plan
Environment and
Parks, Government of Alberta
Environment and Parks,
Government of Alberta. (2019). Alberta Aquatic Invasive Species Early
Detection Rapid Response Plan. Retrieved from
(link)
Japanese Barberry
Best Management
Practice
Michigan Department
of Natural Resources

 

Michigan Department of Natural
Resources, Michigan Natural Features Inventory. 2012. Japanese Barberry
Invasive Species - Best Control Practices. Retrieved from (link)
Japanese Barberry
Best Management
Practice
Green Ribbon
Initiative
Green Ribbon Initiative. 2019.
Oak Openings Region Best Management Practices Japanese Barberry. Retrieved
from (link)
Japanese Knotweed
Best Management
Practice
OIPC, partners, &
OMNRF
Anderson, Hayley. 2012. Invasive
Japanese Knotweed (Fallopia japonica (Houtt.)). Best Management Practices in
Ontario. Ontario Invasive Plant Council, Peterborough, ON. Retrieved from (link)
Japanese Knotweed
Best Management Practice
Metro
Vancouver & Invasive Species Council of Metro Vancouver
Metro Vancouver and the Invasive
Species Council of Metro Vancouver. 2018. Best Management Practices for
Knotweed Species in the Metro Vancouver Region. Retrieved from (link)
Japanese Knotweed
Best Management
Practice
New
Hampshire Department of Agriculture, Markets & Food
Cygan D. 2018. Preventing the
Spread of Japanese Knotweed (Reynoutria japonica) Best Management Practices.
New Hampshire Department of Agriculture, Markets & Food. Retrieved from (link)
Japanese Knotweed
Best Management Practice
King County

 

King County Noxious Weed Control
Program. (2010). Invasive Knotweeds Best Management Practices. Retrieved from
(link)
Japanese Knotweed
Best Management Practice
Michigan Department
of Natural Resources

 

Michigan Department of Natural
Resources, Michigan Natural Features Inventory. 2012. Invasive Species - Best
Control Practices. Retrieved from (link)
Japanese Stiltgrass
Best Management Practice
Western New
York Partnership for Regional Invasive Species Management
Western New York Partnership for
Regional Invasive Species Management (WNY PRISM). 2018. Best Management
Practices: Japanese Stiltgrass. Retrieved from (link)
Japanese Stiltgrass
Best Management
Practice
Green Ribbon
Initiative
Green Ribbon Initiative. 2019.
Oak Openings Region Best Management Practices Japanese Stiltgrass. Retrieved
from (link)
Mountain Pine Beetle
Management Plan

 

Alberta Sustainable
Resource Development
Alberta Sustainable Resource
Development. 2007. Mountain Pine Beetle Management Strategy. Retrieved from (link)
Mountain Pine Beetle
Management Plan

 

USDA Forest Service
Gibson K.E. 2004. Management
Guide for Mountain Pine Beetle. Retrieved from
(link)
Mountain Pine Beetle
Management Plan

 

Jasper National
Park, Government of Alberta, and Canadian Forest Service
Jasper National Park, Government
of Alberta, & Canadian Forest Service. 2016. Mountain Pines Beetle
Management Plan Jasper National Park. Retrieved from
(link)
Mountain Pine Beetle
Management Plan

 

Natural
Resources Canada, Canadian Forest Service and Pacific Forestry Centre
Natural Resources Canada,
Canadian Forest Service, & Pacific Forestry Centre. 2004. Mountain Pine
Beetle Management A Guide for Small Woodland Operations. Retrieved from (link)
Mountain Pine Beetle
Management Plan

 

Land and Forest
Division of Alberta Government
Land and Forest Division. 2002.
Mountain Pine Beetle Management Strategy. Retrieved from (link)
Mountain Pine Beetle
Action Plan
Alberta
Sustainable Resource Development
Alberta Sustainable Resource
Development. 2007. Mountain Pine Beetle Action Plan. Retrieved from (link)
Mountain Pine Beetle
Action Plan
BC First
Nations Mountain Pine Beetle Interim Working Group
British Columbia Assembly of
First Nations, First Nations Summit, & Union of British Columbia Indian
Chiefs. 2005. BC First Nations Mountain Pine Beetle Action Plan. Retrieved
from (link)
Mountain Pine Beetle
Action Plan
British
Columbia Ministry of Forests
British Columbia Ministry of
Forests. 2001. West-Central B.C. Mountain Pine Beetle Action Plan. Retrieved
from (link)
Mountain Pine Beetle
Action Plan
British
Columbia Ministry of Forests, Mines and Lands
British Columbia Ministry of
Forests, Mines and Lands. 2006. Mountain Pine Beetle Action Plan 2006-2011.
Retrieved from (link)
Multiflora Rose
Best Management
Practice
OIPC, partners, &
OMNRF
Warne, Amanda. 2018. Multiflora
rose (Rosa multiflora) Best Management Practices in Ontario. Ontario Invasive
Plant Council, Peterborough, ON. Retrieved from
(link)
Multiflora Rose
Best Management
Practice
Green Ribbon Initiative
Green Ribbon Initiative. 2018. Oak Openings Region Best
Management Practices Multiflora Rose. Retrieved from
(link)
Multiflora Rose
Best Management
Practice
Illinois Department
of Conservation
Szafonia B. 2007. Vegetation
Management Guideline Multiflora Rose (Rosa multiflora Thunb.). Illinois
Department of Conservation. Retrieved from (link)
Multiflora Rose
Best Management
Practice
Illinois Department of Natural
Resources
Szafonia B. 2017. Vegetation
Management Guideline Multiflora Rose (Rosa multiflora Thunb.). Illinois
Department of Natural Resources. Retrieved from
(link)
Northern Snakehead
Management Plan

 

Snakehead Plan
Development Committee
Snakehead Plan Development
Committee. 2014. National Control and Management Plan for Members of the
Snakehead Family (Channidae). Prepared for the Aquatic Nuisance Species Task
Force. Retrieved from (link)
Northern Snakehead
Best Management
Practice
New York
Invasive Species Research Institute
Brenner J. 2018. Northern
Snakehead (Channa argus): Best Management Practices. Retrieved from (link)
Oak Wilt
Management Plan

 

New
York State Department of Environmental Conservation
Hassett M., Kotary J., & Cole R. 2018. New York State Oak
Wilt Management Plan. Retrieved from (link)
Outdoor Recreation
Best Management
Practice
British
Columbia Ministry of Water, Land and Air Protection Ecosystem Standards and
Planning Biodiversity Branch & Grasslands Conservation Council of British
Columbia
British Columbia Ministry of
Water, Land and Air Protection Ecosystem Standards and Planning Biodiversity
Branch & Grasslands Conservation Council of British Columbia. 2004. Best
Management Practices for Recreational Activities on Grasslands in the Thompson
and Okanagan Basins. Retrieved from (link)
Outdoor Recreation
Best Management Practice
Wisconsin
Council on Forestry
The Wisconsin Council on
Forestry. 2009. Best Management Practices for Preventing the Spread of
Invasive Species by Outdoor Recreation Activities in Wisconsin. Retrieved
from (link)
Outdoor Recreation
Management Plan

 

Alberta
Environment and Parks
Alberta Environment and Parks.
2017. Livingstone-Porcupine Hills Recreation Management Plan. Government of
Alberta. ISBN No. 978-1-4601-3967-7. Available at:
(link)
Parrot Feather
Best Management
Practice
King County

 

King County Noxious Weed Control
Program. (2010). Parrotfeather Best Management Practices. Retrieved from (link)
Parrot Feather
Best Management
Practice
Metro Vancouver
& Invasive Species Council of Metro Vancouver
Metro Vancouver and the Invasive
Species Council of Metro Vancouver. 2019. Best Management Practices for
Parrot's Feather in the Metro Vancouver Region. Retrieved from (link)
Phragmites

 

Best Management
Practice
OIPC, partners, &
OMNRF
Ontario Ministry of Natural
Resources, Invasive Phragmites – Best Management Practices, Ontario Ministry
of Natural Resources, Peterborough, Ontario. Version 2011. 15p. Retrieved
from (link)
Phragmites

 

Management Plan

 

Lambton
Shores Phragmites Community Group
Gilbert J. M., & Vidler N.
(2013). Invasive Phragmites Management Plan for the Municipality of Lambton
Shores, Ontario. Retrieved from (link)
Phragmites

 

Action Plan
Watershed
Monitoring Team Nottawasaga Valley Conservation Authority
Watershed Monitoring Team
Nottawasaga Valley Conservation Authority. (2016). Phragmites & Invasive
Species Action Plan for the Nottawasaga Valley Watershed. Retrieved from (link)
Phragmites

 

Best Management
Practice
King County

 

King County Noxious Weed Control
Program. (2010). Common Reed - Phragmites Best Management Practices.
Retrieved from (link)
Purple Loosestrife
Best Management
Practice
OIPC, partners, &
OMNRF
Warne, Amanda. 2016. Purple
Loosestrife (Lythrum salicaria) Best Management Practices in Ontario. Ontario
Invasive Plant Council, Peterborough, ON. Retrieved from (link)
Purple Loosestrife
Best Management
Practice
King County

 

King County Noxious Weed Control
Program. (2011). Purple Loosestrife Best Management Practices. Retrieved from (link)
Purple Loosestrife
Management Plan

 

The Regional
Lythrum salicaria Working Group

 

The Regional Lythrum salicaria
Working Group. 2004. Purple Loosestrife (Lythrum salicaria) in the Chesapeake
Bay Watershed: A Regional Management Plan. Retrieved from (link)
Quagga/Zebra Mussels
Action Plan
Western
Regional Panel on Aquatic Nuisance Species
Western Regional Panel on
Aquatic Nuisance Species. 2010. Quagga-Zebra Mussel Action Plan for Western
U.S. Waters. Retrieved from (link)
Quagga/Zebra Mussels
Management Plan

 

Colorado
Division of Wildlife (CDOW)
Colorado Division of Wildlife
(CDOW). 2009. State of Colorado Zebra and Quagga Mussel Management Plan.
Retrieved from (link)
Quagga/Zebra Mussels
Response Plan
National
Park Service U.S. Department of the Interior, Natural Resources Program
Center Fort Collins, Colorado
National Park Service U.S.
Department of the Interior, Natural Resources Program Center Fort Collins,
Colorado. 2007. Quagga/Zebra Mussel Infestation Prevention and Response
Planning Guide. Retrieved from (link)
Quagga/Zebra Mussels
Response Plan
Washington
Invasive Species Council & Washington Department of Fish and Wildlife
DeBruyckere L.A., Brown W.,
& Tweit B. 2014. Washington Dreissenid Mussel Rapid Response Plan.
Creative Resource Strategies, LLC, Washington Invasive Species Council, &
Washington Department of Fish and Wildlife. Retrieved from (link)
Quagga/Zebra Mussels
Action Plan
St.
Croix National Scenic Riverway Aquatic Invasive Species Interagency Task
Force
St. Croix National Scenic
Riverway Aquatic Invasive Species Interagency Task Force. 2017. 2017 Action
Plan for the Lower St. Croix River. Retrieved from
(link)
Quagga/Zebra Mussels
Response Plan
ENSR
International
ENSR International. 2005. Rapid
Response Plan for the Zebra Mussel (Dreissena polymorpha) in Massachusetts.
Retrieved from (link)
Quagga/Zebra Mussels
Management Plan

 

Paterson
Earth & Water Consulting
Paterson Earth & Water
Consulting. 2018. Dreissenid Mussels and Alberta's Irrigation Infrastructure:
Strategic Pest Management Plan and Cost Estimate. Prepared for the Eastern
Irrigation District, Brooks, Alberta. 130 pp. Retrieved from (link)
Quagga/Zebra Mussels
Response Plan
Pacific
States Marine Fisheries Commission & US Army Corps of Engineers,
Bonneville Lock and Dam
Athearn J., & Darland T.
2007. Bonneville Hydroelectric Project Response Plan for Zebra Mussels
(Dreissena polymorpha). Pacific States Marine Fisheries Commission & US
Army Corps of Engineers, Bonneville Lock and Dam. Retrieved from (link)
Quagga/Zebra Mussels
Response Plan
British
Columbia Inter-Ministry Invasive Species Working Group
British Columbia Inter-Ministry
Invasive Species Working Group. (2015). Zebra and Quagga Mussel Early
Detection and Rapid Response Plan for British Columbia. Retrieved from (link)


Quagga/Zebra Mussels
Response Plan
Upper
Colorado Region Dreissenid Taskforce
Upper Colorado Region Dreissenid
Taskforce. 2010. Upper Colorado Region Prevention and Rapid Response Plan for
Dreissenid Mussels. Retrieved from (link)
Reed Canary Grass
Best Management
Practice
OIPC, partners, &
OMNRF
Anderson, Hayley. 2012. Invasive
Reed Canary Grass (Phalaris arundinacea subsp. Arundinacea) Best Management
Practices in Ontario. Ontario Invasive Plant Council, Peterborough, ON.
Retrieved from (link)
Reed Canary Grass
Best Management Practice
Minnesota Department
of Transportation
Reinhardt C., & Galatowitsch
S.M. 2004. Best Management Practices for the Invasive Phalaris arundinacea L.
(Reed canary grass) in Wetland Restorations. Water Resources Science,
University of Minnesota & Department of Horticultural Science, University
of Minnesota. Retrieved from (link)
Reed Canary Grass
Best Management Practice
The Nature
Conservancy

 

Tu M. 2004. Reed Canarygrass
(Phalaris arundinacea L.) Control & Management in the Pacific Northwest.
The Nature Conservancy, Oregon Field Office. Retrieved from (link)
Reed Canary Grass
Management Plan

 

Wisconsin
Reed Canary Grass Management Working Group
Wisconsion Reed Canary Grass
Management Working Group. 2009. Reed Canary Grass (Phalaris arundinacea)
Management Guide: Recommendations for Landowners and Restoration
Professionals. Retrieved from (link)
Reed Canary Grass
Best Management Practice
King
County

 

King County Noxious Weed Control
Program. (2015). Reed Canarygrass Best Management Practices. Retrieved from (link)
Scots Pine
Best Management
Practice
OIPC, partners, &
OMNRF
Marinich, Allison and Powell,
Kate. 2017. Scots pine (Pinus sylvestris L.) Best Management Practices in
Ontario. Ontario Invasive Plant Council, Peterborough, ON. Retrieved from (link)
Sea Lamprey
Management Plan

 

Connecticut
River Atlantic Salmon Commission
Connecticut River Atlantic
Salmon Commission. 2018. Connecticut River Anadromous Sea Lamprey Management
Plan. Retrieved from (link)
Silver Carp
Management Plan

 

Asian Carp Working
Group
Conover, G., R. Simmonds, and M.
Whalen, editors. 2007. Management and control plan for bighead, black, grass,
and silver carps in the United States. Asian Carp Working Group, Aquatic
Nuisance Species Task Force, Washington, D.C. 223 pp. Retrieved from (link)
Silver Carp
Action Plan
Asian
Carp Regional Coordinating Committee
Asian Carp Regional Coordinating
Committee. 2020. Asian Carp Action Plan for Fiscal Year 2020. Retrieved from (link)
Silver Carp
Response Plan
Asian
Carp Regional Coordinating Committee
Asian Carp Regional Coordinating Committee. 2018. The Asian
Carp Monitoring and Response Plan. Retrieved from
(link)
Silver Carp
Response Plan
Mississippi
Interstate Cooperative Resource Association Asian Carp Advisory Committee
Mississippi Interstate
Cooperative Resource Association Asian Carp Advisory Committee.2017.
Monitoring and Response Plan for Asian Carp in the Mississippi River Basin.
Retrieved from (link)
Southern Pine Beetle
Management Plan

 

New
York State Department of Environmental Conservation
Hassett M., Cole R., & Dodds
K. 2017. New York State Southern Pine Beetle Management Plan. Retrieved from (link)
Spotted Knapweed
Best Management
Practice
OIPC, partners, &
OMNRF
Sherman, Kellie and Powell,
Kate. 2017. Spotted Knapweed (Centaurea stoebe) Best Management Practices in
Ontario. Ontario Invasive Plant Council, Peterborough, ON. Retrieved from (link)
Spotted Knapweed
Best Management
Practice
King County

 

King County Noxious Weed Control
Program. (2010). Spotted Knapweed Best Management Practices. Retrieved from (link)
Spotted Knapweed
Best Management
Practice
Tillamook
County Soil & Water Conservation District
Tillamook County Soil &
Water Conservation District. (n.d.). Tillamook County SWCD Best Management
Practices Spotted Knapweed. Retrieved from (link)
Spotted Knapweed
Best Management
Practice
Jefferson
County Noxious Weed Control Board
Jefferson County Noxious Weed
Control Board. (n.d.). Best Management Practices Spotted Knapweed (Centaurea
stoebe). Retrieved from (link)
Spotted Knapweed
Management Plan

 

Department of
Conservation and Recreation and Friends of Myles Standish State Park

 

Baecker J., & Kadis I. 2012.
Department of Conservation and Recreation Revised Spotted Knapweed Management
Plan Myles Standish State Forest. Department of Conservation and Recreation
& Friends of Myles Standish State Forest. Retrieved from (link)
Spotted Lanternfly
Best Management
Practice
Pennsylvania
Hardwoods Development Council
Pennsylvania Hardwoods
Development Council. 2018. Recommended Best Management Practices For the
Forest Products Industry Related to Spotted Lanternfly and Other Potential
Forest Pests in Pennsylvania. Retrieved from (link)
Spotted Lanternfly
Best Management
Practice
Penn State
Extension & Pennsylvania Department of Agriculture
Penn State Extension, &
Pennsylvania Department of Agriculture. 2018. Recommended Best Management
Practices Preventing Spread of Spotted Lanternfly For the Wine and Vineyard
Industry. Retrieved from (link)
Spotted Lanternfly
Best Management
Practice
Virginia
Cooperative Extension, Virginia Tech, Virginia State University
Day E., Sutphin M., &
Dellinger T. 2019. Best Management Practices for Spotted Lanternfly in Yards
and Landscapes. Retrieved from (link)
Spotted Lanternfly
Best Management
Practice
Penn State
Extension & Pennsylvania Department of Agriculture
Penn State Extension, &
Pennsylvania Department of Agriculture. 2018. Recommended Best Management
Practices Preventing Spread of Spotted Lanternfly For the Green Industry.
Retrieved from (link)
Spotted Lanternfly
Best Management
Practice
United States
Department of Agriculture & Virginia Department of Agriculture and
Consumer Services
United States Department of
Agriculture & Virginia Department of Agriculture and Consumer Services.
(n.d.). Spotted Lanternfly (Lycorma delicatula) Best Management Practices for
Businesses. Retrieved from (link)
Spotted Lanternfly
Action Plan
Ses
Construction and Fuel Services LLC
Ses Construction and Fuel
Services LLC. 2019. Spotted Lanternfly Action Plan. Prepared for US Army
Garrison For Belvoir Directorate of Public Works Environmental Division.
Retrieved from (link)
Sudden Oak Death
Best Management
Practice
HRI P. ramorum
Industry Working Group
HRI P. ramorum Industry Working
Group. (n.d.). Nursery Industry Best Management Practices for Phytophthora
ramorum. Retrieved from (link)
Sudden Oak Death
Best Management
Practice
USDA Forest Service
Suslow, Karen. 2008. Recommended
industry best management practices for the prevention of Phytophthora ramorum
introduction in nursery operations. In: Frankel, Susan J.; Kliejunas, John
T.; Palmieri, Katharine M., tech. coords. 2008. Proceedings of the sudden oak
death third science symposium. Gen. Tech. Rep. PSW-GTR-214. Albany, CA: U.S.
Department of Agriculture, Forest Service, Pacific Southwest Research
Station. pp. 115-128. Retrieved from (link)
Sudden Oak Death
Action Plan
Sudden Oak Death Task Force
Sudden Oak Death Task Force.
2017. Strategic Action Plan. Retrieved from (link)
Sudden Oak Death
Response Plan
University of
California Cooperative Extension, Sonoma County and the Sonoma County
Department of Emergency Services
University of California
Cooperative Extension, Sonoma County & the Sonoma County Department of
Emergency Services. 2008. Sonoma County Sudden Oak Death Strategic Response
Plan. Retrieved from (link)
Sudden Oak Death
Management Plan

 

US Forest
Service, Animal Plant Health Inspection Service, National Association of
State Foresters, and the National Plant Board
US Forest Service, Animal Plant
Health Inspection Service, National Association of State Foresters, and the
National Plant Board. 2011. National Response Framework for Sudden Oak Death.
Retrieved from (link)
Sudden Oak Death
Management Plan

 

US Forest
Service, Animal Plant Health Inspection Service, National Association of
State Foresters, and the National Plant Board
US Forest Service, Animal Plant
Health Inspection Service, National Association of State Foresters, and the
National Plant Board. 2011. National Framework for Managing Sudden Oak Death
caused by Phytophthora ramorum in Forests and Wildlands. Retrieved from (link)
Thousand Canker
Response Plan
USDA Forest Service
US Forest Service, Animal Plant
Health Inspection Service, National Association of State Foresters, and the
National Plant Board. 2011. National Response Framework for Thousand Cankers
Disease (TCD) on Walnut. Retrieved from (link)
Thousand Canker
Management Plan

 

Kansas
Department of Agriculture, Kansas Department of Forestry, & Kansas State
University of Plant Pathology
Appel J.A., Atchinson R.L.,
Armbrust R., & Kennelly M. 2014. State of Kansas Thousand Cankers Disease
of Walnut Strategic Plan. Kansas Department of Agriculture, Kansas Department
of Forestry & Kansas State University Department of Plant Pathology.
Retrieved from (link)
Thousand Canker
Action Plan
Tennessee
Department of Agriculture
Haun G., Powell S., Strohmeier
C., & Kirksey J. 2010. State of Tennessee Thousand Cankers Disease Action
Plan. Tennessee Department of Agriculture. Retrieved from (link)
Thousand Canker
Action Plan
Pennsylavnia
Forest Pest Task Force
Pennsylvania
Forest Pest Task Force. 2012. Commonwealth of Pennsylvania Thousand Cankers
Disease Action Plan. Retrieved from (link)
Thousand Canker
Action Plan
Missouri
Invasive Forest Pest Council
Missouri Invasive Forest Pest
Council. 2015. Thousand Cankers Disease of Black Walnut Action Plan.
Retrieved from (link)
Tree of Heaven
Best Management
Practice
Penn
State
Penn State. (n.d.). Managing
Tree-of-Heaven (Ailanthus altissima) on Roadsides. Retrieved from (link)
Tree of Heaven
Best Management
Practice
Lower
Hudson Valley Prison
Travis K.B. 2016. Best
Management Practices for Invasive Plants – Tree-of-Heaven (Ailanthus
altissima). Retrieved from (link)
White Sweet Clover
Best Management
Practice
OIPC, partners, &
OMNRF
Anderson, Hayley. 2013. Invasive
White Sweet Clover (Melilotus albus) Best Management Practices in Ontario.
Ontario Invasive Plant Council, Peterborough, ON. Retrieved from (link)
Wild Parnsip
Best Management
Practice
OIPC, partners, &
OMNRF
Tassie, Danielle and Sherman,
Kellie. 2014. Invasive Wild Parsnip (Pastinaca sativa) Best Management
Practices in Ontario. Ontario Invasive Plant Council, Peterborough, ON.
Retrieved from (link)
Wild Parnsip
Best Management
Practice
Michigan Department of Natural
Resources

 

Michigan Department of Natural
Resources, Michigan Natural Features Inventory. 2018. Invasive Species - Best
Control Practices - Wild Parsnip. Retrieved from
(link)
Yellow Iris
Best Management Practice
King County

 

King County Noxious Weed Control
Program. (2020). Yellow Flag Iris Best Management Practices. Retrieved from (link)