Invasive Species Centre Risk Assessment Database
Risk assessments identify, evaluate, and estimate the level of risk of a potential invasive species. They are an important tool in invasive species management, and are used to inform, prevent, prioritize, and respond.
The goal of this database is to provide a record of completed risk assessments relevant to North America. These assessments have been completed by a range of government and non-government organizations (see 'Included Organizations' below). Contact the ISC today if you have complete risk assessments and would like them to be added to the database.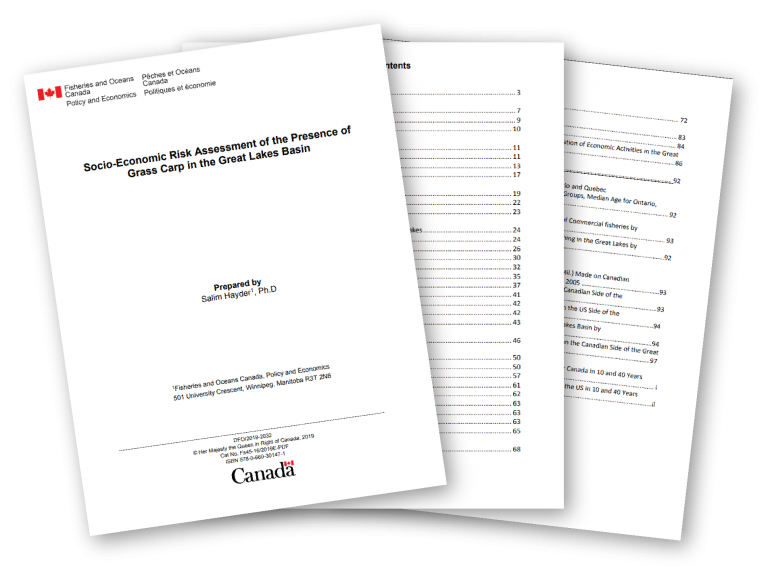 Exotic and non-native species are compiled into this database under six main columns. These columns are sorted alphabetically by using the small arrows to the left of the column heading.
You can change the number of entries per page in the upper left-hand corner of the database from 10 to 20, 25, 50 or 100.
In the upper right corner is a search engine to allow users to find specific information on a species.
Under the "Citation or Assessing Organization" column click on the hyperlink to proceed to the organizations risk assessment.
In the bottom right corner of the database, click on "next" to proceed to the next page or click "previous" to go back to the last page.
If you are viewing this table on your mobile phone, rotate your screen to landscape mode for easier use
Species
Common
Name
Taxa
Environment
Citation or Assessing
Organization

 

Jurisdiction
of Assessment
 
Iris
Yellow Spot Tospovirus; Iris Yellow Spot Virus
Virus
Terrestrial
European and Mediterranean Plant Protection Organization.
(2007). Pest Risk Analysis for Iris Yellow Spot Virus. Retrieved from (link)
Europe
 
Iris
Yellow Spot Tospovirus; Iris Yellow Spot Virus
Virus
Terrestrial
European and Mediterranean Plant Protection Organization.
(2009). Report of a Pest Risk Analysis for Iris Yellow Spot Virus. Retrieved
from (link)
Europe
 
Crown-vetch;
Axseed; Purple Crown-vetch; Trailing Crown-vetch; Varia Crownvetch; Crown
Vetch; Crownvetch
Terrestrial
Plant
Terrestrial
Jacquart E., Brown D., Casebere L., et al. (2003). Assessment
of Invasive Species in Indiana's Natural Areas; Official Crown Vetch
(Coronilla varia) Assessment. Retrieved from
(link)
Indiana
 
Viral
Hemorrhagic Septicemia Virus

 

Virus
Aquatic
Kaufman J. (2010). Viral Hemorrhagic Septicemia Virus (VHSV)
Risk Assessment for Oregon 2010. Retrieved from
(link)
Oregon
Lymantria dispar (Asian race)
Asian Gypsy Moth
Insect
Terrestrial
Boone C.K.. (2007). Wisconsin Department of Natural Resources
Literature Review: Lymantria dispar. Retrieved from
(link)
Wisconsin

 

Securigera varia; Coronilla varia
Crown-vetch; Axseed; Purple
Crown-vetch; Trailing Crown-vetch; Varia Crownvetch; Crown Vetch; Crownvetch
Terrestrial
Plant
Terrestrial
Becker R. (2015). MN NWAC Risk Assessment Worksheet:

 

Securigera varia. Retrieved from (link)
Minnesota
Securigera varia; Coronilla varia
Crown-vetch; Axseed; Purple Crown-vetch;
Trailing Crown-vetch; Varia Crownvetch; Crown Vetch; Crownvetch
Terrestrial Plant
Terrestrial
Ma J., & Moore G. (2009). New York Non-Native Plant
Invasiveness Ranking Form: Coronilla varia. Retrieved from (link)
New
York
Securigera varia; Coronilla varia
Crown-vetch; Axseed; Purple Crown-vetch;
Trailing Crown-vetch; Varia Crownvetch; Crown Vetch; Crownvetch
Terrestrial Plant
Terrestrial
Reyes C. (2011). Wisconsin Department of Natural Resources
Literature Review: Coronilla varia. Retrieved from
(link)
Wisconsin

 

Abbottina
rivularis
Chinese False Gudgeon
Fish
Aquatic
U.S. Fish and Wildlife Service.
(2018). Ecological Risk Screening Summary: Chinese False Fugeon (Abbottina
rivularis). Retrieved from (link)
United
States

 

Abies
homolepis
Nikko Fir
Terrestrial Plant
Terrestrial
CFIA Categorization Assessment
Canada
Abies
sibirica
Siberian Fir
Terrestrial Plant
Terrestrial
CFIA Categorization Assessment
Canada
Abramis
ballerus
Zope; Blue Bream
Fish
Aquatic
U.S. Fish and Wildlife Service.
(2018). Ecological Risk Screening Summary: Zope (Abramis ballerus). Retrieved
from (link)
United States

 

Abramis brama
Bream; Common Bream; Freshwater
Bream; Bronze Bream; Carp Bream

 

Fish
Aquatic

 

U.S. Fish and Wildlife Service. (2019). Ecological Risk
Screening Summary: Abramis brama. Retrieved from
(link)
United
States

 

Acacia saligna
Coojong;
Golden Wreath Wattle; Orange Wattle; Blue-leafed Wattle; Port Jackson Willow
Terrestrial
Plant
Terrestrial
Branquart E., Lozano V., & Brundu G. (2018). Risk
Assessment: Acacia saligna. Retrieved from (link)
Europe
Acaena novae-zelandiae
Pirri-pirri
Burr; Red Bidibid; Bidgee Widgee; Buzzy
Terrestrial
Plant
Terrestrial
Dehnen-Schmutz K. (2015). GB Non-native Species Rapid Risk
Assessment (NRAA): Pirri-pirri burr (Acaena novae-zelandiae). Retrieved from (link)
Great Britain
Acalypha australis
Asian
Copperleaf
Terrestrial
Plant

 

Terrestrial
United States Department of Agriculture. (2012). Weed Risk
Assessment for Acalypha australis L. (Euphorbiaceae) - Asian Copperleaf.
Retrieved from (link)
United
States

 

Acanthogobius
lactipes
 
Fish
Aquatic
U.S. Fish and Wildlife Service. (2018). Ecological Risk
Screening Summary: Acanthogobius lactipes. Retrieved from (link)
United States

 

Acanthospermum australe
Paraguayan
Starburr; Spiny-bur; Creeping Starbur; Prostrate Starbur
Terrestrial
Plant
Terrestrial
CFIA
Categorization Assessment
Canada
Acanthospermum hispidum
Bristly
Starbur; Goat's Head; Hispid Starburr; Starbur
Terrestrial
Plant
Terrestrial
United States Department of Agriculture. (2015). Weed Risk
Assessment for Acanthospermum hispidum DC. (Asteraceae) - Bristly Starbur.
Retrieved from (link)
United States

 

Acer
ginnala
Amur Maple
Terrestrial Plant
Terrestrial
Van Riper L., & Power T. (2015). MN NWAC Risk Assessment
Worksheet: Acer ginnala. Retrieved from (link)
Minnesota
Acer ginnala
Amur Maple
Terrestrial
Plant
Terrestrial
Ma J., & Moore G. (2008). New York Non-Native Plant
Invasiveness Ranking Form; Acer ginnala. Retrieved from (link)
New
York
Acer ginnala
Amur
Maple
Terrestrial
Plant
Terrestrial
Mastalerz A., & Culley T. (2015). Ohio Invasive Plant
Assessment Protocol: Acer ginnala. Retrieved from
(link)

 

Ohio
Acer
platanoides
Norway Maple
Terrestrial Plant
Terrestrial
Jacquart E., Cox H., & Howe K.
(2007). Assessment of Invasive Species in Indiana's Natural Areas; Official
Norway Maple Assessment. Retrieved from (link)

 

Indiana
Acer
platanoides
Norway
Maple
Terrestrial
Plant
Terrestrial
Ma J., & Moore G. (2008). New
York Non-Native Plant Invasiveness Ranking Form; Acer platanoides. Retrieved
from (link)
New York
Acer platanoides
Norway
Maple
Terrestrial
Plant
Terrestrial
Mastalerz A., & Culley T. (2016). Ohio Invasive Plant
Assessment Protocol: Acer platanoides. Retrieved from (link)
Ohio
Acer
pseudoplatanus
Sycamore Maple; Planetree Maple
Terrestrial Plant
Terrestrial
Ma J., & Moore G. (2008). New York Non-Native Plant
Invasiveness Ranking Form; Acer pseudoplatanus. Retrieved from (link)
New
York
Achatina
fulica
Giant African Snail; East African Land
Snail
Aquatic Invertebrate

 

Aquatic
Corser J., & Schwartzberg E. (2013). New York Terrestrial
Invertebrates Invasiveness Ranking Form: Achatina fulica. Retrieved from (link)
New York
Achillea
santolina
 
Terrestrial Plant
Terrestrial
CFIA
Categorization Assessment
Canada
Achyranthes
aspera
Prickly
Chaff Flower; Chaff-flower; Devil's Horsewhip
Terrestrial
Plant
Terrestrial
CFIA
Categorization Assessment
Canada
Achyranthes
japonica
Japanese Chaff Flower; Oriental Chaff
Flower
Terrestrial Plant
Terrestrial
CFIA
Categorization Assessment
Canada
Achyranthes japonica
Japanese
Chaff Flower; Oriental Chaff Flower
Terrestrial
Plant
Terrestrial
Lee D., & Jacquart E. (2013).
Indiana Non-Native Plant Invasiveness Ranking Form: Achyranthes japonica.
Retrieved from (link)
Indiana
Achyranthes
japonica
Japanese Chaff Flower; Oriental Chaff
Flower
Terrestrial Plant
Terrestrial
Glenn S. (2012). New York
Non-Native Plant Invasiveness Ranking Form; Achyranthes japonica. Retrieved
from (link)
New
York
Achyranthes japonica
Japanese
Chaff Flower; Oriental Chaff Flower
Terrestrial
Plant
Terrestrial
Mastalerz A. (2015). Ohio Plant Invasive Assessment Protocol:
Achyranthes japonica. Retrieved from (link)
Ohio
Achyranthes japonica
Japanese
Chaff Flower; Oriental Chaff Flower
Terrestrial Plant
Terrestrial
United States Department of
Agriuclture. (2014).Weed Risk Assessment for Achyranthes japonica (Miq.)
Nakai - Japanese Chaff Flower. Retrieved from
(link)
United States

 

Achyranthes japonica
Japanese Chaff Flower; Oriental Chaff
Flower
Terrestrial Plant
Terrestrial
LeClair C. (2011). Wisconsin Department of Natural Resources
Literature Review: Achyranthes japonica. Retrieved from (link)
Wisconsin

 

Acipenser gueldenstaedtii
Russian Sturgeon; Diamond
Sturgeon; Danube Sturgeon

 

Fish
Aquatic
U.S. Fish and Wildlife Service.
(2018). Ecological Risk Screening Summary: Russian Sturgeon (Acipenser
gueldenstaedtii). Retrieved from (link)
United States

 

Acipenser nudiventris 
Thorn Sturgeon; Bastard
Sturgeon; Fringebarbel Sturgeon; Ship Sturgeon; Spiny Sturgeon
Fish
Aquatic
U.S. Fish and Wildlife Service.
(2018). Ecological Risk Screening Summary: Thorn

 

Sturgeon (Acipenser nudiventris). Retrieved
from (link)
United States

 

Acipenser oxyrinchus
Altantic
Sturgeon
Fish
Aquatic
U.S. Fish and Wildlife Service.
(2018). Ecological Risk Screening Summary: Atlantic sturgeon (Acipenser
oxyrinchus). Retrieved from (link)
United States

 

Acipenser ruthenus
Sterlet; White Sturgeon
Fish
Aquatic
U.S. Fish and Wildlife Service.
(2017). Ecological Risk Screening Summary: Sterlet (Acipenser ruthenus).
Retrieved from (link)
United States

 

Acipenser stellatus
Stellate
Sturgeon; Starry Surgeon
Fish
Aquatic
U.S. Fish and Wildlife Service.
(2018). Ecological Risk Screening Summary: Stellate Sturgeon (Acipenser
stellatus). Retrieved from (link)
United States

 

Acipenser
transmontanus
White Sturgeon
Fish
Aquatic
U.S. Fish and Wildlife Summary.
(2018). Ecological Risk Screening Summary: White Sturgeon (Acipenser
transmontanus). Retrieved from (link)
United States

 

Acridotheres
tristis
Common
Myna; Indian Myna
Bird
Terrestrial
Scalera R., Rabitsch W., Genovesi P., et al. (2018). Study on
Invasive Alien Species - Development of risk assessments to tackle priority
species and enhance prevention; Risk Assessment for Acridotheres tristis.
Retrieved from (link)
Europe
Acroceras zizanioides
Oat's Grass
Terrestrial Plant
Terrestrial
CFIA Categorization Assessment
Canada
Acroptilon
repens
Russian Knapweed
Terrestrial Plant
Terrestrial
Chandler M. (2014). MN NWAC Risk Assessment Worksheet:
Acroptilon repens. Retrieved from (link)
Minnesota
Actinoscirpus grossus
Giant
Bulrush; Greater Club-rush
Terrestrial
Plant
Terrestrial
CFIA
Categorization Assessment
Canada
Adelges
piceae (Ratzeburg)
Balsam Woolly Adelgid
Insect
Terrestrial
CFIA
Risk Assessment
Canada
Adelges tsugae
Hemlock
Woolly Adelgid
Insect
Terrestrial
Wagner A., Raffa K., Walker M., et al. (2007). Species
Assessment Group - Summary of Group Ratings: Adelges tsugae. Retrieved from (link)
Wisconsin

 

Adonis
aestivalis
Summer
Pheasant's-eye; Pheasant's Eye
Terrestrial Plant
Terrestrial
CFIA Categorization Assessment
Canada
Adonis
aestivalis
Summer
Pheasant's-eye; Pheasant's Eye
Terrestrial
Plant
Terrestrial
Oregon Department of Agriculture. (2013). Plant Pest Risk
Assessment for Pheasant's Eye, Adonis aestivalis L. Retrieved from (link)
Oregon
Adonis
aestivalis
Summer
Pheasant's-eye; Pheasant's Eye
Terrestrial Plant
Terrestrial
United States Department of Agriuclture. (2019).Weed Risk
Assessment for Adonis aestivalis L. (Ranunculaceae) - Summer pheasant's-eye.
Retrieved from (link)
United
States

 

Adonis flammea
Scarlet
Pheasant's-eye; Large Pheasant's-eye
Terrestrial
Plant
Terrestrial
CFIA
Categorization Assessment
Canada
Aegilops cylindrica
Jointed Goatgrass
Terrestrial Plant
Terrestrial
Brusati E.D. (2016). Aegilops cylindrica Risk Assessment.
Retrieved from (link)
California
Aegilops cylindrica
Jointed
Goatgrass
Terrestrial
Plant
Terrestrial
CFIA
Risk Assessment
Canada
Aegilops
cylindrica
Jointed Goatgrass
Terrestrial Plant
Terrestrial
CFIA Risk Management
Canada
Aegilops geniculata
Ovate Goatgrass
Terrestrial Plant
Terrestrial
CFIA
Categorization Assessment

 

Canada
Aegilops
geniculata
Ovate
Goatgrass
Terrestrial
Plant
Terrestrial
French K. (2010). Oregon Department of Agriculture Plant Pest
Risk Assessment for Barbed and Ovate Goatgrass, Aegilops triuncialis, A.
geniculata. Retrieved from (link)
Oregon
Aegilops
geniculata
Ovate
Goatgrass
Terrestrial
Plant
Terrestrial
United States Department of Agriculture. (2017). Weed Risk
Assessment for Aegilops geniculata Roth, Aegilops neglecta Req. ex Bertol.,
and Aegilops triuncialis L. (Poaceae) - Goatgrass. Retrieved from (link)
United
States

 

Aegilops spp
 
Terrestrial
Plant
Terrestrial
CFIA Categorization Assessment
Canada
Aegopodium podagraria
Bishop's Goutweed; Goutwort;
Snow-on-the-mountain; Herb-Gerard; Wild or English Masterwort; Ax-ashe Weed;
Aise-weed; Dwarf Weed; Bishop's-weed; White-ash-herb; Garden-plague;
Dog-elder; Ground-elder; Jackjump-about
Terrestrial Plant

 

Terrestrial
Ma J., Moore J., Jordan M., et al. (2012). New York Non-Native
Plant Invasiveness Ranking Form For Natural/Minimally Managed Areas:
Aegopodium podagraria. Retrieved from (link)
New York
Aegopodium podagraria
Bishop's
Goutweed; Goutwort; Snow-on-the-mountain; Herb-Gerard; Wild or English
Masterwort; Ax-ashe Weed; Aise-weed; Dwarf Weed; Bishop's-weed;
White-ash-herb; Garden-plague; Dog-elder; Ground-elder; Jackjump-about
Terrestrial
Plant

 

Terrestrial
Weglage
E., & Culley T. (2018). Ohio Invasive Plant Assessment Protocol:
Aegopodium podagraria. Retrieved from (link)
Ohio
Aegopodium podagraria
Bishop's
Goutweed; Goutwort; Snow-on-the-mountain; Herb-Gerard; Wild or English
Masterwort; Ax-ashe Weed; Aise-weed; Dwarf Weed; Bishop's-weed;
White-ash-herb; Garden-plague; Dog-elder; Ground-elder; Jackjump-about
Terrestrial
Plant

 

Terrestrial
Lind S. (2011). Wisconsin Department of Natural Resources
Literature Review: Aegopodium podagraria. Retrieved from (link)
Wisconsin

 

Ageratum
conyzoides
Billygoat Weed; Billy Goat Weed; Chickweed; Goatweed
Terrestrial
Plant
Terrestrial
CFIA
Risk Assessment
Canada
Ageratum conyzoides
Billygoat
Weed; Billy Goat Weed; Chickweed; Goatweed
Terrestrial
Plant
Terrestrial
United States Department of Agriculture. (2019). Weed Risk
Assessment for Ageratum conyzoides L. (Asteraceae) - Billygoat Plant.
Retrieved from (link)
United States

 

Agrilus
planipennis

 

Emerald Ash Borer
Insect

 

Terrestrial
CFIA
Risk Assessment
Canada
Agrilus planipennis

 

Emerald Ash Borer
Insect

 

Terrestrial
European
and Mediterranean Plant Protection Organization. (2013). Pest Risk Analysis
for Agrilus planipennis. Retrieved from (link)
Europe
Agrilus planipennis

 

Emerald
Ash Borer
Insect

 

Terrestrial
Schwartzburg E. (2013). New York Terrestrial Invertebrates
Invasiveness Ranking Form: Agrilus planipennis. Retrieved from (link)
New York
Agrilus
planipennis

 

Emerald Ash Borer
Insect

 

Terrestrial
Hodge J., Scarr T., Ross F., et al. (2015). Emerald Ash Borer
Pest Risk Analysis for Northern Ontario and Manitoba. Retrieved from (link)
Northern
Ontario and Manitoba
Agrilus
planipennis

 

Emerald Ash Borer
Insect

 

Terrestrial
Boone C.K.. (2007). Wisconsin Department of Natural Resources
Literature Review: Agrilus planipennis. Retrieved from (link)
Wisconsin

 

Agrostis avenacea
New
Zealand Wind Grass; Pacific Bent Grass; Fairy Grass; Blown-grass
Terrestrial
Plant
Terrestrial
CFIA
Categorization Assessment
Canada
Agrostis gigantea
Redtop;
Black Bentgrass
Terrestrial Plant
Terrestrial
Moore G. (2009). New York Non-Native Plant Invasiveness Ranking
Form: Agrostis gigantea. Retrieved from (link)
New York
Agrostis stolonifera
Creeping
Bentgrass; Creeping Bent; Fiorin; Spreading Bent; Carpet Bentgrass
Terrestrial
Plant
Terrestrial
United States Department of Agriculture. (2014). Weed Risk
Assessment for non-herbicide resistant and herbicide resistant types of
Agrostis stolonifera L.. Retrieved from (link)
United States

 

Agrostis stolonifera

 

Creeping
Bentgrass (GE herbicide resistant)
Terrestrial
Plant
Terrestrial
United States Department of Agriculture. (2003). APHIS
Preliminary Risk Assessment on the Petition for a Determination of
Nonregulated Status for Creeping Bentgrass (Agrostis stolonifera) Genetically
Engineered (Event ASR368) for Tolerance to the Herbicide Glyphosate submitted by Monsanto
Company and the Scotts Company. Retrieved from
(link)
United
States

 

Agrostis
stolonifera

 

Creeping
Bentgrass (GE herbicide resistant)
Terrestrial
Plant
Terrestrial
United States Department of Agriculture. (2014). Weed Risk
Assessment for non-herbicide resistant and herbicide resistant types of
Agrostis stolonifera L. Retrieved from (link)
United
States

 

Ailanthus
altissima
Tree-of-Heaven; Varnish Tree; Chinese
Sumac; Stinking Sumac; Copal Tree; Varnish Tree; Paradise Tree; Tree of
Heaven
Terrestrial Plant
Terrestrial
Pergl J. (2018). EU Non-Native Organism Risk Assessment Scheme:
Ailanthus altissima. Retrieved from (link)
Europe
Ailanthus altissima
Tree-of-Heaven;
Varnish Tree; Chinese Sumac; Stinking Sumac; Copal Tree; Varnish Tree;
Paradise Tree; Tree of Heaven
Terrestrial
Plant
Terrestrial
Dehnen-Schmutz K. (2016). GB Non-native Organism Rapid Risk
Assessment

 

for Tree-of-Heaven
(Ailanthus altissima). Retrieved from (link)
Great Britain
Ailanthus
altissima
Tree-of-Heaven; Varnish Tree; Chinese
Sumac; Stinking Sumac; Copal Tree; Varnish Tree; Paradise Tree; Tree of
Heaven
Terrestrial Plant
Terrestrial
Jacquart E., & Clemants A. (2012). Indiana Non-Native Plant
Invasiveness Ranking Form: Ailanthus altissima. Retrieved from (link)
Indiana
Ailanthus altissima
Tree-of-Heaven;
Varnish Tree; Chinese Sumac; Stinking Sumac; Copal Tree; Varnish Tree;
Paradise Tree; Tree of Heaven
Terrestrial
Plant
Terrestrial
Graeve K. (2014). MN NWAC Risk Assessment Worksheet: Ailanthus
altissima. Retrieved from (link)
Minnesota
Ailanthus altissima
Tree-of-Heaven;
Varnish Tree; Chinese Sumac; Stinking Sumac; Copal Tree; Varnish Tree;
Paradise Tree; Tree of Heaven
Terrestrial
Plant
Terrestrial
Ma J., Moore G., & Clemants S.
(2008). New York Non-Native Plant Invasiveness Ranking Form; Ailanthus
altissima. Retrieved from (link)
New
York
Ailanthus
altissima
Tree-of-Heaven; Varnish Tree; Chinese
Sumac; Stinking Sumac; Copal Tree; Varnish Tree; Paradise Tree; Tree of
Heaven
Terrestrial Plant
Terrestrial
OIPC Team. (2014). Ohio Invasive Plant Assessment Protocol:
Ailanthus altissima. Retrieved from (link)
Ohio
Ailanthus altissima
Tree-of-Heaven;
Varnish Tree; Chinese Sumac; Stinking Sumac; Copal Tree; Varnish Tree;
Paradise Tree; Tree of Heaven
Terrestrial
Plant
Terrestrial
Coombs E. (2012). Oregon Department of Agriculture Plant Pest
Risk Assessment Tree of heaven, Ailanthus altissima. Retrieved from (link)
Oregon
Ailanthus altissima
Tree-of-Heaven; Varnish Tree;
Chinese Sumac; Stinking Sumac; Copal Tree; Varnish Tree; Paradise Tree; Tree
of Heaven
Terrestrial
Plant
Terrestrial
Kollmansberger A. (2007). Wisconsin Department of Natural
Resources Literature Review: Ailanthus altissima. Retrieved from (link)
Wisconsin

 

Aira elegantissima
Lace Hairgrass; Elegant European
Hairgrass
Terrestrial
Plant
Terrestrial
CFIA
Categorization Assessment
Canada
Ajuga chamaepitys
Yellow
Bugle; Ground-pine; Ground Pine
Terrestrial
Plant
Terrestrial
CFIA
Categorization Assessment
Canada
Akebia
quinata
Chocolate Vine; Five-leaf Chocolate Vine;
Five-leaf Akebia
Terrestrial Plant
Terrestrial
CFIA
Categorization Assessment
Canada
Akebia quinata
Chocolate
Vine; Five-leaf Chocolate Vine; Five-leaf Akebia
Terrestrial
Plant
Terrestrial
Ma. J., & Clemants S. (2008). New York Non-Native Plant
Invasiveness Ranking Form: Akebia quinata. Retrieved from (link)
New
York
Albizia julibrissin
Persian
Silk Tree; Silk Tree; Mimosa; Bastard Tamarind; Nemu Tree; Lenkoran Acacia;
Silky Acacia; Silktree
Terrestrial
Plant
Terrestrial
CFIA Categorization Assessment
Canada
Albizia
julibrissin
Persian Silk Tree; Silk Tree; Mimosa;
Bastard Tamarind; Nemu Tree; Lenkoran Acacia; Silky Acacia; Silktree
Terrestrial Plant
Terrestrial
Glenn S., & Moore G. (2009). New York Non-Native Plant
Invasiveness Ranking Form: Albizia julibrissin. Retrieved from (link)
New
York
Alburnus
alburnus
Bleak; Common Bleak
Fish
Aquatic
U.S. Fish and Wildlife Service. (2019). Ecological Risk
Screening Summary: Bleak (Alburnus alburnus). Retrieved from (link)
United
States

 

Alhagi maurorum
Persian Mannaplant; Camelthorn;
Camelthorn-bush; Caspian Manna; Yantak
Terrestrial Plant
Terrestrial
CFIA
Risk Assessment
Canada
Alhagi
maurorum
Persian Mannaplant; Camelthorn;
Camelthorn-bush; Caspian Manna; Yantak
Terrestrial Plant
Terrestrial
Sharratt D., Barrett R., Miller G., & Forney T. (2011).
Oregon Department of Agriculture Plant Pest Risk Assessment for Camelthorn,
Alhagi maurorum. Retrieved from (link)
Oregon
Alliaria
petiolata
Garlic Mustard
Terrestrial Plant
Terrestrial
Jacquart E. (2013). Indiana
Non-Native Plant Invasiveness Ranking Form: Alliaria petiolata. Retrieved
from (link)
Indiana
Alliaria petiolata
Garlic
Mustard
Terrestrial
Plant
Terrestrial
Van Riper L. (2013). MN NWAC Risk Assessment Worksheet:
Alliaria petiolata. Retrieved from (link)
Minnesota
Alliaria
petiolata
Garlic Mustard
Terrestrial
Plant
Terrestrial
Moore G. (2009). New York
Non-Native Plant Invasiveness Ranking Form: Alliaria petiolata. Retrieved
from (link)
New
York
Alliaria petiolata
Garlic
Mustard
Terrestrial
Plant
Terrestrial
OIPC Team. (2014). Ohio Invasive Plant Assessment Protocol:
Alliaria petiolata. Retrieved from (link)
Ohio
Alliaria
petiolata
Garlic Mustard
Terrestrial
Plant
Terrestrial
Miller G. (2008). Oregon Department of Agriculture Noxious
Weed Pest Risk Assessment for Garlic Mustard, Alliaria petiolata
Brassicaceae. Retrieved from (link)
Oregon
Alliaria
petiolata
Garlic Mustard
Terrestrial Plant
Terrestrial
Sheehan M. (2007). Wisconsin Department of Natural Resources
Literature Review: Alliaria petiolata. Retrieved from (link)
Wisconsin

 

Alnus glutinosa
European
or Black Alder
Terrestrial
Plant
Terrestrial
Jacquart E. (2012). Assessment of Invasive Species in Indiana's
Natural Areas; Official Black Alder (Alnus glutinosa) Assessment. Retrieved
from (link)
Indiana
Alnus glutinosa
European
or Black Alder
Terrestrial Plant
Terrestrial
Glenn S., & Moore G. (2008). New York Non-Native Plant
Invasiveness Ranking Form: Alnus glutinosa. Retrieved from (link)
New York
Alnus glutinosa
European
or Black Alder
Terrestrial
Plant
Terrestrial
Lee S. (2011). Wisconsin Department of Natural Resources
Literature Review: Alnus glutinosa. Retrieved from (link)
Wisconsin

 

Alopecurus myosuroides
Slender
Meadow Foxtail; Black-grass; Twitch Grass; Black Twitch
Terrestrial
Plant
Terrestrial
CFIA
Risk Assessment
Canada
Alopecurus myosuroides
Slender
Meadow Foxtail; Black-grass; Twitch Grass; Black Twitch
Terrestrial
Plant
Terrestrial
CFIA
Risk Management
Canada
Alopecurus
pratensis
Meadow
Foxtail; Field Meadow Foxtail
Terrestrial
Plant
Terrestrial
Robison R. (2016). Alopecurus pratensis Risk Assessment.
Retrieved from (link)
California
Alopochen
aegyptiacus; Alopochen aegyptiaca
Egyptian Goose
Bird
Aquatic
Mazurska K., & Solarz W. (2017). Risk Assessment of
Egyptian Goose Alopochen aegyptiacus. Retrieved from
(link)
Europe
Alopochen aegyptiacus; Alopochen aegyptiaca
Egyptian Goose
Bird
Aquatic
Wright L. (2011). GB Non-Native Organism Risk Assessment
Scheme for Egyptian Goose (Alopochen aegyptiacus). Retrieved from (link)
Great Britain
Alopochen aegyptiacus; Alopochen aegyptiaca
Egyptian Goose
Bird
Aquatic
Adams D. (2013). New York Terrestrial Vertebrate Invasiveness
Ranking Form: Alopochen aegyptiacus. Retrieved from
(link)
New York
Alopochen
aegyptiacus; Alopochen aegyptiaca
Egyptian Goose
Bird
Aquatic
Mazurska K., & Solarz W. (2016). Risk Assessment of
Egyptian Goose Alopochen aegyptiacus. Retrieved from
(link)
Poland
Alopochen
aegyptiacus; Alopochen aegyptiaca
Egyptian Goose
Bird
Aquatic
U.S. Fish and Wildlife Service. (2018). Ecological Risk
Screening Summary: Eygptian Goose (Alopochen aegyptiaca). Retrieved from (link)
United States

 

Alosa aestivalis
Blueback
Herring; Blueback Shad; River Herring
Fish
Aquatic
U.S. Fish and Wildlife Service. (2018). Ecological Risk
Screening Summary: Blueback Herring (Alosa aestivalis). Retrieved from (link)
United
States

 

Alosa
chrysochloris
Skipjack Herring; Skipjack Shad
Fish
Aquatic
U.S. Fish and Wildlife Service.
(2017). Ecological Risk Screening Summary: Skipjack Herring (Alosa
chrysochloris). Retrieved from (link)
United States

 

Alosa
pseudoharengus
Alewife
Fish
Aquatic
Schwartzburg E. (2013). New York Fish and Aquatic Invertebrate
Invasiveness Ranking Form: Alosa pseudoharengus. Retrieved from (link)
New
York
Alosa pseudoharengus
Alewife
Fish
Aquatic
U.S. Fish and Wildlife Service. (2019). Ecological Risk
Screening Summary: Alewife (Alosa pseudoharengus). Retrieved from (link)
United States

 

Alosa sapidissima
American
Shad
Fish

 

Aquatic
Alaska Center for Conservation Science. (2017). Bering Sea
Marine Invasive Species Assessment: Alosa sapidissima. Retrieved from (link)
Alaska
Alstroemeria aurea
Peruvian-lily
Terrestrial
Plant
Terrestrial
CFIA
Categorization Assessment
Canada
Alternanthera
philoxeroides
Alligator Weed
Aquatic
Plant
Aquatic
European and Mediterranean Plant Protection Organization.
(2015). Pest Risk Analysis for Alternanthera philoxeroides. Retrieved from (link)
Europe
Alternanthera
philoxeroides
Alligator Weed
Aquatic Plant
Aquatic
U.S. Fish and Wildlife Service. (2018). Ecological Risk
Screening Summary: Alligator Weed (Alternanthera philoxeroides). Retrieved
from (link)
United
States

 

Alternanthera sessilis
Dwarf
Copperleaf; Ponnanganni; Ponnaganti Aaku; Sessile Joyweed
Aquatic
Plant
Aquatic
CFIA
Risk Assessment
Canada
Alternanthera sessilis
Dwarf
Copperleaf; Ponnanganni; Ponnaganti Aaku; Sessile Joyweed
Aquatic
Plant
Aquatic
CFIA
Risk Management
Canada
Althaea armeniaca
Marshmallow; Armenian Mallow
Terrestrial Plant
Terrestrial
United States Department of
Agriculture. (2012). Weed Risk Assessment for Althaea armeniaca Ten.
(Malvaceae) - Marshmallow. Retrieved from (link)
United States

 

Alyssum murale
Yellowtuft
Terrestrial
Plant
Terrestrial
Brusati E.D. (2016). Alyssum murale Risk Assessment. Retrieved
from (link)
California
Alyssum murale
Yellowtuft
Terrestrial
Plant
Terrestrial
Amsberry K., Jules M., & Meinke R.J. (2008). Pest Risk
Assessment of Alyssum murale and A. corsicum. Retrieved from (link)
Oregon
Amaranthus
deflexus
Low
Amaranth; Large-fruit Amaranth; Argentina Amaranth; Perennial Pigweed
Terrestrial
Plant
Terrestrial
CFIA
Categorization Assessment
Canada
Amaranthus
graecizans
Mediterranean Amaranth; Short-tepalled
pigweed
Terrestrial Plant
Terrestrial
CFIA
Categorization Assessment
Canada
Amaranthus
muricatus
African Amaranth
Terrestrial Plant

 

Terrestrial
CFIA
Categorization Assessment
Canada
Amaranthus
palmeri
Carelessweed;
Dioecious Amaranth; Palmer's Amaranth; Palmer Amaranth; Palmer's Pigweed
Terrestrial
Plant
Terrestrial
CFIA
Categorization Assessment
Canada
Amaranthus
palmeri
Carelessweed; Dioecious Amaranth; Palmer's
Amaranth; Palmer Amaranth; Palmer's Pigweed
Terrestrial Plant
Terrestrial
CFIA
Risk Assessment
Canada
Amaranthus
palmeri
Carelessweed;
Dioecious Amaranth; Palmer's Amaranth; Palmer Amaranth; Palmer's Pigweed
Terrestrial Plant
Terrestrial
Becker R. (2014). MN NWAC Risk Assessment Worksheet:
Amaranthus palmeri. Retrieved from (link)
Minnesota
Amaranthus palmeri
Carelessweed; Dioecious
Amaranth; Palmer's Amaranth; Palmer Amaranth; Palmer's Pigweed
Terrestrial Plant
Terrestrial
United States Department of Agriculture. (2020) Weed Risk
Assessment for Amaranthus palmeri (Amaranthaceae) - Palmer's Amaranth.
Retrieved from (link)
United States

 

Amatitlania nigrofasciata
Convict
Cichlid; Zebra Cichlid
Fish
Aquatic
U.S. Fish and Wildlife Service. (2018). Ecological Risk
Screening Summary: Amatitlania nigrofasciata. Retrieved from (link)
United States

 

Amblyopyrum
muticum
Amblyopyrum
Terrestrial Plant

 

Terrestrial
CFIA
Categorization Assessment
Canada
Ameiurus catus
White Catfish
Fish
Aquatic
U.S. Fish and Wildlife Service. (2017). Ecological Risk
Screening Summary: White Catfish (Ameiurus catus). Retrieved from (link)
United
States

 

Ammi majus
Bishop's
Flower; False Queen Anne's Lace; Bullwort; Common Bishop's Weed; False
Bishop's Weed; Herb William; Bishop's Weed; Greater Ammi; Lady's Lace;
Laceflower; Large Bullwort; Queen Anne's Lace; White Dill; Bishop's-weed;
Bishopsweed; Lace Flower; Meadow Sweet; Meadowsweet

 

Terrestrial Plant
Terrestrial
CFIA
Categorization Assessment
Canada
Ammi
visgnaga
Bisnaga; Toothpick-plant; Toothpickweed;
Khella; Bishop's Weed
Terrestrial Plant

 

Terrestrial
CFIA
Categorization Assessment
Canada
Ammi visnaga
Toothpickweed;
Toothpick-plant; Bisnaga; Khella; Bishop's Weed
Terrestrial
Plant
Terrestrial
CFIA
Categorization Assessment
Canada
Ampelopsis
brevipedunculata
Porcelainberry; Porcelain Berry; Porcelain
Ampelopsis; Porcelain- vine; Amur Peppervine; Wild Grape
Terrestrial Plant
Terrestrial
Calkins J. (2014). MN NWAC Risk Assessment Worksheet:
Ampelopsis brevipedunculata. Retrieved from (link)
Minnesota
Ampelopsis
brevipedunculata
Porcelainberry;
Porcelain Berry; Porcelain Ampelopsis; Porcelain- vine; Amur Peppervine; Wild
Grape
Terrestrial
Plant
Terrestrial
Ma J., & Moore G. (2008). New York Non-Native Plant
Invasiveness Ranking Form: Ampelopsis brevipedunculata. Retrieved from (link)
New
York
Ampelopsis
brevipedunculata
Porcelainberry;
Porcelain Berry; Porcelain Ampelopsis; Porcelain- vine; Amur Peppervine; Wild
Grape
Terrestrial
Plant
Terrestrial
OIPC Team. (2014). Ohio Invasive Plant Assessment Protocol:
Ampelopsis brevipedunculata. Retrieved from (link)
Ohio
Ampelopsis glandulosa
Porcelain
Berry; Amur Peppervine; Creeper; Wild Grape

 

Terrestrial
Plant
Terrestrial
CFIA
Categorization Assessment
Canada
Amphibalanus
amphitrite
Striped Barnacle; Purple Acorn Barnacle;
Amphitrite's Rock Barnacle
Aquatic Invertebrate
Aquatic
Alaska Center for Conservation
Science. (2017). Bering Sea Marine Invasive Species Assessment: Amphibalanus
amphitrite. Retrieved from (link)
Alaska
Amphibalanus
improvisus
Bay Barnacle
Aquatic Invertebrate

 

Aquatic
Alaska Center for Conservation Science. (2017). Bering Sea
Marine Invasive Species Assessment: Amphibalanus improvisus. Retrieved from (link)
Alaska
Amynthas
spp.
Asian Earthworms
Terrestrial
Invertebrate
Terrestrial
Soto J. 2013. New York Terrestrial Invertebrate Invasiveness
Ranking Form: Amynthas spp. Retrieved from (link)
New
York
Andropogon gayanus
Gamba
Grass; Rhodesian Bluegrass; Tambuki Grass
Terrestrial
Plant
Terrestrial
CFIA
Categorization Assessment
Canada
Andropogon virginicus
Broomsedge
Bluestem; Yellowsedge Bluestem; Whiskey Grass
Terrestrial
Plant
Terrestrial
European and Mediterranean Plant Protection Organization.
(2018). Pest Risk Assessment for Andropogon virginicus. Retrieved from (link)

 

Europe
Angelica
archangelica
Norwegian Angelica; Garden Angelica; Wild
Celery
Terrestrial Plant
Terrestrial
CFIA Categorization Assessment
Canada
Anguilla anguilla
European
Eel 
Fish
Aquatic
U.S. Fish and Wildlife Service.
(2019). Ecological Risk Screening Summary: European Eel (Anguilla anguilla).
Retrieved from (link)
United States

 

Annona muricata
Soursop
Terrestrial
Plant
Terrestrial
CFIA
Categorization Assessment
Canada
Anoplophora glabripennis (Motschulsky)
Asian
Long-horned Beetle; Starry Sky Beetle

 

Insect
Terrestrial
Schwartzburg E. (2013). New York Terrestrial Invertebrates
Invasiveness Ranking Form: Anoplophora glabripennis. Retrieved from (link)
New
York
Anoplophora glabripennis (Motschulsky)
Asian
Long-horned Beetle; Starry Sky Beetle

 

Insect
Terrestrial
Boone C.K.. (2007). Wisconsin Department of Natural Resources
Literature Review: Anoplophora glabripennis. Retrieved from (link)
Wisconsin

 

Anthemis
pseudocotula
 
Terrestrial
Plant
Terrestrial
CFIA
Categorization Assessment
Canada
Anthriscus sylvestris
Wild Chervil; Cow Parsley
Terrestrial Plant
Terrestrial
Moore G. (2009). New York Non-Native Plant Invasiveness Ranking
Form: Anthriscus sylvestris. Retrieved from (link)
New York
Anthriscus
sylvestris
Wild Chervil; Cow Parsley
Terrestrial Plant
Terrestrial
Meier M. (2007). Wisconsin Department of Natural Resources
Literature Review: Anthriscus sylvestris. Retrieved from (link)
Wisconsin

 

Anubias barteri
Anubias;
Anubias Barteri
Aquatic
Plant

 

Aquatic
United States Department of Agriculture. (2013). Weed Risk
Assessment for Anubias barteria Schott (Araceae). Retrieved from (link)
United
States

 

Apeltes
quadracus
Fourspine Stickleback; Bloody Stickleback
Fish
Aquatic
U.S. Fish and Wildlife Service.
(2019). Ecological Risk Screening Summary: Fourspine Stickleback (Apeltes
quadracus). Retrieved from (link)
United
States

 

Apera
spica-venti
Common Windgrass; Loose Silky-bent; Silky
bent-grass; Loose Silkybent; Loose Silky Bentgrass
Terrestrial Plant
Terrestrial
CFIA
Categorization Assessment
Canada
Apera spica-venti
Common
Windgrass; Loose Silky-bent; Silky bent-grass; Loose Silkybent; Loose Silky
Bentgrass
Terrestrial
Plant
Terrestrial
United States Department of Agriculture. (2016). Weed Risk
Assessment for Apera spica-venti

 

(L.)
P. Beauv. (Poaceae) - Common Windgrass. Retrieved from (link)
United States

 

Apocorophium lacustre
Scud
Aquatic
Invertebrate
Aquatic
U.S. Fish and Wildlife Service.
(2017). Ecological Risk Screening Summary: Scud (Apocorophium lacustre).
Retrieved from (link)
United
States

 

Aralia elata
Japanese Angelica-tree; Chinese
Angelica-tree; Korean Angelica-tree; Angelica Tree; Japanese Angelica
Terrestrial
Plant
Terrestrial
CFIA
Categorization Assessment
Canada
Aralia elata
Japanese Angelica-tree; Chinese
Angelica-tree; Korean Angelica-tree; Angelica Tree; Japanese Angelica
Terrestrial
Plant
Terrestrial
Ma J., & Moore G. (2008). New York Non-Native Plant
Invasiveness Ranking Form: Aralia elata. Retrieved from (link)
New
York
Araujia
sericifera
Cruel Plant; Bladderflower;
White Bladderflower
Terrestrial Plant
Terrestrial
Brusati E.D. (2016). Araujia sericifera Risk Assessment.
Retrieved from (link)
California
Araujia
sericifera
Cruel
Plant; Bladderflower; White Bladderflower
Terrestrial
Plant
Terrestrial
United States Department of Agriculture. (2012). Weed Risk
Assessment for Araujia sericifera Brot. (Apocynaceae) - Cruel plant.
Retrieved from (link)
United
States

 

Arcticum
minus
Common Burdock; Lesser Burdock; Little
Burdock; Louse-bur; Button-bur; Cuckoo-button; Wild Rhubarb
Terrestrial Plant
Terrestrial
Weglage
E. (2018). Ohio Invasive Plant Assessment Protocol: Arcticum minus. Retrieved
from (link)
Ohio
Ardisia
crenata
Coralberry Ardisia; Christmas Berry;
Australian Holly; Coral Ardisia; Coral Bush; Coralberry; Coralberry Tree;
Hen's-eyes; Spiceberry
Terrestrial Plant
Terrestrial
United States Department of Agriculture. (2013). Weed Risk
Assessment for Ardisia crenata Sims (Myrsinaceae) - Coralberry ardisia.
Retrieved from (link)
United States

 

Arivela viscosa
Asian
Spiderflower; Asian Spider Flower; Wild Caia; Yellow Cleome
Terrestrial
Plant
Terrestrial
CFIA
Categorization Assessment
Canada
Artemisia austriaca
 
Terrestrial
Plant
Terrestrial
CFIA
Catergorization Assessment
Canada
Artemisia japonica
Japanese
Wormwood
Terrestrial
Plant
Terrestrial
CFIA
Categorization Assessment
Canada
Artemisia vulgaris
Common Wormwood; Mugwort; Common
Mugwort; Wild Wormwood; Felon Herb
Terrestrial Plant
Terrestrial
Jacquart E. (2011). Indiana Non-Native Plant Invasiveness
Ranking Form: Artemisia vulgaris. Retrieved from
(link)

 

Indiana
Artemisia
vulgaris
Common Wormwood; Mugwort; Common Mugwort;
Wild Wormwood; Felon Herb
Terrestrial Plant
Terrestrial
Moore G. (2009). New York Non-Native Plant Invasiveness Ranking
Form: Artemesia vulgaris. Retrieved from (link)
New
York
Arthurdendyus triangulatus

 

New
Zealand Flatworm
Terrestrial
Invertebrate
Terrestrial
Murchie A. K. (2017). Study on Invasive Alien Species -
Development of risk assessments to tackle priority species and enhance
prevention; Risk Assessment for Arthurdendyus triangulatus. Retrieved from (link)
Europe
Arundo donax
Giant
Reed; Giant Cane; Elephant Grass; Carrizo; Arundo; Spanish Cane; Colorado
River Reed; Wild Cane
Terrestrial
Plant
Wetland
CFIA
Risk Assessment
Canada
Arundo donax
Giant
Reed; Giant Cane; Elephant Grass; Carrizo; Arundo; Spanish Cane; Colorado
River Reed; Wild Cane
Terrestrial
Plant
Wetland
CFIA
Risk Management
Canada
Arundo donax
Giant
Reed; Giant Cane; Elephant Grass; Carrizo; Arundo; Spanish Cane; Colorado
River Reed; Wild Cane
Terrestrial
Plant
Wetland
U.S. Fish and Wildlife Service.
(2017). Ecological Risk Screening Summary: Giant Reed (Arundo donax).
Retrieved from (link)
United States

 

Arundo donax
Giant Reed; Giant Cane; Elephant Grass;
Carrizo; Arundo; Spanish Cane; Colorado River Reed; Wild Cane
Terrestrial Plant
Wetland
United States Department of
Agriculture. (2012). Weed Risk Assessment for Arundo donax L. (Poaceae) -
Giant reed. Retrieved from (link)
United
States

 

Arundo donax
Giant
Reed; Giant Cane; Elephant Grass; Carrizo; Arundo; Spanish Cane; Colorado
River Reed; Wild Cane
Terrestrial
Plant
Wetland
Wisconsin Department of Natural Resources. (n.d.). Aquatic
Invasive Species Literature Review: Arundo donax. Retrieved from (link)
Wisconsin

 

Asparagus
asparagoides
Bridal
Creeper; Bridal-veil Creeper; Gnarboola; Smilax; Smilax Aspargus
Terrestrial
Plant
Terrestrial
CFIA
Categorization Assessment
Canada
Asphodelus
fistulosus
Onion Weed; Hollow-stemmed Asphodel;
Onionweed; Onion-leafed Asphodel; Pink Asphodel
Terrestrial Plant
Terrestrial
CFIA Categorization Assessment
Canada
Asphodelus
fistulosus
Onion
Weed; Hollow-stemmed Asphodel; Onionweed; Onion-leafed Asphodel; Pink
Asphodel
Terrestrial
Plant
Terrestrial
CFIA Risk Assessment
Canada
Asphodelus
fistulosus
Onion Weed; Hollow-stemmed Asphodel;
Onionweed; Onion-leafed Asphodel; Pink Asphodel
Terrestrial Plant
Terrestrial
United States Department of Agriculture. (2019). Weed Risk
Assessment for Asphodelus fistulosus L. (Asphodelaceae) - Onion weed.
Retrieved from (link)
United
States

 

Astacus astacus
European
Crayfish; Noble Crayfish
Aquatic
Invertebrate
Aquatic
Great Britain Non-Native Species Secretariat. (2011). GB
Non-Native Organism Risk Assessment Scheme for Noble Crayfish (Astacus
astacus). Retrieved from (link)
Great Britain
Astacus astacus
European
Crayfish; Noble Crayfish
Aquatic Invertebrate
Aquatic
U.S. Fish and Wildlife Service.
(2015). Ecological Risk Screening Summary: European Crayfish (Astacus
astacus). Retrieved from (link)
United
States

 

Astacus
leptodactylus
Danube Crayfish; Galician
Crayfish; Turkish Crayfish; Narrow-clawed Crayfish

 

Aquatic Invertebrate
Aquatic

 

Great Britain Non-Native Species Secretariat. (2011). GB
Non-Native Organism Risk Assessment Scheme for Turkish Crayfish (Astacus
leptodactylus). Retrieved from (link)
Great Britain
Astacus leptodactylus
Danube
Crayfish; Galician Crayfish; Turkish Crayfish; Narrow-clawed Crayfish

 

Aquatic
Invertebrate
Aquatic

 

U.S. Fish and Wildlife Service.
(2018). Ecological Risk Screening Summary: Danube Crayfish (Pontastacus
leptodactylus). Retrieved from (link)
United States

 

Astragalus membranaceus
Huang
Qi
Terrestrial
Plant
Terrestrial
CFIA
Categorization Assessment
Canada
Atherina
boyeri
Big-scale Sand Smelt

 

Fish
Aquatic

 

U.S. Fish and Wildlife Service.
(2017). Ecological Risk Screening Summary: Big-scale Sand Melt (Atherina
boyeri). Retrieved from (link)
United
States

 

Austroderia richardii
New
Zealand Pampass Grass
Terrestrial
Plant
Terrestrial
United States Department of
Agriculture. (2014). Weed Risk Assessment for Austroderia richardii (Endl.)
N. P. Barker & H. P. Linder (Poaceae) – New Zealand pampas grass.
Retrieved from (link)

 

United
States

 

Austroeupatorium inulifolium
 
Terrestrial Plant
Terrestrial
CFIA Catergorization Assessment
Canada
Avena barbata
Wild
Oat; Slender Wild Oat; Slender Oat
Terrestrial
Plant
Terrestrial
CFIA
Categorization Assessment

 

Canada
Avena strigosa
Lopsided Oat; Bristle Oat; Black Oat
Terrestrial Plant
Terrestrial
CFIA Categorization Assessment
Canada
Azolla
filiculoides
Pacific
Mosquitofern; Red Water Fern; Water Fern

 

Aquatic
Plant
Aquatic
Great Britain Non-Native Species Secretariat. (2011). GB
Non-Native Organism Risk Assessment Scheme: for Water Fern (Azolla
filiculoides). Retrieved from (link)
Great
Britain
Azolla filiculoides
Pacific Mosquitofern; Red Water
Fern; Water Fern

 

Aquatic Plant
Aquatic
U.S. Fish and Wildlife Service.
(2017). Ecological Risk Screening Summary: Pacific Mosquitofern (Azolla
filiculoides). Retrieved from (link)
United States

 

Babka
gymnotrachelus
Racer Goby
Fish
Aquatic
U.S. Fish and Wildlife Service. (2019). Ecological Risk
Screening Summary: Racer Goby (Babka gymnotrachelus). Retrieved from (link)
United
States

 

Babka gymnotrachelus,
Proterorhinus

marmoratus, Neogobius melanostomus
Ponto-caspian
Gobies
Fish
Aquatic
Gozlan R.E. (2019). GB Non-native Species Rapid Risk
Assessment (NRRA) for Ponto-caspian Gobies (Babka gymnotrachelus,
Proterorhinus marmoratus, Neogobius melanostomus). Retrieved from (link)
Great
Britain
Bacopa
australis
Southern Bacopa
Aquatic Plant
Aquatic
United States Department of
Agriculture. (2013). Weed Risk Assessment for Bacopa australis V.C. Souza
(Scrophulariaceae). Retrieved from (link)
United States

 

Bactericera cockerelli
Potato
Psyllid; Tomato Psyllid
Insect
Terrestrial
European
and Mediterranean Plant Protection Organisation. (2010). Report of a Pest
Risk Analysis for Candidatus Liberibacter solanacearum in Solanaceae and its
vector Bactericera cockerelli. Retrieved from (link)
Europe
Bactericera
cockerelli
Potato Psyllid; Tomato Psyllid
Insect
Terrestrial
European
and Mediterranean Plant Protection Organisation. (2012). Pest Risk Analysis
for Bactericera cockerelli. Retrieved from (link)
Europe
Ballerus sapa
White-eye Bream

 

Fish
Aquatic

 

U.S. Fish and Wildlife Service.
(2018). Ecological Risk Screening Summary: White-eye Bream (Ballerus sapa).
Retrieved from (link)
United States

 

Bangia atropurpurea
Red Algae
Algae
Aquatic
U.S. Fish and Wildlife Service. (2018). Ecological Risk
Screening Summary: Red Algae (Bangia atropurpurea). Retrieved from (link)
United States

 

Barbarea vulgaris
Garden Yellowrocket; Bittercress; Herb
Barbara; Rocketcress; Yellow Rocketcress; Winter Rocket; Yellow Rocket; Wound
Rocket
Terrestrial Plant
Terrestrial
Mastalerz A., & Culley T. (2014). Ohio Invasive Plant
Assessment Protocol: Barbarea vulgaris. Retrieved from (link)
Ohio
Barbus barbus
Common
Barbel; Barbel
Fish
Aquatic
U.S Fish and Wildlife Service. (2018). Ecological Risk
Screening Summary: Barbel (Barbus barbus). Retrieved from (link)
United States

 

Bassia
prostrata
Forage
Kochia
Terrestrial
Plant
Terrestrial
CFIA Categorization Assessment
Canada
Bassia
prostrata
Forage Kochia
Terrestrial
Plant
Terrestrial
CFIA
Risk Assessment
Canada
Bassia
scoparia

 

Mexican Fireweed; Kochia;
Summer/Mock/Belvedere/Annual/Broom Cypress; Burning Bush/Burningbush; Common
Kochia; Belvedere; Red Belvedere; Mirabel; Mexican Firebush/Firebrush;
Firebush; Ragweed; Fireball; Railroad Weed; Poor Man's Alfalfa; Tumbleweed;
Common Red Sage
Terrestrial Plant
Terrestrial
Calkins J. (2017). MN NWAC Risk Assessment Worksheet: Bassia
scoparia. Retrieved from (link)
Minnesota
Batillaria
attramentaria
Asian
Horn Snail; Japanese Mud Snail; Asian Hornsnail; Japanese False Cerith Snail;
Japanese False Cerith
Aquatic
Invertebrate

 

Aquatic
Alaska Center for Conservation Science. (2017). Bering Sea
Marine Invasive Species Assessment: Batillaria attramentaria. Retrieved from (link)
Alaska
Benthophilus
stellatus
Stellate Tadpole Goby
Fish
 Aquatic
U.S. Fish and Wildlife Service.
(2017). Ecological Risk Screening Summary: Stellate Tadpole-goby (Benthopilus
stellatus). Retrieved from (link)
United States

 

Berberis thunbergii
Japanese Barberry; Thunberg's
Barberry; Red Barberry
Terrestrial Plant
Terrestrial
Jacquart E., Cox H., Howe K., & Miller D. (2007).
Assessment of Invasive Species in Indiana's Natural Areas; Official Japanese
Barberry (Berberis thunbergii) Assessment. Retrieved from (link)

 

Indiana
Berberis thunbergii
Japanese Barberry; Thunberg's
Barberry; Red Barberry
Terrestrial
Plant
Terrestrial
Van Riper L., & Power T. (2013). MN NWAC Risk Assessment
Worksheet: Berberis thunbergii. Retrieved from
(link)

 

Minnesota
Berberis thunbergii
Japanese
Barberry; Thunberg's Barberry; Red Barberry
Terrestrial
Plant
Terrestrial
Ma J., & Moore G. (2008). New
York Non-Native Plant Invasiveness Ranking Form; Berberis thunbergii.
Retrieved from (link)
New
York
Berberis thunbergii
Japanese
Barberry; Thunberg's Barberry; Red Barberry
Terrestrial
Plant
Terrestrial
Mastalerz A. (2016). Ohio Invasive Plant Assessment Protocol:
Berberis thunbergii. Retrieved from (link)
Ohio
Berberis thunbergii
Japanese
Barberry; Thunberg's Barberry; Red Barberry
Terrestrial
Plant
Terrestrial
Matson E. (2011). Wisconsin Department of Natural Resources
Literature Review: Berberis thunbergii. Retrieved from (link)
Wisconsin

 

Berberis
vulgaris

 

Common Barberry; European
Barberry; Barberry
Terrestrial
Plant
Terrestrial
Van Riper L. (2015). MN NWAC Risk Assessment Worksheet:
Berberis vulgaris. Retrieved from (link)
Minnesota
Berberis vulgaris

 

Common
Barberry; European Barberry; Barberry
Terrestrial
Plant
Terrestrial
Ma J., & Moore G. (2009). New York Non-Native Plant
Invasiveness Ranking Form: Berberis vulgaris. Retrieved from (link)
New York
Berkheya
rigida
African Thistle
Terrestrial Plant
Terrestrial
CFIA
Categorization Assessment
Canada
Berteroa incana
Hoary Alyssum
Terrestrial Plant
Terrestrial
Robison R. (2016). Berteroa incana

 

Risk Assessment. Retrieved from (link)
California
Berteroa
incana
Hoary Alyssum
Terrestrial Plant
Terrestrial
Becker R. (2017). MN NWAC Risk Assessment Worksheet: Berteroa
incana. Retrieved from (link)
Minnesota
Bicca
bjoekna
Silver Bream; White Bream
Fish
Aquatic

 

U.S. Fish and Wildlife Service.
(2018). Ecological Risk Screening Summary: Silver Bream (Blicca bjoerkna).
Retrieved from (link)
United
States

 

Bidens pilosa
Black-jack;
Beggar-ticks; Cobbler's Pegs; Sticky Beaks; Farmer's Friends; Spanish Needle
Terrestrial
Plant

 

Terrestrial
CFIA
Risk Assessment
Canada
Bidens subalternans
Greater
Beggar's Ticks
Terrestrial
Plant
Terrestrial
CFIA
Categorization Assessment
Canada
Bithynia tentaculata
Faucet Snail; Mud Bithynia;
Common Bithynia
Aquatic Invertebrate

 

Aquatic
Schwartzburg E. (n.d.). New York Fish and Aquatic Invertebrates
Invasiveness Ranking Form: Bithynia tentaculata. Retrieved from (link)
New York
Bithynia
tentaculata
Faucet
Snail; Mud Bithynia; Common Bithynia
Aquatic
Invertebrate

 

Aquatic
U.S. Fish and Wildlife Service.
(2015). Ecological Risk Screening Summary: Faucet Snail (Bithynia
tentaculata). Retrieved from (link)
United States

 

Bituminaria bituminosa
Arabian
Pea; Pitch Trefoil
Terrestrial
Plant

 

Terrestrial
CFIA
Categorization Assessment
Canada
Blainvillea acmella
Para
Cress Flower
Terrestrial
Plant
Terrestrial
CFIA
Categorization Assessment
Canada
Blainvillea dichotoma
Kalajari
Terrestrial
Plant
Terrestrial
CFIA
Categorization Assessment
Canada
Boerhavia diffusa
Red Spiderling; Punarnava;
Spreading Hogweed; Tarvine
Terrestrial Plant
Terrestrial
CFIA
Categorization Assessment
Canada
Boerhavia
diffusa
Red
Spiderling; Punarnava; Spreading Hogweed; Tarvine
Terrestrial
Plant
Terrestrial
CFIA Risk Assessment
Canada
Boissiera
squarrosa
 
Terrestrial Plant
Terrestrial
CFIA Categorization Assessment
Canada
Bombina bombina 
European
Firebellied Toad; Ringing Frog; Fiery Toad; Fire Frog; Firebelly Toad
Amphibian

 

Aquatic
U.S. Fish and Wildlife Service.
(2018). Ecological Risk Screening Summary: European Firebellied Toad (Bombina
bombina). Retrieved from (link)
United States

 

Bothriochloa ischaemum
Yellow Bluestem; Plains Bluestem
Terrestrial Plant
Terrestrial
CFIA Categorization Assessment
Canada
Bothriochloa
ischaemum
Yellow Bluestem; Plains Bluestem
Terrestrial Plant
Terrestrial
CFIA Risk Assessment
Canada
Bothriochloa ischaemum
Yellow
Bluestem; Plains Bluestem
Terrestrial
Plant
Terrestrial
CFIA
Risk Management
Canada
Bothriochloa laguroides
Silver Beardgrass; Silver Beard
Grass
Terrestrial Plant
Terrestrial
CFIA
Categorization Assessment
Canada
Bothriocline laxa
Kapanthi
Terrestrial
Plant
Terrestrial
United States Department of
Agriculture. (2015). Weed Risk Assessment for Bothriocline laxa N. E. Br.
(Asteraceae) - Kapanthi. Retrieved from (link)
United
States

 

Botrylloides violaceus
Violet Tunicate; Chain Tunicate;
Orange Sheath Tunicate
Aquatic Invertebrate
Aquatic
Alaska Center for Conservation Science. (2017). Bering Sea
Marine Invasive Species Assessment: Botrylloides violaceus. Retrieved from (link)
Alaska
Botrylloides violaceus
Violet
Tunicate; Chain Tunicate; Orange Sheath Tunicate
Aquatic
Invertebrate
Aquatic
DFO. (2013). Science Advice from a Risk Assessment of Five
Sessile Tunicate Species. Retrieved from (link)
Canada
Botrylloides violaceus
Violet
Tunicate; Chain Tunicate; Orange Sheath Tunicate
Aquatic
Invertebrate
Aquatic
Therriault T.W., & Herborg L-M. (2007). Risk Assessment for
Two Solitary and Three Colonial Tunicates in Both Atlantic and Pacific
Canadian Waters. Retrieved from (link)
Canada
Botryllus
schlosseri
Golden Star Tunicate
Aquatic Invertebrate

 

Aquatic
Alaska Center for Conservation Science. (2017). Bering Sea
Marine Invasive Species Assessment: Botryllus schlosseri. Retrieved from (link)
Alaska
Botryllus
schlosseri
Golden Star Tunicate
Aquatic Invertebrate

 

Aquatic
DFO. (2013). Science Advice from a Risk Assessment of Five
Sessile Tunicate Species. Retrieved from (link)
Canada
Botryllus
schlosseri
Golden
Star Tunicate
Aquatic
Invertebrate

 

Aquatic
Therriault T.W., & Herborg L-M. (2007). Risk Assessment for
Two Solitary and Three Colonial Tunicates in Both Atlantic and Pacific
Canadian Waters. Retrieved from (link)
Canada
Brachionus
leydigii
Rotifer
Aquatic Invertebrate
Aquatic
U.S. Fish and Wildlife Service.
(2017). Ecological Risk Screening Summary: Rotifer (Brachionus leydigii).
Retrieved from (link)
United
States

 

Brachypodium
distachyon
Purple False Brome; Stiff Brome
Terrestrial Plant
Terrestrial
CFIA Categorization Assessment 
Canada
Brachypodium distachyon
Purple
False Brome; Stiff Brome
Terrestrial
Plant
Terrestrial
CFIA
Risk Assessment
Canada
Brachypodium
sylvaticum
False
Brome; Slender Falsebrome; False-brome; Slender False Brome; Wood False Brome
Terrestrial
Plant
Terrestrial
CFIA
Categorization Assessment
Canada
Brachypodium sylvaticum
False
Brome; Slender Falsebrome; False-brome; Slender False Brome; Wood False Brome
Terrestrial
Plant
Terrestrial
Moore G. (2009). New York Non-Native Plant Invasiveness Ranking
Form: Brachypodium sylvaticum. Retrieved from
(link)
New York
Brachypodium
sylvaticum
False Brome; Slender Falsebrome;
False-brome; Slender False Brome; Wood False Brome
Terrestrial Plant
Terrestrial
Miller G. (2002). Oregon Department of Agriculture Noxious
Weed Pest Risk Assessment for False brome, Brachypodium sylvaticum Poaceae.
Retrieved from (link)
Oregon
Brassica
carinata
Ethiopean Mustard
Terrestrial Plant
Terrestrial
CFIA
Categorization Assessment
Canada
Brassica carinata
Ethiopean
Mustard
Terrestrial
Plant
Terrestrial
United States Department of Agriculture. (2014). Weed Risk
Assessment for Brassica carinata A. Braun (Brassicaceae) - Ethiopean mustard.
Retrieved from (link)
United
States

 

Brassica tournefortii
Asian
Mustard; Pale Cabbage; African Mustard; Sahara Mustard
Terrestrial
Plant
Terrestrial
CFIA
Catergorization Assessment
Canada
Bromus brachyanthera
 
Terrestrial
Plant
Terrestrial
CFIA
Categorization Assessment
Canada
Bromus danthoniae
Oat Brome
Terrestrial Plant
Terrestrial
CFIA
Categorization Assessment
Canada
Bromus
fasciculatus
 
Terrestrial Plant
Terrestrial
CFIA Categorization Assessment
Canada
Bromus
inermis
Smooth Bromegrass; Smooth Brome
Terrestrial Plant
Terrestrial
Mastalerz A., & Culley T. (2015). Ohio Invasive Plant
Assessment Protocol: Bromus inermis. Retrieved from
(link)
Ohio
Bromus
madritensis
Compact Brome
Terrestrial Plant
Terrestrial
CFIA
Categorization Assessment
Canada
Bromus
pectinatus
 
Terrestrial Plant
Terrestrial
CFIA
Categorization Assessment
Canada
Bromus
tectorum
Downy Brome; Cheat Grass
Terrestrial Plant
Terrestrial
Moore G. (2009). New York Non-Native Plant Invasiveness Ranking
Form: Bromus tectorum. Retrieved from (link)
New
York
Bryonia
alba
Wild
Hop; White Bryony; White Bryonia; Devils Turnip; Western Kudzu
Terrestrial
Plant
Terrestrial
CFIA Categorization Assessment
Canada
Bryonia
alba
Wild Hop; White Bryony; White Bryonia;
Devils Turnip; Western Kudzu
Terrestrial Plant
Terrestrial
Oregon Department of Agriculture. (2008). Weed Risk Assessment
for White Bryonia, Bryonia alba L.. Retrieved from
(link)
Oregon
Buddleja davidii
Orange-eye
Butterfly Bush; Summer Lilac; Butterfly-bush; Orange Eye; Butterfly Bush
Terrestrial
Plant
Terrestrial
Moore G. (2009). New York Non-Native Plant Invasiveness Ranking
Form: Buddleja davidii. Retrieved from (link)
New York
Buddleja davidii
Orange-eye
Butterfly Bush; Summer Lilac; Butterfly-bush; Orange Eye; Butterfly Bush
Terrestrial
Plant
Terrestrial
Miller G. (2004). Oregon Department of Agriculture Noxious
Weed Pest Risk Assessment for Butterfly Bush, Buddleja davidii Buddlejaceae.
Retrieved from (link)
Oregon
Buddleja
davidii; Buddleia davidii
Summer
Lilac; Butterfly-bush; Orange Eye
Terrestrial
Plant
Terrestrial
Brusati E.D. (2016). Buddleja davidii Risk Assessment.
Retrieved from (link)
California
Buddleja davidii; Buddleia davidii
Summer Lilac; Butterfly-bush;
Orange Eye
Terrestrial
Plant
Terrestrial
CFIA
Categorization Assessment
Canada
Bugula neritina
Brown
Bryozoan; Common Bugula
Aquatic
Invertebrate
Aquatic
Alaska Center for Conservation Science. (2017). Bering Sea
Marine Invasive Species Assessment: Bugula neritina. Retrieved from (link)
Alaska
Bulbostylis hispidula
Beard of the Lion
Terrestrial Plant
Terrestrial
United States Department of Agriculture. (2014). Weed Risk
Assessment for Bulbostylis hispidula (Vahl) R. W. Haines - Beard of the Lion.
Retrieved from (link)
United States

 

Bunias
erucago
Southern Warty Cabbage
Terrestrial Plant
Terrestrial
United States Department of Agriculture. (2016). Weed Risk
Assessment for Bunias erucago L. (Brassicaceae) - Southern warty cabbage.
Retrieved from (link)
United
States

 

Butomus
umbellatus
Flowering Rush; Grass Rush
Aquatic Plant

 

Aquatic
Glenn S.D. (2012). New York Non-Native Plant Invasiveness
Ranking Form: Butomus umbellatus. Retrieved from
(link)
New
York
Butomus umbellatus
Flowering
Rush; Grass Rush
Aquatic
Plant

 

Aquatic
Mastalerz A., & Culley T. (2015). Ohio Invasive Plant
Assessment Protocol: Butomus umbellatus. Retrieved from (link)
Ohio
Butomus
umbellatus
Flowering
Rush; Grass Rush
Aquatic Plant

 

Aquatic
Miller G. (2008). Oregon Department of Agriculture Plant Pest
Risk Assessment for Flowering Rush, Butomus umbellatus L.. Retrieved from (link)
Oregon
Butomus umbellatus
Flowering
Rush; Grass Rush
Aquatic
Plant

 

Aquatic
U.S. Fish and Wildlife Service.
(2018). Ecological Risk Screening Summary: Flowering Rush (Butomus
umbellatus). Retrieved from (link)
United States

 

Butomus umbellatus
Flowering Rush; Grass Rush
Aquatic Plant

 

Aquatic
Wisconsin Department of Natural Resources. (n.d.). Aquatic
Invasive Species Literature Review: Butomus umbellatus. Retrieved from (link)
Wisconsin

 

Bythotrephes
longimanus (formerly Bythotrephes cederstroemii)
Spiny Water Flea; Spiny Waterflea
Aquatic Invertebrate
Aquatic
Schwartzberg E. (2013). New York
Fish and Aquatic Invertebrate Invasiveness Ranking Form: Bythotrephes
cederstroemii. Retrieved from (link)
New
York
Bythotrephes longimanus (formerly Bythotrephes
cederstroemii)
Spiny Water Flea; Spiny
Waterflea
Aquatic Invertebrate
Aquatic
Johannsson O.E. (2007). Risk Assessment of Bythotrephes
longimanus establishment in Muskoka Lakes: an Assessment of QBRAT, the
Quantitative Biological Risk Assessment Tool. Retrieved from (link)

 

Ontario
Bythotrephes
longimanus (formerly Bythotrephes cederstroemii)
Spiny Water Flea; Spiny Waterflea
Aquatic
Invertebrate
Aquatic
U.S. Fish and Wildlife Service.
(2017). Ecological Risk Screening Summary: Spiny Water Flea: (Bythotrephes
longimanus). Retrieved from (link)
United
States

 

Bythotrephes longimanus (formerly Bythotrephes
cederstroemii)
Spiny Water Flea; Spiny
Waterflea
Aquatic Invertebrate
Aquatic
Wisconsin Department of Natural Resources. (n.d.). Literature
Review: Bythotrephes cederstroemi. Retrieved from (link)
Wisconsin

 

Cabomba
caroliniana
Carolina Fanwort; Carolina Water Shield;
Green Cabomba; Fanwort; Fish Grass; Washington Grass
Aquatic Plant

 

Aquatic
CFIA
Risk Assessment 
Canada
Cabomba caroliniana
Carolina
Fanwort; Carolina Water Shield; Green Cabomba; Fanwort; Fish Grass;
Washington Grass
Aquatic
Plant

 

Aquatic
European and Mediterranean Plant Protection Organization
(EPPO). (2007). Pest Risk Analysis for Cabomba caroliniana. Retrieved from (link)
Europe
Cabomba
caroliniana
Carolina Fanwort; Carolina Water Shield;
Green Cabomba; Fanwort; Fish Grass; Washington Grass
Aquatic Plant

 

Aquatic
European
and Mediterranean Plant Protection Organization (EPPO). (2007). Pest Risk
Analysis for Cabomba caroliniana. Retrieved from (link)
Europe
Cabomba caroliniana
Carolina Fanwort; Carolina Water
Shield; Green Cabomba; Fanwort; Fish Grass; Washington Grass
Aquatic Plant

 

Aquatic
Mauremootoo J. (2015). GB Non-native Organism Risk Assessment
Scheme for Carolina Fanwort (Cabomba caroliniana). Retrieved from (link)
Great Britain
Cabomba
caroliniana
Carolina Fanwort; Carolina Water Shield;
Green Cabomba; Fanwort; Fish Grass; Washington Grass
Aquatic Plant

 

Aquatic
Ma J., & Moore G. (2009). New York Non-Native Plant
Invasiveness Ranking Form: Cabomba caroliniana. Retrieved from (link)
New
York
Cabomba caroliniana
Carolina
Fanwort; Carolina Water Shield; Green Cabomba; Fanwort; Fish Grass;
Washington Grass
Aquatic
Plant

 

Aquatic
OMNRF
Risk Assessment
Ontario
Cabomba
caroliniana
Carolina Fanwort; Carolina Water Shield;
Green Cabomba; Fanwort; Fish Grass; Washington Grass
Aquatic Plant

 

Aquatic
U.S. Fish and Wildlife Service. (2018). Ecological Risk
Screening Summary: Carolina Fanwort (Cabomba caroliniana). Retrieved from (link)
United
States

 

Cabomba
caroliniana
Carolina
Fanwort; Carolina Water Shield; Green Cabomba; Fanwort; Fish Grass;
Washington Grass
Aquatic
Plant

 

Aquatic
Wisconsin Department of Natural Resources. (n.d.). Aquatic
Invasive Species Literature Review: Cabomba caroliniana. Retrieved from (link)
Wisconsin

 

Cajanus
cajan
Pigeon Pea; Pigeonpea; Red Gram; Tur
Terrestrial Plant
Terrestrial
CFIA Categorization Assessment
Canada
Calendula arvensis

 

Field
Marigold
Terrestrial
Plant
Terrestrial
United States Department of Agriculture. (2016). Weed Risk
Assessment for Calendula arvensis L. (Asteraceae) - Field Marigold. Retrieved
from (link)
United States

 

Calendula
officinalis
Pot Marigold; Ruddles; Common Marigold;
Scotch Marigold
Terrestrial Plant
Terrestrial
CFIA Risk Assessment
Canada
Callipogon relictus (Semenov)
Asian
Callipogon Longhorn Beetle
Insect

 

Terrestrial
CFIA
Risk Assessment
Canada
Callitriche stagnalis
Pond Water-starwort; Common
Starwort; Common Water Starwort; Common Water-starwort; Mud Water Starwort;
Pond Water Starwort; Starwort; Water Starwort
Aquatic Plant
Aquatic
Clemants S. (2008). New York Non-Native Plant Invasiveness
Ranking Form: Callitriche stagnalis. Retrieved from
(link)
New York
Callitriche stagnalis
Pond Water-starwort; Common
Starwort; Common Water Starwort; Common Water-starwort; Mud Water Starwort;
Pond Water Starwort; Starwort; Water Starwort
Aquatic Plant
Aquatic
Wisconsin Department of Natural Resources. (n.d.). Aquatic
Invasive Species Literature Review: Callitriche stagnalis. Retrieved from (link)
Wisconsin

 

Camelina
microcarpa
Littlepod False Flax; Lesser
Gold-of-pleasure; Small Seed False Flax
Terrestrial Plant
Terrestrial
CFIA
Categorization Assessment
Canada
Camelina rumelica
Graceful
False Flax
Terrestrial
Plant
Terrestrial
CFIA
Categorization Assessment
Canada
Camelina sativa
Gold-of-pleasure;
False Flax; Wild Flax; Linseed Dodder; German Sesame; Siberian Oilseed
Terrestrial
Plant
Terrestrial
CFIA
Categorization Assessment
Canada
Campanula
rapunculoides
Creeping Bellflower; European Bellflower
Terrestrial Plant
Terrestrial
Annen C. (2007). Wisconsin Department of Natural Resources
Literature Review: Campanula rapunculoides. Retrieved from (link)
Wisconsin

 

Campuloclinium
macrocephalum
Pompom Weed; Pompom Bossie
Terrestrial Plant
Terrestrial
CFIA
Categorization Assessment
Canada
Campylopus introflexus
Heath Star Moss
Terrestrial
Plant
Terrestrial
CFIA
Categorization Assessment
Canada
Candidula interseca
Wrinkled
Dune Snail 
Aquatic
Invertebrate

 

Aquatic
U.S. Fish and Wildlife Service.
(2015). Ecological Risk Screening Summary: Wrinkled dune snail (Candidula
interseca). Retrieved from (link)
United
States

 

Caprella
mutica
Japanese Skeleton Shrimp
Aquatic Invertebrate

 

Aquatic
Alaska Center for Conservation
Science. (2017). Bering Sea Marine Invasive Species Assessment: Caprella
mutica. Retrieved from (link)
Alaska
Caprella
mutica
Japanese Skeleton Shrimp
Aquatic Invertebrate

 

Aquatic
Great Britain Non-Native Species Secretariat. (2011). GB
Non-Native Organism Risk Assessment Scheme for Japanese Skeleton Shrimp
(Caprella mutica). Retrieved from (link)
Great
Britain
Caragana arborescens
Siberian Peashrub; Siberian
Pea-tree; Caragana
Terrestrial
Plant
Terrestrial
Glenn S., & LIISMA Scientific Review Committee. (2012). New
York Non-Native Plant Invasiveness Ranking Form: Caragana arborescens.
Retrieved from (link)
New York
Caragana
arborescens
Siberian Peashrub; Siberian
Pea-tree; Caragana
Terrestrial Plant
Terrestrial
LeClair C. (2011). Wisconsin Department of Natural Resources
Literature Review: Caragana arborescens. Retrieved from (link)
Wisconsin

 

Caragana
bungei
 
Terrestrial Plant
Terrestrial
CFIA Categorization Assessment
Canada
Caragana spinosa
 
Terrestrial
Plant
Terrestrial
CFIA
Categorization Assessment
Canada
Carassius auratus
Goldfish
Fish
Aquatic
White E. (2013). New York Fish and
Aquatic Invertebrate Invasiveness Ranking Form: Carassius auratus. Retrieved
from (link)
New York
Carassius
carassius
Crucian Carp
Fish
Aquatic
U.S. Fish and Wildlife Service. (2019). Ecological Risk
Screening Summary: Crucian Carp (Carassius carassius). Retrieved from (link)
United
States

 

Carassius gibelio
Prussian
Carp; Silver Prussian Carp; Gibel Carp
Fish
Aquatic
U.S. Fish and Wildlife Service. (2019). Ecological Risk
Screening Summary: Carassius gibelio. Retrieved from
(link)
United States

 

Carcinus
maenas
European Green Crab; Green Crab; Shore
Crab

 

Aquatic Invertebrate

 

Aquatic
Alaska Center for Conservation Science. (2017). Bering Sea
Marine Invasive Species Assessment: Carcinus maenas. Retrieved from (link)
Alaska
Carcinus
maenas
European Green Crab; Green Crab; Shore
Crab

 

Aquatic Invertebrate

 

Aquatic
Locke A., & Klassen G.J. (2007). Using the Quantitative
Biological Risk Assessment Tool (QBRAT) to predict effects of the European
green crab, Carcinus maenas, in Atlantic Canada. Retrieved from (link)

 

Atlantic
Canada
Carcinus
maenas
European Green Crab; Green Crab; Shore
Crab

 

Aquatic Invertebrate

 

Aquatic
Therriault T.W., Herborg L.M., Locke A., & McKindsey C.W.
(2008). Risk Assessment for European Green Crab (Carcinus maenas) in Canadian
Waters. Retrieved from (link)
Canada
Carcinus maenas
European
Green Crab; Green Crab; Shore Crab

 

Aquatic Invertebrate

 

Aquatic
Schwartzberg E. (2012). New York Fish and Aquatic Invertebrate
Invasiveness Ranking Form: Carcinus maenas. Retrieved from (link)
New
York
Cardamine
hirsuta
Bittercress; Hairy Bittercress; Snapweed;
Shotweed; Pepperweed; Common Bittercress
Terrestrial Plant
Terrestrial
Lind S.. (2011). Wisconsin Department of Natural Resources
Literature Review: Cardamine hirsuta. Retrieved from
(link)
Wisconsin

 

Cardamine
impatiens
Narrowleaf
Bittercress; Bushy Rockcress
Terrestrial
Plant
Terrestrial
Jacquart E., & Clements A. (2012). Indiana Non-Native Plant
Invasiveness Ranking Form: Cardamine impatiens. Retrieved from (link)
Indiana
Cardamine impatiens
Narrowleaf
Bittercress; Bushy Rockcress
Terrestrial
Plant
Terrestrial
Chandler M. (2011). MN NWAC Risk Assessment Worksheet:
Cardamine impatiens. Retrieved from (link)
Minnesota
Cardamine impatiens
Narrowleaf
Bittercress; Bushy Rockcress
Terrestrial
Plant
Terrestrial
Justen E. (2016). MN NWAC Risk Assessment Worksheet: Cardamine
impatiens. Retrieved from (link)
Minnesota
Cardamine impatiens
Narrowleaf
Bittercress; Bushy Rockcress
Terrestrial
Plant
Terrestrial
Glenn S., & Moore G. (2009). New York Non-Native Plant
Invasiveness Ranking Form: Cardamine impatiens. Retrieved from (link)
New York
Cardamine impatiens
Narrowleaf Bittercress; Bushy
Rockcress
Terrestrial Plant
Terrestrial
Lind S. (2011). Wisconsin Department of Natural Resources
Literature Review: Cardamine impatiens. Retrieved from (link)
Wisconsin

 

Cardiospermum grandiflorum
Balloon
Vine; Heart Pea; Heart Seed
Terrestrial
Plant
Terrestrial
European
and Mediterranean Plant Protection Organization (EPPO). (2017). Pest Risk
Analysis for Cardiospermum grandiflorum. Retrieved from (link)
Europe
Cardiospermum grandiflorum
Balloon Vine; Heart Pea; Heart
Seed
Terrestrial Plant
Terrestrial
United States Department of Agriculture. (2013). Weed Risk
Assessment for Cardiospermum grandiflorum Sw. (Sapindaceae) - Balloon Vine.
Retrieved from (link)
United States

 

Cardiospermum
halicacabum
Balloon Vine; Heart-seed; Love
in a Puff
Terrestrial Plant
Terrestrial
CFIA
Categorization Assessment
Canada
Carduus acanthoides
Plumeless
Thistle; Spiny Plumeless Thistle; Welted Thistle
Terrestrial
Plant
Terrestrial
Deitch Z., & Jacquart E. (2013). Indiana Non-Native Plant
Invasiveness Ranking Form: Carduus acanthoides. Retrieved from (link)
Indiana
Carduus
acanthoides
Plumeless Thistle; Spiny Plumeless
Thistle; Welted Thistle
Terrestrial Plant
Terrestrial
Graeve K. (2013). MN NWAC Risk Assessment Worksheet: Cardus
acanthoides. Retrieved from (link)
Minnesota
Carduus acanthoides
Plumeless
Thistle; Spiny Plumeless Thistle; Welted Thistle
Terrestrial
Plant
Terrestrial
Annen C. (2007). Wisconsin Department of Natural Resources
Literature Review: Carduus acanthoides. Retrieved from (link)
Wisconsin

 

Carduus
nutans
Musk Thistle; Nodding Thistle
Terrestrial Plant
Terrestrial
Deitch Z., & Jacquart E. (2013). Indiana Non-Native Plant
Invasiveness Ranking Form: Carduus nutans. Retrieved from (link)
Indiana
Carduus nutans
Musk
Thistle; Nodding Thistle
Terrestrial
Plant
Terrestrial
Graeve K. (2013). MN NWAC Risk Assessment Worksheet: Cardus
nutans. Retrieved from (link)
Minnesota
Carduus nutans
Musk
Thistle; Nodding Thistle
Terrestrial
Plant
Terrestrial
Annen C. (2007). Wisconsin Department of Natural Resources
Literature Review: Carduus nutans. Retrieved from
(link)
Wisconsin

 

Carduus
pycnocephalus
Italian
Plumeless Thistle; Italian Thistle; Plymouth Thistle
Terrestrial
Plant
Terrestrial
CFIA Categorization Assessment
Canada
Carex breviculmis
Short-stem
Sedge; Asian Shortstem Sedge
Terrestrial
Plant
Terrestrial
United States Department of
Agriculture. (2012). Weed Risk Assessment for Carex breviculmis R. Br.
(Cyperaceae) - Short-stem sedge. Retrieved from
(link)
United States

 

Carex pendula
Pendulous Sedge; Hanging Sedge;
Drooping Sedge; Weeping Sedge
Terrestrial Plant
Terrestrial
Brusati E.D. (2016). Carex pendula Risk Assessment. Retrieved
from (link)
California
Carex pendula
Pendulous
Sedge; Hanging Sedge; Drooping Sedge; Weeping Sedge
Terrestrial
Plant
Terrestrial
United States Department of
Agriculture. (2013). Weed Risk Assessment for Carex pendula Huds.
(Cyperaceae) - Pendulous sedge. Retrieved from
(link)
United
States

 

Carlina vulgaris
Carline
Thistle
Terrestrial
Plant
Terrestrial
CFIA
Risk Assessment
Canada
Carthamus lanatus; Carthamus baeticus

 

Wooly Distaff Thistle; Distaff
Thistle; Saffron Thistle; Smooth Distaff Thistle
Terrestrial Plant
Terrestrial
French K. (2010). Oregon Department of Agriculture Plant Pest
Risk Assessment for Wooly Distaff Thistle, Smooth Distaff Thistle Carthamus
lanatus, C. baeticus. Retrieved from (link)
Oregon
Carthamus
tenuis
Slender Safflower
Terrestrial Plant
Terrestrial
CFIA
Categorization Assessment
Canada
Cassinia
arcuata
Drooping Cassinia; Biddy Bush; Chinese
Scrub; Chinese Shrub; Sifton Bush; Tear Shrub
Terrestrial Plant
Terrestrial
CFIA
Categorization Assessment
Canada
Cassytha spp.
 
Terrestrial Plant
Terrestrial
CFIA Categorization Assessment
Canada
Celastrus orbiculatus
Oriental
Bittersweet; Chinese Bittersweet; Asian Bittersweet; Round-leaved
Bittersweet; Asiatic Bittersweet
Terrestrial
Plant
Terrestrial
Casebere L., Cline M., Gorden D.,
et al. (2003). Assessment of Invasive Species in Indiana's Natural Areas;
Official Oriental Bitterswet (Celastrus orbiculatus) Assessment. Retrieved
from (link)
Indiana
Celastrus orbiculatus
Oriental
Bittersweet; Chinese Bittersweet; Asian Bittersweet; Round-leaved
Bittersweet; Asiatic Bittersweet
Terrestrial
Plant
Terrestrial
Calkins J. (2016). MN NWAC Risk Assessment Worksheet: Celastrus
orbiculatus. Retrieved from (link)
Minnesota
Celastrus
orbiculatus
Oriental Bittersweet; Chinese Bittersweet;
Asian Bittersweet; Round-leaved Bittersweet; Asiatic Bittersweet
Terrestrial Plant
Terrestrial
Chandler M. (2011). MN NWAC Risk Assessment Worksheet:
Celastrus orbiculatus. Retrieved from (link)
Minnesota
Celastrus orbiculatus
Oriental
Bittersweet; Chinese Bittersweet; Asian Bittersweet; Round-leaved
Bittersweet; Asiatic Bittersweet
Terrestrial Plant
Terrestrial
Ma J., Clemants S., & Moore G.
(2008). New York Non-Native Invasiveness Ranking Form: Celastrus orbiculatus.
Retrieved from (link)
New York
Celastrus orbiculatus
Oriental
Bittersweet; Chinese Bittersweet; Asian Bittersweet; Round-leaved
Bittersweet; Asiatic Bittersweet
Terrestrial
Plant
Terrestrial
OIPC Team. (2014). Ohio Invasive Plant Assessment Protocol:
Celastrus orbiculatus. Retrieved from (link)
Ohio
Celastrus
orbiculatus
Oriental
Bittersweet; Chinese Bittersweet; Asian Bittersweet; Round-leaved
Bittersweet; Asiatic Bittersweet
Terrestrial Plant
Terrestrial
Kollmansberger A & Sheehan M. (2007). Wisconsin Department
of Natural Resources Literature Review: Celastrus orbiculatus. Retrieved from (link)
Wisconsin

 

Celtis sinensis
Chinese
Hackberry
Terrestrial
Plant
Terrestrial
CFIA
Categorization Assessment
Canada
Cenchrus
caudatus
African Feather Grass; Bedding Grass;
Waterside-reed; Wild Napier Grass
Terrestrial Plant
Terrestrial
CFIA
Categorization Assessment
Canada
Cenchrus echinatus
Southern
Sandspur; Spiny Sandspur; Mossman River Grass
Terrestrial
Plant
Terrestrial
Wolf K. (2016). Cenchrus echinatus Risk Assessment. Retrieved
from (link)
California
Cenchrus
echinatus
Southern Sandspur; Spiny Sandspur; Mossman
River Grass
Terrestrial Plant
Terrestrial
CFIA
Risk Assessment
Canada
Cenchrus echinatus
Southern
Sandspur; Spiny Sandspur; Mossman River Grass
Terrestrial
Plant
Terrestrial
CFIA
Risk Management
Canada
Centaurea
calcitrapa
Purple Starthistle; Red Star-thistle

 

Terrestrial Plant
Terrestrial
Chandler M. (2015). MN NWAC Risk Assessment Worksheet:
Centaurea calcitrapa. Retrieved from (link)
Minnesota
Centaurea depressa
Iranian
Knapweed; Low Cornflower
Terrestrial
Plant
Terrestrial
CFIA
Categorization Assessment
Canada
Centaurea diffusa
Diffuse
Knapweed; Knapweed; Tumble Knapweed

 

Terrestrial
Plant
Terrestrial
Chandler M. (2014). MN NWAC Risk Assessment Worksheet:
Centaurea diffusa. Retrieved from (link)
Minnesota
Centaurea
diffusa
Diffuse
Knapweed; Knapweed; Tumble Knapweed

 

Terrestrial
Plant
Terrestrial
Lind S. (2011). Wisconsin Department of Natural Resources
Literature Review: Centaurea diffusa. Retrieved from (link)
Wisconsin

 

Centaurea iberica
Iberian Starthistle; Iberian
Knapweed; Iberian Star-thistle
Terrestrial Plant
Terrestrial
CFIA
Risk Assessment
Canada
Centaurea
iberica
Iberian Starthistle; Iberian Knapweed;
Iberian Star-thistle
Terrestrial Plant
Terrestrial
CFIA Risk Management
Canada
Centaurea iberica
Iberian
Starthistle; Iberian Knapweed; Iberian Star-thistle
Terrestrial
Plant
Terrestrial
Chandler M. (2015). MN NWAC Risk Assessment Worksheet:
Centaurea iberica. Retrieved from (link)
Minnesota
Centaurea
jacea

 

Brown Knapweed; Brownray Knapweed

 

Terrestrial Plant
Terrestrial
Chandler M. (2012). MN NWAC Risk Assessment Worksheet:
Centaurea jacea. Retrieved from (link)
Minnesota
Centaurea jacea

 

Brown Knapweed; Brownray
Knapweed

 

Terrestrial
Plant
Terrestrial
Lind S. (2011). Wisconsin Department of Natural Resources
Literature Review: Centaurea jacea. Retrieved from
(link)
Wisconsin

 

Centaurea
melitensis
Maltese Star-thistle; Maltese Starthistle;
Tocalote; Malta Starthistle
Terrestrial Plant
Terrestrial
CFIA Categorization Assessment
Canada
Centaurea
phrygia
Wig Knapweed
Terrestrial Plant
Terrestrial
CFIA Risk Assessment
Canada
Centaurea solstitialis
Yellow
Star Thistle; St. Barnaby's Thistle; Golden Star-thistle; Yellow Cockspur
Terrestrial
Plant
Terrestrial
CFIA
Risk Assessment
Canada
Centaurea
solstitialis
Yellow Star Thistle; St. Barnaby's
Thistle; Golden Star-thistle; Yellow Cockspur
Terrestrial Plant
Terrestrial
CFIA Risk Management
Canada
Centaurea solstitialis
Yellow
Star Thistle; St. Barnaby's Thistle; Golden Star-thistle; Yellow Cockspur
Terrestrial
Plant
Terrestrial
Kollmansberger A., & Sheehan M. (2007). Wisconsin
Department of Natural Resources Literature Review: Melilotus officinalis.
Retrieved from (link)
Wisconsin

 

Centaurea
stoebe
Spotted Knapweed; Spotted
Star-thistle
Terrestrial Plant
Terrestrial
Jacquart E., & Clemants A. (2012). Indiana Non-Native Plant
Invasiveness Ranking Form: Centaurea stoebe. Retrieved from (link)
Indiana
Centaurea
stoebe
Spotted Knapweed; Spotted Star-thistle
Terrestrial Plant
Terrestrial
Chandler M. (2013). MN NWAC Risk Assessment Worksheet:
Centaurea stoebe. Retrieved from (link)
Minnesota
Centaurea stoebe
Spotted
Knapweed; Spotted Star-thistle
Terrestrial
Plant
Terrestrial
Ma J., & Moore G. (2009). New York Non-Native Plant
Invasiveness Ranking Form: Centaurea stoebe. Retrieved from (link)
New York
Centaurea
stoebe
Spotted Knapweed; Spotted Star-thistle
Terrestrial Plant
Terrestrial
Mastalerz A. (2016). Ohio Invasive Plant Assessment Protocol:
Centaurea stoebe. Retrieved from (link)
Ohio
Centaurea stoebe
Spotted Knapweed; Spotted
Star-thistle
Terrestrial Plant
Terrestrial
Annen C. (2007). Wisconsin Department of Natural Resources
Literature Review: Centaurea stoebe. Retrieved from (link)
Wisconsin

 

Centaurea
virgata
Squarrose
Knapweed
Terrestrial
Plant
Terrestrial
CFIA
Categorization Assessment 
Canada
Centaurea
virgata
Squarrose Knapweed
Terrestrial Plant
Terrestrial
Chandler M. (2015). MN NWAC Risk Assessment Worksheet:
Centaurea virgata. Retrieved from (link)
Minnesota
Centaurea
virgata
Squarrose Knapweed
Terrestrial Plant
Terrestrial
Sharratt D. B. (2010). Oregon Department of Agriculture Plant
Pest Risk Assessment for Squarrose knapweed, Centaurea virgata ssp.
squarrosa. Retrieved from (link)
Oregon
Centaurea x moncktonii; C. jacea
x nigra; C. pratensis Thuill; and C. debauxii subsp. Thuilleri
Meadow
Knapweed
Terrestrial
Plant
Terrestrial
Chandler M. (2012). MN NWAC Risk Assessment Worksheet: Meadow
Knapweed . Retrieved from (link)
Minnesota
Centella
asiatica
Asiatic Pennywort; Gotu Kola; Indian
Pennywort; Mandookparni

 

Terrestrial Plant
Terrestrial
CFIA
Categorization Assessment
Canada
Centrapalus pauciflous
 
Terrestrial
Plant
Terrestrial
CFIA
Categorization Assessment
Canada
Centuarea
nigra; Centaurea jacea; Centaurea nigrescens; Centaurea xmoncktonii

 

Black Knapweed; Hardheads; Spanish
Buttons; Common Knapweed; Black Star-thistle; Brown Knapweed; Brown Ray
Knapweed; Brown Star-thistle; Meadow Knapweed; Protean Knapweed;
Short-fringed Knapweed; Short-fringed Star-thistle; Tyrol Knapweed; Vochin
Knapweed; Lesser Knapweed
Terrestrial Plant
Terrestrial
Moore G. (2009). New York Non-Native Plant Invasiveness Ranking
Form: Centaurea jacea. Retrieved from (link)
New
York
Centuarea
nigra; Centaurea jacea; Centaurea nigrescens; Centaurea xmoncktonii

 

Black
Knapweed; Hardheads; Spanish Buttons; Common Knapweed; Black Star-thistle;
Brown Knapweed; Brown Ray Knapweed; Brown Star-thistle; Meadow Knapweed;
Protean Knapweed; Short-fringed Knapweed; Short-fringed Star-thistle; Tyrol
Knapweed; Vochin Knapweed; Lesser Knapweed
Terrestrial Plant
Terrestrial
Lind S. (2011). Wisconsin Department of Natural Resources
Literature Review: Centuarea nigra. Retrieved from
(link)
Wisconsin

 

Cephalaria syriaca
Syrian
Cephalaria; Makhobeli
Terrestrial
Plant
Terrestrial
CFIA
Categorization Assessment
Canada
Ceratocystis fagacearum

 

Oak
Wilt
Fungus
Terrestrial
Osterbauer N.K. (2011). Oak Wilt: Ceratocysis fagacearum Pest
Risk Assessment. Retrieved from (link)
Oregon
Ceratopteris thalictroides
Water Sprite; Indian Fern; Water Fern;
Oriental Waterfern; Water Hornfern
Aquatic Plant
Terrestrial
CFIA
Categorization Assessment
Canada
Cercopagis
pengoi
Fishhook Waterflea; Fishhook
Water Flea
Aquatic
Invertebrate

 

Aquatic
Schwartzberg E. (2013). New York Fish and Aquatic Invertebrate
Invasiveness Ranking Form: Cercopagis pengoi. Retrieved from (link)
New York
Cercopagis
pengoi
Fishhook Waterflea; Fishhook
Water Flea
Aquatic Invertebrate

 

Aquatic
U.S. Fish and Wildlife Service.
(2017). Ecological Risk Screening Summary: Fishhook Waterflea (Cercopagis
pengoi). Retrieved from (link)
United States

 

Cercopagis
pengoi
Fishhook
Waterflea; Fishhook Water Flea
Aquatic
Invertebrate

 

Aquatic
Wisconsin Department of Natural Resources. (n.d.). Literature
Review: Cercopagis pengoi. Retrieved from (link)
Wisconsin

 

Cervus nippon
Sika
Deer; Spotted Deer; Japanese Deer
Mammal
Terrestrial
Baiwy E., Schockert V., Branquart E. (2013). Risk Analysis of
the sika deer Cervus nippon (Linnaeus 1758). Retrieved from (link)
Belgium
Cervus
nippon
Sika Deer; Spotted Deer; Japanese Deer
Mammal
Terrestrial
GB Non-Native Species Secretariat. (2011).GB Non-Native
Organism Risk Assessment Scheme for Cervus nippon - Sika Deer. Retrieved from (link)
Great Britain
Cervus
nippon
Sika
Deer; Spotted Deer; Japanese Deer
Mammal
Terrestrial
Lammertsma D.R., Bruinderink G. G.W.T.A., & Griffioen A.J.
(2012). Risk assessment of Sika deer Cervus nippon in the Netherlands.
Retrieved from (link)
Netherlands
Cestrum elegans
Purple Cestrum; Red Cestrum;
Bastard Jasmine
Terrestrial Plant
Terrestrial
CFIA
Categorization Assessment
Canada
Cestrum
laevigatum
Inkberry; Poison Berry; Inkbessie
Terrestrial Plant
Terrestrial
CFIA
Categorization Assessment
Canada
Cestrum laevigatum
Inkberry; Poison Berry;
Inkbessie
Terrestrial Plant
Terrestrial
United States Department of
Agriculture. (2013). Weed Risk Assessment for Cestrum laevigatum Schltdl.
(Solanaceae) – Inkberry. Retrieved from (link)
United States

 

Chalara
fraxinea
Ash Dieback
Fungus
Terrestrial
CFIA
Categorization Assessment
Canada
Channa
argus
Northern Snakehead; Amur Snakehead
Fish
Aquatic
Cudmore B., & Mandrak N.E.
(2005). Risk Assessment for Northern Snakehead (Channa argus) in Canada.
Retrieved from (link)

 

Canada
Channa argus
Northern
Snakehead; Amur Snakehead
Fish
Aquatic
Soto J., & Adams D. (2013). New York Fish and Aquatic
Invertebrate Invasiveness Ranking Form: Channa argus. Retrieved from (link)
New York
Channa argus
Northern
Snakehead; Amur Snakehead
Fish
Aquatic
U.S. Fish and Wildlife Service.
(2017). Ecological Risk Screening Summary: Northern Snakehead (Channa argus).
Retrieved from (link)
United States

 

Chelidonium
majus
Greater Celandine
Terrestrial Plant
Terrestrial
Annen C. (2007). Wisconsin Department of Natural Resources
Literature Review: Chelidonium majus. Retrieved from
(link)
Wisconsin

 

Chelon
auratus
Golden
Grey Mullet
Fish
Aquatic
U.S. Fish and Wildlife Service. (2018). Ecological
RE1460:E1470isk Screening Summary: Golden Grey Mullet (Chelon auratus).
Retrieved from (link)
United
States

 

Chelon ramada
Thinlip Grey Mullet
Fish
Aquatic
U.S. Fish and Wildlife Service.
(2018). Ecological Risk Screening Summary: Thinlip Grey Mullet (Chelon
ramada). Retrieved from (link)
United
States

 

Chelon saliens 
Leaping Mullet
Fish
Aquatic
U.S. Fish and Wildlife Service.
(2018). Ecological Risk Screening Summary: Leaping Mullet (Chelon saliens).
Retrieved from (link)
United States

 

Cherax
destructor
Common
Yabby; Yabby
Aquatic Invertebrate

 

Aquatic

OMNRF Risk Assessment

Ontario
Cherax destructor
Common
Yabby; Yabby
Aquatic
Invertebrate

 

Aquatic
U.S. Fish and Wildlife Service. (2019). Ecological Risk
Screening Summary: Yabby (Cherax destructor). Retrieved from (link)
United
States

 

Cherax
quadricarinatus
Australian Redclaw
Aquatic Invertebrate

 

Aquatic
U.S. Fish and Wildlife Service. (2012). Ecological Risk
Screening Summary: Australian Redclaw (Cherax quadricarinatus). Retrieved
from (link)
United States

 

Chloris
pycnothrix
Spiderweb Chloris
Terrestrial Plant
Terrestrial
CFIA Categorization Assessment
Canada
Chondrilla juncea
Rush Skeltonweed; Gum Succory;
Devil's Grass; Nakedweed
Terrestrial Plant
Terrestrial
United States Department of Agriculture. (2016). Weed Risk
Assessment of Chondrilla juncea L. (Asteraceae) - Rush skeltonweed. Retrieved
from (link)
United States

 

Chrysanthemoides
monilifera
Bitou
Bush; Boneseed
Terrestrial
Plant

 

Terrestrial
United States Department of Agriculture. (2013). Weed Risk
Assessment for Chrysanthemoides monilifera (L.) Norl. Asteraceae - Boneseed,
bitou bush. Retrieved from (link)
United
States

 

Chrysopogon aciculatus
Golden
False Beardgrass
Terrestrial
Plant
Terrestrial
United States Department of
Agriculture. (2013). Weed Risk Assessment for Chrysopogon aciculatus (Retz.)
Trin. (Poaceae) – Golden false beardgrass. Retrieved from (link)
United States

 

Chrysopogon zizanioides
Vetiver
Terrestrial
Plant
Terrestrial
CFIA
Categorization Assessment
Canada
Cichla kelberi
Tucunaré
Amarela; Tucunaré Comum
Fish

 

Aquatic
U.S. Fish and Wildlife Service.
(2014). Ecological Risk Screening Summary: Cichla kelberi. Retrieved from (link)
United States

 

Cichla ocellaris
Butterfly
Peacock Bass; Peacock Bass

 

Fish

 

Aquatic
U.S. Fish and Wildlife Service. (2018). Ecological Risk
Screening Summary: Buttefly Peacock Bass (Cichla ocellaris). Retrieved from (link)
United
States

 

Cichlasoma
bimaculatum
Black Acara; Port Cichlid
Fish

 

Aquatic
U.S. Fish and Wildlife Service. (2018). Ecological Risk
Screening Summary: Black Acara (Cichlasoma bimaculatum). Retrieved from (link)
United
States

 

Ciona
intestinalis
Vase Tunicate
Aquatic Invertebrate
Aquatic
DFO. (2013). Science Advice from a Risk Assessment of Five
Sessile Tunicate Species. Retrieved from (link)
Canada
Ciona
intestinalis
Vase Tunicate
Aquatic Invertebrate
Aquatic
Therriault T.W., & Herborg L-M. (2007). Risk Assessment for
Two Solitary and Three Colonial Tunicates in Both Atlantic and Pacific
Canadian Waters. Retrieved from (link)
Canada
Ciona savignyi
Pacific
Transparent Sea Squirt; Solitary Sea Squirt
Aquatic
Invertebrate
Aquatic
Alaska Center for Conservation
Science. (2017). Bering Sea Marine Invasive Species Assessment: Ciona
savignyi. Retrieved from (link)
Alaska
Cipangopaludina chinensis; Bellamya chinensis
Chinese
Mystery Snail; Black Snail; Trapdoor Snail
Aquatic
Invertebrate

 

Aquatic
Adams D., & Schwartzberg E. (2013). New York Fish and
Aquatic Invertebrate Invasiveness Ranking Form: Bellamya chinensis. Retrieved
from (link)
New
York
Cipangopaludina
chinensis; Bellamya chinensis
Chinese
Mystery Snail; Black Snail; Trapdoor Snail
Aquatic
Invertebrate

 

Aquatic
U.S. Fish and Wildlife Service. (2018). Ecological Risk
Screening Summary: Chinese Mystery Snail (Cipangopaludina chinensis).
Retrieved from (link)
United States

 

Cipangopaludina chinensis; Bellamya chinensis
Chinese Mystery Snail; Black
Snail; Trapdoor Snail
Aquatic Invertebrate

 

Aquatic
Wisconsin Department of Natural Resources. (n.d.). Literature
Review: Cipangopaludina chinensis. Retrieved from (link)
Wisconsin

 

Cipangopaludina japonica;
Bellamya japonica
Japanese
Mystery Snail; Oriental Mystery Snail; Japanese Black Snail; Japanese
Trapdoor Snail; Mud Snail
Aquatic
Invertebrate
Aquatic
Schwartzberg E. (2013). New York Fish and Aquatic Invertebrate
Invasiveness Ranking Form: Bellamya (Cipangopaludina) japonica. Retrieved
from (link)
New York
Cipangopaludina
japonica; Bellamya japonica
Japanese Mystery Snail; Oriental Mystery
Snail; Japanese Black Snail; Japanese Trapdoor Snail; Mud Snail
Aquatic Invertebrate
Aquatic
U.S. Fish and Wildlife Service. (2018). Ecological Risk
Screening Summary: Japanese Mystery Snail (Cipangopaludina japonica).
Retrieved from (link)
United
States

 

Cirsium arvense
Canada Thistle; Creeping
Thistle; Field Thistle; Californian Thistle

 

Terrestrial Plant

 

Terrestrial
Jacquart E., & Clements A. (2012). Indiana Non-Native Plant
Invasiveness Ranking Form: Cirsium arvense. Retrieved from (link)
Indiana
Cirsium arvense
Canada Thistle; Creeping
Thistle; Field Thistle; Californian Thistle

 

Terrestrial Plant

 

Terrestrial
Becker R. (2013). MN NWAC Risk Assessment Worksheet: Cirsium
arvense. Retrieved from (link)
Minnesota
Cirsium arvense
Canada
Thistle; Creeping Thistle; Field Thistle; Californian Thistle

 

Terrestrial
Plant

 

Terrestrial
Moore G. (2009). New York Non-Native Plant Invasiveness Ranking
Form: Cirsium arvense. Retrieved from (link)
New York
Cirsium arvense
Canada
Thistle; Creeping Thistle; Field Thistle; Californian Thistle

 

Terrestrial
Plant

 

Terrestrial
Conover
B. (2018). Ohio Invasive Plant Assessment Protocol: Cirsium arvense.
Retrieved from (link)
Ohio
Cirsium arvense
Canada
Thistle; Creeping Thistle; Field Thistle; Californian Thistle

 

Terrestrial
Plant

 

Terrestrial
Annen C. (2007). Wisconsin Department of Natural Resources
Literature Review: Cirsium arvense. Retrieved from (link)
Wisconsin

 

Cirsium palustre
European
Marsh Thistle; Marsh Thistle; European Swamp Thistle
Terrestrial
Plant
Terrestrial
Graeve K. (2012). MN NWAC Risk Assessment Worksheet: Cirsium
palustre. Retrieved from (link)
Minnesota
Cirsium
palustre
European Marsh Thistle; Marsh Thistle;
European Swamp Thistle
Terrestrial Plant
Terrestrial
Moore G. (2009). New York Non-Native Plant Invasiveness Ranking
Form: Cirsium palustre. Retrieved from (link)
New
York
Cirsium palustre
European
Marsh Thistle; Marsh Thistle; European Swamp Thistle
Terrestrial
Plant
Terrestrial
Sheehan M. (2007). Wisconsin Department of Natural Resources
Literature Review: Cirsium palustre. Retrieved from
(link)
Wisconsin

 

Cirsium vulgare
Bull
Thistle; Common Thistle; Spear Thistle
Terrestrial
Plant
Terrestrial
Deitch Z., & Jacquart E. (2013). Indiana Non-Native Plant
Invasiveness Ranking Form: Cirsium vulgare. Retrieved from (link)
Indiana
Clarias
batrachus

 

Walking Catfish; Phillipine Catfish
Fish
Aquatic

 

Adams D. (2013). New York Fish and Aquatic Invertebrate
Invasiveness Ranking Form: Clarias batrachus. Retrieved from (link)
New York
Clarias batrachus

 

Walking Catfish; Phillipine
Catfish
Fish
Aquatic

 

U.S. Fish and Wildlife Service.
(2018). Ecological Risk Screening Summary: Clarias batrachus. Retrieved from (link)
United States

 

Clematis terniflora
Japanese
Virgin's-bower;Sweet Autumn Clematis; Autumn Clematis
Terrestrial
Plant
Terrestrial
Glenn S., & Moore G. (2009). New York Non-Native Plant
Invasiveness Ranking Form: Clematis terniflora. Retrieved from (link)
New
York
Cobitis taenia
Spine Loach; Spotted Weather
Loach
Fish
Aquatic
U.S. Fish and Wildlife Service.
(2017). Ecological Risk Screening Summary: Spine Loach (Cobitis taenia).
Retrieved from (link)
United States

 

Codium fragile
ssp. tomentosoides
Dead Man's Fingers; Green Sea
Fingers; Felty Fingers; Forked Felt-alga; Stag Seaweed; Sponge Seaweed; Green
Sponge; Green Fleece; Oyster Thief
Algae
Aquatic
Drouin A., & McKindsey C.W. (2007). QBRAT v2 assessment:
Codium fragile ssp. tomentosoides in the Gulf of St. Lawrence as a case
study. Retrieved from (link)
Eastern Canada
Coix lacryma-jobi
Job's
Tears; Job's-tears; Job's Tear Grass; Adlay; Adlay Millet
Terrestrial
Plant
Terrestrial
CFIA
Categorization Assessment
Canada
Coleostephus
myconis
Corn Marigold; Mediterranean Marigold
Terrestrial Plant
Terrestrial
CFIA
Categorization Assessment
Canada
Coleostephus
myconis
Corn Marigold; Mediterranean Marigold
Terrestrial Plant
Terrestrial
CFIA
Risk Assessment
Canada
Coleostephus myconis
Corn Marigold; Mediterranean
Marigold
Terrestrial Plant
Terrestrial
United States Department of Agriculture. (2017). Weed Risk
Assessment for Coleostephus myconis (L.) Cass. (Asteraceae) -Mediterranean
marigold. Retrieved from (link)

 

United States

 

Colophospermum
mopane
Mopane; Mophane; Mopani; Baslam Tree;
Butterfly Tree; Turpentine Tree
Terrestrial Plant
Terrestrial
United States Department of
Agriculture. (2013). Weed Risk Assessment for Colophospermum mopane (Kirk ex
Benth.) Kirk ex J. Léonard (Fabaceae) – Mopane. Retrieved from (link)
United States

 

Commelina benghalensis
Benghal
Dayflower; Tropical Spiderwort; Wandering Jew; Kanshira
Terrestrial
Plant
Terrestrial
CFIA
Categorization Assessment
Canada
Commelina diffusa
Climbing
Dayflower; Spreading Dayflower
Terrestrial
Plant
Terrestrial
CFIA
Categorization Assessment
Canada
Conium
maculatum
Poison Hemlock; Deadly Hemlock; Poison
Parsley; Ciguë maculée; Ciguë tachetée
Terrestrial Plant
Terrestrial
Lin J., Deitch Z., & Jacquart E. (2013). Indiana Non-Native
Plant Invasiveness Ranking Form: Conium maculatum. Retrieved from (link)
Indiana
Conium
maculatum
Poison Hemlock; Deadly Hemlock; Poison
Parsley; Ciguë maculée; Ciguë tachetée
Terrestrial Plant
Terrestrial
Hanson D. (2017). MN NWAC Risk Assessment Worksheet: Conium
maculatum. Retrieved from (link)
Minnesota
Conium
maculatum
Poison Hemlock; Deadly Hemlock;
Poison Parsley; Ciguë maculée; Ciguë tachetée
Terrestrial Plant
Terrestrial
Hofelich
J., & Jordan M. (2018). Ohio Invasive Plant Assessment Protocol: Conium
maculatum. Retrieved from (link)
Ohio
Conium maculatum
Poison
Hemlock; Deadly Hemlock; Poison Parsley; Ciguë maculée; Ciguë tachetée
Terrestrial
Plant
Terrestrial
Annen C. (2007). Wisconsin Department of Natural Resources
Literature Review: Conium maculatum. Retrieved from
(link)
Wisconsin

 

Consolida regalis
Forking Larkspur; Rocket-larkspur; Field
Larkspur
Terrestrial Plant
Terrestrial
CFIA Categorization Assessment
Canada
Convolvulus
arvensis
Field
Bindweed; Bindweed
Terrestrial
Plant
Terrestrial
Deitch Z., & Jacquart E. (2013). Indiana Non-Native Plant
Invasiveness Ranking Form: Convolvulus arvensis. Retrieved from (link)
Indiana
Convolvulus
arvensis
Field Bindweed; Bindweed
Terrestrial Plant
Terrestrial
Morgan K. (2016). Ohio Invasive Plant Assessment Protocol:
Convolvulus arvensis. Retrieved from (link)
Ohio
Coptodon
zillii
Redbelly Tilapia; Zille's Redbreast
Tilapia; St. Peter's Fish
Fish
Aquatic
U.S. Fish and Wildlife Service. (2019). Ecological Risk
Screening Summary: Redbelly Tilapia (Coptodon zillii). Retrieved from (link)
United States

 

Corbicula
fluminalis
 
Aquatic Invertebrate
Aquatic
U.S. Fish and Wildlife Service. (2018). Ecological Risk
Screening Summary: Corbicula fluminalis (a clam, no common name). Retrieved
from (link)
United States

 

Corbicula
fluminea
Asian Clam; Asiatic Clam; Golden Clam;
Good Luck Clam
Aquatic Invertebrate

 

Aquatic
Zieritz A. (2015). GB Non-native Species Rapid Risk Assessment
for Asian Clam (Corbicula fluminea). Retrieved from (link)
Great
Britain
Corbicula
fluminea
Asian Clam; Asiatic Clam; Golden Clam;
Good Luck Clam
Aquatic Invertebrate

 

Aquatic
White E. (2013). New York Fish and Aquatic Invertebrate
Invasiveness Ranking Form: Corbicula fluminea. Retrieved from (link)
New
York
Corbicula fluminea
Asian
Clam; Asiatic Clam; Golden Clam; Good Luck Clam
Aquatic
Invertebrate

 

Aquatic
U.S. Fish and Wildlife Service. (2015). Ecological Risk
Screening Summary: Asian Clam (Corbicula fluminea). Retrieved from (link)
United States

 

Corbicula
fluminea
Asian
Clam; Asiatic Clam; Golden Clam; Good Luck Clam
Aquatic
Invertebrate

 

Aquatic
Wisconsin Department of Natural Resources. (n.d.). Literature
Review: Corbicula fluminea. Retrieved from (link)

 

Wisconsin

 

Corbicula
japonica
Japanese Corbicula; Shijimi;
Japanese Basket Clam; Japanese Blue Clam
Aquatic Invertebrate
Aquatic
U.S. Fish and Wildlife Service. (2019). Ecological Risk
Screening Summary: Japanese Corbicula (Corbicula japonica). Retrieved from (link)
United States

 

Cordia
curassavica
Black
Sage; Wild Sage
Terrestrial
Plant
Terrestrial
United States Department of Agriculture. (2013). Weed Risk
Assessment for Cardia curassavica (Jacq.) Roem & Schult. (Boraginaceae) -
Black sage. Retrieved from (link)
United
States

 

Cordylophora caspia
Freshwater Hydroid
Aquatic
Invertebrate

 

Aquatic
Alaska Center for Conservation
Science. (2017). Bering Sea Marine Invasive Species Assessment: Cordylophora
caspia. Retrieved from (link)
Alaska
Coregonus
albula
Vendace
Fish
Aquatic
U.S. Fish and Wildlife Service.
(2015). Ecological Risk Screening Summary: Vendace (Coregonus albula).
Retrieved from (link)
United
States

 

Coregonus lavaretus
Powan; Common Whitefish;
European Whitefish
Fish
Aquatic
U.S. Fish and Wildlife Service.
(2015). Ecological Risk Screening Summary: Coregonus lavaretus. Retrieved
from (link)
United States

 

Coregonus
peled
Northern Whitefish; Peled
Fish
Aquatic
U.S. Fish and Wildlife Service.
(2015). Ecological Risk Screening Summary: Northern Whitefish (Coregonus
peled). Retrieved from (link)
United
States

 

Cornigerius
maeoticus maeoticus
Water
Flea
Aquatic
Invertebrate
Aquatic
U.S. Fish and Wildlife Service.
(2017). Ecological Risk Screening Summary: Water Flea (Cornigerius maeoticus
maeoticus). Retrieved from (link)
United
States

 

Cortaderia
jubata
Jubata Grass; Purple Pampas Grass; Andean
Pampas Grass

 

Terrestrial Plant
Terrestrial
CFIA Categorization Assessment
Canada
Cortaderia
jubata
Jubata Grass; Purple Pampas Grass; Andean
Pampas Grass

 

Terrestrial Plant
Terrestrial
CFIA Risk Assessment
Canada
Cortaderia
jubata
Jubata Grass; Purple Pampas
Grass; Andean Pampas Grass

 

Terrestrial Plant
Terrestrial
European and Mediterranean Plant Protection Organization.
(2018). Pest Risk Analysis for Cortaderia jubata. Retrieved from (link)
Europe
Cortaderia
jubata
Jubata
Grass; Purple Pampas Grass; Andean Pampas Grass

 

Terrestrial
Plant
Terrestrial
United States Department of
Agriculture. (2014). Weed Risk Assessment for Cortaderia jubata (Lemoine ex
Carrière) Stapf (Poaceae) – Jubata grass. Retrieved from (link)

 

United
States

 

Cortaderia richardii
Toetoe
Terrestrial
Plant
Terrestrial
CFIA
Categorization Assessment 
Canada
Cortaderia selloana
Pampas
Grass
Terrestrial
Plant
Terrestrial
CFIA
Categorization Assessment
Canada
Cortaderia
selloana
Pampas Grass
Terrestrial Plant
Terrestrial
Dehnen-Schmutz K. (2015). GB Non-native Species Rapid Risk
Assessment (NRAA) for Pampas grass (Cortaderia selloana). Retrieved from (link)
Great
Britain
Cortaderia selloana
Pampas
Grass
Terrestrial
Plant
Terrestrial
United States Department of
Agriculture. (2014). Weed Risk Assessment for Cortaderia selloana (Schult.
& Schult. f.) Asch. & Graebn. (Poaceae) – Pampas grass. Retrieved
from (link)

 

United States

 

Corydalis
incisa
Incised Fumewort; Purple Keman;
Murasa-kike-man

 

Terrestrial Plant
Terrestrial
CFIA
Categorization Assessment
Canada
Corydalis
incisa
Incised
Fumewort; Purple Keman; Murasa-kike-man

 

Terrestrial
Plant
Terrestrial
United States Department of Agriculture. (2017). Weed Risk
Assessment for Corydalis incisa (Thunb.) Pers. (Papaveraceae) – Incised
fumewort. Retrieved from (link)

 

United
States

 

Cosmos sulphureus
Sulfur
Cosmos; Yellow Cosmos
Terrestrial Plant
Terrestrial
CFIA
Categorization Assessment
Canada
Cotoneaster
dammeri
Bearberry
Cotoneaster
Terrestrial
Plant
Terrestrial
CFIA
Categorization Assessment
Canada
Cotoneaster horizontalis
Rock
Cotoneaster
Terrestrial
Plant
Terrestrial
CFIA
Categorization Assessment 
Canada
Cottus
gobio
European Bullhead; Miller's Thumb;
Freshwater Sculpin; Common Bullhead
Fish
Aquatic

 

U.S. Fish and Wildlife Service.
(2018). Ecological Risk Screening Summary: European Bullhead (Cottus gobio).
Retrieved from (link)
United
States

 

Crambe abyssinica
 
Terrestrial Plant

 

Terrestrial
CFIA
Categorization Assessment
Canada
Crassocephalum
crepidiodes
Redflower
Rag Leaf; Ebolo; Thickhead; Fireweed; Okinawa Spinach; Redflower Ragleaf
Terrestrial
Plant
Terrestrial
CFIA
Categorization Assessment
Canada
Crassocephalum crepidioides
Ebolo;
Thickhead; Redflower Ragleaf; Fireweed
Terrestrial
Plant
Terrestrial
CFIA
Categorization Assessment
Canada
Crassostrea
gigas
Pacific
Oyster; Japanese Oyster; Miyagi Oyster
Aquatic
Invertebrate
Aquatic
Alaska Center for Conservation
Science. (2017). Bering Sea Marine Invasive Species Assessment: Crassostrea
gigas. Retrieved from (link)
Alaska
Crassostrea
gigas
Pacific Oyster; Japanese Oyster; Miyagi
Oyster
Aquatic Invertebrate
Aquatic
Great Britain Non-Native Species Secretariat. (2010). GB
Non-Native Organism Risk Assessment Scheme for Pacific Oyster (Crassostrea
gigas). Retrieved from (link)
Great
Britain
Crassula
helmsii
Swamp Stonecrop; New Zealand
Pygmy Weed; Crassula; Australian Swamp Stonecrop
Wetland Plant
Wetland
European
and Mediterranean Plant Protection Organisation. (2006). Pest Risk Analysis
for Crassula helmsii. Retrieved from (link)
Europe
Crassula
helmsii
Swamp Stonecrop; New Zealand Pygmy Weed;
Crassula; Australian Swamp Stonecrop
Wetland Plant
Wetland
European and Mediterranean Plant
Protection Organization. (2006). Report of a Pest Risk Analysis: Crassula
helmsii. Retrieved from (link)
Europe
Crassula
helmsii
Swamp Stonecrop; New Zealand Pygmy Weed;
Crassula; Australian Swamp Stonecrop
Wetland Plant
Wetland
Great Britain Non-Native Species Secretariat. (2011). GB
Non-Native Organism Risk Assessment Scheme for Swamp Stonecrop (Crassula
helmsii). Retrieved from (link)
Great
Britain
Crassula helmsii
Swamp
Stonecrop; New Zealand Pygmy Weed; Crassula; Australian Swamp Stonecrop
Wetland
Plant
Wetland
U.S. Fish and Wildlife Service.
(2018). Ecological Risk Screening Summary: Australian Swamp Stonecrop
(Crassula helmsii). Retrieved from (link)
United
States

 

Crassula
helmsii
Swamp Stonecrop; New Zealand
Pygmy Weed; Crassula; Australian Swamp Stonecrop
Wetland Plant
Wetland
United States
Department of Agriculture. (2013). Weed Risk Assessment for Crassula helmsii
(Kirk) Cockayne (Crassulaceae) – Swamp stonecrop. Retrieved from (link)

 

United States

 

Crassula
helmsii
Swamp Stonecrop; New Zealand Pygmy Weed; Crassula;
Australian Swamp Stonecrop
Wetland Plant
Wetland
Wisconsin Department of Natural Resources. (n.d.). Aquatic
Invasive Species Literature Review: Crassula helmsii. Retrieved from (link)
Wisconsin

 

Crepidula fornicata
Slipper
Limpet; Common Slipper Shell; Common Atlantic Slippersnail; Boat Shell;
Quarterdeck Shell; Fornicating Slipper Snail; Atlantic Slipper Limpet; Common
Slipper Limpet
Aquatic
Invertebrate
Aquatic
Sewell J., & Sweet N. (2011). GB Non-native Organism Risk
Assessment for Slipper Limpet (Crepidula fornicata). Retrieved from (link)
Great
Britain
Crepidula
onyx
Onyx
Slippersnail; Onyx Slipper Snail
Aquatic
Invertebrate

 

Aquatic
Alaska Center for Conservation
Science. (2017). Bering Sea Marine Invasive Species Assessment: Crepidula
onyx. Retrieved from (link)
Alaska
Cronartium
ribicola 
White Pine Blister Rust
Fungus
Terrestrial
Dahir S. (2007). Wisconsin Department of Natural Resources
Literature Review: Cronartium ribicola. Retrieved from (link)
Wisconsin

 

Crotalaria juncea
Brown
Hemp; Indian Hemp; Madras Hemp; Sunn Hemp
Terrestrial Plant
Terrestrial
CFIA
Categorization Assessment
Canada
Crupina
vulgaris
Bearded Creeper; Common Crupina;
Bearded-creeper; False Saw-wort; Starry Scabious
Terrestrial Plant
Terrestrial
CFIA
Risk Assessment
Canada
Crupina
vulgaris
Bearded Creeper; Common Crupina;
Bearded-creeper; False Saw-wort; Starry Scabious
Terrestrial Plant
Terrestrial
CFIA
Risk Management
Canada
Cryptococcus
fagisuga (Lindinger)
Beech
Scale; Wooly Beech Scale
Insect
Terrestrial
Adams D. (2013). New York Terrestrial Invertebrates
Invasiveness Ranking Form: Cryptococcus fagisuga. Retrieved from (link)

 

New
York
Cryptococcus
fagisuga (Lindinger)
Beech Scale; Wooly Beech Scale
Insect
Terrestrial
Boone C.K. (2007). Wisconsin Department of Natural Resources
Literature Review: Cryptococcus fagisuga. Retrieved from (link)
Wisconsin

 

Ctenopharyngodon idella
Grass
Carp; White Amur; Dipliod Grass Carp
Fish
Aquatic
Cudmore B., Jones L.A., Mandrak
N.E., Dettmers J.M., et al. (2017). Ecological Risk Assessment of Grass Carp
(Ctenopharyngodon idella) for the Great Lakes Basin. Retrieved from (link)
Canada
Ctenopharyngodon
idella
Grass
Carp; White Amur; Dipliod Grass Carp
Fish
Aquatic
DFO. 2017. Ecological Risk
Assessment of Grass Carp (Ctenopharyngodon idella) for the Great Lakes Basin.
Retrieved from (link)
Canada
Ctenopharyngodon
idella
Grass Carp; White Amur; Dipliod Grass Carp
Fish
Aquatic
Mandrak N.E., & Cudmore B.
(2004). Risk Assessment for Asian Carps in Canada. Retrieved from (link)
Canada
Ctenopharyngodon
idella
Grass Carp; White Amur; Dipliod Grass Carp
Fish
Aquatic
Schwartzberg E. (2013). New York
Fish and Aquatic Invertebrate Invasive Species Ranking Form: Ctenopharyngodon
idella. Retrieved from (link)
New
York
Ctenopharyngodon
idella
Grass Carp; White Amur; Dipliod Grass Carp
Fish
Aquatic
Draheim R. C. (2009). Pest Risk Assessment for Asian Carps in
Oregon. Retrieved from (link)
Oregon
Ctenopharyngodon idella
Grass Carp; White Amur; Dipliod
Grass Carp
Fish
Aquatic
Wisconsin Department of Natural Resources. (n.d.). Literature
Review: Ctenopharyngodon idella. Retrieved from
(link)
Wisconsin

 

Culpeonella cultriventris
Black
and Caspian Sea Sprat
Fish
 Aquatic
U.S. Fish and Wildlife Service.
(2017). Ecological Risk Screening Summary: Black and Caspian Sea Sprat
(Clupeonella cultriventris). Retrieved from (link)
United States

 

Culter alburnus
Topmouth
Culter
Fish
Aquatic
U.S. Fish and Wildlife Service.
(2017). Ecological Risk Screening Summary: Culter alburnus. Retrieved from (link)
United States

 

Cuphea hybrid
Large
Firecracker Plant
Terrestrial
Plant
Terrestrial
CFIA
Risk Assessment
Canada
Cuphea hyssopifolia
False
Heather; Mexican Heather; Hawaiian Heather; Elfin Herb
Terrestrial
Plant
Terrestrial
CFIA
Categorization Assessment
Canada
Cuphea
ignea
Cigar
Plant; Cigar Flower; Firecracker Plant; Mexican Cigar
Terrestrial
Plant
Terrestrial
CFIA
Categorization Assessment
Canada
Cuphea
llavea
Bat-faced Cuphea
Terrestrial Plant
Terrestrial
CFIA
Categorization Assessment
Canada
Cuphea procumbens
Creeping
Waxweed
Terrestrial
Plant
Terrestrial
CFIA
Categorization Assessment
Canada
Cupressus sempervirens
Italian
Cypress; Mediterranean Cypress; Common Cypress
Terrestrial
Plant
Terrestrial
CFIA
Categorization Assessment
Canada
Cuscuta
approximata
Alfalfa
Dodder
Terrestrial Plant

 

Terrestrial
CFIA
Categorization Assessment 
Canada
Cuscuta
approximata
Alfalfa Dodder
Terrestrial Plant

 

Terrestrial
CFIA
Risk Assessment
Canada
Cuscuta
australis
Australian
Dodder
Terrestrial
Plant
Terrestrial
CFIA
Catergorization Assessment
Canada
Cuscuta cassytoides
African Dodder
Terrestrial Plant
Terrestrial
CFIA
Categorization Assessment
Canada
Cuscuta
chinensis
Chinese Dodder
Terrestrial Plant
Terrestrial
CFIA
Categorization Assessment 
Canada
Cuscuta
chinensis
Chinese Dodder
Terrestrial Plant
Terrestrial
CFIA
Risk Assessment
Canada
Cuscuta
epilinum
Flax Dodder
Terrestrial Plant
Terrestrial
CFIA
Categorization Assessment
Canada
Cuscuta
epilinum
Flax Dodder
Terrestrial Plant
Terrestrial
CFIA Risk Assessment
Canada
Cuscuta epithymum
Clover
Dodder; Dodder; Lesser Dodder; Hellweed; Strangle-tare; Alfalfa Dodder
Terrestrial
Plant
Terrestrial
CFIA
Categorization Assessment 
Canada
Cuscuta europaea
European
Dodder; Greater Dodder
Terrestrial
Plant
Terrestrial
CFIA
Categorization Assessment
Canada
Cuscuta europaea
European
Dodder; Greater Dodder
Terrestrial
Plant
Terrestrial
CFIA
Risk Assessment
Canada
Cuscuta japonica
Japanese
Dodder; Giant Asian Dodder; Tu Si Zi
Terrestrial
Plant
Terrestrial
CFIA
Categorization Assessment
Canada
Cuscuta
japonica
Japanese Dodder; Giant Asian Dodder; Tu Si
Zi
Terrestrial Plant
Terrestrial
Oregon Department of Agriculture. (2009). Plant Pest Risk
Assessment for Japanese Dodder (Cuscuta japonica. Choisy). Retrieved from (link)
Oregon
Cuscuta monogyna
Eastern
Dodder
Terrestrial
Plant
Terrestrial
CFIA
Categorization Assessment
Canada
Cuscuta
reflexa
Giant Dodder
Terrestrial Plant
Terrestrial
CFIA Categorization Assessment
Canada
Cuscuta
suaveolens
Fringed Dodder
Terrestrial Plant
Terrestrial
CFIA Categorization Assessment
Canada
Cuscuta suaveolens
Fringed Dodder
Terrestrial Plant
Terrestrial
CFIA Risk Assessment
Canada
Cussonia spicata
Spiked Cabbage Tree; Lowveld Cabbage Tree;
Common Cabbage Tree
Terrestrial Plant
Terrestrial
CFIA Categorization Assessment 
Canada
Cyamopsis
tetragonoloba
Guar; Lond Bean
Terrestrial Plant
Terrestrial
CFIA
Categorization Assessment
Canada
Cyanotis
axillaris
 
Terrestrial Plant
Terrestrial
CFIA Categorization Assessment
Canada
Cydalima perspectalis
Box
Tree Moth
Insect
Terrestrial
Kenis M., & Rabitsch W. (2018). Risk assessment template
developed under the "Study on Invasive Alien Species - Development of
risk assessments to tackle priority species and enhance prevention".
Retrieved from (link)
Europe
Cygnus olor
Mute
Swan
Bird
Aquatic
Corser J. (2013). New York Terrestrial Vertebrates Invasiveness
Ranking Form: Cygnus olor. Retrieved from (link)
New
York
Cygnus olor
Mute
Swan
Bird
Aquatic
Boatner R. (2010). Pest Risk Assessment for Mute Swan (Cygnus
olor) in Oregon. Retrieved from (link)
Oregon
Cygnus olor
Mute Swan
Bird
Aquatic
U.S. Fish and Wildlife Service. (2019). Ecological Risk
Screening Summary: Mute Swan (Cygnus olor). Retrieved from (link)
United States

 

Cygnus olor
Mute
Swan
Bird
Aquatic
Frederickson B. (2007). Wisconsin Department of Natural
Resources Literature Review: Cygnus olor. Retrieved from (link)
Wisconsin

 

Cylindrospermopsis raciborskii
Cylindro (cyanobacteria)
Bacteria
Aquatic
Wisconsin Department of Natural Resources. (n.d.). Aquatic
Invasive Species Literature Review: Cylindrospermopsis raciborskii. Retrieved
from (link)
Wisconsin

 

Cynanchum
laeve
Honeyvine; Sandvine; Climbing Milkweed;
Honeyvine Milkweed

 

Terrestrial Plant
Terrestrial
CFIA Categorization Assessment
Canada
Cynanchum louiseae; Vincetoxicum
nigrum
Black
Swallow-wort; Louise's Swallow-wort; Black Dog-strangling Vine; Dog
Strangling Vine; Dog-strangling Vine; Climbing Milkweed
Terrestrial
Plant

 

Terrestrial
Paulone P.M., & Jacquart E. (2012). Indiana Non-Native
Plant Invasiveness Ranking Form: Cynanchum louiseae. Retrieved from (link)
Indiana
Cynanchum louiseae; Vincetoxicum
nigrum
Black
Swallow-wort; Louise's Swallow-wort; Black Dog-strangling Vine; Dog
Strangling Vine; Dog-strangling Vine; Climbing Milkweed
Terrestrial
Plant

 

Terrestrial
Van Riper L. (2012). MN NWAC Risk Assessment Worksheet:
Cynanchum louiseae. Retrieved from (link)
Minnesota
Cynanchum
louiseae; Vincetoxicum nigrum
Black Swallow-wort; Louise's
Swallow-wort; Black Dog-strangling Vine; Dog Strangling Vine; Dog-strangling
Vine; Climbing Milkweed
Terrestrial Plant

 

Terrestrial
Glenn S., & Moore G. (2009). New York Non-Native Plant
Invasiveness Ranking Form: Cynanchum louiseae. Retrieved from (link)
New York
Cynanchum
louiseae; Vincetoxicum nigrum
Black
Swallow-wort; Louise's Swallow-wort; Black Dog-strangling Vine; Dog
Strangling Vine; Dog-strangling Vine; Climbing Milkweed
Terrestrial
Plant

 

Terrestrial
Mastalerz A., & Culley T. (2015). Ohio Invasive Plant
Assessment Protocol: Vincetoxicum nigrum. Retrieved from (link)
Ohio
Cynanchum louiseae; Vincetoxicum nigrum
Black Swallow-wort; Louise's
Swallow-wort; Black Dog-strangling Vine; Dog Strangling Vine; Dog-strangling
Vine; Climbing Milkweed
Terrestrial
Plant

 

Terrestrial
Meier M. (2007). Wisconsin Department of Natural Resources
Literature Review: Vincetoxicum nigrum. Retrieved from (link)
Wisconsin

 

Cynanchum
rossicum; Vincetoxicum rossicum
Dog-strangling Vine; Pale Swallow-wort;
European Swallow-wort; Dog Strangling Vine
Terrestrial Plant
Terrestrial
Jacquart E. (2012). Indiana Non-Native Plant Invasiveness
Ranking Form: Cynanchum rossicum. Retrieved from
(link)
Indiana
Cynanchum
rossicum; Vincetoxicum rossicum
Dog-strangling Vine; Pale Swallow-wort;
European Swallow-wort; Dog Strangling Vine
Terrestrial Plant
Terrestrial
Van Riper L. (2012). MN NWAC Risk Assessment Worksheet:
Cynanchum rossicum. Retrieved from (link)
Minnesota
Cynanchum rossicum; Vincetoxicum rossicum
Dog-strangling
Vine; Pale Swallow-wort; European Swallow-wort; Dog Strangling Vine
Terrestrial
Plant
Terrestrial
Glenn S. (2009). New York Non-Native Plant Invasiveness Ranking
Form; Cynanchum rossicum. Retrieved from (link)
New
York
Cynanchum
rossicum; Vincetoxicum rossicum
Dog-strangling Vine; Pale Swallow-wort;
European Swallow-wort; Dog Strangling Vine
Terrestrial Plant
Terrestrial
Meier M. (2007). Wisconsin Department of Natural Resources
Literature Review: Vincetoxicum rossicum. Retrieved from (link)
Wisconsin

 

Cynoglossum lanceolatum
 
Terrestrial
Plant
Terrestrial
CFIA
Categorization Assessment
Canada
Cynoglossum officinale
Common
Hound's-tongue; Gypsy-flower; Hound's Tongue
Terrestrial
Plant
Terrestrial
Becker R. (2012). MN NWAC Risk Assessment Worksheet:
Cynoglossum officinale. Retrieved from (link)
Minnesota
Cynoglossum
officinale
Common Hound's-tongue; Gypsy-flower;
Hound's Tongue
Terrestrial Plant
Terrestrial
Sheehan M. (2007). Wisconsin Department of Natural Resources
Literature Review: Cynoglossum officinale. Retrieved from (link)
Wisconsin

 

Cyperus
exaltatus
 
Terrestrial Plant
Terrestrial
CFIA Categorization Assessment
Canada
Cyperus
flavidus
Yellow Flatsedge
Terrestrial Plant
Terrestrial
CFIA Categorization Assessment
Canada
Cyperus
rotundus
Nut Grass
Terrestrial Plant
Terrestrial
CFIA
Risk Assessment
Canada
Cyperus
rotundus
Purple Nutsedge; Nutgrass
Terrestrial Plant
Terrestrial
CFIA Risk Assessment
Canada
Cyperus rotundus
Nut
Grass
Terrestrial
Plant
Terrestrial
CFIA
Risk Management
Canada
Cyperus
rotundus
Purple Nutsedge; Nutgrass
Terrestrial Plant
Terrestrial
CFIA Risk Management
Canada
Cyperus rotundus
Purple
Nutsedge; Nutgrass
Terrestrial
Plant
Terrestrial
Park A. (2011). Oregon Department of Agriculture Plant Pest
Risk Assessment for Purple nutsedge, Cyperus rotundus L.. Retrieved from (link)
Oregon
Cyperus
rotundus
Purple Nutsedge; Nutgrass
Terrestrial Plant
Terrestrial
U.S. Fish and Wildlife Service.
(2018). Ecological Risk Screening Summary: Purple Nutsedge (Cyperus
rotundus). Retrieved from (link)
United States

 

Cyprinella lutrensis
Red
Shiner; Red-horse Minnow
Fish
Aquatic
Adams D. (2013). New York Fish and Aquatic Invertebrate
Invasiveness Ranking Form: Cyprinella lutrensis. Retrieved from (link)
New York
Cyprinella lutrensis
Red
Shiner; Red-horse Minnow
Fish
Aquatic
U.S. Fish and Wildlife Service. (2019). Ecological Risk
Screening Summary: Red Shiner (Cyprinella lutrensis). Retrieved from (link)
United States

 

Cyprinella
lutrensis
Red
Shiner; Red-horse Minnow
Fish
Aquatic
Wisconsin Department of Natural Resources. (n.d.). Literature
Review: Cyprinella lutrensis. Retrieved from
(link)
Wisconsin

 

Cyprinella whipplei
Steelcolor
Shiner
Fish
Aquatic
U.S. Fish and Wildlife Service.
(2017). Ecological Risk Screening Summary: Steelcolor Shiner (Cyprinella
whipplei). Retrieved from (link)
United States

 

Cyprinus carpio
Common
Carp; Koi
Fish
Aquatic
Corser J. (2013). New York Fish and Aquatic Invertebrates
Invasiveness Ranking Form: Cyprinus carpio. Retrieved from (link)
New York
Cyprinus carpio
Common
Carp; Koi
Fish
Aquatic
U.S. Fish and Wildlife Service. (2019). Ecological Risk
Screening Summary: Cyprinus carpio. Retrieved from
(link)
United States

 

Cytisus
scoparius
Scotch Broom; Common Broom
Terrestrial Plant
Terrestrial
Kollmansberger A. (2007). Wisconsin Department of Natural
Resources Literature Review: Cytisus scoparius. Retrieved from (link)
Wisconsin

 

Dactyloctenium
aegyptium
Egyptian Crowfoot Grass; Crowfoot Grass;
Egyptian Grass; Durban Crowfoot Grass
Terrestrial Plant
Terrestrial
CFIA
Categorization Assessment
Canada
Daphne
mezereum

 

Paradise Plant; Mezereum; Mezereon;
February Daphne; Spurge Laurel; Spurge Olive
Terrestrial Plant
Terrestrial
Markeson T. (2011). MN NWAC Risk Assessment Worksheet: Daphne
mezereum. Retrieved from (link)
Minnesota
Daphnia lumholtzi
Water Flea
Aquatic Invertebrate

 

Aquatic
Soto J. (2013). New York Fish and
Aquatic Invertebrate Invasiveness Ranking Form: Daphnia lumholtzi. Retrieved
from (link)
New York
Daphnia
lumholtzi
Water
Flea
Aquatic
Invertebrate

 

Aquatic
U.S. Fish and Wildlife Service.
(2018). Ecological Risk Screening Summary: Water Flea (Daphnia lumholtzi).
Retrieved from (link)
United
States

 

Daphnia lumholtzi
Water Flea
Aquatic Invertebrate

 

Aquatic
Wisconsin Department of Natural Resources. (n.d.). Literature
Review: Daphnia lumholtzi. Retrieved from (link)
Wisconsin

 

Datura
inoxia
Pricklyburr;
Angel's Trumpet; Downy Thorn Apple; Devil's Trumpet
Terrestrial
Plant
Terrestrial
Wolf K. (2016). Datura inoxia Risk Assessment. Retrieved from (link)
California
Datura stramonium
Jimsonweed;
Common Thorn Apple; Jamestown Weed; Purple Thorn Apple

 

Terrestrial
Plant
Terrestrial
Moore G. (2009). New York Non-Native Plant Invasiveness Ranking
Form: Datura stramonium. Retrieved from (link)
New York
Daucus carota
Wild Carrot; Queen Anne's Lace
Terrestrial Plant
Terrestrial
Deitch Z., & Jacquart E. (2013). Indiana Non-Native Plant
Invasiveness Ranking Form: Daucus carota. Retrieved from (link)
Indiana
Daucus carota
Wild
Carrot; Queen Anne's Lace
Terrestrial
Plant
Terrestrial
Cortilet A. (2015). MN NWAC Risk Assessment Worksheet: Daucus
carota. Retrieved from (link)
Minnesota
Delairea odorata
Cape
Ivy; German Ivy
Terrestrial
Plant

 

Terrestrial
United States Department of Agriculture. (2013). Weed Risk
Assessment for Delairea odorata Lem. (Asteraceae) - Cape Ivy. Retrieved from (link)
United
States

 

Dendroctonus ponderosae
Mountain Pine Beetle
Insect
Terrestrial
Bleiker K., Boisvenue C., Campbell E.M., et al. (2019). Risk
Assessment of the Threat of Mountain Pine Beetle to Canada's Boreal and
Eastern Pine Forests. Retrieved from (link)

 

Western
Canada
Dendroctonus
ponderosae
Mountain Pine Beetle
Insect
Terrestrial
Nealis V.G., & Cooke B.J.
(2014). Risk Assessment of the Threat of Mountain Pine Beetle to Canada's
Boreal and Eastern Pine Forests. Retrieved from
(link)
Western Canada
Desmostachya bipinnata
Halfa Grass; Big Cordgrass; Salt
Reed-grass
Terrestrial
Plant
Terrestrial
CFIA
Categorization Assessment
Canada
Diadumene
lineata
Orange-striped Green Anemone;
Orange-striped Anemone; Striped Anemone
Aquatic Invertebrate

 

Aquatic
Alaska Center for Conservation
Science. (2017). Bering Sea Marine Invasive Species Assessment: Diadumene
lineata. Retrieved from (link)
Alaska
Dicksonia
antarctica
Soft Tree Fern
Terrestrial Plant
Terrestrial
CFIA
Categorization Assessment
Canada
Didemnum sp.

 

 
Aquatic
Invertebrate
Aquatic
Herborg L.M., & Therriault T.W. (2007). Application of
QBRAT for a Risk Assessment of the Invasive Tunicate Didemnum sp. in British
Columbia. Retrieved from (link)

 

British
Columbia
Didemnum
sp.

 

 
Aquatic Invertebrate
Aquatic
DFO. (2013). Science Advice from a Risk Assessment of Five
Sessile Tunicate Species. Retrieved from (link)
Canada
Didemnum sp.

 

 
Aquatic Invertebrate
Aquatic
Therriault T.W., & Herborg L-M. (2007). Risk Assessment for
Two Solitary and Three Colonial Tunicates in Both Atlantic and Pacific
Canadian Waters. Retrieved from (link)
Canada
Didemnum vexillum
Carpet
Sea Squirt; Carpet Tunicate; Sea Squirt; Ascidian; Colonial Tunicate;
Compound Sea Squirt
Aquatic
Invertebrate

 

Aquatic
Alaska Center for Conservation Science. (2017). Bering Sea
Marine Invasive Species Assessment: Didemnum vexillum. Retrieved from (link)
Alaska
Didemnum vexillum
Carpet
Sea Squirt; Carpet Tunicate; Sea Squirt; Ascidian; Colonial Tunicate;
Compound Sea Squirt
Aquatic
Invertebrate

 

Aquatic
Great Britain Non-Native Species Secretariat. (2011). GB
Non-native Organism Risk Assessment Scheme for Carpet Sea Squirt (Didemnum
vexillum). Retrieved from (link)
Great Britain
Didemnum vexillum
Carpet
Sea Squirt; Carpet Tunicate; Sea Squirt; Ascidian; Colonial Tunicate;
Compound Sea Squirt
Aquatic
Invertebrate

 

Aquatic
Schwartzberg E. (2013). New York Fish and Aquatic Invertebrates
Invasiveness Ranking Form: Didemnum vexillum. Retrieved from (link)
New
York
Didymosphenia
geminata
Rock Snot; Didymo
Algae
Aquatic
CFIA Risk Assessment
Canada
Didymosphenia geminata
Rock Snot; Didymo
Algae
Aquatic
Draheim R. C. (2009). Pest Risk Assessment for Rock Snot
(Didymo) in Oregon. Retrieved from (link)
Oregon
Didymosphenia
geminata
Rock
Snot; Didymo
Algae
Aquatic
Wisconsin Department of Natural Resources. (n.d.). Aquatic
Invasive Species Literature Review: Didymosphenia geminata. Retrieved from (link)
Wisconsin

 

Digitalis
purpurea
Purple
Foxglove
Terrestrial
Plant
Terrestrial
Glenn S., & Moore G. (2010). New York Non-Native Plant
Invasiveness Ranking Form: Digitalis purpurea. Retrieved from (link)
New
York
Digitaria abyssinica
African
Couchgrass; East African Couchgrass; African Couch Grass

 

Terrestrial
Plant

 

Terrestrial
CFIA
Categorization Assessment
Canada
Digitaria
ciliaris
Southern Crabgrass; Tropical Finger-grass;
Tropical Crabgrass; Summer Grass
Terrestrial Plant
Terrestrial
CFIA
Categorization Assessment
Canada
Digitaria ternata
Crabgrass;
Crab Grass; Black-seed Finger Grass
Terrestrial
Plant
Terrestrial
CFIA
Categorization Assessment
Canada
Digitaria
velutina
Velvet Fingergrass; Velvet Crabgrass
Terrestrial Plant
Terrestrial
CFIA Categorization Assessment
Canada
Dikerogammarus
villosus
Killer Shrimp
Aquatic Invertebrate

 

Aquatic
Great Britain Non-Native Species Secretariat. (2010). Rapid
Assessment of: Dikerogammarus villosus. Retrieved from (link)
Great
Britain
Dikerogammarus
villosus
Killer Shrimp
Aquatic Invertebrate

 

Aquatic
OMNRF Risk Assessment
Ontario
Dikerogammarus
villosus
Killer
Shrimp
Aquatic
Invertebrate

 

Aquatic
U.S. Fish and Wildlife Service.
(2017). Ecological Risk Screening Summary: Killer Shrimp (Dikerogammarus
villosus). Retrieved from (link)
United
States

 

Dikerogammarus
villosus
Killer
Shrimp
Aquatic
Invertebrate

 

Aquatic
Vennie-Vollrath E. (2012). Wisconisin Department of Natural
Resources Literature Review: Dikerogammarus villosus. Retrieved from (link)
Wisconsin

 

Dioscorea nipponica
 
Terrestrial
Plant
Terrestrial
CFIA
Categorization Assessment
Canada
Dioscorea
polystachya
Chinese Yam; Cinnamon Vine
Terrestrial Plant
Terrestrial
CFIA
Risk Assessment 
Canada
Dioscorea polystachya
Chinese
Yam; Cinnamon Vine
Terrestrial
Plant
Terrestrial
CFIA
Risk Management
Canada
Dioscorea polystachya
Chinese
Yam; Cinnamon Vine
Terrestrial
Plant
Terrestrial
Paulone P.M. & Jacquart E. (2012). Indiana Non-Native Plant
Invasiveness Ranking Form: Dioscorea polystachya. Retrieved from (link)
Indiana
Dioscorea
polystachya
Chinese
Yam; Cinnamon Vine
Terrestrial
Plant
Terrestrial
Glenn S., & Moore G. (2009). New York Non-Native Plant
Invasiveness Ranking Form: Dioscorea polystachya. Retrieved from (link)
New
York
Dioscorea polystachya
Chinese
Yam; Cinnamon Vine
Terrestrial
Plant
Terrestrial
Ricke
M., & Culley T. (2017). Ohio Invasive Plant Assessment Protocol:
Dioscorea polystachya. Retrieved from (link)
Ohio
Dioscorea polystachya
Chinese
Yam; Cinnamon Vine
Terrestrial
Plant
Terrestrial
Meier M. (2007). Wisconsin Department of Natural Resources
Literature Review: Dioscorea polystachya. Retrieved from (link)
Wisconsin

 

Diospyros lotus
Date
Plum; Date-plum; Caucasian Persimmon; Lilac Persimmon; Date Plum Tree
Terrestrial
Plant
Terrestrial
CFIA
Categorization Assessment
Canada
Diplosoma listerianum
Compound
Sea Squirt
Aquatic Invertebrate
Aquatic
Alaska Center for Conservation Science. (2017). Bering Sea
Marine Invasive Species Assessment: Diplosoma listerianum. Retrieved from (link)
Alaska
Dipsacus fullonum; Dipsacus
sylvestris
Common
Teasel; Wild Teasel
Terrestrial
Plant
Terrestrial
Jacquart E. (2012). Indiana Non-Native Plant Invasiveness
Ranking Form: Dipsacus fullonum. Retrieved from (link)
Indiana
Dipsacus fullonum; Dipsacus
sylvestris
Common
Teasel; Wild Teasel
Terrestrial
Plant
Terrestrial
Becker R., & Graeve K. (2016). MN NWAC Risk Assessment
Worksheet: Dipsacus fullonum. Retrieved from (link)
Minnesota
Dipsacus
fullonum; Dipsacus sylvestris
Common Teasel; Wild Teasel
Terrestrial Plant
Terrestrial
Mastalerz A., & Culley T. (2015). Ohio Invasive Plant
Assessment Protocol: Dipsacus fullonum. Retrieved from (link)
Ohio
Dipsacus
fullonum; Dipsacus sylvestris
Common Teasel; Wild Teasel
Terrestrial Plant
Terrestrial
Annen C. (2007). Wisconsin Department of Natural Resources
Literature Review: Dipsacus sylvestris. Retrieved from (link)

 

Wisconsin

 

Dipsacus
laciniatus
Cut-leaved Teasel; Cut-leaf Teasel;
Cutleaf Teasel

 

Terrestrial Plant
Terrestrial
Wolf K. (2016). Dipsacus laciniatus Risk Assessment. Retrieved
from (link)
California
Dipsacus
laciniatus
Cut-leaved Teasel; Cut-leaf Teasel;
Cutleaf Teasel

 

Terrestrial Plant
Terrestrial
Paulone P.M. & Jacquart E. (2012). Indiana Non-Native Plant
Invasiveness Ranking Form: Dipsacus laciniatus. Retrieved from (link)
Indiana
Dipsacus laciniatus
Cut-leaved
Teasel; Cut-leaf Teasel; Cutleaf Teasel

 

Terrestrial
Plant
Terrestrial
Becker R. (2011). MN NWAC Risk Assessment Worksheet: Dipsacus
laciniatus. Retrieved from (link)
Minnesota
Dipsacus
laciniatus
Cut-leaved Teasel; Cut-leaf Teasel;
Cutleaf Teasel

 

Terrestrial Plant
Terrestrial
Moore G. (2009). New York Non-Native Plant Invasiveness Ranking
Form: Dipsacus laciniatus. Retrieved from (link)
New
York
Dipsacus laciniatus
Cut-leaved
Teasel; Cut-leaf Teasel; Cutleaf Teasel

 

Terrestrial
Plant
Terrestrial
Mastalerz A., & Culley T. (2015). Ohio Invasive Plant
Assessment Protocol: Dipsacus laciniatus. Retrieved from (link)
Ohio
Dipsacus laciniatus
Cut-leaved Teasel; Cut-leaf
Teasel; Cutleaf Teasel

 

Terrestrial Plant
Terrestrial
Annen C. (2007). Wisconsin Department of Natural Resources
Literature Review: Dipsacus laciniatus. Retrieved from (link)
Wisconsin

 

Dittrichia
graveolens
Stinkwort; Stinking Fleabane
Terrestrial Plant
Terrestrial
United States Department of
Agriculture. (2013). Weed Risk Assessment for Dittrichia graveolens (L.)
Greuter (Asteraceae) – Stinkwort. Retrieved from
(link)
United States

 

Dolichandra unguis-cati
Cat's
Claw Creeper; Cat's Claw Trumpet; Funnel Creeper
Terrestrial
Plant
Terrestrial
United States Department of Agriculture. (2019). Weed Risk
Assessment for Dolichandra unguis-cati (Bignoniaceae) - Cat's-claw. Retrieved
from (link)
United States

 

Dreissena
bugensis
Quagga Mussel
Aquatic Invertebrate
Aquatic
DFO. (2013). Science advice from the risk assessment of three
dreissenid mussels (Dreissena polymorpha, Dreissena rostriformis bugensis,
and Mytilopsis leucophaeata) in Canadian freshwater ecosystems. Retrieved
from (link)
Canada
Dreissena
bugensis
Quagga Mussel
Aquatic Invertebrate
Aquatic
Therriault T.W., Weise A.M., Higgins S.N., et al. (2012). Risk
Assessment for Three Dreissenid Mussels (Dreissena polymorpha, Dreissena
rostriformis bugensis, and Mytilopsis leucophaeata) in Canadian Freshwater
Ecosystems. Retrieved from (link)
Canada
Dreissena bugensis
Quagga
Mussel
Aquatic
Invertebrate
Aquatic
Aldridge D. (2015). GB Non-native Organism Risk Assessment
Scheme for Quagga Mussel (Dreissena rostriformis bugensis). Retrieved from (link)
Great
Britain
Dreissena
bugensis
Quagga Mussel
Aquatic Invertebrate
Aquatic
Adams D. (2013). New York Fish and
Aquatic Invertebrate Invasiveness Ranking Form: Dreissena bugensis. Retrieved
from (link)
New
York
Dreissena bugensis
Quagga Mussel
Aquatic
Invertebrate
Aquatic
U.S. Fish and Wildlife Service.
(2019). Ecological Risk Screening Summary: Quagga Mussel (Dreissena
bugensis). Retrieved from (link)
United
States

 

Dreissena
bugensis
Quagga
Mussel
Aquatic
Invertebrate
Aquatic
Wisconsin Department of Natural Resources. (n.d.). Literature
Review: Dreissena bugensis. Retrieved from (link)
Wisconsin

 

Dreissena polymorpha
Zebra
Mussel
Aquatic
Invertebrate
Aquatic
DFO. (2013). Proceedings of the
National Risk Assessment of Zebra Mussel, Quagga Mussel and Dark Falsemussel.
Retrieved from (link)
Canada
Dreissena polymorpha
Zebra
Mussel
Aquatic
Invertebrate
Aquatic
DFO. (2013). Science advice from the risk assessment of three
dreissenid mussels (Dreissena polymorpha, Dreissena rostriformis bugensis,
and Mytilopsis leucophaeata) in Canadian freshwater ecosystems. Retrieved
from (link)
Canada
Dreissena
polymorpha
Zebra Mussel
Aquatic Invertebrate
Aquatic
Therriault T.W., Weise A.M., Higgins S.N., et al. (2012). Risk
Assessment for Three Dreissenid Mussels (Dreissena polymorpha, Dreissena
rostriformis bugensis, and Mytilopsis leucophaeata) in Canadian Freshwater
Ecosystems. Retrieved from (link)
Canada
Dreissena
polymorpha
Zebra Mussel
Aquatic Invertebrate
Aquatic
Great Britain Non-Native Species Secretariat. (2010). GB
Non-Native Organism Risk Assessment Scheme for Zebra Mussel (Dreissena
polymorpha). Retrieved from (link)
Great Britain
Dreissena polymorpha
Zebra
Mussel
Aquatic
Invertebrate
Aquatic
Soto J. (2013). New York Fish and
Aquatic Invertebrate Invasiveness Ranking Form:Dreissena polymorpha.
Retrieved from (link)
New York
Dreissena polymorpha
Zebra Mussel
Aquatic Invertebrate
Aquatic
U.S. Fish and Wildlife Service.
(2015). Ecological Risk Screening Summary: Zebra Mussel (Dreissena
polymorpha). Retrieved from (link)
United States

 

Dreissena polymorpha
Zebra Mussel
Aquatic Invertebrate
Aquatic
Wisconsin Department of Natural Resources. (n.d.). Literature
Review: Dreissena polymorpha. Retrieved from
(link)
Wisconsin

 

Drosera capensis
Cape Sundew
Terrestrial
Plant
Terrestrial
CFIA
Categorization Assessment
Canada
Drosophila
suzukii
Spotted Wing Drosophila
Insect
Terrestrial
European
and Mediterranean Plant Protection Organisation. (2011). Pest Risk Analysis
for Drosophila suzukii. Retrieved from (link)
Europe
Drosophila
suzukii
Spotted Wing Drosophila
Insect
Terrestrial
European
and Mediterranean Plant Protection Organisation. (2011). Report of a Pest
Risk Analysis for Drosophila suzukii. Retrieved from (link)
Europe
Dryocosmus
kuriphilus
Chestnut Gall Wasp
Insect

 

Terrestrial
CFIA
Categorization Assessment
Canada
Echinochloa colonum
Jungle
Rice; Deccan Grass; Awnless Barnyard Grass
Terrestrial
Plant
Terrestrial
CFIA
Risk Assessment
Canada
Echinochloa
colonum
Jungle Rice; Deccan Grass;
Awnless Barnyard Grass
Terrestrial Plant
Terrestrial
CFIA
Risk Management
Canada
Echinochloa pyramidalis
Antelope
Grass
Terrestrial
Plant

 

Terrestrial
United States Department of Agriculture. (2012). Weed Risk
Assessment for Echinochloa pyramidalis (Lam.) Hitch. And Chase (Poaceae) -
Antelope Grass. Retrieved from (link)
United
States

 

Echinodorus
uruguayensis
Uruguay Sword Plant
Aquatic
Plant
Aquatic
United States Department of
Agriculture. (2013). Weed Risk Assessment for Echinodorus uruguayensis
Arechav. (Alismataceae) – Uruguay sword plant. Retrieved from (link)
United
States

 

Echium plantagineum
Purple
Viper's Bugloss; Paterson's Curse; Salvation Jane
Terrestrial
Plant
Terrestrial
Wolf K. (2016). Echium plantagineum Risk Assessment. Retrieved
from (link)
California
Echium
plantagineum
Purple Viper's Bugloss;
Paterson's Curse; Salvation Jane
Terrestrial Plant
Terrestrial
CFIA
Risk Assessment
Canada
Echium
plantagineum
Purple
Viper's Bugloss; Paterson's Curse; Salvation Jane
Terrestrial
Plant
Terrestrial
CFIA
Risk Management
Canada
Echium plantagineum
Purple
Viper's Bugloss; Paterson's Curse; Salvation Jane
Terrestrial
Plant
Terrestrial
Miller G., & Forney T. (2004). Oregon Department of
Agriculture Plant Pest Risk Assessment for Paterson's Curse, Echium
plantagineum. Retrieved from (link)
Oregon
Echium plantagineum
Purple Viper's Bugloss;
Paterson's Curse; Salvation Jane
Terrestrial Plant
Terrestrial
United States Department of Agriculture. (2017). Weed Risk
Assessment for Echium plantagineum L. (Boraginaceae) - Paterson's Curse.
Retrieved from (link)
United States

 

Echium vulgare
Viper's
Bugloss; Blueweed; Blue Devil; Blue Thistle; Common Viper's Bugloss
Terrestrial
Plant
Terrestrial
Markson T. (2011). MN NWAC Risk Assessment Worksheet: Echium
vulgare. Retrieved from (link)
Minnesota
Ectopleura crocea
Pink-mouthed Hydroid;
Pink-mouthed Clustered Hydroid
Aquatic
Invertebrate
Aquatic
Alaska Center for Conservation
Science. (2017). Bering Sea Marine Invasive Species Assessment: Ectopleura
crocea. Retrieved from (link)
Alaska
Egeria densa
Brazilian
Elodea; Brazilian Waterweed; Large Flowered Waterweed
Aquatic
Plant

 

Aquatic
Mauremootoo J. (2015). GB Non-native Organism Risk Assessment
Scheme for Large Flowered Waterweed (Egeria densa). Retrieved from (link)
Great
Britain
Egeria densa
Brazilian
Elodea; Brazilian Waterweed; Large Flowered Waterweed
Aquatic
Plant

 

Aquatic
Clemants S. (2009). New York Non-Native Plant Invasiveness
Ranking Form: Egeria densa. Retrieved from (link)
New
York
Egeria densa
Brazilian Elodea; Brazilian Waterweed;
Large Flowered Waterweed
Aquatic Plant

 

Aquatic
OMNRF Risk Assessment
Ontario
Egeria densa
Brazilian Elodea; Brazilian
Waterweed; Large Flowered Waterweed
Aquatic
Plant

 

Aquatic
U.S. Fish and Wildlife Service. (2018). Ecological Risk
Screening Summary: Brazilian Waterweed (Egeria densa). Retrieved from (link)
United States

 

Egeria densa
Brazilian Elodea; Brazilian
Waterweed; Large Flowered Waterweed
Aquatic Plant

 

Aquatic
Wisconsin Department of Natural Resources. (n.d.). Aquatic
Invasive Species Literature Review: Egeria densa. Retrieved from (link)
Wisconsin

 

Eichhornia
crassipes
Water
Hyacinth; Common Water Hyacinth
Aquatic
Plant
Aquatic
European and Mediterranean Plant Protection Organization.
(2008). Pest Risk Analysis for Eichhornia crassipes. Retrieved from (link)
Europe
Eichhornia crassipes
Water Hyacinth; Common Water
Hyacinth
Aquatic
Plant
Aquatic
European and Mediterranean Plant
Protection Organization. (2008). Report of a Pest Risk Analysis: Eichhornia
crassipes. Retrieved from (link)
Europe
Eichhornia crassipes
Water
Hyacinth; Common Water Hyacinth
Aquatic
Plant
Aquatic
Great Britain Non-Native Species Secretariat. (2010). GB
Non-Native Organisms Risk Assessment Scheme for Water Hyacinth (Eichhornia
crassipes). Retrieved from (link)
Great
Britain
Eichhornia crassipes
Water
Hyacinth; Common Water Hyacinth
Aquatic
Plant
Aquatic
Moore G. (2008). New York Non-Native Plant Invasiveness Ranking
Form: Eichhornia crassipes. Retrieved from (link)
New York
Eichhornia crassipes
Water Hyacinth; Common Water
Hyacinth
Aquatic Plant
Aquatic
U.S. Fish and Wildlife Service.
(2018). Ecological Risk Screening Summary: Water Hyacinth (Eichhornia
crassipes). Retrieved from (link)
United States

 

Eichhornia
crassipes
Water
Hyacinth; Common Water Hyacinth
Aquatic
Plant
Aquatic
Wisconsin Department of Natural Resources. (n.d.). Aquatic
Invasive Species Literature Review: Eichhornia crassipes. Retrieved from (link)
Wisconsin

 

Elaeagnus
angustifolia
Russian
Olive; Silvery Berry; Oleaster; Persian Olive; Wild Olive
Terrestrial
Plant
Terrestrial
Good T., MacGowan B., Collins K., & Jacquart E. (2003).
Assessment of Invasive Species in Indiana's Natural Areas: Eleagnus
angustifolia. Retrieved from (link)
Indiana
Elaeagnus
angustifolia
Russian Olive; Silvery Berry; Oleaster;
Persian Olive; Wild Olive
Terrestrial Plant
Terrestrial
Ma J., Clemants S., & Moore G.
(2009). New York Non-Native Invasiveness Ranking Form: Elaeagnus
angustifolia. Retrieved from (link)
New
York
Elaeagnus angustifolia
Russian
Olive; Silvery Berry; Oleaster; Persian Olive; Wild Olive
Terrestrial Plant
Terrestrial
Mastalerz A., & Culley T. (2015). Ohio Invasive Plant
Assessment Protocol: Elaeagnus angustifolia. Retrieved from (link)
Ohio
Elaeagnus angustifolia
Russian
Olive; Silvery Berry; Oleaster; Persian Olive; Wild Olive
Terrestrial
Plant
Terrestrial
Sheehan M. (2007). Wisconsin Department of Natural Resources
Literature Review: Elaeagnus angustifolia. Retrieved from (link)
Wisconsin

 

Elaeagnus umbellata
Autumn Olive; Oleaster; Japanese
Silverberry
Terrestrial Plant
Terrestrial
Jacquart E., Good T., MacGowan B., et al. (2004). Assessment of
Invasive Species in Indiana's Natural Areas: Elaegnus umbellata. Retrieved
from (link)
Indiana
Elaeagnus umbellata
Autumn
Olive; Oleaster; Japanese Silverberry
Terrestrial
Plant
Terrestrial
Ma J., Clemants S., & Moore G. (2008). New York Non-Native
Invasiveness Ranking Form: Elaeagnus umbellata. Retrieved from (link)
New York
Elaeagnus
umbellata
Autumn Olive; Oleaster; Japanese
Silverberry
Terrestrial Plant
Terrestrial
OIPC Team. (2014). Ohio Invasive Plant Assessment Protocol:
Elaeagnus umbellata. Retrieved from (link)
Ohio
Elaeagnus umbellata
Autumn Olive; Oleaster; Japanese
Silverberry
Terrestrial Plant
Terrestrial
Sheehan M. (2007), Wisconsin Department of Natural Resources
Literature Review: Elaeagnus umbellata. Retrieved from (link)
Wisconsin

 

Eleusine
coracana
Finger Millet
Terrestrial Plant
Terrestrial
CFIA
Categorization Assessment
Canada
Eleusine indica
Indian
Goosegrass; Yard-grass; Goosegrass; Wiregrass; Crowfootgrass
Terrestrial
Plant
Terrestrial
CFIA
Categorization Assessment
Canada
Eleutherococcus pentaphyllus
Five-leaved
Aralia; Ginseng
Terrestrial
Plant
Terrestrial
Glenn S.D., & LIISMA Scientific Review Committee. (2012).
New York Non-Native Plant Invasiveness Ranking Form: Eleutherococcus
pentaphyllus. Retrieved from (link)
New
York
Eleutherococcus senticosus
Siberian
Ginseng; Devil's Bush; Eleuthero; Ciwujia; Devil's Shrub; Shigoka;
Touch-me-not; Wild Pepper; Kan Jang
Terrestrial
Plant
Terrestrial
CFIA
Categorization Assessment
Canada
Emex australis
Devil's Thorn; Southern
Threecornerjack; Double Gee; Doublegee
Terrestrial
Plant
Terrestrial
CFIA
Categorization Assessment
Canada
Emex spinosa
Devil's
Thorn; Spiny Emex; Lesser Jack; Spiny Threecorner-Jack; Spiny
Threecornerjack; Threecornerjack
Terrestrial
Plant
Terrestrial
CFIA
Categorization Assessment
Canada
Epilobium hirsutum
Hairy Willow-herb; Great Hairy
Willow-herb; Hairy Willowherb; Hairy Willow Herb; Codlins and Cream; European
Fireweed; Fiddle Grass; Great Willowherb
Semi-aquatic Plant
Semi-aquatic
Glenn S., & Moore G. (2009). New York Non-Native Plant
Invasiveness Ranking Form: Epilobium hirsutum. Retrieved from (link)
New York
Epilobium
hirsutum
Hairy Willow-herb; Great Hairy
Willow-herb; Hairy Willowherb; Hairy Willow Herb; Codlins and Cream; European
Fireweed; Fiddle Grass; Great Willowherb
Semi-aquatic Plant
Semi-aquatic
Morgan K. (2016). Ohio Invasive Plant Assessment
Protocol:Epilobium hirsutum. Retrieved from (link)
Ohio
Epilobium hirsutum
Hairy
Willow-herb; Great Hairy Willow-herb; Hairy Willowherb; Hairy Willow Herb;
Codlins and Cream; European Fireweed; Fiddle Grass; Great Willowherb
Semi-aquatic
Plant
Semi-aquatic
Annen C. (2007). Wisconsin Department of Natural Resources
Literature Review: Epilobium hirsutum. Retrieved from (link)
Wisconsin

 

Epiphyas postvittana

 

Light
Brown Apple Moth (LBAM)
Insect
Terrestrial
Pest Risk Assessment for the State of Oregon Epiphyas
postvittana (Walker) – Light Brown Apple Moth (LBAM). (n.d.) Retrieved from (link)
Oregon
Epitrix cucumeris; E.
subcrinita; E. tuberis; E. papa
Potato
Flea Beetle; Tuber Flea Beetle
Insect
Terrestrial
European
and Mediterranean Plant Protection Organisation. (2011). Pest Risk Analysis
for Epitrix species damaging potato tubers. Retrieved from (link)
Europe
Epitrix
cucumeris; E. subcrinita; E. tuberis; E. papa
Potato Flea Beetle; Tuber Flea Beetle
Insect
Terrestrial
European
and Mediterranean Plant Protection Organisation. (2011). Report of a Pest
Risk Analysis for Epitrix species damaging potato tubers. Retrieved from (link)
Europe
Eragrostis tef
Williams
Lovegrass; Teff; Annual Bunch Grass
Terrestrial
Plant
Terrestrial
CFIA Categorization Assessment
Canada
Erigeron
bonariensis
Flax-leaf
Fleabane; Wavy-leaf Fleabane; Argentine Fleabane; Hairy Fleabane
Terrestrial
Plant
Terrestrial
CFIA
Categorization Assessment
Canada
Eriocheir
sinensis
Chinese Mitten Crab; Shanghai Hairy Crab
Aquatic Invertebrate

 

Aquatic
Alaska Center for Conservation Science. (2017). Bering Sea
Marine Invasive Species Assessment: Eriocheir sinensis. Retrieved from (link)
Alaska
Eriocheir sinensis
Chinese Mitten Crab; Shanghai
Hairy Crab
Aquatic Invertebrate

 

Aquatic
Therriault T.W., Herborg L.M., Locke A., & McKindsey C.W.
(2008). Risk Assessment for Chinese Mitten Crab (Eriocheir sinensis) in
Canadian Waters. Retrieved from (link)
Canada
Eriocheir
sinensis
Chinese Mitten Crab; Shanghai Hairy Crab
Aquatic Invertebrate

 

Aquatic
Great Britain Non-Native Species Secretariat. (2011). GB
Non-Native Organism Risk Assessment Scheme for Chinese Mitten Crab (Eriocheir
sinensis). Retrieved from (link)
Great
Britain
Eriocheir sinensis
Chinese
Mitten Crab; Shanghai Hairy Crab
Aquatic
Invertebrate

 

Aquatic
Soto J. 2013. New York Fish
& Aquatic Invertebrate Invasiveness Ranking Form: Eriocheir sinensis.
Retrieved from (link)
New
York
Eriocheir sinensis
Chinese Mitten Crab; Shanghai
Hairy Crab
Aquatic Invertebrate

 

Aquatic
U.S. Fish and Wildlife Service. (2018). Ecological Risk
Screening Summary: Chinese mitten crab (Eriocheir sinensis). Retrieved from (link)
United States

 

Eriocheir
sinensis
Chinese
Mitten Crab; Shanghai Hairy Crab
Aquatic
Invertebrate

 

Aquatic
Wisconsin Department of Natural Resources. (n.d.). Literature
Review: Eriocheir sinensi. Retrieved from (link)
Wisconsin

 

Eriocheir
spp.
Mitten Crabs, Hairy-fisted Crabs; Chinese
Mitten Crabs; Japanese Mitten Crabs; Shanghai Hairy Crabs
Aquatic Invertebrate

 

Aquatic
Draheim R. C. (2008). Pest Risk Assessment for Mitten Crabs in
Oregon. Retrieved from (link)
Oregon
Eriochloa villosa
Woolly
Cup Grass; Hairy Cupgrass
Terrestrial
Plant
Terrestrial
CFIA
Risk Assessment
Canada
Eriochloa villosa
Woolly Cup Grass; Hairy Cupgrass
Terrestrial Plant
Terrestrial
CFIA Risk Management
Canada
Erucaria hiiica
 
Terrestrial Plant
Terrestrial
CFIA Categorization Assessment
Canada
Erysimum cuspidatum
 
Terrestrial
Plant
Terrestrial
CFIA Categorization Assessment
Canada
Esox reichertii
Amur
Pike; Blackspotted Pike
Fish
Aquatic
U.S. Fish and Wildlife Service.
(2018). Ecological Risk Screening Summary: Amur Pike (Esox reichertii).
Retrieved from (link)
United States

 

Euonymus alatus
Burning
Bush; Winged Burning Bush; Winged Euonymus; Winged Spindle-tree; Burning Bush
Euonymus; Winged Wahoo
Terrestrial
Plant
Terrestrial
Jacquart E., Gorden D., & Dolan R., et al. (2012).
Assessment of Invasive Species in Indiana's Natural Areas: Euonymus alatus.
Retrieved from (link)
Indiana
Euonymus alatus
Burning
Bush; Winged Burning Bush; Winged Euonymus; Winged Spindle-tree; Burning Bush
Euonymus; Winged Wahoo
Terrestrial
Plant
Terrestrial
Ma J., & Moore G. (2008). New York Non-Native Plant
Invasiveness Ranking Form: Euonymus alatus. Retrieved from (link)
New
York
Euonymus
alatus
Burning Bush; Winged Burning Bush; Winged
Euonymus; Winged Spindle-tree; Burning Bush Euonymus; Winged Wahoo
Terrestrial Plant
Terrestrial
Matson E. (2011). Wisconsin Department of Natural Resources
Literature Review: Euonymus alatus. Retrieved from (link)
Wisconsin

 

Euonymus
europaeus
European
Spindletree; Spindle; European Spindle; Common Spindle
Terrestrial
Plant
Terrestrial
Glenn S., & Moore G. (2009).
New York Non-Native Plant Invasiveness Ranking Form: Euonymus europaeus.
Retrieved from (link)
New
York
Euonymus fortunei
Wintercreeper; Spindle;
Fortune's Spindle; Winter Creeper
Terrestrial Plant
Terrestrial
Jacquart E., Gorden D., & Dolan R., et al. (2007).
Assessment of Invasive Species in Indiana's Natural Areas: Official Winter
Creeper (Euonymus fortunei) Assessment. Retrieved from (link)
Indiana
Euonymus fortunei
Wintercreeper; Spindle;
Fortune's Spindle; Winter Creeper
Terrestrial Plant
Terrestrial
Ma J., & Moore G. (2008). New York Non-Native Plant
Invasiveness Ranking Form: Euonymus fortunei. Retrieved from (link)
New York
Euonymus fortunei
Wintercreeper;
Spindle; Fortune's Spindle; Winter Creeper
Terrestrial
Plant
Terrestrial
Culley T. (2016). Ohio Invasive Plant Assessment Protocol:
Euonymus fortunei. Retrieved from (link)
Ohio
Eupatorium
cannabinum
St.
John's Herb; Hemp Agrimony; Holy Rope
Terrestrial
Plant
Terrestrial
U.S. Fish and Wildlife Service. (2019). Ecological Risk
Screening Summary: St. John's Herb (Eupatorium cannabinum). Retrieved from (link)
United
States

 

Euphorbia cyparissias
Cypress Spurge
Terrestrial Plant
Terrestrial
Glenn S., & Moore G. (2009). New York Non-Native Plant
Invasiveness Ranking Form: Euphorbia cyparissias. Retrieved from (link)
New York
Euphorbia esula
Leafy
Spurge; Wolf's Milk; Green Spurge; Esels-Wolfsmilch; Faitours-grass;
Heksenmelk; Hungarian Spurge; Scharfe Wolfsmilch; Spurge; Vargtoerel
Terrestrial
Plant
Terrestrial
Paulone P. M., & Jacquart E.
(2012). Indiana Non-Native Plant Invasiveness Ranking Form: Euphorbia esula.
Retrieved from (link)
Indiana
Euphorbia esula
Leafy
Spurge; Wolf's Milk; Green Spurge; Esels-Wolfsmilch; Faitours-grass;
Heksenmelk; Hungarian Spurge; Scharfe Wolfsmilch; Spurge; Vargtoerel
Terrestrial
Plant
Terrestrial
Calkins J. (2013). MN NWAC Risk Assessment Worksheet: Euphorbia
esula. Retrieved from (link)
Minnesota
Euphorbia
esula
Leafy Spurge; Wolf's Milk; Green
Spurge; Esels-Wolfsmilch; Faitours-grass; Heksenmelk; Hungarian Spurge;
Scharfe Wolfsmilch; Spurge; Vargtoerel
Terrestrial Plant
Terrestrial
Glenn S., & Moore G. (2009). New York Non-Native Plant
Invasivenss Ranking Form: Euphorbia esula. Retrieved from (link)
New York
Euphorbia
esula
Leafy Spurge; Wolf's Milk; Green Spurge;
Esels-Wolfsmilch; Faitours-grass; Heksenmelk; Hungarian Spurge; Scharfe
Wolfsmilch; Spurge; Vargtoerel
Terrestrial Plant
Terrestrial
Annen C. (2007). Wisconsin Department of Natural Resources
Literature Review: Euphorbia esula. Retrieved from (link)
Wisconsin

 

Euphorbia hirta
Asthma
Plant; Garden Spurge
Terrestrial
Plant
Terrestrial
CFIA
Categorization Assessment
Canada
Euphorbia
lagascae
 
Terrestrial Plant
Terrestrial
CFIA
Categorization Assessment
Canada
Euphorbia
lathyris
Caper Spurge; Paper Spurge; Moleplant;
Mole Plant
Terrestrial Plant
Terrestrial
Sweet L. (2016). Euphorbia lathyris Risk Assessment. Retrieved
from (link)
California
Euphorbia oblongata
Eggleaf
Spurge; Balkan Spurge; Oblong Spurge
Terrestrial
Plant
Terrestrial
CFIA
Categorization Assessment
Canada
Euphorbia
oblongata
Eggleaf Spurge; Balkan Spurge; Oblong
Spurge
Terrestrial Plant
Terrestrial
Coombs E. (2008). Oregon Department of Agriculture Plant Pest
Risk Assessment Oblong Spurge, Euphorbia oblongata. Retrieved from (link)
Oregon
Eusarsiella zostericola
 
Aquatic
Invertebrate

 

Aquatic
Alaska Center for Conservation Science. (2017). Bering Sea
Marine Invasive Species Assessment: Eusarsiella zostericola. Retrieved from (link)
Alaska
Falcaria
vulgaris
Sickleweed;
Longleaf
Terrestrial Plant
Terrestrial
CFIA Categorization Assessment
Canada
Falcaria vulgaris
Sickleweed; Longleaf
Terrestrial Plant
Terrestrial
United States Department of
Agriculture. (2012). Weed Risk Assessment for Falcaria vulgaris Bernh.
(Apiaceae) - Sickleweed. Retrieved from (link)
United States

 

Fallopia
baldschuanica
Russian
Vine; Russian-vine; Bukhara Fleeceflower; Chinese Fleecevine; Mile-a-minute;
Silver Lace Vine; Chinese Fleece Vine
Terrestrial
Plant
Terrestrial
CFIA
Categorization Assessment
Canada
Fallopia
baldschuanica
Russian
Vine; Russian-vine; Bukhara Fleeceflower; Chinese Fleecevine; Mile-a-minute;
Silver Lace Vine; Chinese Fleece Vine
Terrestrial
Plant
Terrestrial
Glenn S., & Moore G. (2009). New York Non-Native Plant
Invasiveness Ranking Form: Fallopia baldschuanica. Retrieved from (link)
New
York
Fallopia x
bohemica
Bohemian
Knotweed
Terrestrial
Plant
Terrestrial
Culley
T. (2017). Ohio Invasive Plant Assessment Protocol: Fallopia x bohemica.
Retrieved from (link)
Ohio
Fargesia
rufa
Rufa Clumping Bamboo; Dragon
Head Bamboo
Terrestrial Plant
Terrestrial
CFIA
Categorization Assessment
Canada
Fedia cornucopiae
 
Terrestrial Plant
Terrestrial
CFIA
Categorization Assessment
Canada
Fenusa pusilla (Lepeletier)
Birch
Leafminer
Insect
Terrestrial
CFIA
Categorization Assessment
Canada
Festuca filiformis
Hair
Fescue; Fine-leaf Sheep Fescue; Fine-leaved Sheep's-fescue; Slender Fescue
Terrestrial
Plant
Terrestrial
Moore G. (2009). New York Non-Native Plant Invasiveness Ranking
Form: Festuca filiformis. Retrieved from (link)
New York
Festuca gautieri
Bearskin Fescue; Spiky
Fescue

 

Terrestrial Plant
Terrestrial
CFIA
Categorization Assessment
Canada
Ficaria
verna; Ranunculus ficaria; Ficaria ficaria
Fig Buttercup; Lesser Celandine; Marsh
Pilewort; Pilewort; Small Celandine; Mukulaleinikki; Lesser Crowfoot;
Buttercup; Dusky Maiden
Terrestrial Plant
Terrestrial
CFIA
Categorization Assessment
Canada
Ficaria verna; Ranunculus
ficaria; Ficaria ficaria
Fig
Buttercup; Lesser Celandine; Marsh Pilewort; Pilewort; Small Celandine;
Mukulaleinikki; Lesser Crowfoot; Buttercup; Dusky Maiden
Terrestrial Plant
Terrestrial
Moore G. (2008). New York Non-Native Plant Invasiveness Ranking
Form: Ranunculus ficaria. Retrieved from (link)
New York
Ficaria verna; Ranunculus ficaria; Ficaria ficaria
Fig
Buttercup; Lesser Celandine; Marsh Pilewort; Pilewort; Small Celandine;
Mukulaleinikki; Lesser Crowfoot; Buttercup; Dusky Maiden
Terrestrial
Plant
Terrestrial
OIPC Team. (2014). Ohio Invasive Plant Assessment Protocol:
Ficaria verna/Ranunculus ficaria. Retrieved from (link)
Ohio
Ficaria verna; Ranunculus
ficaria; Ficaria ficaria
Fig
Buttercup; Lesser Celandine; Marsh Pilewort; Pilewort; Small Celandine;
Mukulaleinikki; Lesser Crowfoot; Buttercup; Dusky Maiden
Terrestrial
Plant
Terrestrial
United States Department of
Agriculture. (2015). Weed Risk Assessment for Ficaria verna Huds.
(Ranunculaceae) – Fig buttercup. Retrieved from (link)
United States

 

Ficaria verna;
Ranunculus ficaria; Ficaria ficaria
Fig
Buttercup; Lesser Celandine; Marsh Pilewort; Pilewort; Small Celandine;
Mukulaleinikki; Lesser Crowfoot; Buttercup; Dusky Maiden
Terrestrial
Plant
Terrestrial
Lind S. (2011). Wisconsin Department of Natural Resources
Literature Review: Ranunculus ficaria. Retrieved from (link)

 

Wisconsin

 

Froelichia
gracilis
Slender
Cottonweed; Slender Snakecotton
Terrestrial
Plant
Terrestrial
Glenn S., & Moore G. (2009). New York Non-Native Plant
Invasiveness Ranking Form: Froelichia gracilis. Retrieved from (link)
New
York
Fuirena
ciliaris
 
Terrestrial Plant
Terrestrial
CFIA Categorization Assessment
Canada
Fumaria parviflora
Fineleaf
Fumitory; Fine-leaved Fumitory; Indian Fumitory
Terrestrial
Plant
Terrestrial
CFIA
Categorization Assessment
Canada
Fundulus heteroclitus
Mummichog;
Atlantic Killifish; Mummies; Gudgeons; Mud Minnows
Fish
Aquatic
Alcaraz-Hernández J.D., & García-Berthou E. (2019). Risk
assessment template developed under the "Study on Invasive Alien Species
– Development of risk assessments to tackle priority species and enhance
prevention". Retrieved from (link)
Europe
Fundulus
heteroclitus
Mummichog;
Atlantic Killifish; Mummies; Gudgeons; Mud Minnows
Fish
Aquatic
U.S. Fish and Wildlife Service.
(2017). Ecological Risk Screening Summary: Mummichog (Fundulus heteroclitus).
Retrieved from (link)
United
States

 

Galega
officinalis
French
Lilac; Professor-weed; Common Milpea; Goat's-rue; Goatsrue; Professorweed;
Professor Weed
Terrestrial
Plant
Terrestrial
Brusati E.D. (2016). Galega officinalis Risk Assessment.
Retrieved from (link)
California
Galega
officinalis
French Lilac; Professor-weed; Common
Milpea; Goat's-rue; Goatsrue; Professorweed; Professor Weed
Terrestrial Plant
Terrestrial
CFIA Categorization Assessment
Canada
Galega
officinalis
French
Lilac; Professor-weed; Common Milpea; Goat's-rue; Goatsrue; Professorweed;
Professor Weed
Terrestrial
Plant
Terrestrial
CFIA Risk Assessment 
Canada
Galega officinalis
French
Lilac; Professor-weed; Common Milpea; Goat's-rue; Goatsrue; Professorweed;
Professor Weed
Terrestrial
Plant
Terrestrial
CFIA
Risk Management
Canada
Galega officinalis
French Lilac; Professor-weed; Common
Milpea; Goat's-rue; Goatsrue; Professorweed; Professor Weed
Terrestrial Plant
Terrestrial
Paulone P.M., & Jacquart E.
(2012). Indiana Non-Native Plant Invasiveness Ranking Form: Galega
officinalis. Retrieved from (link)
Indiana
Galega
officinalis
French Lilac; Professor-weed; Common
Milpea; Goat's-rue; Goatsrue; Professorweed; Professor Weed
Terrestrial Plant
Terrestrial
Clemants S., & Moore G. (2009).
New York Non-Native Plant Invasiveness Ranking Form: Galega officinalis.
Retrieved from (link)
New
York
Galega
officinalis
French Lilac; Professor-weed; Common
Milpea; Goat's-rue; Goatsrue; Professorweed; Professor Weed
Terrestrial Plant
Terrestrial
Barrett B., & Miller G. (2008). Oregon Department of
Agriculture Noxious Weed Pest Risk Assessment for Goatsrue, Galega
officinalis L. Fabaceae. Retrieved from (link)
Oregon
Galega
officinalis
French
Lilac; Professor-weed; Common Milpea; Goat's-rue; Goatsrue; Professorweed;
Professor Weed
Terrestrial
Plant
Terrestrial
Barrett R. (2008). Oregon Department of Agriculture Plant Pest
Risk Assessment for Goatsrue, Galega officinalis. Retrieved from (link)
Oregon
Galium
divaricatum
Lamarck's
Bedstraw

 

Terrestrial
Plant
Terrestrial
CFIA Categorization Assessment
Canada
Galium mollugo
White
Bedstraw; False Baby's-breath; Wild Madder; Smooth Bedstraw
Terrestrial
Plant
Terrestrial
Teran O. (2011). Wisconsin Department of Natural Resources
Literature Review: Galium mollugo. Retrieved from (link)
Wisconsin

 

Galium
verrucosum
Warty Bedstraw; Southern Cleavers
Terrestrial Plant
Terrestrial
CFIA
Categorization Assessment
Canada
Gambusia
affinis
Western Mosquitofish; Mosquitofish;
Gambusia; Gambezi
Fish
Aquatic
White E. (2013). New York Fish & Aquatic Invertebrate
Invasiveness Ranking Form: Gambusia affinis. Retrieved from (link)
New
York
Gambusia
affinis
Western Mosquitofish; Mosquitofish;
Gambusia; Gambezi
Fish
Aquatic
U.S. Fish and Wildlife Service.
(2017). Ecological Risk Screening Summary: Gambusia affinis. Retrieved from (link)
United
States

 

Gambusia affinis
Western Mosquitofish;
Mosquitofish; Gambusia; Gambezi
Fish
Aquatic
Wisconsin Department of Natural Resources. (n.d.). Literature
Review: Gambusia affinis. Retrieved from (link)
Wisconsin

 

Gambusia holbrooki
Eastern
Mosquitofish; Plague Minnow; Eastern Gambusia
Fish
Aquatic
White E. (2013). New York Fish & Aquatic Invertebrate
Invasiveness Ranking Form: Gambusia holbrooki. Retrieved from (link)
New York
Gambusia
holbrooki
Eastern Mosquitofish; Plague Minnow;
Eastern Gambusia
Fish
Aquatic
U.S. Fish and Wildlife Service. (2018). Ecological Risk
Screening Summary: Gambusia holbrooki. Retrieved from (link)
United States

 

Gambusia
holbrooki
Eastern
Mosquitofish; Plague Minnow; Eastern Gambusia
Fish
Aquatic
Wisconsin Department of Natural Resources. (n.d.). Literature
Review: Gambusia holbrooki. Retrieved from (link)
Wisconsin

 

Garra rufa
Red
Garra; Doctor Fish
Fish
Aquatic
Alasdair Scott C. (2015). GB Non-native Species Rapid Risk
Assessment (NRAA) for Doctor Fish (Garra Rufa). Retrieved from (link)
Great Britain
Garra
rufa
Red
Garra; Doctor Fish
Fish
Aquatic
U.S. Fish and Wildlife Service. (2019). Ecological Risk
Screening Summary: Red Garra (Garra rufa). Retrieved from (link)
United States

 

Geomyces destructans
White-nose Syndrome
Fungus
Terrestrial
Schwartzberg E. (2013). New York Terrestrial Invertebrates
Invasiveness Ranking Form: Geomyces destructans . Retrieved from (link)
New York
Geosmithia morbida (M. Kolarík,
E. Freeland, C. Utley & Tisserat); Pityophthorus juglandis
Thousand
Canker Disease; Walnut Twig Beetle
Fungus;
Insect
Terrestrial
European and Mediterranean Plant
Protection Organization. (2015). Pest Risk Analysis for Thousand cankers
disease (Geosmithia morbida and Pityophthorus juglandis). Retrieved from (link)
Europe
Geosmithia
morbida (M. Kolarík, E. Freeland, C. Utley & Tisserat); Pityophthorus
juglandis
Thousand Canker Disease; Walnut Twig
Beetle
Fungus; Insect
Terrestrial
Adams D. (2013). New York Terrestrial Invertebrates
Invasiveness Ranking Form: Geosmithia morbida/Pityophthorus juglandis.
Retrieved from (link)

 

New
York
Geranium
dissectum
Cut-leaved
Crane's-bill; Cutleaf Geranium
Terrestrial
Plant
Terrestrial
CFIA
Categorization Assessment
Canada
Geranium lucidum
Shining Cranesbill; Shining
Geranium; Shiny Geranium; Shiny-leaf Geranium; Shiny-leaf Hawksbill
Terrestrial Plant
Terrestrial
Brusati E.D. (2016). Geranium lucidum Risk Assessment.
Retrieved from (link)
California
Geranium lucidum
Shining
Cranesbill; Shining Geranium; Shiny Geranium; Shiny-leaf Geranium; Shiny-leaf
Hawksbill
Terrestrial
Plant
Terrestrial
CFIA
Risk Assessment
Canada
Geranium lucidum
Shining
Cranesbill; Shining Geranium; Shiny Geranium; Shiny-leaf Geranium; Shiny-leaf
Hawksbill
Terrestrial
Plant
Terrestrial
Oregon Department of Agriculture. (2009). Plant Pest Risk
Assessment for Shiny Geranium, Geranium lucidum. Retrieved from (link)
Oregon
Geranium lucidum
Shining
Cranesbill; Shining Geranium; Shiny Geranium; Shiny-leaf Geranium; Shiny-leaf
Hawksbill
Terrestrial Plant
Terrestrial
United States Department of
Agriculture. (2013). Weed Risk Assessment for Geranium lucidum L.
(Geraniaceae) – Shining cranesbill. Retrieved from
(link)
United States

 

Gevuina
avellana
Chilean Hazelnut
Terrestrial
Plant

 

Terrestrial
CFIA
Categorization Assessment
Canada
Gladiolus undulatus
Large
Painted Lady; Wavy Gladiolus; Gladiolus; Large White Afrikaner; Wild
Gladiolus
Terrestrial
Plant
Terrestrial
CFIA
Categorization Assessment
Canada
Gladiolus undulatus
Large Painted Lady; Wavy Gladiolus;
Gladiolus; Large White Afrikaner; Wild Gladiolus
Terrestrial Plant
Terrestrial
United States Department of
Agriculture. (2012). Weed Risk Assessment for Gladiolus undulatus L.
(Iridaceae) – Wavy gladiolus. Retrieved from
(link)

 

United
States

 

Glaucium
corniculatum
Black-spot
Horned-poppy; Red Horned Poppy; Horned Poppy; Blackspot Hornpoppy; Red
Horned-poppy
Terrestial
Plant
Terrestrial
CFIA
Categorization Assessment
Canada
Glechoma
hederacea
Creeping
Charlie; Ground Ivy
Terrestrial
Plant
Terrestrial
Deitch Z., & Jacquart E. (2013). Indiana Non-Native Plant
Invasiveness Ranking Form: Glechoma hederacea. Retrieved from (link)
Indiana
Glossostigma
cleistanthum
Mudmat
Aquatic
Plant
Aquatic
Clemants S. (2008). New York Non-Native Plant Invasiveness
Ranking Form: Glossostigma cleistanthum. Retrieved from (link)
New
York
Glossostigma cleistanthum
Mudmat
Aquatic Plant
Aquatic
Wisconsin Department of Natural Resources. (n.d.). Aquatic
Invasive Species Literature Review: Glossostigma cleistanthum. Retrieved from (link)
Wisconsin

 

Glyceria
maxima
Rough
Manna Grass; Reed Manna Grass; Tall Glyceria; English Watergrass; Reed
Mannagrass; Giant Mannagrass; Great Mannagrass; Tall Mannagrass
Aquatic
Plant
Aquatic
Glenn S., & Moore G. (2010). New York Non-Native Plant
Invasiveness Ranking Form: Glyceria maxima. Retrieved from (link)
New York
Glyceria
maxima
Rough
Manna Grass; Reed Manna Grass; Tall Glyceria; English Watergrass; Reed
Mannagrass; Giant Mannagrass; Great Mannagrass; Tall Mannagrass
Aquatic
Plant
Aquatic
U.S. Fish and Wildlife Service. (2019). Ecological Risk
Screening Summary: Reed Mannagrass (Glyceria maxima). Retrieved from (link)
United
States

 

Glyceria
maxima
Rough Manna Grass; Reed Manna
Grass; Tall Glyceria; English Watergrass; Reed Mannagrass; Giant Mannagrass;
Great Mannagrass; Tall Mannagrass
Aquatic Plant
Aquatic
Annen C. (2007). Wisconsin Department of Natural Resources
Literature Review: Glyceria maxima. Retrieved from
(link)
Wisconsin

 

Glycine max
Soybeans
Terrestrial Plant
Terrestrial
United States Department of
Agriculture. (2014). Weed Risk Assessment for Glycine max (L.) Merr.
(Fabaceae) – Soybean and Genetically Engineered Herbicide Resistant Soybean.
Retrieved from (link)
United
States

 

Glycine
max (GE herbicide resistant)
Soybeans (GE herbicide resistant)
Terrestrial Plant
Terrestrial
United States Department of
Agriculture. (2014). Weed Risk Assessments for Glycine max (L.) Merr.
(Fabaceae) – Soybean and Genetically Engineered Herbicide Resistant Soybean.
Retrieved from (link)

 

United
States

 

Gnaphalium affine
 
Terrestrial
Plant
Terrestrial
CFIA
Categorization Assessment
Canada
Gobio gobio

 

Gudgeon
Fish
Aquatic

 

U.S. Fish and Wildlife Service.
(2018). Ecological Risk Screening Summary: Gobio gobio. Retrieved from (link)
United
States

 

Gundelia tournefortii
Galgal;
Tumbleweed; Tumble Thistle; Tournefort's Gundelia
Terrestrial
Plant
Terrestrial
CFIA Categorization Assessment
Canada
Gymnocephalus cernua
Ruffe;
Eurasian Ruffe; Pope
Fish
Aquatic
Schwartzberg E. (2013). New York Fish & Aquatic
Invertebrate Invasiveness Ranking Form:Gymnocephalus cernua. Retrieved from (link)
New York
Gymnocephalus
cernua
Ruffe;
Eurasian Ruffe; Pope
Fish
Aquatic
U.S. Fish and Wildlife Service.
(2015). Ecological Risk Screening Summary: (Gymnocephalus cernua). Retrieved
from (link)
United
States

 

Gymnocephalus
cernua
Ruffe;
Eurasian Ruffe; Pope
Fish
Aquatic
Wisconson Department of Natural Resources. (n.d.). Literature
Review: Gymnocephalus cernua. Retrieved from (link)
Wisconsin

 

Gymnocoronis
spilanthoides
Senegal Tea Plant
Aquatic Plant
Aquatic
European and Mediterranean Plant
Protection Organization. (2017). Pest Risk Analysis for Gymnocoronis
spilanthoides. Retrieved from (link)
Europe
Gymnocoronis
spilanthoides
Senegal
Tea Plant
Aquatic
Plant
Aquatic
U.S. Fish and Wildlife Service. (2019). Ecological Risk
Screening Summary: Senegal Tea Plant (Gymnocoronis spilanthoides). Retrieved
from (link)
United
States

 

Gymnocoronis
spilanthoides
Senegal
Tea Plant
Aquatic
Plant
Aquatic
United States Department of
Agriculture. (2017). Weed Risk Assessment for Gymnocoronis spilanthoides (D.
Don ex Hook. & Arn.) DC. (Asteraceae) – Senegal tea plant. Retrieved from (link)
United
States

 

Gynandropsis gynandra
African
Spider Flower; Spiderwisp
Terrestrial
Plant
Terrestrial
CFIA
Categorization Assessment
Canada
Gypsophila paniculata
Baby's
Breath; Common Gypsophila; Panicled Baby's-breath
Terrestrial
Plant
Terrestrial
Brusati E.D. (2016). Gypsophila paniculata Risk Assessment.
Retrieved from (link)
California
Hakea gibbosa
Hairy Hakea; Rock Hakea; Needlebush Hakea
Terrestrial Plant
Terrestrial
CFIA
Categorization Assessment
Canada
Hakea gibbosa
Hairy
Hakea; Rock Hakea; Needlebush Hakea
Terrestrial
Plant
Terrestrial
United States Department of
Agriculture. (2012). Weed Risk Assessment for Hakea gibbosa (Sm.) Cav.
(Proteaceae) – Rock hakea. Retrieved from (link)
United States

 

Hakea
salicifolia
Willow-leaved Hakea; Finger Hakea;
Willow-leafed Hakea
Terrestrial Plant
Terrestrial
CFIA Categorization Assessment 
Canada
Hakea salicifolia
Willow-leaved Hakea; Finger Hakea;
Willow-leafed Hakea
Terrestrial
Plant
Terrestrial
United States Department of
Agriculture. (2013). Weed Risk Assessment for Hakea salicifolia (Vent.) B. L.
Burtt. (Proteaceae) – Finger hakea. Retrieved from
(link)
United
States

 

Hakea
sericea
Needlebush; Bushy Needlewood; Silky Hakea
Terrestrial Plant
Terrestrial
CFIA Categorization Assessment
Canada
Hakea
sericea
Needlebush; Bushy Needlewood; Silky Hakea
Terrestrial Plant
Terrestrial
European and Mediterranean Plant Protection Organization.
(2018). Pest Risk Analysis for Hakea sericea. Retrieved from (link)
Europe
Hakea sericea
Needlebush; Bushy Needlewood;
Silky Hakea
Terrestrial Plant
Terrestrial
United States Department of
Agriculture. (2013). Weed Risk Assessment for Hakea sericea Schrad. & J.
C. Wendl. (Proteaceae) – Bushy needlewood. Retrieved from (link)
United States

 

Halogeton
glomeratus
Saltlover; Aral Barilla;
Halogeton
Terrestrial Plant
Terrestrial
CFIA
Risk Assessment
Canada
Halogeton
glomeratus
Saltlover; Aral Barilla; Halogeton
Terrestrial Plant
Terrestrial
CFIA Risk Management
Canada
Harmonia axyridis
Asian
Lady Beetle; Harlequin Multicoloured Asian
Insect
Terrestrial
Boone C.K. (2007). Wisconsin Department of Natural Resources
Literature Review: Harmonia axyridis. Retrieved from
(link)
Wisconsin

 

Hedera helix
English
Ivy; Common Ivy; European Ivy; Ivy
Terrestrial
Plant
Terrestrial
Jacquart E., & Cox H. (2006). Asseessment of Invasive
Species in Indiana's Natural Areas: Hedera helix. Retrieved from (link)
Indiana
Hedera helix
English Ivy; Common Ivy;
European Ivy; Ivy
Terrestrial Plant
Terrestrial
Glenn S., & Moore G. (2009). New York Non-Native Plant
Invasiveness Ranking Form: Hedra helix. Retrieved from (link)
New York
Hediste diadroma
 
Aquatic Invertebrate

 

Aquatic
Alaska Center for Conservation Science. (2017). Bering Sea
Marine Invasive Species Assessment: Hediste diadroma. Retrieved from (link)
Alaska
Hedychium gardnerianum
Kahili Ginger Lily; Kahili Ginger; Kahila
Garland-lily; Ginger Lily
Terrestrial Plant
Terrestrial
United States Department of
Agriculture. (2012). Weed Risk Assessment for Hedychium gardnerianum

 

Sheppard ex. Ker Gawl (Zingiberaceae) –
Kahili ginger lily. Retrieved from (link)
United
States

 

Hedysarum coronarium
French
Honeysuckle; Sulla; Sulla Clover

 

Terrestrial
Plant
Terrestrial
CFIA
Categorization Assessment
Canada
Heliotropium
europaeum
European Heliotrope; European Turn-sole;
Common Heliotrope; European Turnsole
Terrestrial Plant
Terrestrial
CFIA
Categorization Assessment
Canada
Heliotropium
europaeum
European Heliotrope; European
Turn-sole; Common Heliotrope; European Turnsole
Terrestrial Plant
Terrestrial
United States Department of Agriculture. (2014). Weed Risk
Assessment for Heliotropium europaeum L. (Boraginaceae) – European
heliotrope. Retrieved from (link)
United States

 

Hemerocallis
fulva
Ditch Lily; Day Lily; Orange Day-lily;
Orange Daylily
Terrestrial Plant
Terrestrial
Glenn S., & Moore G. (2009). New York Non-Native Plant
Invasiveness Ranking Form: Hemerocallis fulva. Retrieved from (link)
New
York
Hemerocallis
fulva
Ditch
Lily; Day Lily; Orange Day-lily; Orange Daylily
Terrestrial Plant
Terrestrial
Vinnik I., & Vinnik Y. (2016). Ohio Invasive Plant
Assessment Protocol: Hemerocallis fulva. Retrieved from (link)
Ohio
Hemichromis
bimaculatus
African
Jewelfish; Jewel Cichlid; Jewelfish
Fish
Aquatic
U.S. Fish and Wildlife Service. (2019). Ecological Risk
Screening Summary: African Jewelfish (Hemichromis bimaculatus). Retrieved
from (link)
United States

 

Hemigrapsus
sanguineus

  

Asian Shore Crab; Japanese Shore Crab
Aquatic Invertebrate
Aquatic
Galanidi, M., & Zenetos, A. (2017). EU Non-native Species
Risk Analysis – Risk Assessment for Hemigrapsus sanguineus (De Haan, 1853).
Retrieved from (link)
Europe
Hemigrapsus sanguineus

  

Asian
Shore Crab; Japanese Shore Crab
Aquatic
Invertebrate
Aquatic
Clark P. (2015). GB Non-native Species Rapid Risk Assessment
(NRAA) for Asian Shore Crab (Hemigrapsus sanguineus). Retrieved from (link)
Great Britain
Hemigrapsus
sanguineus

  

Asian Shore Crab; Japanese Shore Crab
Aquatic
Invertebrate
Aquatic
White E. (2013). New York Fish & Aquatic Invertebrate
Invasiveness Ranking Form: Hemigrapsus sanguineus. Retrieved from (link)
New
York
Hemimysis
anomala
Bloody
Red Shrimp; Bloody Shrimp; Bloody Red Mysid
Aquatic
Invertebrate

 

Aquatic
DFO. (2010). Science Advice from the Risk Assessment of the
Invasive Bloody Red Shrimp (Hemimysis anomala) in Canada. Retrieved from (link)
Canada
Hemimysis anomala
Bloody Red Shrimp; Bloody
Shrimp; Bloody Red Mysid
Aquatic Invertebrate

 

Aquatic
Koops M. A., Gerlofsma J., & Marty J. (2009). Risk
Assessment of the Bloody Red Shrimp (Hemimysis anomala) in Canada. Retrieved
from (link)
Canada
Hemimysis
anomala
Bloody Red Shrimp; Bloody Shrimp; Bloody
Red Mysid
Aquatic Invertebrate

 

Aquatic
White E.L. (2013). New York Fish & Aquatic Invertebrate
Invasiveness Ranking Form: Hemimysis anomala. Retrieved from (link)
New
York
Hemimysis anomala
Bloody
Red Shrimp; Bloody Shrimp; Bloody Red Mysid
Aquatic
Invertebrate

 

Aquatic
U.S. Fish and Wildlife Service. (2018). Ecological Risk
Screening Summary:

 

Bloody Red Shrimp
(Hemimysis anomala). Retrieved from (link)
United
States

 

Hemimysis anomala
Bloody Red Shrimp; Bloody
Shrimp; Bloody Red Mysid
Aquatic Invertebrate

 

Aquatic
Wisconsin Department of Natural Resources. (n.d.). Literature
Review: Hemimysis anomala. Retrieved from (link)
Wisconsin

 

Heracleum
mantegazzianum
Giant Hogweed; Hogweed; Giant
Cow-parsley; Cartwheel-flower; Giant Cow Parsnip; Giant Cow Parsley; Wild
Parsnip
Terrestrial Plant
Terrestrial
Brusati E.D. (2016). Heracleum mantegazzianum Risk Assessment.
Retrieved from (link)
California
Heracleum mantegazzianum
Giant
Hogweed; Hogweed; Giant Cow-parsley; Cartwheel-flower; Giant Cow Parsnip;
Giant Cow Parsley; Wild Parsnip
Terrestrial
Plant
Terrestrial
CFIA
Categorization Assessment
Canada
Heracleum
mantegazzianum
Giant
Hogweed; Hogweed; Giant Cow-parsley; Cartwheel-flower; Giant Cow Parsnip;
Giant Cow Parsley; Wild Parsnip
Terrestrial
Plant
Terrestrial
CFIA Risk Assessment
Canada
Heracleum mantegazzianum
Giant
Hogweed; Hogweed; Giant Cow-parsley; Cartwheel-flower; Giant Cow Parsnip;
Giant Cow Parsley; Wild Parsnip
Terrestrial Plant
Terrestrial
European and Mediterranean Plant Protection Organisation.
(n.d.). Pest Risk Analysis for Heracleum mantegazzianum. Retrieved from (link)
Europe
Heracleum
mantegazzianum
Giant Hogweed; Hogweed; Giant
Cow-parsley; Cartwheel-flower; Giant Cow Parsnip; Giant Cow Parsley; Wild
Parsnip
Terrestrial Plant
Terrestrial
Pergl J., & Branquart E. (2015). EU Non-Native Organism
Risk Assessment Scheme: Heracleum mantegazzianum. Retrieved from (link)
Europe
Heracleum
mantegazzianum
Giant Hogweed; Hogweed; Giant
Cow-parsley; Cartwheel-flower; Giant Cow Parsnip; Giant Cow Parsley; Wild
Parsnip
Terrestrial Plant
Terrestrial
Paulone P.M., & Jacquart E.
(2012). Indiana Non-Native Plant Invasiveness Ranking Form: Heracleum
mantegazzianum. Retrieved from (link)
Indiana
Heracleum mantegazzianum
Giant
Hogweed; Hogweed; Giant Cow-parsley; Cartwheel-flower; Giant Cow Parsnip;
Giant Cow Parsley; Wild Parsnip
Terrestrial
Plant
Terrestrial
Cortilet A. (2011). MN NWAC Risk Assessment Worksheet:
Heracleum mantegazzianum. Retrieved from (link)
Minnesota
Heracleum
mantegazzianum
Giant Hogweed; Hogweed; Giant Cow-parsley;
Cartwheel-flower; Giant Cow Parsnip; Giant Cow Parsley; Wild Parsnip
Terrestrial Plant
Terrestrial
Glenn S., & Moore G. (2010).
New York Non-Native Plant Invasiveness Ranking Form: Heracleum
mantegazzianu,. Retrieved from (link)
New
York
Heracleum
mantegazzianum
Giant Hogweed; Hogweed; Giant
Cow-parsley; Cartwheel-flower; Giant Cow Parsnip; Giant Cow Parsley; Wild
Parsnip
Terrestrial Plant
Terrestrial
Oregon Department of Agriculture. (2009). Plant Pest Risk
Assessment for Giant Hogweed, Heracleum mantegazzianum 2009 (Revised 2013).
Retrieved from (link)
Oregon
Heracleum mantegazzianum
Giant
Hogweed; Hogweed; Giant Cow-parsley; Cartwheel-flower; Giant Cow Parsnip;
Giant Cow Parsley; Wild Parsnip
Terrestrial
Plant
Terrestrial
Kollmansberger A. (2007). Wisconsin Department of Natural
Resources Literature Review: Heracleum mantegazzianum. Retrieved from (link)
Wisconsin

 

Heracleum sosnowskyi
Sosnowsky's
Hogweed
Terrestrial
Plant
Terrestrial
European
and Mediterranean Plant Protection Organisation. (2008). Pest Risk Analysis
for Heracleum sosnowskyi. Retrieved from (link)
Europe
Heracleum
sosnowskyi
Sosnowsky's Hogweed
Terrestrial Plant
Terrestrial
European
and Mediterranean Plant Protection Organisation. (2009). Report of a Pest
Risk Analysis for Heracleum sosnowskyi. Retrieved from (link)
Europe
Hesperis
matronalis
Dame's Rocket; Dame's Violet
Terrestrial Plant
Terrestrial
Jacquart E., Pierce C., & Cox H. (2007). Assessment of
Invasive Species in Indiana's Natural Areas; Official Dame's Rocket (Hesperis
matronalis) Assessment. Retrieved from (link)
Indiana
Hesperis matronalis
Dame's
Rocket; Dame's Violet
Terrestrial
Plant
Terrestrial
Glenn S., & Moore G. (2008). New York Non-Native Plant
Invasiveness Ranking Form: Hesperis matronalis. Retrieved from (link)
New York
Hesperis matronalis
Dame's
Rocket; Dame's Violet
Terrestrial
Plant
Terrestrial
Mastalerz A. (2016). Ohio Invasive Plant Assessment Protocol:
Hesperis matronalis. Retrieved from (link)
Ohio
Hesperis matronalis
Dame's Rocket; Dame's Violet
Terrestrial Plant
Terrestrial
Annen C. (2007). Wisconsin Department of Natural Resources
Literature Review: Hesperis matronalis. Retrieved from (link)
Wisconsin

 

Heterobasidion irregulare
Fungus
Terrestrial
European
and Mediterranean Plant Protection Organization. (2015). Pest Risk Analysis
for Heterobasidion irregulare. Retrieved from
(link)

 

Europe
Heteropneustes fossilis
Stinging Catfish; Asian Stinging
Catfish; Fossil Cat

 

Fish
Aquatic

 

U.S. Fish and Wildlife Service.
(2018). Ecological Risk Screening Summary: Heteropneustes fossilis. Retrieved
from (link)
United States

 

Hibiscus cannabinus
Deccan Hemo; Java Jute; Kenaf
Terrestrial
Plant
Terrestrial
CFIA
Categorization Assessment
Canada
Hieraceum
piloselloides

 

King Devil Hawkweed; Glaucous
King Devil; Tall Hawkweed
Terrestrial Plant
Terrestrial
Langland D. (2011). Oregon
Department of Agriculture Plant Pest Risk Assessment for Meadow Hawkweed,
Hieracium caespitosum, King Devil Hawkweed, Hieracium piloselloides, Yellow
Devil Hawkweed, Hieracium X floribundum. Retrieved from (link)
Oregon
Hieraceum X floribundum

 

Yellow
Devil Hawkweed
Terrestrial
Plant
Terrestrial
Langland D. (2011). Oregon Department of Agriculture Plant
Pest Risk Assessment for Meadow Hawkweed, Hieracium caespitosum, King Devil
Hawkweed, Hieracium piloselloides, Yellow Devil Hawkweed, Hieracium X
floribundum. Retrieved from (link)
Oregon
Hieracium
aurantiacum

 

Orange
Hawkweed; Orange Aster; King Devil Hawkweed; Devil's Paintbrush
Terrestrial
Plant
Terrestrial
Langland D. (2009). Oregon Department of Agriculture Plant
Pest Risk Assessment for Orange Hawkweed, Hieracium aurantiacum. Retrieved
from (link)
Oregon
Hieracium caespitosum

 

Meadow
Hawkweed; Yellow Hawkweed; Yellow Paintbrush; Devil's Paintbrush
Terrestrial
Plant
Terrestrial
Langland D. (2011). Oregon
Department of Agriculture Plant Pest Risk Assessment for Meadow Hawkweed,
Hieracium caespitosum, King Devil Hawkweed, Hieracium piloselloides, Yellow
Devil Hawkweed, Hieracium X floribundum. Retrieved from (link)
Oregon
Hieracium
pilosella

 

Mouseear Hawkweed; Mouse-ear Hawkweed
Terrestrial Plant
Terrestrial
Langland D. (2011). Oregon Department of Agriculture Plant
Pest Risk Assessment for Mouseear Hawkweed, Hieracium

 

pilosella L. Retrieved from (link)
Oregon
Hippophae
rhamnoides
Common Sea-buckthorn; Sea Buckthorn
Terrestrial Plant
Terrestrial
CFIA
Categorization Assessment
Canada
Holcus mollis
Creeping
Soft Grass; Creeping Velvet Grass; Velvet Grass
Terrestrial
Plant
Terrestrial
CFIA
Categorization Assessment
Canada
Hordeum murinum
Leporinum
Barley; Hare Barley
Terrestrial
Plant
Terrestrial
Glenn S. (2012). New York Non-Native Plant Invasiveness Ranking
Form: Hordeum murinum. Retrieved from (link)
New York
Hordeum
vulgare spontaneum
Wild Barley
Terrestrial Plant
Terrestrial
CFIA
Categorization Assessment
Canada
Hucho hucho
Huchen

 

Fish
Aquatic

 

U.S. Fish and Wildlife Service.
(2019). Ecological Risk Screening Summary: Hucho Hucho. Retrieved from (link)
United States

 

Humulus japonicus; Humulus
scandens
Japanese
Hops; Wild Hop
Terrestrial
Plant
Terrestrial
European and Mediterranean Plant Protection Organisation.
(2018). Pest Risk Analysis for Humulus scandens. Retrieved from (link)
Europe
Humulus
japonicus; Humulus scandens
Japanese
Hops; Wild Hop
Terrestrial
Plant
Terrestrial
Jacquart E., Good T., Nice G., & Dailey T. (2005).
Assessment of Invasive Species in Indiana's Natural Areas; Official Japanese
Hops (Humulus japonica) Assessment. Retrieved from
(link)

 

Indiana
Humulus japonicus; Humulus
scandens
Japanese
Hops; Wild Hop
Terrestrial
Plant
Terrestrial
Chandler M. (2011). MN NWAC Risk Assessment Worksheet: Humulus
japonica. Retrieved from (link)
Minnesota
Humulus
japonicus; Humulus scandens
Japanese
Hops; Wild Hop
Terrestrial Plant
Terrestrial
Van Riper L. (2016). MN NWAC Risk Assessment Worksheet: Humulus
japonica. Retrieved from (link)
Minnesota
Humulus japonicus; Humulus
scandens
Japanese
Hops; Wild Hop
Terrestrial
Plant
Terrestrial
Glenn S., & Moore G. (2009). New York Non-Native Plant
Invasiveness Ranking Form: Humulus japonicus. Retrieved from (link)
New York
Humulus
japonicus; Humulus scandens
Japanese
Hops; Wild Hop
Terrestrial Plant
Terrestrial
Meier M. (2007). Wisconsin Department of Natural Resources
Literature Review: Humulus japonicus. Retrieved from
(link)
Wisconsin

 

Huso huso
Beluga; European Sturgeon
Fish
Aquatic
U.S. Fish and Wildlife Service. (2019). Ecological Risk
Screening Summary: Beluga (Huso huso). Retrieved from (link)
United
States

 

Hydrilla
verticillata
Hydrilla; Waterthyme
Aquatic Plant
Aquatic
Glenn S., & Moore G. (2008). New York Non-Native Plant
Invasiveness Ranking Form: Hydrilla verticillata. Retrieved from (link)
New
York
Hydrilla verticillata
Hydrilla;
Waterthyme
Aquatic
Plant
Aquatic
OMNRF
Risk Assessment
Ontario
Hydrilla verticillata
Hydrilla;
Waterthyme
Aquatic
Plant
Aquatic
Pest Risk Assessment for Hydrilla in Oregon. (n.d.). Retrieved
from (link)
Oregon
Hydrilla verticillata
Hydrilla;
Waterthyme
Aquatic
Plant
Aquatic
U.S. Fish and Wildlife Service.
(2017). Ecological Risk Screening Summary - Great Lakes Basin: Hydrilla (
Hydrilla verticillata) - Monoecious Biotype. Retrieved from (link)
United States

 

Hydrilla verticillata
Hydrilla; Waterthyme
Aquatic Plant
Aquatic
U.S. Fish and Wildlife Service.
(2017). Ecological Risk Screening Summary: Hydrilla (Hydrilla verticillata) -
Dioecious Biotype. Retrieved from (link)
United
States

 

Hydrilla
verticillata
Hydrilla;
Waterthyme
Aquatic Plant
Aquatic
U.S. Fish and Wildlife Service.
(2017). Ecological Risk Screening Summary: Hydrilla (Hydrilla verticillata) -
Monoecious Biotype. Retrieved from (link)
United States

 

Hydrilla
verticillata
Hydrilla;
Waterthyme
Aquatic
Plant
Aquatic
Wisconsin Department of Natural Resources. (n.d.). Aquatic
Invasive Species Literature Review: Hydrilla verticillata. Retrieved from (link)
Wisconsin

 

Hydrocharis morsus-ranae
European
Frog-bit; Frogbit; European Frogbit
Aquatic
Plant

 

Aquatic
Glenn S. (2008). New York
Non-Native Plant Invasiveness Ranking Form: Hydrocharis morsus-ranae.
Retrieved from (link)
New
York
Hydrocharis
morsus-ranae
European Frog-bit; Frogbit; European
Frogbit
Aquatic Plant

 

Aquatic
U.S. Fish and Wildlife Service.
(2019). Ecological Risk Screening Summary: European Frogbit (Hydrocharis
morsus-ranae). Retrieved from (link)
United
States

 

Hydrocharis morsus-ranae
European Frog-bit; Frogbit;
European Frogbit
Aquatic Plant

 

Aquatic
United States Department of Agriculture. (2017). Weed Risk
Assessment for Hydrocharis morsus-ranae L. (Hydrocharitaceae) – European
frogbit. Retrieved from (link)
United States

 

Hydrocharis morsus-ranae
European
Frog-bit; Frogbit; European Frogbit
Aquatic
Plant

 

Aquatic
Wisconsin Department of Natural Resources. (n.d.). Aquatic
Invasive Species Literature Review: Hydrocharis morsus-ranae. Retrieved from (link)
Wisconsin

 

Hygrophila
corymbosa
Temple Plant; Starhorn; Giant Hygro
Aquatic Plant
Aquatic
United States Department of
Agriculture. (2015). Weed Risk Assessment for Hygrophila corymbosa (Blume)
Lindau (Acanthaceae) – Temple plant. Retrieved from
(link)
United
States

 

Hygrophila
difformis
Water Wisteria
Aquatic Plant
Aquatic
United States Department of
Agriculture. (2015). Weed Risk Assessment for Hygrophila difformis (L. f.)
Blume (Acanthaceae) – Water wisteria. Retrieved from
(link)
United States

 

Hygrophila pinnatifida
Fern
Hygrophila
Aquatic
Plant

 

Aquatic
United States Department of
Agriculture. (2015). Weed Risk Assessment for Hygrophila pinnatifida
(Dalzell) Sreem (Acanthaceae) – Fern hygrophila. Retrieved from (link)
United
States

 

Hygrophila
polysperma
Miramar
Weed; Dwarf Hygrophila; Dwarf Hygro; Indian Swampweed; Indian Waterweed
Aquatic
Plant
Aquatic
European and Mediterranean Plant
Protection Organization. (2017). Pest Risk Analysis for Hygrophila
polysperma. Retrieved from (link)
Europe
Hygrophila
polysperma
Indian Swampweed
Aquatic Plant
Aquatic
U.S. Fish and Wildlife Service.
(2018). Ecological Risk Screening Summary: Indian Swampweed (Hygrophila
polysperma). Retrieved from (link)
United
States

 

Hygrophila
polysperma
Miramar Weed; Dwarf Hygrophila;
Dwarf Hygro; Indian Swampweed; Indian Waterweed
Aquatic Plant
Aquatic
United States Department of
Agriculture. (2015). Weed Risk Assessment for Hygrophila polysperma (Roxb.)
T. Anderson (Acanthaceae) – Miramar weed. Retrieved from (link)
United States

 

Hygrophila
polysperma
Indian Swampweed
Aquatic Plant
Aquatic
Wisconsin Department of Natural Resources. (n.d.). Aquatic
Invasive Species Literature Review: Hygrophila polysperma. Retrieved from (link)
Wisconsin

 

Hygrophila polysperma
Miramar
Weed; Dwarf Hygrophila; Dwarf Hygro; Indian Swampweed; Indian Waterweed
Aquatic
Plant
Aquatic
Wisconsin Department of Natural Resources. (n.d.). Aquatic
Invasive Species Literature Review: Hygrophila polysperma. Retrieved from (link)
Wisconsin

 

Hypericum
androsaemum
Sweet-amber;
Tutsan; Shrubby St. John's Wort
Terrestrial
Plant
Terrestrial
Brusati E.D. (2016). Hypericum androsaemum Risk Assessment.
Retrieved from (link)
California
Hypericum
perforatum
Common St. John's-wort; St. John's-wort;
Common Saint John's Wort; St. John's Wort
Terrestrial Plant
Terrestrial
Jacquart E. (2012). Indiana Non-Native Plant Invasiveness
Ranking Form: Hypericum perforatum. Retrieved from
(link)
Indiana
Hypericum
perforatum
Common St. John's-wort; St. John's-wort;
Common Saint John's Wort; St. John's Wort
Terrestrial Plant
Terrestrial
Glenn S., & Moore G. (2009). New York Non-Native Plant
Invasiveness Ranking Form: Hypericum perforatum. Retrieved from (link)
New York
Hypochaeris glabra
Smooth
Cat's Ear; Smooth Catsear
Terrestrial
Plant
Terrestrial
CFIA
Categorization Assessment
Canada
Hypomesus nipponensis
Wakasagi
Fish

 

Aquatic
U.S. Fish and Wildlife Service. (2019). Ecological Risk
Screening Summary: Wakasagi (Hypomesus nipponensis). Retrieved from (link)
United States

 

Hypophthalmichthys
harmandi
Largescale Silver Carp
Fish
Aquatic
Cudmore B., Mandrak N.E., Dettmers J.M., et al. (2011).
Binational Ecological Risk Assessment of Bighead Carps (Hypophthalmichthys
spp.) for the Great Lakes Basin. Retrieved from
(link)
Canada
Hypophthalmichthys harmandi
Largescale
Silver Carp
Fish
Aquatic
Mandrak N.E., & Cudmore B. (2004). Risk Assessment for
Asian Carps in Canada. Retrieved from (link)
Canada
Hypophthalmichthys
harmandi
Largescale Silver Carp
Fish
Aquatic
Adams D. (2013). New York Fish & Aquatic Invertebrate
Invasiveness Ranking Form: Hypophthalmichthys harmandi. Retrieved from (link)
New York
Hypophthalmichthys molitrix
Silver
Carp
Fish
Aquatic
Cudmore B., Mandrak N.E., Dettmers J.M., et al. (2011).
Binational Ecological Risk Assessment of Bighead Carps (Hypophthalmichthys
spp.) for the Great Lakes Basin. Retrieved from
(link)
Canada
Hypophthalmichthys
molitrix
Silver Carp
Fish
Aquatic
Mandrak N.E., & Cudmore B.
(2004). Risk Assessment for Asian Carps in Canada. Retrieved from (link)
Canada
Hypophthalmichthys molitrix
Silver
Carp
Fish
Aquatic
Adams D. (2013). New York Fish
& Aquatic Invertebrate Invasiveness Ranking Form: Hypophthalmichthys
molitrix. Retrieved from (link)
New York
Hypophthalmichthys
molitrix
Silver Carp
Fish
Aquatic
Draheim R. C. (2009). Pest Risk Assessment for Asian Carps in
Oregon. Retrieved from (link)
Oregon
Hypophthalmichthys molitrix
Silver Carp
Fish
Aquatic
U.S. Fish and Wildlife Service.
(2019). Ecological Risk Screening Summary: Hypophthalmichthys molitrix.
Retrieved from (link)
United States

 

Hypophthalmichthys
molitrix
Silver
Carp
Fish
Aquatic
Wisconsin Department of Natural Resources. (n.d.). Literature
Review: Hypophthalmichthys molitrix. Retrieved from
(link)

 

Wisconsin

 

Hypophthalmichthys
nobilis
Bighead Carp
Fish

 

Aquatic
Cudmore B., Mandrak N.E., Dettmers J.M., et al. (2011).
Binational Ecological Risk Assessment of Bighead Carps (Hypophthalmichthys
spp.) for the Great Lakes Basin. Retrieved from
(link)
Canada
Hypophthalmichthys nobilis
Bighead Carp
Fish

 

Aquatic
Mandrak N. E., & Cudmore B. (2004). Risk Assessment for
Asian Carps in Canada: Bighead Carp. Retrieved from
(link)
Canada
Hypophthalmichthys nobilis
Bighead
Carp
Fish

 

Aquatic
Adams D. (2013). New York Fish and Aquatic Invertebrate
Invasiveness Ranking Form: Bighead Carp. Retrieved from (link)
New
York
Hypophthalmichthys
nobilis
Bighead
Carp
Fish

 

Aquatic
Draheim R. C. (2009). Pest Risk Assessment for Asian Carps in
Oregon. Retrieved from (link)
Oregon
Hypophthalmichthys nobilis
Bighead
Carp
Fish

 

Aquatic
U.S. Fish and Wildlife Service. (2018). Ecological Risk
Screening Summary: Bighead Carp (Hypophthalmichthys nobilis). Retrieved from (link)
United States

 

Hypophthalmichthys nobilis
Bighead Carp
Fish

 

Aquatic
Wisconsin Department of Natural Resources. (n.d.). Literature
Review: Hypophthalmichthys nobilis. Retrieved from
(link)

 

Wisconsin

 

Ibicella lutea
Devil's
Claw; Yellow Unicorn-plant
Terrestrial Plant
Terrestrial
CFIA
Categorization Assessment
Canada
Ictalurus
furcatus
Blue Catfish
Fish
Aquatic
Adams D. (2013). New York Fish & Aquatic Invertebrate
Invasiveness Ranking Form: Ictalurus furcatus. Retrieved from (link)
New York
Ictalurus furcatus
Blue Catfish
Fish
Aquatic
U.S. Fish and Wildlife Service. (2014). Ecological Risk
Screening Summary: Blue Catfish (Ictalurus furcatus). Retrieved from (link)
United States

 

Impatiens
glandulifera
Himalayan Balsam; Ornamental Jewelweed;
Royle Ornamental Jewelweed; Policeman's Helmet; Indian Balsam
Terrestrial Plant
Terrestrial
Glenn S., Moore G., Jordan M.,
& SRC. (2013). New York Non-Native Plant Invasiveness Ranking Form For
Natural/Minimally Managed Area. Retrieved from (link)
New
York
Impatiens glandulifera
Himalayan Balsam; Ornamental
Jewelweed; Royle Ornamental Jewelweed; Policeman's Helmet; Indian Balsam
Terrestrial
Plant
Terrestrial
Lind S. (2011). Wisconsin Department of Natural Resources
Literature Review: Impatiens glandulifera. Retrieved from (link)
Wisconsin

 

Impatiens parviflora
Smallflower Touch-me-not; Small Balsam
Terrestrial
Plant
Terrestrial
United States Department of
Agriculture. (2013). Weed Risk Assessment for Impatiens parviflora DC.
(Balsaminaceae) – Smallflower touch-me-not, small balsam. Retrieved from (link)
United
States

 

Imperata cylindrica
Blady Grass; Cogongrass; Cogon
Satin-tail
Terrestrial Plant
Terrestrial
CFIA
Categorization Assessment
Canada
Imperata
cylindrica
Blady Grass; Cogongrass; Cogon Satin-tail
Terrestrial Plant
Terrestrial
CFIA
Risk Assessment
Canada
Imperata
cylindrica
Blady Grass; Cogongrass; Cogon Satin-tail
Terrestrial Plant
Terrestrial
Moore G. (2009). New York Non-Native Plant Invasiveness Ranking
Form: Imperata cylindrica. Retrieved from (link)
New York
Imperata
cylindrica
Blady Grass; Cogongrass; Cogon Satin-tail
Terrestrial Plant
Terrestrial
United States Department of Agriculture. (2018). Weed Risk
Assessment for Imperata cylindrica 
(L.) P. Beauv. (Poaceae) – Cogongrass. Retrieved from (link)

 

United States

 

Inula britannica
British
Yellowhead; British Elecampane
Terrestrial
Plant
Terrestrial
CFIA
Categorization Assessment
Canada
Inula britannica
British
Yellowhead; British Elecampane
Terrestrial
Plant
Terrestrial
CFIA
Risk Assessment
Canada
Inula
britannica
British Yellowhead; British Elecampane
Terrestrial Plant
Terrestrial
Cortilet A. (2011). MN NWAC Risk Assessment Worksheet: Inula
britannica. Retrieved from (link)
Minnesota
Inula
britannica
British Yellowhead; British Elecampane
Terrestrial Plant
Terrestrial
Lehtonen P., & Schall R. A. (2009). Weed Risk Assessment;
Inula britannica L. (British elecampane). Retrieved from (link)

 

United
States

 

Inula
conyzae
Ploughman's-spikenard; Ploughman's
Spikenard
Terrestrial Plant
Terrestrial
CFIA
Categorization Assessment
Canada
Inula helenium
Elecampane;
Horse-heal; Elfdock
Terrestrial
Plant
Terrestrial
Graeve K. (2014). MN NWAC Risk Assessment Worksheet: Inula
helenium . Retrieved from (link)
Minnesota
Ipomoea
biflora
Bell Vine
Terrestrial Plant
Terrestrial
United States Department of Agriuclture. (2015).Weed Risk
Assessment for Ipomoea biflora (L.) Pers. (Convolvulaceae) - Bell Vine.
Retrieved from (link)
United States

 

Ipomoea hederacea
Ivy-leaved
Morning Glory; Ivyleaf Morning-glory
Terrestrial Plant
Terrestrial
CFIA Categorization Assessment
Canada
Ipomoea lacunosa
Whitestar;
White Morning-glory; Pitted Morningglory; Small White Morning Glory
Terrestrial
Plant
Terrestrial
CFIA
Categorization Assessment
Canada
Ipomoea purpurea
Morning Glory; Tall
Morning-glory

 

Terrestrial Plant
Terrestrial
Vinnik I., & Vinnik Y. (2016). Ohio Invasive Plant
Assessment Protocol: Ipomoea hederacea. Retrieved from (link)
Ohio
Ipomoea quamoclit
Cypress Vine; Cypressvine;
Morning Glory; Cardinal Creeper; Cardinal Vine;

 

Star Glory; Hummingbird Vine
Terrestrial
Plant
Terrestrial
CFIA
Categorization Assessment
Canada
Iris
pseudacorus
Yellow
Iris; Flag Iris; Paleyellow Iris; Yellow Flag; Yellow Flag Iris
Terrestrial
Plant
Aquatic
Ma J., Clemants S., Moore G., & Jordan M. (2008). New York
Non-Native Plant Invasiveness Ranking Form. Retrieved from (link)
New York
Iris pseudacorus
Yellow Iris; Flag Iris;
Paleyellow Iris; Yellow Flag; Yellow Flag Iris
Terrestrial Plant
Aquatic
U.S. Fish and Wildlife Service. (2019). Ecological Risk
Screening Summary: Yellow Flag Iris (Iris pseudacorus). Retrieved from (link)
United States

 

Iris pseudacorus
Yellow
Iris; Flag Iris; Paleyellow Iris; Yellow Flag; Yellow Flag Iris
Terrestrial
Plant
Aquatic
United States Department of Agriculture. (2013). Weed Risk
Assessment for Iris pseudacorus

 

L.
(Iridaceae) – Yellow flag iris. Retrieved from
(link)
United States

 

Iris pseudacorus
Yellow
Iris; Flag Iris; Paleyellow Iris; Yellow Flag; Yellow Flag Iris
Terrestrial
Plant
Aquatic
Wisconsin Department of Natural Resources. (n.d.). Aquatic
Invasive Species Literature Review: Iris pseudacorus. Retrieved from (link)
Wisconsin

 

Isachne
globosa
Swamp Millet
Terrestrial Plant
Terrestrial
CFIA Categorization Assessment
Canada
Ischaemum
muticum
Seashore Centipede Grass
Terrestrial Plant
Terrestrial
CFIA Categorization Assessment
Canada
Jasminum humile
Italian
Jasmine; Yellow Jasmine
Terrestrial
Plant
Terrestrial
CFIA Risk Assessment
Canada
Jassa marmorata
 
Aquatic
Invertebrate

 

Aquatic
Alaska Center for Conservation Science. (2017). Bering Sea
Marine Invasive Species Assessment: Jassa marmorata. Retrieved from (link)
Alaska
Jatropha curcas
Barbados
Nut; Physic Nut
Terrestrial
Plant
Terrestrial
CFIA
Categorization Assessment
Canada
Jatropha curcas
Barbados
Nut; Physic Nut
Terrestrial
Plant
Terrestrial
CFIA
Risk Assessment
Canada
Jatropha
curcas
Barbados Nut; Physic Nut
Terrestrial Plant
Terrestrial
United States Department of Agriculture. (2015). Weed Risk
Assessment for Jatropha curcas

 

L.
(Euphorbiaceae) - Physic Nut. Retrieved from
(link)
United
States

 

Jatropha
gossypiifolia
Bellyache Bush; Black Physicnut;
Cotton-leaf Physicnut
Terrestrial Plant
Terrestrial
CFIA
Categorization Assessment
Canada
Jatropha podagrica
Buddha Belly Plant
Terrestrial
Plant
Terrestrial
CFIA
Categorization Assessment
Canada
Jovellana
punctata
Tea
Cup Flower; Teacup Flower

 

Terrestrial
Plant
Terrestrial
CFIA
Categorization Assessment 
Canada
Juglans mandshurica
Manchurian
Walnut
Terrestrial
Plant
Terrestrial
CFIA
Categorization Assessment
Canada
Keiferia lycopersicella
Tomato
Pinworm
Insect
Terrestrial
European
and Mediterranean Plant Protection Organisation. (2012). Pest Risk Analysis
for Keiferia lycopersicella. Retrieved from (link)
Europe
Keiferia lycopersicella
Tomato
Pinworm
Insect
Terrestrial
European
and Mediterranean Plant Protection Organisation. (2012). Report of a Pest
Risk Analysis for Keiferia lycopersicella. Retrieved from (link)
Europe
Knautia arvensis
Field
Scabiosa; Blue Buttons; Meadow Widow Flower; Gypsy's Rose
Terrestrial
Plant
Terrestrial
Lind S., & LeClair C. (2011). Wisconsin Department of
Natural Resources Literature Review: Knautia arvensis. Retrieved from (link)
Wisconsin

 

Knipowitschia
caucasica
Caucasian Dwarf Goby 
Fish
 Aquatic
U.S. Fish and Wildlife Service.
(2017). Ecological Risk Screening Summary: Caucasian Dwarf Goby
(Knipowitschia caucasica). Retrieved from (link)
United
States

 

Koenigia
polystachya; Polygonum polystachyum; Aconogonon polystachyum; Persicaria
wallichii
Himalayan Knotweed; Cultivated Knotweed
Terrestrial Plant
Terrestrial
Robison R. (2016). Persicaria wallichii Risk Assessment.
Retrieved from (link)
California
Koenigia
polystachya; Polygonum polystachyum; Aconogonon polystachyum; Persicaria
wallichii
Himalayan Knotweed; Cultivated Knotweed
Terrestrial Plant
Terrestrial
Tanner R., & Branquart E. (2018). Risk assessment template
developed under the "Study on Invasive Alien Species - Development of
risk assessments to tackle priority species and enhance prevention. Retrieved
from (link)
Europe
Koenigia
polystachya; Polygonum polystachyum; Aconogonon polystachyum; Persicaria
wallichii
Himalayan
Knotweed; Cultivated Knotweed
Terrestrial Plant
Terrestrial
Newman J. (2015). GB Non-native Species Rapid Risk Assessment
(NRRA) for Himalayan Knotweed (Persicaria wallichii). Retrieved from (link)
Great
Britain
Kyllinga
polyphylla
Navua
Sedge
Terrestrial
Plant
Terrestrial
CFIA
Categorization Assessment
Canada
Kyllinga
pulchella
 
Terrestrial Plant
Terrestrial
CFIA Categorization Assessment
Canada
Lablab purpureus
Hyacinth
Bean
Terrestrial
Plant
Terrestrial
CFIA
Categorization Assessment
Canada
Lactuca
orientalis
 
Terrestrial Plant
Terrestrial
CFIA
Categorization Assessment 
Canada
Lagarosiphon major
African
Elodea; Curly Waterweed; Oxygen Weed; South African Oxygen Weed; Curly Water
Thyme
Aquatic
Plant
Aquatic

 

Great Britain Non-Native Species Secretariat. (2011). GB
Non-Native Organism Risk Assessment Scheme for Curly Water Thyme
(Lagarosiphan major). Retrieved from (link)
Great Britain
Lagarosiphon major
African
Elodea; Curly Waterweed; Oxygen Weed; South African Oxygen Weed; Curly Water
Thyme
Aquatic
Plant
Aquatic

 

U.S. Fish and Wildlife Service.
(2018). Ecological Risk Screening Summary: African Elodea (Lagarosiphon
major). Retrieved from (link)
United
States

 

Lagarosiphon major
African Elodea; Curly Waterweed;
Oxygen Weed; South African Oxygen Weed; Curly Water Thyme
Aquatic Plant
Aquatic

 

Wisconsin Department of Natural Resources. (n.d.). Aquatic
Invasive Species Literature Review: Lagarosiphon major. Retrieved from (link)
Wisconsin

 

Lamiastrum
galeobdolon

 

Yellow Archangel
Terrestrial Plant
Terrestrial
Oregon Department of Agriculture. (2012). Plant Pest Risk
Assessment for Yellow Archangel, Lamiastrum galeobdolon Lamiaceae. Retrieved
from (link)
Oregon
Lates calcarifer
Barramundi;
Asian Sea Bass; Asian Seabass
Fish
Aquatic
OMNRF
Risk Assessment
Canada
Lates calcarifer
Barramundi;
Asian Sea Bass; Asian Seabass
Fish
Aquatic
U.S. Fish and Wildlife Service. (2017). Ecological Risk
Screening Summary: Barramundi (Lates calcarifer). Retrieved from (link)
United States

 

Lepidium
latifolium
Perennial Pepperweed; Broadleaved
Pepperweed; Pepperwort; Peppergrass; Dittander; Dittany; Tall Whitetop;
Pepperweed
Terrestrial Plant
Terrestrial
Paulone P. M., & Jacquart E. (2012). Indiana Non-Native
Plant Invasiveness Ranking Form: Lepidium latifolium. Retrieved from (link)
Indiana
Lepidium
latifolium
Perennial Pepperweed; Broadleaved
Pepperweed; Pepperwort; Peppergrass; Dittander; Dittany; Tall Whitetop;
Pepperweed
Terrestrial Plant
Terrestrial
Glenn S. (2008). New York Non-Native Plant Invasiveness Ranking
Form: Lepidium latifolium. Retrieved from (link)
New York
Lepidium
latifolium
Perennial
Pepperweed; Broadleaved Pepperweed; Pepperwort; Peppergrass; Dittander;
Dittany; Tall Whitetop; Pepperweed
Terrestrial Plant
Terrestrial
Kearns K. (2007). Wisconsin Department of Natural Resources
Literature Review: Lepidium latifolium. Retrieved from (link)
Wisconsin

 

Lepomis microlophus
Redear Sunfish; Shellcracker;
Georgia Bream; Cherry Gill; Chinquapin; Improved Bream; Rouge Ear Sunfish;
Sun Perch
Fish
Aquatic
U.S. Fish and Wildlife Service.
(2018). Ecological Risk Screening Summary: Redear Sunfish (Lepomis
microlophus). Retrieved from (link)
United States

 

Leptochilus
pteropus
Java Fern
Aquatic Plant
Aquatic
United States Department of
Agriculture. (2013). Weed Risk Assessment Leptochilus pteropus

 

(Blume) Fraser-Jenk. (Polypodiaceae) – Java
fern. Retrieved from (link)
United States

 

Leptochloa panicea
Mucronate
Sprangletop; Needle Sprangletop
Terrestrial
Plant
Terrestrial
CFIA
Risk Assessment
Canada
Leptospermum
scoparium
Broom Teatree; Mānuka; Manuka; Manuka
Myrtle; New Zealand Teatree; Broom Tea-tree; Tea Tree; Broom Tea Tree; New
Zealand Tea Tree
Terrestrial Plant
Terrestrial
CFIA
Categorization Assessment
Canada
Lepus europaeus
European
Hare; Brown Hare
Mammal
Terrestrial
Adams D. (2013). New York Terrestrial Vertebrate Invasiveness
Ranking Form: Lepus europaeus. Retrieved from
(link)
New
York
Lepyrodiclis holosteoides
False Jagged-chickweed
Terrestrial Plant
Terrestrial
CFIA
Categorization Assessment
Canada
Lespedeza bicolor
Shrub
Lespedeza; Bicolor Lespedeza
Terrestrial
Plant
Terrestrial
Jacquart E., Langell E., O'Connor P., et al. (2004). Official
Assessment of Lespedezas (including L. cuneata, L. bicolor, L. thunbergii,
Kummerowia stipulacea, and K. striata) in Indiana's Natural Areas. Retrieved
from (link)
Indiana
Lespedeza
bicolor
Shrub Lespedeza; Bicolor Lespedeza
Terrestrial Plant
Terrestrial
Glenn S. & Moore G. (2009). New York Non-Native Plant
Invasiveness Ranking Form: Lespedeza bicolor. Retrieved from (link)
New
York
Lespedeza cuneata
Chinese Bushclover
Terrestrial Plant
Terrestrial
CFIA
Categorization Assessment
Canada
Lespedeza cuneata
Chinese
Bushclover
Terrestrial
Plant
Terrestrial
European
and Mediterranean Plant Protection Organization (EPPO). (2018). Pest Risk
Analysis for Lespedeza cuneata. Retrieved from (link)
Europe
Lespedeza
cuneata
Chinese Bushclover
Terrestrial Plant
Terrestrial
Jacquart E., Langell G., O'Connor P., et al. (2004). Official
Assessment of Lespedezas (including L. cuneata, L. bicolor, L. thunbergii,
Kummerowia stipulacea, and K. stratia) in Indiana's Natural Areas. Retrieved
from (link)

 

Indiana
Lespedeza
cuneata
Chinese Bushclover
Terrestrial Plant
Terrestrial
Glenn S., & Moore G. (2009). New York Non-Native Plant
Invasiveness Ranking Form: Lespedeza cuneata. Retrieved from (link)
New York
Lespedeza
cuneata
Chinese Bushclover
Terrestrial Plant
Terrestrial
Kollmansberger A., & Sheehan M. (2007). Wisconsin
Department of Natural Resources Literature Review: Lespedeza cuneata.
Retrieved from (link)
Wisconsin

 

Leucanthemum paludosum;
Mauranthemum paludosum

 

Creeping
Daisy; Mini Marguerite; Baby Marguerite; White Buttons; Snow Daisy
Terrestrial
Plant
Terrestrial
CFIA
Categorization Assessment
Canada
Leucas
martinicensis
Whitewort
Terrestrial Plant
Terrestrial
CFIA Categorization Assessment
Canada
Leuciscus
idus
Ide; Orfe
Fish
Aquatic
U.S. Fish and Wildlife Service.
(2015). Ecological Risk Screening Summary: Ide (Leuciscus idus). Retrieved
from (link)
United
States

 

Leuciscus idus
Ide;
Orfe
Fish
Aquatic
Wisconsin Department of Natural Resources. (n.d.). Literature
Review; Leuciscus idus. Retrieved from (link)
Wisconsin

 

Leuciscus leuciscus
Eurasian Dace; Common Dace
Fish
Aquatic
U.S. Fish and Wildlife Service.
(2014). Ecological Risk Screening Summary: Eurasian Dace (Leuciscus
leuciscus). Retrieved from (link)
United States

 

Leucojum aestivum
Summer
Snowflake; Loddon Lily
Terrestrial
Plant
Terrestrial
CFIA
Categorization Assessment
Canada
Leycesteria
formosa
Himalayan
Honeysuckle; Flowering Nutmeg; Himalaya Nutmeg; Granny's Curls; Pheasant
Berry
Terrestrial Plant
Terrestrial
CFIA
Categorization Assessment
Canada
Leymus arenarius
Lyme-grass;
Sand Ryegrass; Sea Lyme Grass;

 

Terrestrial
Plant
Terrestrial
Kollmansberger A. (2007). Wisconsin Department of Natural
Resources Literature Review: Leymus arenarius. Retrieved from (link)
Wisconsin

 

Ligustrum obtusifolium
Border Privet; Amur Privet;
Blunt Leaved Privet
Terrestrial Plant
Terrestrial
CFIA
Categorization Assessment
Canada
Ligustrum
obtusifolium
Border Privet; Amur Privet; Blunt Leaved
Privet
Terrestrial Plant
Terrestrial
Jacquart E., O'Connor P., Cox H.,
& Howe K.(2005). Assessment of Invasive Species in Indiana's Natural
Areas; Official Privet (Ligustrum obtusifolium, L. vulgare, L. ovalifolium,
L. sinense, and L.amurense) Assessment. Retrieved from (link)
Indiana
Ligustrum
obtusifolium
Border
Privet; Amur Privet; Blunt Leaved Privet
Terrestrial
Plant
Terrestrial
Glenn S., & Moore G. (2009). New York Non-Native Plant
Invasiveness Ranking Form: Ligustrum obtusifolium. Retrieved from (link)
New
York
Ligustrum obtusifolium
Border Privet; Amur Privet;
Blunt Leaved Privet
Terrestrial
Plant
Terrestrial
Mastalerz A., & Culley T. (2015). Ohio Invasive Plant
Assessment Protocol: Ligustrum obtusifolium. Retrieved from (link)
Ohio
Ligustrum ovalifolium
California
Privet; Korean Privet; Garden Privet; Oval-leaved Privet
Terrestrial
Plant
Terrestrial
Jacquart E., O'Connor P., Cox H., & Howe K. (2005).
Assessment of Invasive Species in Indiana's Natural Areas; Official Privet
(Ligustrum obtusifolium, L. vulgare, L. ovalifolium, L. sinense, and
L.amurense) Assessment. Retrieved from (link)
Indiana
Ligustrum
ovalifolium
California
Privet; Korean Privet; Garden Privet; Oval-leaved Privet
Terrestrial
Plant
Terrestrial
Moore G. (2010). New York Non-Native Plant Invasiveness Ranking
Form: Ligustrum ovalifolium. Retrieved from (link)
New
York
Ligustrum
sinense
Chinese Privet
Terrestrial Plant
Terrestrial
Jacquart E., O'Connor P., Cox H., & Howe K. (2005).
Assessment of Invasive Species in Indiana's Natural Areas; Official Privet
(Ligustrum obtusifolium, L. vulgare, L. ovalifolium, L. sinense, and
L.amurense) Assessment. Retrieved from (link)
Indiana
Ligustrum sinense
Chinese
Privet
Terrestrial
Plant
Terrestrial
Moore G. (2009). New York Non-Native Plant Invasiveness Ranking
Form: Ligustrum sinense. Retrieved from (link)
New
York
Ligustrum sinense
Chinese
Privet
Terrestrial
Plant
Terrestrial
United States Department of Agriculture. (2012). Weed Risk
Assessment for Ligustrum sinense Lour. (Oleaceae) - Chinese privet. Retrieved
from (link)
United States

 

Ligustrum vulgare
Privet;
Common Privet; European Privet
Terrestrial
Plant
Terrestrial
Jacquart E., O'Connor P., Cox H.,
& Howe K. (2005). Assessment of Invasive Species in Indiana's Natural
Areas; Official Privet (Ligustrum obtusifolium, L. vulgare, L. ovalifolium,
L. sinense, and L.amurense) Assessment. Retrieved from (link)
Indiana
Ligustrum vulgare
Privet;
Common Privet; European Privet
Terrestrial
Plant
Terrestrial
Moore G. (2009). New York
Non-Native Plant Invasiveness Ranking Form: Ligustrum vulgare. Retrieved from (link)
New
York
Ligustrum vulgare
Privet;
Common Privet; European Privet
Terrestrial
Plant
Terrestrial
OIPC Team. (2014). Ohio Invasive Plant Assessment Protocol:
Ligustrum vulgare. Retrieved from (link)
Ohio
Lilaeopsis
brasiliensis
Brazilian Micro Sword
Aquatic Plant
Aquatic
United States Department of Agriculture. (2017). Weed Risk
Assessment for Lilaeopsis brasiliensis (Glaziou) Affolter (Apiaceae) –
Brazilian micro sword. Retrieved from (link)
United
States

 

Lilaeopsis mauritiana
Mauritius
Micro Sword; Micro Sword Narrow Leaf; Narrow Leaf Micro Sword; Micro Sword
Grass; Copragrass; Carpet Grass
Aquatic
Plant
Aquatic
United States Department of Agriculture. (2017). Weed Risk
Assessment for Lilaeopsis mauritiana 
G. Petersen & Affolter (Apiaceae) – Mauritius micro sword.
Retrieved from (link)
United States

 

Limnanthes
alba
White Meadowfoam; Meadowfoam
Terrestrial Plant
Terrestrial
CFIA Categorization Assessment 
Canada
Limnanthes alba
White
Meadowfoam; Meadowfoam
Terrestrial
Plant
Terrestrial
CFIA
Risk Assessment
Canada
Limnobium
laevigatum
South American Spongeplant; West Indian
Spongeplant; Amazon Frogbit; Smooth Frogbit
Aquatic Plant
Aquatic
United States Department of
Agriculture. (2013). Weed Risk Assessment for Limnobium laevigatum (Humb.
& Bonpl. Ex Willd.) Heine (Hydrocharitaceae) – South American
spongeplant. Retrieved from (link)
United States

 

Limnoithona tetraspina
 
Aquatic Invertebrate

 

Aquatic
Alaska Center for Conservation Science. (2017). Bering Sea
Marine Invasive Species Assessment: Limnoithona tetraspina. Retrieved from (link)
Alaska
Limnoperna fortunei
Golden Mussel
Aquatic
Invertebrate

 

Aquatic

OMNRF Risk Assessment

Ontario
Limnoperna
fortunei
Golden Mussel
Aquatic Invertebrate

 

Aquatic
U.S. Fish and Wildlife Service.
(2014). Ecological Risk Screening Summary: Golden Mussel (Limnoperna
fortunei). Retrieved from (link)
United
States

 

Limnophila sessiliflora
Asian
Marshweed; Dwarf Ambulia; Ambulis
Aquatic
Plant
Aquatic
U.S. Fish and Wildlife Service.
(2018). Ecological Risk Screening Summary: Asian Marshweed (Limnophila
sessiliflora). Retrieved from (link)
United States

 

Limnophila sessiliflora
Asian
Marshweed; Dwarf Ambulia; Ambulis
Aquatic Plant
Aquatic
Wisconsin Department of Natural Resources. (n.d.). Aquatic
Invasive Species Literature Review: Limnophila sessiliflora. Retrieved from (link)
Wisconsin
Limnoria
tripunctata
 
Aquatic Invertebrate

 

Aquatic
Alaska Center for Conservation Science. (2017). Bering Sea
Marine Invasive Species Assessment: Limnoria tripunctata. Retrieved from (link)
Alaska
Linaria dalmatica
Balkan Toadflax; Broadleaf Toadflax;
Dalmatian Toadflax
Terrestrial Plant
Terrestrial
CFIA
Catergorization Assessment
Canada
Linaria
dalmatica
Dalmation Toadflax; Balkan Toadflax;
Broadleaf Toadflax
Terrestrial Plant
Terrestrial
Becker R. (2011). MN NWAC Risk Assessment Worksheet: Linaria
dalmatica. Retrieved from (link)
Minnesota
Linaria dalmatica
Dalmation
Toadflax; Balkan Toadflax; Broadleaf Toadflax
Terrestrial
Plant
Terrestrial
Lind G., & Lind S. (2011). Wisconsin Department of Natural
Resources Literature Review: Linaria dalmatica. Retrieved from (link)
Wisconsin

 

Linaria
genistifolia
Broomleaf
Toadflax
Terrestrial
Plant
Terrestrial
CFIA
Categorization Assessment
Canada
Linaria repens
Striped
Toadflax; Pale Toadflax; Creeping Toadflax
Terrestrial
Plant
Terrestrial
CFIA
Categorization Assessment
Canada
Linaria
vulgaris
Common Toadflax; Yellow
Toadflax; Butter-and-eggs
Terrestrial Plant
Terrestrial
CFIA
Categorization Assessment
Canada
Linaria vulgaris
Common
Toadflax; Yellow Toadflax; Butter-and-eggs
Terrestrial
Plant
Terrestrial
Becker R. (2011). MN NWAC Risk Assessment Worksheet: Linaria
vulgaris. Retrieved from (link)
Minnesota
Linum bienne
Pale Flax; Narrow Leaved Flax; Small
Flowered Flax
Terrestrial Plant
Terrestrial
CFIA
Categorization Assessment
Canada
Linum
decumbens
Ascending Flax
Terrestrial Plant
Terrestrial
CFIA
Categorization Assessment
Canada
Linum setaceum
 
Terrestrial
Plant
Terrestrial
CFIA
Categorization Assessment
Canada
Linum stelleroides
 
Terrestrial
Plant
Terrestrial
CFIA Categorization Assessment
Canada
Linum
strictum
Upright Flax; Rigid Flax; Upright Yellow
Flax
Terrestrial Plant
Terrestrial
CFIA
Categorization Assessment
Canada
Liriope muscari
Big Blue Lilyturf; Lilyturf;
Border Grass
Terrestrial
Plant
Terrestrial
CFIA
Categorization Assessment
Canada
Liriope muscari
Big
Blue Lilyturf; Lilyturf; Border Grass
Terrestrial Plant
Terrestrial
Vinnik I., & Vinnik Y. (2016). Ohio Invasive Plant
Assessment Protocol: Liriope muscari. Retrieved from (link)
Ohio
Lithobates catesbeianus; Rana
catesbeianus
American
Bullfrog
Amphibian

 

Terrestrial
GB Non-Native Species Secretariat. (2011). GB Non-Native
Organism Risk Assessment Scheme for American Bullfrog (Rana catesbeianus).
Retrieved from (link)
Great Britain
Lithobates catesbeianus; Rana
catesbeianus
American
Bullfrog
Amphibian

 

Terrestrial
U.S. Fish and Wildlife Service. (2018). Ecological Risk
Screening Summary: American Bullfrog (Lithobates catesbeianus). Retrieved
from (link)
United States

 

Lithoglyphus
naticoides

 

Gravel Snail

 

Aquatic Invertebrate
Aquatic
U.S. Fish and Wildlife Service.
(2018). Ecological Risk Screening Summary: Gravel Snail (Lithoglyphus
naticoides). Retrieved from (link)
United States

 

Lolium rigidum
Rigid
Ryegrass; Ryegrass; Italian Ryegrass; Stiff Darnel; Swiss Ryegrass; Wimmera
Ryegrass
Terrestrial
Plant
Terrestrial
CFIA
Categorization Assessment
Canada
Lonicera japonica
Japanese
Honeysuckle; Golden-and-silver Honeysuckle
Terrestrial
Plant
Terrestrial
Jacquart E., Cline M., O'Connor P.,
et al. (2003). Assessment of Invasive Species in Indiana's Natural Areas;
Official Japanese Honeysuckle (Lonicera japonica) Assessment. Retrieved from (link)
Indiana
Lonicera japonica
Japanese Honeysuckle;
Golden-and-silver Honeysuckle
Terrestrial Plant
Terrestrial
Glenn S., & Moore G. (2009).
New York Non-Native Plant Invasiveness Ranking Form: Lonicera japonica.
Retrieved from (link)
New York
Lonicera
japonica
Japanese Honeysuckle; Golden-and-silver
Honeysuckle
Terrestrial Plant
Terrestrial
OIPC Team. (2014). Ohio Invasive Plant Assessment Protocol:
Lonicera japonica. Retrieved from (link)
Ohio
Lonicera japonica
Japanese
Honeysuckle; Golden-and-silver Honeysuckle
Terrestrial
Plant
Terrestrial
Ross J., & Sheehan M. (2007). Wisconsin Department of
Natural Resources Literature Review: Lonicera japonica. Retrieved from (link)
Wisconsin

 

Lonicera
maacki
Amur Honeysuckle; Asian Bush Honeysuckle
Terrestrial Plant

 

Terrestrial
Jacquart E., Collins K., O'Neil B., et al. (2003). Assessment
of Invasive Species in Indiana's Natural Areas; Official Asian Bush
Honeysuckle (Lonicera maackii, morrowii, tatartica, and x bella) Assessment.
Retrieved from (link)
Indiana
Lonicera maacki
Amur
Honeysuckle; Asian Bush Honeysuckle
Terrestrial Plant

 

Terrestrial
Van Riper L., & Power T. (2014). MN NWAC Risk Assessment
Worksheet: Lonicera maacki. Retrieved from (link)
Minnesota
Lonicera maacki
Amur
Honeysuckle; Asian Bush Honeysuckle
Terrestrial Plant

 

Terrestrial
Glenn S., & Clemants S. (2010). New York Non-Native Plank
Invasiveness Ranking Form: Lonicera maacki. Retrieved from (link)
New
York
Lonicera maacki
Amur
Honeysuckle; Asian Bush Honeysuckle
Terrestrial
Plant

 

Terrestrial
OIPC Team. (2014). Ohio Invasive Plant Assessment Protocol:
Lonicera maacki. Retrieved from (link)
Ohio
Lonicera maacki
Amur
Honeysuckle; Asian Bush Honeysuckle
Terrestrial
Plant

 

Terrestrial
Sheehan M. (2007), Wisconsin Department of Natural Resources
Literature Review: Lonicera maacki. Retrieved from (link)
Wisconsin

 

Lonicera morrowii
Morrow's
Honeysuckle
Terrestrial
Plant
Terrestrial
Jacquart E., Collins K., O'Neill B., et al. (2003). Assessment
of Invasive Species in Indiana's Natural Areas; Official Asian Bush
Honeysuckle

 

(Lonicera maackii,
morrowii, tatartica, and x bella). Retrieved from
(link)

 

Indiana
Lonicera morrowii
Morrow's Honeysuckle
Terrestrial Plant
Terrestrial
Van Riper L., & Power T. (2014). MN NWAC Risk Assessment
Worksheet: Lonicera morrowii. Retrieved from (link)
Minnesota
Lonicera morrowii
Morrow's
Honeysuckle
Terrestrial
Plant
Terrestrial
Glenn S., Moore G., & Clemants S. (2008). New York
Non-Native Plant Invasiveness Ranking Form: Lonicera morrowii Retrieved from (link)
New York
Lonicera
morrowii
Morrow's Honeysuckle
Terrestrial Plant
Terrestrial
Mastalerz A., & Culley T. (2015). Ohio Invasive Plant
Assessment Protocol: Lonicera morrowi. Retrieved from (link)
Ohio
Lonicera
morrowii
Morrow's Honeysuckle
Terrestrial Plant
Terrestrial
Sheehan M. (2007). Wisconsin Department of Natural Resources
Literature Review: Lonicera morrowii. Retrieved from
(link)
Wisconsin

 

Lonicera
tatarica
Tatarian Honeysuckle; Bush Honeysuckle;
Amur Honeysuckle
Terrestrial Plant
Terrestrial
Jacquart E., Collins K., O'Neill
B., et al. (2003). Assessment of Invasive Species in Indiana's Natural Areas;
Official Asian Bush Honeysuckle 
(Lonicera maackii, morrowii, tatartica, and x bella). Retrieved from (link)

 

Indiana
Lonicera tatarica
Tatarian
Honeysuckle; Bush Honeysuckle; Amur Honeysuckle
Terrestrial
Plant
Terrestrial
Van Riper L., & Power T. (2014). MN NWAC Risk Assessment
Worksheet: Lonicera tatarica. Retrieved from
(link)
Minnesota
Lonicera tatarica
Tatarian
Honeysuckle; Bush Honeysuckle; Amur Honeysuckle
Terrestrial
Plant
Terrestrial
Mastalerz A., & Culley T. (2015). Ohio Invasive Plant
Assessment Protocol: Lonicera tatarica. Retrieved from (link)
Ohio
Lonicera
tatarica
Tatarian Honeysuckle; Bush Honeysuckle;
Amur Honeysuckle
Terrestrial Plant
Terrestrial
Sheehan M. (2007). Wisconsin Department of Natural Resources
Literature Review: Lonicera tatarica. Retrieved from (link)
Wisconsin

 

Lonicera
x bella
Bell's Honeysuckle; Showy Bush
Honeysuckle; White-bell Honeysuckle; Amur Honeysuckle
Terrestrial Plant
Terrestrial
Jacquart E., Collins K., O'Neill B., et al. (2003). Assessment
of Invasive Species in Indiana's Natural Areas; Official Asian Bush
Honeysuckle

 

(Lonicera maackii,
morrowii, tatartica, and x bella). Retrieved from
(link)

 

Indiana
Lonicera
x bella
Bell's Honeysuckle; Showy Bush
Honeysuckle; White-bell Honeysuckle; Amur Honeysuckle
Terrestrial Plant
Terrestrial
Van Riper L., & Power T. (2014). MN NWAC Risk Assessment
Worksheet: Lonicera x bella. Retrieved from (link)
Minnesota
Lonicera x bella
Bell's
Honeysuckle; Showy Bush Honeysuckle; White-bell Honeysuckle; Amur Honeysuckle
Terrestrial
Plant
Terrestrial
Sheehan M. (2007). Wisconsin Department of Natural Resources
Literature Review: Lonicera x bella. Retrieved from (link)
Wisconsin

 

Lonicera
xylosteum
European Fly Honeysuckle; Fly
Honeysuckle; Dwarf Honeysuckle; Fly Woodbine

 

Terrestrial Plant
Terrestrial
Glenn S., & Moore G. (2008). Ney York Non-Native Plant
Invasiveness Ranking Form: Lonicera xylosteum. Retrieved from (link)
New York
Lotus
corniculatus
Birdsfoot
Trefoil; Bird's-foot Trefoil
Terrestrial Plant
Terrestrial
Becker R. (2015). MN NWAC Risk Assessment Worksheet: Lotus
corniculatus. Retrieved from (link)
Minnesota
Lotus
corniculatus
Birdsfoot
Trefoil; Bird's-foot Trefoil
Terrestrial
Plant
Terrestrial
Glenn S., & Moore G. (2009). New York Non-Native Plant
Invasiveness Ranking Form: Lotus corniculatus. Retrieved from (link)
New
York
Ludwigia
grandiflora

 

Large Flower Primrose Willlow; Water
Primrose; Uruguayan Primrose-willow; Large-flower Primrose-willow
Aquatic Plant
Aquatic

 

European
and Mediterranean Plant Protection Organisation. (2011). Pest Risk Analysis
for Ludwigia grandiflora. Retrieved from (link)
Europe
Ludwigia grandiflora

 

Large
Flower Primrose Willlow; Water Primrose; Uruguayan Primrose-willow;
Large-flower Primrose-willow
Aquatic
Plant
Aquatic

 

European
and Mediterranean Plant Protection Organisation. (2011). Report of a Pest
Risk Analysis for Ludwigia grandiflora. Retrieved from (link)
Europe
Ludwigia grandiflora

 

Large
Flower Primrose Willlow; Water Primrose; Uruguayan Primrose-willow;
Large-flower Primrose-willow
Aquatic
Plant
Aquatic

 

Great Britain Non-Native Species Secretariat. (2010). GB
Non-Native Organism Risk Assessment Scheme for Water Primrose (Ludwigia
grandiflora). Retrieved from (link)
Great
Britain
Ludwigia grandiflora

 

Large
Flower Primrose Willlow; Water Primrose; Uruguayan Primrose-willow;
Large-flower Primrose-willow
Aquatic
Plant
Aquatic

 

Moore G. (2008). New York Non-Native Plant Invasiveness Ranking
Form: Ludwigia grandiflora. Retrieved from (link)
New York
Ludwigia grandiflora

 

Large
Flower Primrose Willlow; Water Primrose; Uruguayan Primrose-willow;
Large-flower Primrose-willow
Aquatic
Plant
Aquatic

 

U.S. Fish and Wildlife Service.
(2019). Ecological Risk Screening Summary: Large-flower Primrose-willow
(Ludwigia grandiflora). Retrieved from (link)

 

United
States

 

Ludwigia prostrata
Heusenkraut;
Creeping Water Primrose
Semi-aquatic
Plant
Semi-aquatic
CFIA
Categorization Assessment
Canada
Lupinus
luteus
Annual Yellow-lupin; European Yellow
Lupin; Yellow Lupin
Terrestrial Plant

 

Terrestrial
CFIA
Categorization Assessment
Canada
Luziola subintegra
Tropical
American Watergrass; Watergrass; Large Watergrass
Aquatic Plant
Wetland
CFIA
Categorization Assessment
Canada
Luziola
subintegra
Tropical
American Watergrass; Watergrass; Large Watergrass
Aquatic
Plant
Wetland
United States Department of
Agriculture. (2014). Weed Risk Assessment for Luziola subintegra Swallen.
(Poaceae) – Tropical American watergrass. Retrieved from (link)

 

United
States

 

Lycorma
delicatula
Spotted Lanternfly
Insect
Terrestrial
European and Mediterranean
Plant Protection Organisation. (2016). Pest Risk Analysis for Lycorma
delicatula. Retrieved from
Europe
Lygodium
japonicum
Japanese
Climbing Fern; Vine-like Fern
Terrestrial
Plant
Wetland
CFIA Categorization Assessment
Canada
Lygodium
japonicum
Japanese Climbing Fern; Vine-like Fern
Terrestrial Plant
Wetland
CFIA Risk Assessment
Canada
Lygodium japonicum
Japanese
Climbing Fern; Vine-like Fern
Terrestrial
Plant
Wetland
European and Mediterranean Plant Protection Organization.
(2018). Pest Risk Analysis for Lygodium japonicum. Retrieved from (link)
Europe
Lygodium japonicum
Japanese Climbing Fern; Vine-like Fern
Terrestrial Plant
Wetland
United States Department of Agriculture. (2009). Weed Risk
Assessment Lygodium microphyllum (Old world climbing fern), Lygodium
japonicum (Japanese climbing fern), and Lygodium flexuosum. Retrieved from (link)

 

United States

 

Lymantria dispar (Linnaeus)
Gypsy
Moth; European Gypsy Moth; North American Gypsy Moth
Insect
Terrestrial
White E., & Schwartzberg E.
(2013). New York Terrestrial Invertebrates Invasiveness Ranking Form:
Lymantria dispar. Retrieved from (link)
New York
Lymantria dispar (Linnaeus)
Gypsy
Moth; European Gypsy Moth; North American Gypsy Moth
Insect
Terrestrial
Boone C.K.. (2007). Wisconsin Department of Natural Resources
Literature Review: Lymantria dispar. Retrieved from (link)
Wisconsin

 

Lymnaea peregra; Radix peregra
Wandering Pond Snail
Aquatic Invertebrate
Aquatic
U.S. Fish and Wildlife Service. (2018). Ecological Risk
Screening Summary: Wandering Pond Snail (Lymnaea peregra). Retrieved from (link)
United States

 

Lysimachia clethroides
Goose-neck
Loosestrife; Gooseneck Loosestrife
Terrestrial
Plant
Terrestrial
Glenn S., & Moore G. (2008). New York Non-Native Plant
Invasiveness Ranking Form: Lysimachia clethroides. Retrieved from (link)
New York
Lysimachia nummularia
Moneywort;
Creeping Jenny; Creeping Joan; Running Jenny; Wandering Jenny; Wandering
Sailor
Terrestrial
Plant
Terrestrial
Glenn S., Moore G., Jordan M., & SRC. (2013). New York
Non-Native Plant Invasiveness Ranking Form For Natural/Minimally Managed
Area. Retrieved from (link)
New
York
Lysimachia
nummularia
Moneywort;
Creeping Jenny; Creeping Joan; Running Jenny; Wandering Jenny; Wandering
Sailor
Terrestrial
Plant
Terrestrial
Lind S. (2011). Wisconsin Department of Natural Resources
Literature Review: Lysimachia nummularia. Retrieved from (link)
Wisconsin

 

Lysimachia punctata
Yellow
Loosestrife; Spotted Loosestrife; Garden Loosestrife; Whorled
Loosestrife

 

Terrestrial
Plant
Terrestrial
Glenn S., & Moore G. (2010). New York Non-Native Plant
Invasiveness Ranking Form: Lysimachia punctata. Retrieved from (link)
New York
Lysimachia vulgaris
Garden Yellow
Loosestrife; Garden Loosestrife; Willowweed; Willowwort
Terrestrial Plant
Terrestrial
Glenn S., & Moore G. (2009). New York Non-Native Plant
Invasiveness Ranking Form: Lysimachia vulgaris. Retrieved from (link)
New York
Lysimachia vulgaris
Garden Yellow Loosestrife;
Garden Loosestrife; Willowweed; Willowwort
Terrestrial Plant
Terrestrial
Lind S. (2011). Wisconsin Department of Natural Resources
Literature Review: Lysimachia vulgaris. Retrieved from (link)
Wisconsin

 

Lythrum
salicaria
Purple Loosestrife; Purple Lythrum; Spiked
Loosestrife
Wetland Plant
Wetland
Van Riper L. (2013). MN NWAC Risk Assessment Worksheet: Lythrum
salicaria. Retrieved from (link)
Minnesota
Lythrum
salicaria
Purple Loosestrife; Purple
Lythrum; Spiked Loosestrife
Wetland Plant
Wetland
Glenn S. (2009). New York Non-Native Plant Invasiveness Ranking
Form; Lythrum salicaria. Retrieved from (link)
New York
Lythrum salicaria
Purple
Loosestrife; Purple Lythrum; Spiked Loosestrife
Wetland
Plant
Wetland
Mastalerz A., & Culley T. (2016). Ohio Invasive Plant
Assessment Protocol: Lythrum salicaria. Retrieved from (link)
Ohio
Lythrum
salicaria
Purple Loosestrife; Purple
Lythrum; Spiked Loosestrife
Wetland Plant
Wetland
Annen C. (2007). Wisconsin Department of Natural Resources
Literature Review: Lythrum salicaria. Retrieved from (link)
Wisconsin

 

Macoma
petalum
Atlantic Macoma
Aquatic Invertebrate

 

Aquatic
Alaska Center for Conservation Science. (2017). Bering Sea
Invasive Species Assessment: Macoma petalum. Retrieved from (link)
Alaska
Malva nicaeensis
French
Mallow; Bull Mallow
Terrestrial
Plant
Terrestrial
CFIA
Categorization Assessment
Canada
Marsilea macropoda
Bigfoot
Water Clover; Bigfoot Waterclover; Big-foot Water Fern; Bigfoot Water-clover;
Big-foot Water-clover
Aquatic
Plant
Aquatic
CFIA
Categorization Assessment
Canada
Marsilea
quadrifolia
European
Water Clover; European Waterclover; Water Shamrock; Four Leaf Clover; Water
Clover; Pepperwort
Aquatic
Plant

 

Aquatic
Wisconsin Department of Natural Resources. (n.d.). Aquatic
Invasive Species Literature Review: Marsilea quadrifolia. Retrieved from (link)
Wisconsin

 

Megathyrsus
maximus
Guinea Grass; Green Panic Grass
Terrestrial Plant
Terrestrial
CFIA
Categorization Assessment
Canada
Melanoides
tuberculatus
Red-rim
Melania

  

Aquatic
Invertebrate
Aquatic
U.S. Fish and Wildlife Service.
(2018). Ecological Risk Screening Summary: Red-rim Melania (Melanoides
tuberculatus). Retrieved from (link)
United
States

 

Melia azedarach
Chinaberry;
Chinaberry Tree; Pride of India; Bead-tree; Cape Lilac; Syringa Berrytree;
Persian Lilac; Indian Lilac; White Cedar

 

Terrestrial
Plant
Terrestrial
CFIA
Categorization Assessment
Canada
Melianthus comosus
Honey Flower
Terrestrial
Plant
Terrestrial
CFIA
Categorization Assessment
Canada
Melilotus
alba
White Sweet Clover
Terrestrial Plant
Terrestrial
Jacquart E., Phillabaum R., Nees
L., et al. (2005). Assessment of Invasive Species in Indiana's Natural Areas.
Official Sweetclover (Melilotus alba and M. officinalis) Assessment.
Retrieved from (link)
Indiana
Melilotus alba
White Sweet Clover
Terrestrial
Plant
Terrestrial
Van Riper L. (2017). MN NWAC Risk Assessment Worksheet:
Melilotus alba. Retrieved from (link)
Minnesota
Melilotus
alba
White Sweet Clover
Terrestrial Plant
Terrestrial
Mastalerz A., & Culley T. (2015). Ohio Invasive Plant
Assessment Protocol: Melilotus alba. Retrieved from
(link)
Ohio
Melilotus officinalis
Yellow
Sweet Clover; Yellow Melilot; Ribbed Melilot; Common Melilot
Terrestrial
Plant
Terrestrial
Jacquart E., Phillabaum R., Nees L., et al. (2005). Assessment
of Invasive Species in Indiana's Natural Areas. Official Sweetclover
(Melilotus alba and M. officinalis) Assessment. Retrieved from (link)
Indiana
Melilotus
officinalis
Yellow
Sweet Clover; Yellow Melilot; Ribbed Melilot; Common Melilot
Terrestrial Plant
Terrestrial
Van Riper L. (2017). MN NWAC Risk Assessment Worksheet:
Melilotus officinalis. Retrieved from (link)
Minnesota
Melilotus officinalis
Yellow
Sweet Clover; Yellow Melilot; Ribbed Melilot; Common Melilot
Terrestrial
Plant
Terrestrial
Mastalerz A., & Culley T. (2015). Ohio Invasive Plant
Assessment Protocol: Melilotus officinalis. Retrieved from (link)
Ohio
Melita nitida
 
Aquatic
Invertebrate

 

Aquatic
Alaska Center for Conservation Science. (2017). Bering Sea
Marine Invasive Species Assessment: Melita nitida. Retrieved from (link)
Alaska
Menidia beryllina
Inland
Silverside
Fish
Aquatic
U.S. Fish and Wildlife Service. (2018). Ecological Risk
Screening Summary: Inland Silverside (Menidia beryllina). Retrieved from (link)
United States

 

Mercurialis
annua

 

Annual Mercury
Terrestial Plant
Terrestrial
United States Department of Agriculture. (2016). Weed Risk
Assessment for Mercurialis annua L. (Euphorbiaceae) - Annual Mercruy.
Retrieved from (link)
United
States

 

Mesocyclops pehpeiensis
 
Aquatic Invertebrate
Aquatic
U.S. Fish and Wildlife Service.
(2018). Ecological Risk Screening Summary: Mesocyclops pehpeiensis (a
cyclopoid copepod, no common name). Retrieved from
(link)
United States

 

Microciturs australasica
Australian
Finger Lime
Terrestrial
Plant
Terrestrial
CFIA
Categorization Assessment 
Canada
Microstegium
vimineum
Japanese Stiltgrass; Packing Grass;
Nepalese Browntop; Eulalia
Terrestrial Plant
Terrestrial
CFIA Risk Assessment
Canada
Microstegium vimineum
Japanese
Stiltgrass; Packing Grass; Nepalese Browntop; Eulalia
Terrestrial
Plant
Terrestrial
CFIA
Risk Management
Canada
Microstegium
vimineum
Japanese
Stiltgrass; Packing Grass; Nepalese Browntop; Eulalia
Terrestrial Plant
Terrestrial
European and Mediterranean Plant Protection Organization.
(2014). Pest Risk Analysis for Microstegium vimineum. Retrieved from (link)
Europe
Microstegium
vimineum
Japanese Stiltgrass; Packing Grass;
Nepalese Browntop; Eulalia
Terrestrial Plant
Terrestrial
European and Mediterranean Plant Protection Organization.
(2015). Report of a Pest Risk Analysis for Microstegium vimineum. Retrieved
from (link)
Europe
Microstegium
vimineum
Japanese Stiltgrass; Packing
Grass; Nepalese Browntop; Eulalia
Terrestrial Plant
Terrestrial
Paulone P. M., & Jacquart E. (2012). Indiana Non-Native
Plant Invasiveness Ranking Form: Microstegium vimineum. Retrieved from (link)
Indiana
Microstegium
vimineum
Japanese Stiltgrass; Packing Grass;
Nepalese Browntop; Eulalia
Terrestrial Plant
Terrestrial
Moore G. (2008). New York Non-Native Plant Invasiveness Ranking
Form: Microstegium viminium. Retrieved from (link)
New
York
Microstegium
vimineum
Japanese Stiltgrass; Packing Grass;
Nepalese Browntop; Eulalia
Terrestrial Plant
Terrestrial
OIPC Team. (2014). Ohio Invasive Plant Assessment Protocol:
Microstegium viminium. Retrieved from (link)
Ohio
Microstegium vimineum
Japanese
Stiltgrass; Packing Grass; Nepalese Browntop; Eulalia
Terrestrial
Plant
Terrestrial
Kollmansberger A. (2007). Wisconsin Department of Natural
Resources Literature Review: Microstegium viminium. Retrieved from (link)
Wisconsin

 

Mikania
micrantha
Bitter
Vine; Climbing Hemp Vine; American Rope; Chinese Creeper; Mile-a-minute
Terrestrial Plant
Terrestrial
CFIA
Categorization Assessment
Canada
Mikania
micrantha
Bitter Vine; Climbing Hemp Vine;
American Rope; Chinese Creeper; Mile-a-minute
Terrestrial Plant
Terrestrial
CFIA
Risk Assessment
Canada
Mikania micrantha
Bitter
Vine; Climbing Hemp Vine; American Rope; Chinese Creeper; Mile-a-minute
Terrestrial
Plant
Terrestrial
United States Department of Agriculture. (2013). Weed Risk
Assessment for Mikania micrantha Kunth. (Asteraceae) - Mile-a-minute.
Retrieved from (link)
United
States

 

Milium
vernale
Spring Millet Grass; Spring Milletgrass
Terrestrial Plant
Terrestrial
CFIA
Risk Assessment
Canada
Mimosa pudica
Sensitive Plant
Terrestrial Plant
Terrestrial
United States Department of
Agriculture. (2014). Weed Risk Assessment for Mimosa pudica L. (Fabaceae) –
Sensitive plant. Retrieved from (link)
United States

 

Miscanthus
giganteus
Giant Chinese Silver Grass;
Giant Miscanthus; Giant Silver Grass
Terrestrial Plant
Terrestrial
CFIA
Risk Assessment
Canada
Miscanthus
giganteus
Giant Chinese Silver Grass; Giant
Miscanthus; Giant Silver Grass
Terrestrial Plant
Terrestrial
Calkins J. (2012). MN NWAC Risk Assessment Worksheet:
Miscanthus giganteus. Retrieved from (link)
Minnesota
Miscanthus sacchariflorus
Amur
Miscanthus; Silver Banner Grass; Silver Plume Grass; Japanese Silver Grass;
Ogi; Chinese Silver Grass

 

Terrestrial
Plant
Terrestrial
Calkins J. (2012). MN NWAC Risk Assessment Worksheet:
Miscanthus sacchariflorus. Retrieved from (link)
Minnesota
Miscanthus
sacchariflorus
Amur
Miscanthus; Silver Banner Grass; Silver Plume Grass; Japanese Silver Grass;
Ogi; Chinese Silver Grass

 

Terrestrial
Plant
Terrestrial
Glenn S. (2009). New York Non-Native Plant Invasiveness Ranking
Form: Miscanthus sacchariflorus. Retrieved from
(link)
New
York
Miscanthus sinesis
Chinese
Silver Grass; Eulalia Grass; Maiden Grass; Zebra Grass; Susuki Grass;
Porcupine Grass; Chinese Maiden Grass; Chinese Silvergrass
Terrestrial
Plant
Terrestrial
Jacquart E., O'Connor P., Collins K., et al. (2007). Assessment
of Invasive Species in Indiana's Natural Areas; Official Miscanthus
(Miscanthus sinensis and Miscanthus x giganteus) Assessment. Retrieved from (link)
Indiana
Miscanthus
sinesis
Chinese Silver Grass; Eulalia Grass;
Maiden Grass; Zebra Grass; Susuki Grass; Porcupine Grass; Chinese Maiden
Grass; Chinese Silvergrass
Terrestrial Plant
Terrestrial
Calkins J. (2012). MN NWAC Risk Assessment Worksheet:
Miscanthus sinesis. Retrieved from (link)
Minnesota
Miscanthus
sinesis
Chinese Silver Grass; Eulalia Grass;
Maiden Grass; Zebra Grass; Susuki Grass; Porcupine Grass; Chinese Maiden
Grass; Chinese Silvergrass
Terrestrial Plant
Terrestrial
Glenn S., & Moore G. (2010). New York Non-Native Plant
Invasiveness Ranking Form. Retrieved from (link)
New York
Miscanthus sinesis
Chinese
Silver Grass; Eulalia Grass; Maiden Grass; Zebra Grass; Susuki Grass;
Porcupine Grass; Chinese Maiden Grass; Chinese Silvergrass
Terrestrial
Plant
Terrestrial
Morgan I., & Culley T. (2016). Ohio Invasive Plant
Assessment Protocol: Miscanthus sinesis. Retrieved from (link)

 

Ohio
Misgurnus anguillicaudatus
Japanese
Weatherfish; Weather Loach; Oriental Weatherfish; Pond Loach; Weatherloch;
Dojo Loach
Fish
Aquatic
White E.L. (2013). New York Fish & Aquatic Invertebrate
Invasiveness Ranking Form: Misgurnus anguillicaudatus. Retrieved from (link)
New York
Misgurnus anguillicaudatus
Japanese
Weatherfish; Weather Loach; Oriental Weatherfish; Pond Loach; Weatherloch;
Dojo Loach
Fish
Aquatic

OMNRF Risk Assessment

Ontario
Misgurnus anguillicaudatus
Japanese
Weatherfish; Weather Loach; Oriental Weatherfish; Pond Loach; Weatherloch;
Dojo Loach
Fish
Aquatic
U.S. Fish and Wildlife Service.
(2012). Ecological Risk Screening Summary: Oriental Weatherfish (Misgurnus
anguillicaudatus). Retrieved from (link)
United States

 

Molgula citrina
 
Aquatic
Invertebrate

 

Aquatic
Alaska Center for Conservation Science. (2017). Bering Sea
Marine Invasive Species Assessment: Molgula citrina. Retrieved from (link)
Alaska
Molgula
manhattensis
Sea Grapes; Northern Sea Squirt
Aquatic Invertebrate

 

Aquatic
Alaska Center for Conservation Science. (2017). Bering Sea
Marine Invasive Species Assessment: Molgula manhattensis. Retrieved from (link)
Alaska
Mollugo pentaphylla
 
Terrestrial Plant
Terrestrial
CFIA
Categorization Assessment
Canada
Monopterus
albus 
Asian Swamp Eel; Swamp Eel; Rice Eel; White
Ricefield Eel
Fish
Aquatic
Adams D., & Corser J. (2013). New York Fish and Aquatic
Invertebrate Invasiveness Ranking Form: Monopterus albus. Retrieved from (link)
New
York
Monopterus
albus 
Asian Swamp Eel; Swamp Eel; Rice Eel;
White Ricefield Eel
Fish
Aquatic
U.S. Fish and Wildlife Service.
(2018). Ecological Risk Screening Summary: Asian Swamp Eel (Monopterus
albus). Retrieved from (link)
United
States

 

Morone
americana
White Perch
Fish
Aquatic
Aislabie L., Verreycken H., Chapman D., & Copp G.H. (2018).
Risk assessment template developed under the "Study on Invasive Alien
Species - Development of risk assessments to tackle priority species and
enhance prevention. Retrieved from (link)
Europe
Morone americana
White
Perch
Fish
Aquatic
U.S. Fish and Wildlife Service. (2019). Ecological Risk
Screening Summary: White Perch (Morone americana). Retrieved from (link)
United States

 

Morone
americana
White Perch
Fish
Aquatic
Wisconsin Department of Natural Resources. (n.d.). Aquatic
Invasive Species Literature Review: Morone americana. Retrieved from (link)
Wisconsin
Morone
saxatilis
Striped Bass; Atlantic Striped Bass;
Striper; Linesider; Rock; Rockfish
Fish
Aquatic
OMNRF
Risk Assessment
Ontario
Morus alba
White
Mulberry
Terrestrial
Plant
Terrestrial
Jacquart E. (2012). Indiana Non-Native Plant Invasiveness
Ranking Form: Morus alba. Retrieved from (link)
Indiana
Morus
alba
White
Mulberry
Terrestrial
Plant
Terrestrial
Clemants S., & Moore G. (2008). New York Non-Native Plant
Invasiveness Ranking Form: Morus alba. Retrieved from (link)
New
York
Morus alba
White
Mulberry
Terrestrial
Plant
Terrestrial
OIPC Team. (2014). Ohio Invasive Plant Assessment Protocol:
Morus alba. Retrieved from (link)
Ohio
Morus nigra
Black Mulberry; Blackberry
Terrestrial
Plant
Terrestrial
CFIA
Categorization Assessment
Canada
Mucuna pruriens
Velvet
Bean; Bengal Velvet Bean; Florida Velvet Bean; Mauritius Velvet Bean;
Yokohama Velvet Bean; Cowage; Cowitch; Lacuna Bean; Lyon Bean
Terrestrial
Plant
Terrestrial
CFIA
Categorization Assessment
Canada
Mya
arenaria
Soft-shell Clam; Sand Gaper
Aquatic
Invertebrate
Aquatic
Alaska Center for Conservation
Science. (2017). Bering Sea Marine Invasive Species Assessment: Mya arenaria.
Retrieved from (link)
Alaska
Myagrum
perfoliatum
Bird's-eye Cress
Terrestrial Plant
Terrestrial
United States Department of Agriculture. (2017). Weed Risk
Assessment for Myagrum perfoliatum L. (Brassicaceae) - Bird's-eye cress.
Retrieved from (link)
United
States

 

Mylopharyngodon piceus
Black
Carp; Black Chinese Roach
Fish
Aquatic
Mandrak N. E., & Cudmore B. (2004). Risk Assessment for
Asian Carps in Canada. Retrieved from (link)
Canada
Mylopharyngodon piceus
Black
Carp; Black Chinese Roach
Fish
Aquatic
Adams D. (2013). New York Fish & Aquatic Invertebrate
Invasiveness Ranking Form: Mylopharyngodon piceus. Retrieved from (link)
New York
Mylopharyngodon piceus
Black
Carp; Black Chinese Roach
Fish
Aquatic
Draheim R. C. (2009). Pest Risk Assessment for Asian Carps in
Oregon. Retrieved from (link)
Oregon
Mylopharyngodon piceus
Black
Carp; Black Chinese Roach
Fish
Aquatic
U.S. Fish and Wildlife Service. (2019). Ecological Risk
Screening Summary: Black Carp (Mylopharyngodon piceus). Retrieved from (link)
United States

 

Mylopharyngodon
piceus
Black
Carp; Black Chinese Roach
Fish
Aquatic
Wisconsin Department of Natural Resources. (n.d.). Literature
Review: Mylopharyngodon piceus. Retrieved from
(link)
Wisconsin

 

Myocastor
coypus
Nutria;
Coypu
Mammal
Semi-aquatic
Schwartzberg E. (2013). New York Terrestrial Vertebrate
Invasiveness Ranking Form: Myocastor coypus. Retrieved from (link)
New
York
Myocastor coypus
Nutria;
Coypu
Mammal
Semi-aquatic
U.S. Fish and Wildlife Service.
(2017). Ecological Risk Screening Summary: Nutria (Myocastor coypus).
Retrieved from (link)
United
States

 

Myocastor coypus
Nutria;
Coypu
Mammal
Semi-aquatic
Crossley A. (2012). Wisconsin Department of Natural Resources
Literature Review: Myocastor coypus. Retrieved from (link)
Wisconsin

 

Myoporum laetum
Mousehole
Tree; Ngaio Tree; False Sandalwood
Terrestrial
Plant
Terrestrial
CFIA
Categorization Assessment
Canada
Myosotis
scorpioides
True
Forget-me-not; Water Forget-me-not
Wetland
Plant
Wetland
Ma J., & Moore G. (2008). New York Non-Native Plant
Invasiveness Ranking Form: Myosotis scorpioides. Retrieved from (link)
New
York
Myriophyllum
aquaticum
Parrot's-feather; Brazilian Watermilfoil;
Parrot Feather Watermilfoil; Parrotfeather; Parrot's Feather
Aquatic Plant
Aquatic
Great Britain Non-Native Species Secretariat. (2011). GB
Non-Native Organism Risk Assessment Scheme for Parrot's Feather (Myriophyllum
aquaticum). Retrieved from (link)
Great
Britain
Myriophyllum
aquaticum
Parrot's-feather;
Brazilian Watermilfoil; Parrot Feather Watermilfoil; Parrotfeather; Parrot's
Feather
Aquatic
Plant
Aquatic
Moore G. (2008). New York
Non-Native Plant Invasiveness Ranking Form: Myriophyllum aquaticum. Retrieved
from (link)
New York
Myriophyllum
aquaticum
Parrot's-feather; Brazilian Watermilfoil;
Parrot Feather Watermilfoil; Parrotfeather; Parrot's Feather
Aquatic Plant
Aquatic
OMNRF Risk Assessment
Ontario
Myriophyllum aquaticum
Parrot's-feather;
Brazilian Watermilfoil; Parrot Feather Watermilfoil; Parrotfeather; Parrot's
Feather
Aquatic
Plant
Aquatic
U.S. Fish and Wildlife Service.
(2018). Ecological Risk Screening Summary: Parrotfeather (Myriophyllum
aquaticum). Retrieved from (link)
United
States

 

Myriophyllum aquaticum
Parrot's-feather; Brazilian
Watermilfoil; Parrot Feather Watermilfoil; Parrotfeather; Parrot's Feather
Aquatic Plant
Aquatic
Wisconsin Department of Natural Resources. (n.d.). Aquatic
Invasive Species Literature Review: Myriophyllum aquaticum. Retrieved from (link)
Wisconsin

 

Myriophyllum
spicatum
Eurasian Water-milfoil; Eurasian
Watermilfoil
Aquatic Plant

 

Aquatic
Moore G. (2008). New York Non-Native Plant Invasiveness Ranking
Form: Myriophyllum spicatum. Retrieved from (link)
New
York
Myriophyllum spicatum
Eurasian
Water-milfoil; Eurasian Watermilfoil
Aquatic
Plant

 

Aquatic
Mastalerz A., & Culley T. (2015). Ohio Invasive Plant
Assessment Protocol: Myriophyllum spacatum. Retrieved from (link)
Ohio
Myriophyllum spicatum
Eurasian
Water-milfoil; Eurasian Watermilfoil
Aquatic
Plant

 

Aquatic
U.S. Fish and Wildlife Service. (2018). Ecological Risk
Screening Summary: Eurasian Watermilfoil (Myriophyllum spicatum). Retrieved
from (link)
United States

 

Myriophyllum
spicatum
Eurasian
Water-milfoil; Eurasian Watermilfoil
Aquatic
Plant

 

Aquatic
Wisconsin Department of Natural Resources. (n.d.). Aquatic
Invasive Species Literature Review: Myriophyllum spicatum. Retrieved from (link)
Wisconsin

 

Mytilicola
orientalis
Red
Worm; Oyster Redworm
Aquatic Invertebrate
Aquatic
Alaska Center for Conservation
Science. (2017). Bering Sea Marine Invasive Species Assessment: Mytilicola
orientalis. Retrieved from (link)
Alaska
Mytilopsis
leucophaeata

 

Dark Falsemussel; Conrad's False
Mussel; Dark False Mussel
Aquatic Invertebrate
Aquatic

 

DFO. (2013). Science advice from the risk assessment of three
dreissenid mussels (Dreissena polymorpha, Dreissena rostriformis bugensis,
and Mytilopsis leucophaeata) in Canadian freshwater ecosystems. Retrieved
from (link)
Canada
Mytilopsis
leucophaeata

 

Dark
Falsemussel; Conrad's False Mussel; Dark False Mussel
Aquatic
Invertebrate
Aquatic

 

Therriault T.W., Weise A.M., Higgins S.N., et al. (2012). Risk
Assessment for Three Dreissenid Mussels (Dreissena polymorpha, Dreissena
rostriformis bugensis, and Mytilopsis leucophaeata) in Canadian Freshwater
Ecosystems. Retrieved from (link)
Canada
Mytilopsis
leucophaeata

 

Dark Falsemussel; Conrad's False Mussel;
Dark False Mussel
Aquatic Invertebrate
Aquatic

 

U.S. Fish and Wildlife Service.
(2019). Ecological Risk Screening Summary: Dark Falsemussel (Mytilopsis
leucophaeata). Retrieved from (link)
United
States

 

Mytilus galloprovincialis
Mediterranean Mussel; Blue
Mussel
Aquatic Invertebrate

 

Aquatic
Alaska Center for Conservation
Science. (2017). Bering Sea Marine Invasive Species Assessment: Mytilus
galloprovincialis. Retrieved from (link)
Alaska
Najas marina
Spiny Naiad; Spiny Water Nymph;
Holly-leaved Naiad
Aquatic Plant
Aquatic
Wisconsin Department of Natural Resources. (n.d.). Aquatic
Invasive Species Literature Review: Najas marina. Retrieved from (link)
Wisconsin

 

Najas minor
Brittle
Waternymph; Brittle Naiad; Lesser Naiad; Brittle Water Nymph
Aquatic
Plant
Aquatic
Glenn S. (2009). New York Non-Native Plant Invasiveness Ranking
Form: Najas minor. Retrieved from (link)
New York
Najas
minor
Brittle Waternymph; Brittle
Naiad; Lesser Naiad; Brittle Water Nymph
Aquatic Plant
Aquatic
Mastalerz A., & Culley T. (2015). Ohio Invasive Plant
Assessment Protocol: Najas minor. Retrieved from (link)
Ohio
Najas minor
Brittle
Waternymph; Brittle Naiad; Lesser Naiad; Brittle Water Nymph
Aquatic Plant
Aquatic
U.S. Fish and Wildlife Service.
(2018). Ecological Risk Screening Summary: Brittle Waternymph (Najas minor).
Retrieved from (link)
United States

 

Najas minor
Brittle
Waternymph; Brittle Naiad; Lesser Naiad; Brittle Water Nymph
Aquatic
Plant
Aquatic
Wisconsin Department of Natural Resources. (n.d.). Aquatic
Invasive Species Literature Review: Najas minor. Retrieved from (link)
Wisconsin

 

Nardus stricta
Matgrass
Terrestrial
Plant
Terrestrial
Robison R. (2016). Nardus stricta Risk Assessment. Retrieved
from (link)
California
Nassella charruana
Lobed Needlegrass; Lobed Needle
Grass
Terrestrial Plant
Terrestrial
CFIA
Categorization Assessment
Canada
Nassella hyalina
Cane
Needlegrass; Cane Needle Grass

 

Terrestrial Plant
Terrestrial
CFIA
Categorization Assessment
Canada
Nassella leucotricha
Texas
Wintergrass; Texas Needlegrass; Texas Tussockgrass
Terrestrial
Plant
Terrestrial
CFIA
Categorization Assessment
Canada
Nassella
megapotamica
 
Terrestrial
Plant
Terrestrial
CFIA Categorization Assessment
Canada
Nassella
neesiana
Chilean
Needlegrass; Chilean Needle Grass
Terrestrial Plant

 

Terrestrial
CFIA
Categorization Assessment
Canada
Nassella
neesiana
Chilean Needlegrass; Chilean Needle Grass
Terrestrial Plant

 

Terrestrial
United States Department of Agriculture. (2013). Weed Risk
Assessment for Nassella neesiana (Trin & Rupr.) Barkworth (Poaceae) -
Chilean needlegrass. Retrieved from (link)
United States

 

Nassella tenuissima
Mexican Feather Grass; Mexican
Feathergrass; Finestem Needlegrass; Fineleaved Nassella; Argentine
Needle-grass
Terrestrial Plant
Terrestrial
CFIA
Risk Assessment
Canada
Nassella
trichotoma
Serrated Tussock; Serrated Tussock Grass
Terrestrial Plant
Terrestrial
CFIA Risk Assessment
Canada
Nassella trichotoma
Serrated
Tussock; Serrated Tussock Grass
Terrestrial
Plant
Terrestrial
CFIA
Risk Management
Canada
Nasturtium
officinale
Watercress; Yellowcress
Aquatic Plant
Aquatic
Clemants S., & Moore G. (2010). New York Non-Native Plant
Invasiveness Ranking Form: Nasturtium officinale. Retrieved from (link)
New
York
Nasturtium
officinale
Watercress; Yellowcress
Aquatic Plant
Aquatic
U.S. Fish and Wildlife Service.
(2019). Ecological Risk Screening Summary: Watercress (Nasturtium
officinale). Retrieved from (link)
United
States

 

Nasturtium officinale
Watercress;
Yellowcress
Aquatic Plant
Aquatic
Wisconsin Department of Natural Resources. (n.d.). Aquatic
Invasive Species Literature Review: Nasturtium officinale. Retrieved from (link)
Wisconsin
Nematostella
vectensis
Starlet
Sea Anemone
Aquatic
Invertebrate

 

Aquatic
Alaska Center for Conservation
Science. (2017). Bering Sea Marine Invasive Species Assessment: Nematostella
vectensis. Retrieved from (link)
Alaska
Neogobius fluviatilis
Monkey
Goby 
Fish
Aquatic
U.S. Fish and Wildlife Service.
(2017). Ecological Risk Screening Summary: Monkey Goby (Neogobius
fluviatilis). Retrieved from (link)
United States

 

Neogobius
melanostomus
Round
Goby
Fish
Aquatic
Schwartzberg E. (2013). New York Fish & Aquatic
Invertebrate Invasiveness Ranking Form: Neogobius melanostomus. Retrieved
from (link)
New York
Neogobius melanostomus
Round
Goby
Fish
Aquatic
Cudmore B., & Koops M. (2007).
Risk Assessment of Round Goby (Neogobius melanostomus) to Lake Simcoe,
Ontario: A Quantitative Biological Risk Assessment Tool (QBRAT) Case Study.
Retrieved from (link)
Ontario
Neogobius
melanostomus
Round
Goby
Fish
Aquatic
U.S. Fish and Wildlife Service. (2019). Ecological Risk
Screening Summary: Neogobius melanostomus. Retrieved from (link)
United
States

 

Neogobius melanostomus
Round Goby
Fish
Aquatic
Wisconsin Department of Natural Resources. (n.d.). Literature
Review: Neogobius melanostomus. Retrieved from (link)
Wisconsin

 

Nepeta
sibirica
Catmint; Siberian Catmint
Terrestrial Plant
Terrestrial
CFIA
Categorization Assessment
Canada
Neptunia
oleracea
Water Mimosa; Sensitive Neptunia
Aquatic Plant
Aquatic
United States Department of Agriculture. (2012). Weed Risk
Assessment for Neptunia oleracea Lour. (Fabaceae) - Water mimosa. Retrieved
from (link)
United
States

 

Nitellopsis obtusa
Starry Stonewart
Aquatic Plant
Aquatic
Wisconsin Department of Natural Resources. (n.d.). Aquatic
Invasive Species Literature Review: Nitellopsis obtusa. Retrieved from (link)
Wisconsin

 

Noccaea caerulescens
Alpine
Penny-cress; Alpine Pennycress
Terrestial
Plant
Terrestrial
CFIA
Categorization Assessment
Canada
Notobasis
syriaca
Syrian Thistle
Terrestrial Plant
Terrestrial
CFIA Categorization Assessment
Canada
Nymphoides cristata
Crested
Floating Heart
Aquatic
Plant

 

Aquatic
United States Department of Agriculture. (2012). Weed Risk
Assessment for Nymphoides cristata (Roxb.) Kuntze (Menyanthaceae) – Crested
floating heart. Retrieved from (link)

 

United States

 

Nymphoides indica
Water Snowflake; Banana Plant; Robust
Marshwort
Aquatic Plant
Aquatic
United States Department of
Agriculture. (2012). Weed Risk Assessment for Nymphoides indica (L.) Kuntze
(Menyanthaceae) – Water snowflake. Retrieved from (link)

 

United
States

 

Nymphoides
peltata
Yellow Floating-heart; Fringed
Water-lily; Yellow Floating Heart; Yellow Floatingheart
Aquatic Plant
Aquatic
CFIA
Categorization Assessment
Canada
Nymphoides peltata
Yellow
Floating-heart; Fringed Water-lily; Yellow Floating Heart; Yellow
Floatingheart
Aquatic
Plant
Aquatic
CFIA
Risk Assesment
Canada
Nymphoides
peltata
Yellow Floating-heart; Fringed Water-lily;
Yellow Floating Heart; Yellow Floatingheart
Aquatic Plant
Aquatic
Moore G., & Young S. (2010). New York Non-Native Plant
Invasiveness Ranking Form: Nymphoides peltata. Retrieved from (link)
New
York
Nymphoides
peltata
Yellow Floating-heart; Fringed Water-lily;
Yellow Floating Heart; Yellow Floatingheart
Aquatic Plant
Aquatic
Miller G. (2005). Oregon Department of Agriculture Plant Pest
Risk Assessment for Yellow Floating Heart, Nymphoides peltata. Retrieved from (link)
Oregon
Nymphoides
peltata
Yellow Floating-heart; Fringed Water-lily;
Yellow Floating Heart; Yellow Floatingheart
Aquatic Plant
Aquatic
U.S. Fish and Wildlife Service. (2019). Ecological Risk
Screening Summary: Yellow Floatingheart (Nymphoides peltata). Retrieved from (link)
United States

 

Nymphoides
peltata
Yellow Floating-heart; Fringed
Water-lily; Yellow Floating Heart; Yellow Floatingheart
Aquatic Plant
Aquatic
United States Department of
Agriculture. (2012). Weed Risk Assessment for Nymphoides peltata (S. G.
Gmel.) Kuntze (Menyanthaceae) – Yellow floating heart. Retrieved from (link)
United States

 

Nymphoides
peltata
Yellow
Floating-heart; Fringed Water-lily; Yellow Floating Heart; Yellow
Floatingheart
Aquatic
Plant
Aquatic
Wisconsin Department of Natural Resources. (n.d.). Aquatic
Invasive Species Literature Review: Nymphoides peltata. Retrieved from (link)
Wisconsin

 

Odontesthes
bonariensis
Argentinian
Silverside; Pejerrey
Fish

 

Aquatic
U.S. Fish and Wildlife Service. (2014). Ecological Risk
Screening Summary: Argentinian Silverside (Odontesthes bonariensis).
Retrieved from (link)
United States

 

Olea
europaea
Olive;
European Olive; Common Olive
Terrestrial
Plant
Terrestrial
CFIA
Categorization Assessment
Canada
Oncorhynchus kisutch
Coho Salmon; Silver Salmon
Fish
Aquatic
Schwartzberg E. (2013). New York Fish & Aquatic
Invertebrate Invasiveness Ranking Form: Oncorhynchus kisutch. Retrieved from (link)
New York
Oplismenus hirtellus

 

Wavyleaf
Basketgrass; Basketgrass; Bristle Basketgrass
Terrestrial
Plant
Terrestrial
CFIA
Categorization Assessment
Canada
Oplismenus hirtellus

 

Wavyleaf Basketgrass;
Basketgrass; Bristle Basketgrass
Terrestrial Plant
Terrestrial
Moore G. (2009). New York
Non-Native Plant Invasiveness Ranking Form: Oplismenus hirtellus. Retrieved
from (link)
New York
Oplismenus
hirtellus

 

Wavyleaf Basketgrass; Basketgrass; Bristle
Basketgrass
Terrestrial Plant
Terrestrial
United States Department of
Agriculture. (2012). Weed Risk Assessment for Oplismenus hirtellus (L.) P.
Beauv. subsp. undulatifolius (Ard.) U. Scholz (Poaceae) – Wavyleaf
basketgrass. Retrieved from (link)

 

United
States

 

Oplismenus hirtellus

 

Wavyleaf
Basketgrass; Basketgrass; Bristle Basketgrass
Terrestrial
Plant
Terrestrial
Oswald C. (2013). Wisconsin Department of Natural Resources
Literature Review: Oplismenus hirtellus ssp. Undulatifolius. Retrieved from (link)
Wisconsin

 

Opuntia stricta
Erect
Prickly Pear; Nopal Estricto
Terrestrial
Plant
Terrestrial
CFIA
Risk Assessment
Canada
Orchestes fagi
Beech
Leaf-mining Weevil
Insect
Terrestrial
CFIA
Categorization Assessment
Canada
Orchestes fagi
Beech
Leaf-mining Weevil
Insect
Terrestrial
CFIA
Risk Assessment
Canada
Orconectes limosus
Spiny-cheek
Crayfish
Aquatic
Invertebrate
Aquatic
Great Britain Non-Native Species Secretariat. (2011). GB
Non-Native Organism Risk Assessment Scheme for Spiny-cheek Crayfish
(Orconectes limosus). Retrieved from (link)
Great Britain
Orconectes limosus
Spiny-cheek
Crayfish
Aquatic
Invertebrate
Aquatic
U.S. Fish and Wildlife Service.
(2015). Ecological Risk Screening Summary: Spiny-cheek crayfish (Orconectes
limosus). Retrieved from (link)
United States

 

Orconectes rusticus; Faxonius rusticus
Rusty Crayfish
Aquatic Invertebrate
Aquatic
Stebbing P., & Tricarico E. (2017). Study on Invasie Alien
Species

 

- Development of risk
assessments to tackle priority species and enhance prevention. Risk
Assessment for Faxonius rusticus Girard, 1852. Retrieved from (link)

  

Europe
Orconectes rusticus; Faxonius rusticus
Rusty
Crayfish
Aquatic
Invertebrate
Aquatic
Rogers D., & Watson E. (2015). GB Non-native Organism Risk
Assessment Scheme for Rusty Crayfish (Orconectes rusticus). Retrieved from (link)
Great Britain
Orconectes
rusticus; Faxonius rusticus
Rusty Crayfish
Aquatic Invertebrate
Aquatic
White E. (2013). New York Fish & Aquatic Invertebrate
Invasiveness Ranking Form: Orconectes rusticus. Retrieved from (link)
New York
Orconectes rusticus; Faxonius rusticus
Rusty
Crayfish
Aquatic
Invertebrate
Aquatic
U.S. Fish and Wildlife Service.
(2015). Ecological Risk Screening Summary: Rusty Crayfish (Orconectes
rusticus). Retrieved from (link)
United
States

 

Orconectes
rusticus; Faxonius rusticus
Rusty
Crayfish
Aquatic
Invertebrate
Aquatic
Wisconsin Department of Natural Resources. (n.d.). Literature
Review: Orconectes rusticus. Retrieved from (link)
Wisconsin

 

Orconectes
virilis
Virile Crayfish; Northern Crayfish;
Eastern Crayfish; Lake Crawfish; Common Crawfish
Aquatic Invertebrate

 

Aquatic
Rogers D., & Watson E. (2013). GB Non-Native Organism Risk
Assessment for Orconectes virilis. Retrieved from
(link)
Great
Britain
Orconectes virilis
Virile
Crayfish; Northern Crayfish; Eastern Crayfish; Lake Crawfish; Common Crawfish
Aquatic
Invertebrate

 

Aquatic
U.S. Fish and Wildlife Service.
(2015). Ecological Risk Screening Summary: Virile Crayfish (Orconectes
virili). Retrieved from (link)
United States

 

Oreochromis
aureus
Blue
Tilapia; Israeli Tilapia; Blue Kurper
Fish
Aquatic
Shwartzberg E. (2013). New York Fish & Aquatic
Invertebrates Invasiveness Ranking Form: Oreochromis aureus. Retrieved from (link)
New
York
Oreochromis
aureus
Blue Tilapia; Israeli Tilapia; Blue Kurper
Fish
Aquatic
U.S. Fish and Wildlife Service. (2018). Ecological Risk
Screening Summary: Blue Tilapia (Oreochromis aureus). Retrieved from (link)
United States

 

Oreochromis
mossambicus
Mozambique
Tilapia
Fish
Aquatic
U.S. Fish and Wildlife Service.
(2018). Ecological Risk Screening Summary: Mozambique tilapia (Oreochromis
mossambicus). Retrieved from (link)
United
States

 

Oreochromis
niloticus
Nile Tilapia; Nile Mouthbrooder
Fish
Aquatic
Schwartzberg E. (2013). New York Fish & Aquatic
Invertebrate Invasiveness Ranking Form: Oreochromis niloticus. Retrieved from (link)
New
York
Oreochromis
niloticus
Nile Tilapia; Nile Mouthbrooder
Fish
Aquatic
U.S. Fish and Wildlife Service.
(2018). Ecological Risk Screening Summary: Nile Tilapia (Oreochromis
niloticus). Retrieved from (link)
United States

 

Oreochromis
sp.
 
Fish

 

Aquatic
OMNRF Risk Assessment
Ontario
Ornithogalum umbellatum
Star-of-Bethlehem;
Garden Star-of-Bethlehem; Grass Lily; Nap-at-noon; Eleven-o'clock Lady
Terrestrial
Plant
Terrestrial
Preston
S. (2018). Ohio Invasive Plant Assessment Protocol: Ornithogalum umbellatum.
Retrieved from (link)
Ohio
Oryctolagus cuniculus
European Rabbit; European Wild
Rabbit
Mammal
Terrestrial
Adams D. (2013). New York Terrestrial Vertebrate Invasiveness
Ranking Form: Oryctolagus cuniculus. Retrieved from
(link)
New York
Oryza sativa
Asian Rice; Rice
Terrestrial Plant
Terrestrial
CFIA
Catergorization Assessment
Canada
Osmerus
eperlanus

 

European Smelt
Fish
Aquatic

 

U.S. Fish and Wildlife Service.
(2017). Ecological Risk Screening Summary: European Smelt (Osmerus
eperlanus). Retrieved from (link)
United
States

 

Osmerus
mordax
Rainbow Smelt
Fish
Aquatic
Wisconsion Department of Natural Resources. (n.d.). Literature
Review: Osmerus mordax. Retrieved from (link)
Wisconsin

 

Osteopilus septentrionalis
Cuban
Treefrog
Amphibian
Aquatic
U.S. Fish and Wildlife Service. (2019). Ecological Risk
Screening Summary: Cuban Treefrog (Osteopilus septentrionalis). Retrieved
from (link)
United States

 

Ottochloa nodosa
Slender Panic Grass; Slender
Panicgrass
Terrestrial Plant
Terrestrial
CFIA
Categorization Assessment
Canada
Oxalis articulata
Pink-sorrel;
Pink Wood Sorrel; Windowbox Wood-sorrel; Sourgrass
Terrestrial
Plant
Terrestrial
CFIA
Categorization Assessment
Canada
Oxalis latifolia
Garden
Pink-sorrel; Broadleaf Woodsorrel
Terrestrial
Plant
Terrestrial
CFIA
Categorization Assessment
Canada
Oxalis
perdicaria
 
Terrestrial
Plant
Terrestrial
CFIA Categorization Assessment 
Canada
Oxygonum
sinuatum (Hochst. & Steud. ex Meisn.) Dammer
 
Terrestrial Plant
Terrestrial
CFIA
Categorization Assessment
Canada
Pachira aquatica
Malabar Chestnut; French Peanut; Guiana
Chestnut; Provision Tree; Saba Nut; Monguba; Pumpo; Money Tree; Money Plant
Wetland Plant
Wetland
CFIA Categorization Assessment
Canada
Pacifastacus leniusculus
Signal
Crayfish; American Signal Crayfish
Aquatic
Invertebrate
Aquatic
GB Non-Native Species Secretariat. (2011). GB Non-Native
Organism Risk Assessment Scheme for Signal Crayfish (Pacifastacus
leniusculus). Retrieved from (link)
Great Britain
Pacifastacus
leniusculus
Signal Crayfish; American Signal Crayfish
Aquatic Invertebrate
Aquatic
U.S. Fish and Wildlife Service. (2015). Ecological Risk
Screening Summary: Signal Crayfish (Pacifastacus leniusculus). Retrieved from (link)
United
States

 

Palaemon macrodactylus
Oriental
Shrimp
Aquatic
Invertebrate

 

Aquatic
Alaska Center for Conservation
Science. (2017). Bering Sea Marine Invasive Species Assessment: Palaemon
macrodactylus. Retrieved from (link)
Alaska
Papaver somniferum
Opium
Poppy; Breadseed Poppy
Terrestrial
Plant
Terrestrial
CFIA
Categorization Assessment
Canada
Paracorophium
spp.
 
Aquatic Invertebrate

 

Aquatic
Alaska Center for Conservation Science. (2017). Bering Sea
Marine Invasive Species Assessment: Paracorophium spp.. Retrieved from (link)
Alaska
Parthenium hysterophorus
Santa Maria Feverfew; Whitetop
Weed; Santa-Maria; Famine Weed
Terrestrial Plant
Terrestrial
Brusati E.D. (2016). Parthenium hysterophorus Risk Assessment.
Retrieved from (link)
California
Parthenium
hysterophorus
Santa Maria Feverfew; Whitetop Weed;
Santa-Maria; Famine Weed
Terrestrial Plant
Terrestrial
CFIA Categorization Assessment
Canada
Parthenium hysterophorus
Santa Maria Feverfew; Whitetop
Weed; Santa-Maria; Famine Weed
Terrestrial
Plant
Terrestrial
European and Mediterranean Plant Protection Organization.
(2014). Pest Risk Analysis for Parthenium hysterophorus. Retrieved from (link)
Europe
Parthenium
hysterophorus
Santa
Maria Feverfew; Whitetop Weed; Santa-Maria; Famine Weed
Terrestrial Plant
Terrestrial
European and Mediterranean Plant Protection Organization.
(2014). Report of a Pest Risk Analysis for Parthenium hysterophorus.
Retrieved from (link)
Europe
Paspalum
dilatatum
Dallisgrass; Dallas Grass;
Sticky Heads; Dallis Grass
Terrestrial Plant
Terrestrial
CFIA
Risk Assessment

 

Canada
Paspalum
dilatatum
Dallisgrass; Dallas Grass; Sticky Heads;
Dallis Grass
Terrestrial Plant
Terrestrial
CFIA
Risk Management
Canada
Paspalum distichum
Knotgrass;
Water Finger-grass; Couch Paspalum; Eternity Grass; Gingergrass; Thompson
Grass
Terrestrial
Plant
Terrestrial
CFIA
Risk Assessment
Canada
Paspalum laeve
Field
Beadgrass; Field Paspalum; Field Crowngrass; Field Crown Grass
Terrestrial
Plant
Terrestrial
CFIA
Categorization Assessment
Canada
Paspalum
racemosum
Peruvian Paspalum
Terrestrial Plant
Terrestrial
CFIA Categorization Assessment
Canada
Paspalum
scrobiculatum
Kodo
Millet; Koda Millet; Ricegrass Paspalum; Kodomillet
Terrestrial
Plant
Terrestrial
CFIA Categorization Assessment
Canada
Passiflora apetala
Bat-wing
Passion Flower
Terrestrial
Plant
Terrestrial
CFIA
Categorization Assessment
Canada
Passiflora
mollissima
Banana
Passionfruit; Banana Passion Flower
Terrestrial
Plant
Terrestrial
CFIA
Categorization Assessment
Canada
Pastinaca
sativa
Wild Parsnip; Parsnip; Poison
Parsnip
Terrestrial Plant
Terrestrial
Deitch Z., & Jacquart E.
(2013). Indiana Non-Native Plant Invasiveness Ranking Form: Pastinaca sativa.
Retrieved from (link)
Indiana
Pastinaca sativa
Wild Parsnip; Parsnip; Poison
Parsnip
Terrestrial
Plant
Terrestrial
Becker R. (2016). MN NWAC Risk Assessment Worksheet: Pastinaca
sativa. Retrieved from (link)
Minnesota
Pastinaca sativa
Wild
Parsnip; Parsnip; Poison Parsnip
Terrestrial
Plant
Terrestrial
Cortilet A.B. (2013). MN NWAC Risk Assessment Worksheet:
Pastinaca sativa. Retrieved from (link)
Minnesota
Pastinaca
sativa
Wild
Parsnip; Parsnip; Poison Parsnip
Terrestrial
Plant
Terrestrial
Braun
K., & Jordan M. (2018). Ohio Invasive Plant Assessment Protocol:
Pastinaca sativa. Retrieved from (link)
Ohio
Pastinaca
sativa
Wild
Parsnip; Parsnip; Poison Parsnip
Terrestrial
Plant
Terrestrial
Annen C. (2007). Wisconsin Department of Natural Resources
Literature Review: Pastinaca sativa. Retrieved from (link)
Wisconsin

 

Paulownia elongata
 
Terrestrial
Plant
Terrestrial
CFIA Categorization Assessment
Canada
Paulownia fortunei (Seem.)
Hemsl.
Dragon
Tree; Dragontree; Fortune's Empress Tree
Terrestrial
Plant
Terrestrial
CFIA
Categorization Assessment
Canada
Paulownia hybrid
 
Terrestrial
Plant
Terrestrial
CFIA
Categorization Assessment
Canada
Paulownia tomentosa
Empress
Tree; Princess Tree; Fox Glove-tree; Karritree
Terrestrial
Plant
Terrestrial
CFIA
Categorization Assessment
Canada
Paulownia tomentosa
Empress
Tree; Princess Tree; Fox Glove-tree; Karritree
Terrestrial
Plant
Terrestrial
Clemants S., & Moore G. (2008). New York Non-Native Plant
Invasiveness Ranking Form: Paulownia tomentosa. Retrieved from (link)
New
York
Paulownia tomentosa
Empress
Tree; Princess Tree; Fox Glove-tree; Karritree
Terrestrial Plant
Terrestrial
Culley T. (2016). Ohio Invasive Plant Assessment Protocol:
Paulownia tomentosa. Retrieved from (link)
Ohio
Paulownia tomentosa
Empress
Tree; Princess Tree; Fox Glove-tree; Karritree
Terrestrial
Plant
Terrestrial
Sheehan S. (2007). Wisconsin Department of Natural Resources
Literature Review: Paulownia tomentosa. Retrieved from (link)
Wisconsin

 

Peganum harmala
Esfand;
Wild Rue; Syrian Rue; African Rue; Harmel; Harmal Peganum; African-rue;
Harmel Shrub; Ruin Weed
Terrestrial
Plant
Terrestrial
Robison R. (2016). Peganum harmala

 

Risk Assessment. Retrieved from (link)
California
Peganum
harmala
Esfand; Wild Rue; Syrian Rue; African Rue;
Harmel; Harmal Peganum; African-rue; Harmel Shrub; Ruin Weed
Terrestrial Plant
Terrestrial
CFIA
Risk Assessment
Canada
Peganum harmala
Esfand; Wild Rue; Syrian Rue;
African Rue; Harmel; Harmal Peganum; African-rue; Harmel Shrub; Ruin Weed
Terrestrial Plant
Terrestrial
Langland D. (2009). Oregon Department of Agriculture Plant
Pest Risk Assessment for African rue, Peganum harmala. Retrieved from (link)
Oregon
Peganum
harmala
Esfand; Wild Rue; Syrian Rue;
African Rue; Harmel; Harmal Peganum; African-rue; Harmel Shrub; Ruin Weed
Terrestrial Plant
Terrestrial
Oregon Department of Agriculture. (2009). Noxious Weed Pest
Risk Assessment for African rue, Peganum harmala Zygophyllaceae, Caltrop.
Retrieved from (link)
Oregon
Pennisetum
clandestinum
Kikuyu
Grass; Kikuyugrass
Terrestrial Plant
Terrestrial
CFIA
Categorization Assessment
Canada
Pennisetum purpureum
Napier
Grass; Elephant Grass; Uganda Grass
Terrestrial
Plant
Terrestrial
CFIA
Categorization Assessment
Canada
Perca fluviatilis
European Perch; Common Perch;
Redfin Perch; Big-scaled Redfin; English Perch; Eurasian Perch; Eurasian
River Perch
Fish
Aquatic
U.S. Fish and Wildlife Service. (2019). Ecological Risk
Screening Summary: Perca fluviatilis. Retrieved from
(link)
United States

 

Perccottus
glenii
Amur Sleeper; Chinese Sleeper
Fish

 

Aquatic
U.S. Fish and Wildlife Service. (2014). Ecological Risk
Screening Summary: Amur Sleeper (Perccottus 
glenii). Retrieved from (link)
United States

 

Perilla frutescens
Beefsteak
Plant; Perilla; Korean Perilla
Terrestrial
Plant
Terrestrial
CFIA
Categorization Assessment
Canada
Perilla
frutescens
Beefsteak
Plant; Perilla; Korean Perilla
Terrestrial Plant
Terrestrial
CFIA
Risk Assessment
Canada
Persicaria
bungeana
Bunge's Smartweed; Prickly Smartweed
Terrestrial Plant
Terrestrial
CFIA
Categorization Assessment
Canada
Persicaria
chinensis
Chinese Knotweed; Creeping
Smartweed
Terrestrial Plant

 

Terrestrial
United States Department of Agriculture. (2017). Weed Risk
Assessment for Persicaria chinensis (L.) H. Gross (Polygonaceae) - Chinese
Knotweed. Retrieved from (link)
United States

 

Persicaria longiseta
Creeping
Smartweed; Oriental Lady's Thumb; Bristly Lady's Thumb; Asiatic Smartweed;
Long-bristled Smartweed; Asiatic Waterpepper; Bristled Knotweed; Bunchy
Knotweed; Tufted Knotweed
Terrestrial
Plant
Terrestrial
Moore G. (2008). New York Non-Native Plant Invasiveness Ranking
Form: Persicaria longiseta. Retrieved from (link)
New York
Persicaria nepalensis
Nepal Knotweed; Nepal Smartweed
Terrestrial Plant
Terrestrial
Moore G. (2010). New York Non-Native Plant Invasiveness Ranking
Form: Persicaria nepalensis. Retrieved from (link)
New York
Persicaria
nepalensis
Nepal Knotweed; Nepal Smartweed
Terrestrial Plant
Terrestrial
United States Department of
Agriculture. (2014). Weed Risk Assessment for Persicaria nepalensis (Meisn.)
H. Gross (Polygonaceae) – Nepal knotweed. Retrieved from (link)
United
States

 

Persicaria
perfoliata; Polygonum perfoliatum

 

Mile-a-minute
Weed; Devil's Tail; Giant Climbing Tearthumb; Asiatic Tearthumb;
Mile-a-minute-vine
Terrestrial
Plant
Terrestrial
CFIA
Categorization Assessment
Canada
Persicaria
perfoliata; Polygonum perfoliatum

 

Mile-a-minute Weed; Devil's Tail; Giant
Climbing Tearthumb; Asiatic Tearthumb; Mile-a-minute-vine
Terrestrial Plant
Terrestrial
CFIA Risk Assessment
Canada
Persicaria perfoliata; Polygonum
perfoliatum

 

Mile-a-minute
Weed; Devil's Tail; Giant Climbing Tearthumb; Asiatic Tearthumb;
Mile-a-minute-vine
Terrestrial
Plant
Terrestrial
CFIA
Risk Management
Canada
Persicaria perfoliata; Polygonum
perfoliatum

 

Mile-a-minute
Weed; Devil's Tail; Giant Climbing Tearthumb; Asiatic Tearthumb;
Mile-a-minute-vine
Terrestrial
Plant
Terrestrial
European
and Mediterranean Plant Protection Organisation. (2007). Pest Risk Analysis
for Polygonum perfoliatum. Retrieved from (link)
Europe
Persicaria perfoliata; Polygonum
perfoliatum

 

Mile-a-minute Weed; Devil's Tail; Giant
Climbing Tearthumb; Asiatic Tearthumb; Mile-a-minute-vine
Terrestrial Plant
Terrestrial
European
and Mediterranean Plant Protection Organisation. (2007). Report of a Pest
Risk Analysis for Polygonum perfoliatum. Retrieved from (link)
Europe
Persicaria
perfoliata; Polygonum perfoliatum

 

Mile-a-minute
Weed; Devil's Tail; Giant Climbing Tearthumb; Asiatic Tearthumb;
Mile-a-minute-vine
Terrestrial
Plant
Terrestrial
Deitch Z., & Jacquart E. (2013). Indiana Non-Native Plant
Invasiveness Ranking Form: Polygonum perfoliatum. Retrieved from (link)
Indiana
Persicaria
perfoliata; Polygonum perfoliatum

 

Mile-a-minute
Weed; Devil's Tail; Giant Climbing Tearthumb; Asiatic Tearthumb;
Mile-a-minute-vine
Terrestrial
Plant
Terrestrial
Moore G. (2008). New York
Non-Native Plant Invasiveness Ranking Form: Persicaria perfoliata. Retrieved
from (link)
New
York
Persicaria perfoliata; Polygonum
perfoliatum

 

Mile-a-minute
Weed; Devil's Tail; Giant Climbing Tearthumb; Asiatic Tearthumb;
Mile-a-minute-vine
Terrestrial
Plant
Terrestrial
OIPC Team. (2014). Ohio Invasive Plant Assessment Protocol:
Persicaria perfoliata. Retrieved from (link)
Ohio
Persicaria
perfoliata; Polygonum perfoliatum

 

Mile-a-minute Weed; Devil's Tail; Giant
Climbing Tearthumb; Asiatic Tearthumb; Mile-a-minute-vine
Terrestrial Plant
Terrestrial
Sheehan M. (2007). Wisconsin Department of Natural Resources
Literature Review: Persicaria perfoliata. Retrieved from (link)
Wisconsin

 

Persicaria
thunbergii
 
Terrestrial Plant
Terrestrial
CFIA Categorization Assessment
Canada
Petricolaria pholadiformis
False
Angelwing; False Angel Wing; American Piddock
Aquatic
Invertebrate

 

Aquatic
Alaska Center for Conservation
Science. (2017). Bering Sea Marine Invasive Species Assessment: Petricolaria
pholadiformis. Retrieved from (link)
Alaska
Petromyzon marinus
Sea
Lamprey
Fish
Aquatic
Schwartzberg E. (2013). New York
Fish & Aquatic Invertebrate Invasiveness Ranking Form: Petromyzon
marinus. Retrieved from (link)
New
York
Petromyzon
marinus
Sea
Lamprey
Fish
Aquatic
Wisconsion Department of Natural Resources. (n.d.). Literature
Review: Petromyzon marinus. Retrieved from (link)
Wisconsin

 

Phacelia
tanacetifolia
Blue
Tansy; Lacy Phacelia; Purple Tansy
Terrestrial
Plant
Terrestrial
CFIA
Categorization Assessment
Canada
Phalaris arundinacea
Reed
Canary Grass; Ribbon Grass; Gardener's Gaiters; Reed Canarygrass
Aquatic
Plant
Aquatic
Jacquart E., Collins K., Casebere
L., et al. (2003). Assessment of Invasive Species in Indiana's Natural Areas;
Official Reed Canarygrass (Phalaris arundinacea) Assessment. Retrieved from (link)
Indiana
Phalaris
arundinacea
Reed Canary Grass; Ribbon Grass;
Gardener's Gaiters; Reed Canarygrass
Aquatic Plant
Aquatic
Merriman M. (2017). MN NWAC Risk Assessment Worksheet: Phalaris
arundinacea. Retrieved from (link)
Minnesota
Phalaris arundinacea
Reed
Canary Grass; Ribbon Grass; Gardener's Gaiters; Reed Canarygrass
Aquatic
Plant
Aquatic
Glenn S., & Moore G. (2010). New York Non-Native Plant
Invasiveness Ranking Form: Phalaris arundinacea. Retrieved from (link)

 

New
York
Phalaris
arundinacea
Reed
Canary Grass; Ribbon Grass; Gardener's Gaiters; Reed Canarygrass
Aquatic
Plant
Aquatic
Mastalerz A., & Culley T. (2015). Ohio Invasive Plant
Assessment Protocol: Phalaris arundinacea. Retrieved from (link)
Ohio
Phalaris
arundinacea
Reed
Canary Grass; Ribbon Grass; Gardener's Gaiters; Reed Canarygrass
Aquatic
Plant
Aquatic
U.S. Fish and Wildlife Service. (2018). Ecological Risk
Screening Summary: Reed Canarygrass (Phalaris arundinacea). Retrieved from (link)
United
States

 

Phalaris arundinacea
Reed
Canary Grass; Ribbon Grass; Gardener's Gaiters; Reed Canarygrass
Aquatic
Plant
Aquatic
Annen C. (2011). Wisconsin Department of Natural Resources
Literature Review: Phalaris arundinancea. Retrieved from (link)
Wisconsin

 

Phalaris brachystachys
Shortspike
Canarygrass; Short-spike Canary Grass
Terrestrial
Plant
Terrestrial
CFIA
Categorization Assessment
Canada
Phalaris brachystachys
Shortspike
Canarygrass; Short-spike Canary Grass
Terrestrial
Plant
Terrestrial
United States Department of Agriculture. (2016). Weed Risk
Assessment for Phalaris brachystachys Link (Poaceae) – Shortspike canary
grass. Retrieved from (link)

 

United States

 

Phalaris minor
Littleseed
Canarygrass; Little Seed Canary Grass; Small-seeded Canary Grass; Small
Canary Grass; Lesser-canary Grass; Guli Danda; Sittee Booti
Terrestrial
Plant
Terrestrial
CFIA Categorization Assessment
Canada
Phalaris
paradoxa
Awned Canary-grass; Hood Canarygrass
Terrestrial Plant
Terrestrial
CFIA
Categorization Assessment
Canada
Phalaris
paradoxa
Awned Canary-grass; Hood Canarygrass
Terrestrial Plant
Terrestrial
United States Department of Agriculture. (2016). Weed Risk
Assessment for Phalaris paradoxa L. (Poaceae) – Awned canary-grass. Retrieved
from (link)
United
States

 

Phasianus colchicus and Phasianus colchicus strachi
Ring-necked Pheasant and Sichuan
Pheasant
Bird
Terrestrial
Schwartzberg E. (2012). New York Terrestrial Vertebrate
Invasiveness Ranking Form: Phasianus colchicus/Phasianus colchicus strachi.
Retrieved from (link)
New
York
Phellodendron amurense
Amur
Corktree; Amur Cork Tree
Terrestrial
Plant

 

Terrestrial
CFIA
Categorization Assessment
Canada
Phellodendron amurense
Amur
Corktree; Amur Cork Tree
Terrestrial
Plant

 

Terrestrial
Jacquart E. & Larson J. (2012). Assessment of Invasive
Species in Indiana's Natural Areas: Official Amur Corktree (Phellodendron
amurense) Assessment

 

Retrieved from (link)

 

Indiana
Phellodendron amurense
Amur Corktree; Amur Cork Tree
Terrestrial
Plant

 

Terrestrial
Jinshuang M. & Moore G. (2009). New York Non-Native Plant
Invasiveness Ranking Form: Phellodendron amurense. Retrieved from (link)
New
York
Phellodendron
amurense
Amur Corktree; Amur Cork Tree
Terrestrial Plant

 

Terrestrial
Conover
B., & Culley T. (2018). Ohio Invasive Plant Assessment Protocol:
Phellodendron amurense. Retrieved from (link)
Ohio
Phellodendron
amurense
Amur
Corktree; Amur Cork Tree
Terrestrial
Plant

 

Terrestrial
LeClair C. (2011). Wisconsin Department of Natural Resources
Literature Review: Phellodendron amurense. Retrieved from (link)
Wisconsin

 

Philine
auriformis
New Zealand Sea Slug; Tortellini Snail
Aquatic Invertebrate

 

Aquatic
Alaska Center for Conservation
Science. (2017). Bering Sea Marine Invasive Species Assessment: Philine
auriformis. Retrieved from (link)
Alaska
Phleum pratense
Timothy;
Timothy Grass; Timothy-grass
Terrestrial
Plant
Terrestrial
Glenn S. (2008). New York Non-Native Plant Invasiveness Ranking
Form: Phleum pratense. Retrieved from (link)
New
York
Phoradendron leucarpum
American
Mistletoe; Eastern Mistletoe; Hairy Mistletoe; Oak Mistletoe
Terrestrial
Plant

 

Terrestrial
CFIA
Categorization Assessment 
Canada
Phoradendron leucarpum
American
Mistletoe; Eastern Mistletoe; Hairy Mistletoe; Oak Mistletoe
Terrestrial
Plant

 

Terrestrial
CFIA
Risk Assessment
Canada
Phoxinus
phoxinus
Eurasian
Minnow, Minnow, Common Minnow
Fish

 

Aquatic
U.S. Fish and Wildlife Service. (2019). Ecological Risk
Screening Summary: Phoxinus phoxinus. Retrieved from (link)
United
States

 

Phragmites
australis

 

European Common Reed; Common
Reed; Common Reed Grass; Giant Reed Grass; Phragmites
Terrestrial Plant
Aquatic
Jacquart E., & Phillabaum R. (2003). Assessment of Invasive
Species in Indiana's Natural Areas; Official Common Reed (Phragmites
australis) Assessment. Retrieved from (link)
Indiana
Phragmites
australis

 

European Common Reed; Common Reed; Common
Reed Grass; Giant Reed Grass; Phragmites
Terrestrial Plant
Aquatic
Cortilet A. (2012). MN NWAC Risk Assessment Worksheet:
Phragmites australis. Retrieved from (link)
Minnesota
Phragmites australis

 

European
Common Reed; Common Reed; Common Reed Grass; Giant Reed Grass; Phragmites
Terrestrial
Plant
Aquatic
Cortilet A., & Graeve K. (2016). MN NWAC Risk Assessment
Worksheet: Phragmites australis. Retrieved from
(link)
Minnesota
Phragmites
australis

 

European Common Reed; Common Reed; Common
Reed Grass; Giant Reed Grass; Phragmites
Terrestrial Plant
Aquatic
Moore G. (2009). New York Non-Native Plant Invasiveness Ranking
Form: Phragmites australis. Retrieved from (link)
New
York
Phragmites australis

 

European Common Reed; Common
Reed; Common Reed Grass; Giant Reed Grass; Phragmites
Terrestrial Plant
Aquatic
Mastalerz A., & Culley T. (2015). Ohio Invasive Plant
Assessment Protocol: Phragmites australis australis. Retrieved from (link)
Ohio
Phragmites
australis

 

European
Common Reed; Common Reed; Common Reed Grass; Giant Reed Grass; Phragmites
Terrestrial
Plant
Aquatic
Oregon Department of Agriculture. (2009). Plant Pest Risk
Assessment Common Reed (Phragmites australis) subsp. australis. Retrieved
from (link)
Oregon
Phragmites australis

 

European Common Reed; Common
Reed; Common Reed Grass; Giant Reed Grass; Phragmites
Terrestrial Plant
Aquatic
Annen C. (2007). Wisconsin Department of Natural Resources
Literature Review: Phragmites australis. Retrieved from (link)
Wisconsin

 

Phyllanthus maderaspatensis
Canoe
Weed
Terrestrial
Plant
Terrestrial
United States Department of Agriculture. (2012). Weed Risk
Assessment for Phyllanthus maderaspatensis L. (Phyllanthaceae) - Canoe Weed.
Retrieved from (link)
United States

 

Phyllostachys aureosulcata
Yellow
Groove Bamboo; Golden Bamboo
Terrestrial
Plant
Terrestrial
Moore G., Glenn S., Jordan M.,
& LIISMA SRC. (2013). New York Non-Native Plant Invasiveness Ranking Form
For Natural/Minimally Managed Areas: Phyllostachys aureosulcata. Retrieved
from (link)
New York
Phyllostachys
aureosulcata
Yellow Groove Bamboo; Golden Bamboo
Terrestrial Plant
Terrestrial
United States Department of
Agriculture. (2012). Weed Risk Assessment for Phyllostachys aureosulcata

 

McClure (Poaceae) – Yellow groove bamboo.
Retrieved from (link)
United
States

 

Phyllostachys bissetii
Bisset's Bamboo
Terrestrial
Plant
Terrestrial
CFIA
Categorization Assessment
Canada
Phytophthora lateralis
 
Fungus
Terrestrial
European
and Mediterranean Plant Protection Organisation. (2006). Pest Risk Analysis
for Phytophthora lateralis. Retrieved from (link)
Europe
Phytophthora
lateralis
 
Fungus
Terrestrial
European
and Mediterranean Plant Protection Organisation. (2006). Report of a Pest
Risk Analysis for Phytophthora lateralis. Retrieved from (link)
Europe
Phytophthora ramorum (Pr)
Ramorum Blight; Sudden Oak
Death; Ramorum Leaf Blight; Ramorum Dieback
Fungus
Terrestrial
Canadian Food Inspection Agency.
(n.d.). Pest Risk Assessment Summary: Phytophthora ramorum. Retrieved from (link)
Canada
Phytophthora ramorum (Pr)
Ramorum Blight; Sudden Oak
Death; Ramorum Leaf Blight; Ramorum Dieback
Fungus
Terrestrial
European and Mediterranean Plant Protection Organization.
(2012). Report of a Pest Risk Management for P. kernoviae and P. ramorum.
Retrieved from (link)
Europe
Phytophthora
ramorum (Pr)
Ramorum
Blight; Sudden Oak Death; Ramorum Leaf Blight; Ramorum Dieback
Fungus
Terrestrial
European
and Mediterranean Plant Protection Organization. (2013), Pest Risk Management
for Phytophthora kernoviae and Phytophthora ramorum. Retrieved from (link)
Europe
Phytophthora ramorum (Pr)
Ramorum
Blight; Sudden Oak Death; Ramorum Leaf Blight; Ramorum Dieback
Fungus
Terrestrial
Adams D. (2013). New York
Terrestrial Invertebrates Invasiveness Ranking Form: Phtophthora ramorum.
Retrieved from (link)
New York
Phytophthora ramorum (Pr)
Ramorum
Blight; Sudden Oak Death; Ramorum Leaf Blight; Ramorum Dieback
Fungus
Terrestrial
Osterbauer N.K. (2010). Phytophthora ramorum Werres, de Cock
& Man in't Veld Pest Risk Assessment for Oregon. Retrieved from (link)
Oregon
Phytophthora ramorum (Pr)
Ramorum Blight; Sudden Oak
Death; Ramorum Leaf Blight; Ramorum Dieback
Fungus
Terrestrial
Wagner A., Raffa K., Walker M., et al. (2007). Species
Assessment Group - Summary of Group Ratings: Phytophthora ramorum. Retrieved
from (link)
Wisconsin

 

Piaractus
brachypomus
Pirapitinga; Black Pacu; Pacu; Red-bellied
Pacu
Fish
Aquatic
Soto J. (2013). New York Fish and Aquatic Invertebrate
Invasiveness Ranking Form: Piaractus brachypomus. Retrieved from (link)
New
York
Picnomon acarna
 
Terrestrial
Plant
Terrestrial
CFIA
Categorization Assessment
Canada
Pilea hyalina
 
Terrestrial
Plant
Terrestrial
United States Department of
Agriculture. (2012). Weed Risk Assessment for Pilea hyalina Fenzl
(Urticaceae). Retrieved from (link)
United States

 

Pimpinella
saxifraga
Scarlett Pimpernel; Solid-stem
Burnet-saxifrage; Burnet Saxifrage; Lesser Saxifrage; Solidstem Burnet
Saxifrage
Terrestrial Plant
Terrestrial
Cortilet A. (2015). MN NWAC Risk Assessment Worksheet:
Pimpinella saxifraga. Retrieved from (link)
Minnesota
Pimpinella
saxifraga
Scarlett Pimpernel; Solid-stem
Burnet-saxifrage; Burnet Saxifrage; Lesser Saxifrage; Solidstem Burnet
Saxifrage
Terrestrial Plant
Terrestrial
St. Aubin E. (2011). Wisconsin Department of Natural Resources
Literature Review: Pimpinella saxifraga. Retrieved from (link)
Wisconsin

 

Pinellia ternata
Crow-dipper; Crowdipper; Green
Dragon
Terrestrial Plant
Terrestrial
CFIA
Categorization Assessment
Canada
Pinellia ternata
Crow-dipper;
Crowdipper; Green Dragon
Terrestrial
Plant
Terrestrial
Moore G. (2009). New York Non-Native Plant Invasiveness Ranking
Form: Pinellia ternata. Retrieved from (link)
New York
Pinus
pinaster
Maritime Pine; Cluster Pine
Terrestrial Plant
Terrestrial
CFIA
Risk Assessment
Canada
Pinus pinea
Stone
Pine; Italian Stone Pine; Umbrella Pine; Parasol Pine
Terrestrial
Plant
Terrestrial
CFIA
Categorization Assessment
Canada
Pinus
sibirica
Siberian Stone Pine; Siberian Pine
Terrestrial Plant
Terrestrial
CFIA Categorization Assessment
Canada
Pistacia chinensis
Chinese
Pistache; Pistachio
Terrestrial
Plant
Terrestrial
CFIA
Categorization Assessment
Canada
Pistacia chinensis
Chinese
Pistache; Pistachio
Terrestrial
Plant
Terrestrial
United States Department of Agriculture. (2012). Weed Risk
Assessment for Pistachia chinensis Bunge (Anacardiaceae) - Chinese Pistache.
Retrieved from (link)
United
States

 

Pistia stratiotes
Water
Lettuce; Water Cabbage; Nile Cabbage; 
Shellflower
Aquatic
Plant
Aquatic
European and Mediterranean Plant Protection Organization.
(2017). Pest Risk Analysis for Pistia stratiotes. Retrieved from (link)
Europe
Pistia stratiotes
Water
Lettuce; Water Cabbage; Nile Cabbage; 
Shellflower
Aquatic
Plant
Aquatic
Newman J. (2017). GB Non-native Species Rapid Risk Assessment
(NRAA) for Water Lettuce (Pistia stratiotes). Retrieved from (link)
Great Britain
Pistia stratiotes
Water
Lettuce; Water Cabbage; Nile Cabbage; 
Shellflower
Aquatic Plant
Aquatic
Ma J. (2009). New York Non-Native Plant Invasiveness Ranking
Form: Pistia stratiotes. Retrieved from (link)
New York
Pistia stratiotes
Water
Lettuce; Water Cabbage; Nile Cabbage; 
Shellflower
Aquatic Plant
Aquatic
U.S. Fish and Wildlife Service. (2018). Ecological Risk
Screening Summary: Water Lettuce (Pistia stratiotes). Retrieved from (link)
United States

 

Pistia stratiotes
Water Lettuce; Water Cabbage;
Nile Cabbage;

 

Shellflower
Aquatic Plant
Aquatic
Wisconsin Department of Natural Resources. (n.d.). Aquatic
Invasive Species Literature Review: Pistia stratiotes. Retrieved from (link)
Wisconsin

 

Pithecoctenium crucigerum
Monkey
Comb
Terrestrial
Plant
Terrestrial
CFIA Categorization Assessment 
Canada
Plantago major
Common
Plantain; Broadleaf Plantain; White Man's Foot; Greater Plantain
Terrestrial
Plant
Terrestrial
OIPC Team. (2014). Ohio Invasive Plant Assessment Protocol:
Plantago major. Retrieved from (link)
Ohio
Pleioblastus argenteostriatus
Argenteostriatus
Bamboo; Dwarf Bamboo
Terrestrial
Plant

 

Terrestrial
CFIA
Categorization Assessment
Canada
Pleioblastus fortunei
Dwarf
Whitestripe; Dwarf Whitestripe Bamboo
Terrestrial
Plant
Terrestrial
CFIA
Categorization Assessment
Canada
Plukenetia
volubilis
Mountain Peanut; Sacha Inchi; Sacha
Peanut; Inca Nut; Inca-peanut
Terrestrial Plant
Terrestrial
CFIA
Categorization Assessment
Canada
Poa
bulbosa
Bulb Bluegrass; Bulbous Bluegrass; Bulbous
Meadow-grass
Terrestrial Plant
Terrestrial
Moore G. (2009). New York Non-Native Plant Invasiveness Ranking
Form: Poa bulbosa. Retrieved from (link)
New York
Poa compressa
Canada
Bluegrass; Flattened Meadow-grass
Terrestrial
Plant
Terrestrial
Moore G. (2009). New York Non-Native Plant Invasiveness Ranking
Form: Poa compressa. Retrieved from (link)
New
York
Poa
pratensis
Kentucky Bluegrass; Blue Grass; Smooth
Meadow-grass; Common Meadow-grass
Terrestrial Plant
Terrestrial
Moore G. (2009). New York Non-Native Plant Invasiveness Ranking
Form: Poa pratensis. Retrieved from (link)
New York
Poecilia latipinna
Sailfin Molly
Fish
Aquatic

 

U.S. Fish and Wildlife Service.
(2018). Ecological Risk Screening Summary: Poecilia latipinna. Retrieved from (link)
United States

 

Poecilia
reticulata
Guppy;
Millionfish; Rainbow Fish
Fish
Aquatic
U.S. Fish and Wildlife Service.
(2018). Ecological Risk Screening Summary: Poecilia reticulata. Retrieved
from (link)
United
States

 

Polydora cornuta
Whip
Mudworm
Aquatic
Invertebrate
Aquatic
Alaska Center for Conservation
Science. (2017). Bering Sea Marine Invasive Species Assessment: Polydora
cornuta. Retrieved from (link)
Alaska
Polygonum cuspidatum; Fallopia
japonica; Reynoutria japonica; Polygonum japonica
Japanese
Knotweed; Mexican Bamboo; Fleeceflower; Japanese Polygonum; Huzhang; Japanese
Bamboo; Japanese Fleece Flower; American Bamboo; Elephant Ears; Pea Shooters;
Donkey/Gypsy/Sally/Wild Rhubarb; Renoutria; Crimson Beauty; Monkey Weed;
Hancock's Curse; Itadori
Terrestrial
Plant
Terrestrial
Great Britain Non-Native Species Secretariat. (2011). GB
Non-Native Organism Risk Assessment Scheme for Japanese Knotweed (Fallopia
japonica). Retrieved from (link)
Great Britain
Polygonum
cuspidatum; Fallopia japonica; Reynoutria japonica; Polygonum japonica
Japanese Knotweed; Mexican
Bamboo; Fleeceflower; Japanese Polygonum; Huzhang; Japanese Bamboo; Japanese
Fleece Flower; American Bamboo; Elephant Ears; Pea Shooters;
Donkey/Gypsy/Sally/Wild Rhubarb; Renoutria; Crimson Beauty; Monkey Weed;
Hancock's Curse; Itadori
Terrestrial Plant
Terrestrial
Jacquart E., Good T., Nice G., & Dailey T. (2005).
Assessment of Invasive Species in Indiana's Natural Areas; Official
Assessment of Japanese Knotweed (Fallopia japonica (Hout.) Dcne. Var.
japonica, F. sachalinensis, F. x bohemica; formerly Polygonum cuspidatum, P.
sachalinense, P. x boehmicum) in Indiana's Natural Areas. Retrieved from (link)
Indiana
Polygonum
cuspidatum; Fallopia japonica; Reynoutria japonica; Polygonum japonica
Japanese Knotweed; Mexican Bamboo;
Fleeceflower; Japanese Polygonum; Huzhang; Japanese Bamboo; Japanese Fleece
Flower; American Bamboo; Elephant Ears; Pea Shooters; Donkey/Gypsy/Sally/Wild
Rhubarb; Renoutria; Crimson Beauty; Monkey Weed; Hancock's Curse; Itadori
Terrestrial Plant
Terrestrial
Calkins J. (2011). MN NWAC Risk Assessment Worksheet: Polygonum
cuspidatum. Retrieved from (link)
Minnesota
Polygonum
cuspidatum; Fallopia japonica; Reynoutria japonica; Polygonum japonica
Japanese Knotweed; Mexican Bamboo;
Fleeceflower; Japanese Polygonum; Huzhang; Japanese Bamboo; Japanese Fleece
Flower; American Bamboo; Elephant Ears; Pea Shooters; Donkey/Gypsy/Sally/Wild
Rhubarb; Renoutria; Crimson Beauty; Monkey Weed; Hancock's Curse; Itadori
Terrestrial Plant
Terrestrial
Moore G. (2008). New York
Non-Native Plant Invasiveness Ranking Form: Fallopia japonica. Retrieved from (link)
New
York
Polygonum cuspidatum; Fallopia japonica; Reynoutria
japonica; Polygonum japonica
Japanese Knotweed; Mexican
Bamboo; Fleeceflower; Japanese Polygonum; Huzhang; Japanese Bamboo; Japanese
Fleece Flower; American Bamboo; Elephant Ears; Pea Shooters;
Donkey/Gypsy/Sally/Wild Rhubarb; Renoutria; Crimson Beauty; Monkey Weed;
Hancock's Curse; Itadori
Terrestrial
Plant
Terrestrial
Culley T. (2017). Ohio Invasive Plant Assessment Protocol:
Fallopia japonica. Retrieved from (link)
Ohio
Polygonum cuspidatum; Fallopia
japonica; Reynoutria japonica; Polygonum japonica
Japanese
Knotweed; Mexican Bamboo; Fleeceflower; Japanese Polygonum; Huzhang; Japanese
Bamboo; Japanese Fleece Flower; American Bamboo; Elephant Ears; Pea Shooters;
Donkey/Gypsy/Sally/Wild Rhubarb; Renoutria; Crimson Beauty; Monkey Weed;
Hancock's Curse; Itadori
Terrestrial
Plant
Terrestrial
Sheehan M. (2007). Wisconsin Department of Natural Resources
Literature Review: Polygonum cuspidatum. Retrieved from (link)
Wisconsin

 

Polygonum
sachalinense (Hartig); Fallopia sachalinensis
Giant Knotweed
Terrestrial Plant
Terrestrial
Great Britain Non-Native Species Secretariat. (2011). GB
Non-Native Organism Risk Assessment Scheme for Giant Knotweed (Fallopia
sachalinense). Retrieved from (link)
Great
Britain
Polygonum
sachalinense (Hartig); Fallopia sachalinensis
Giant
Knotweed
Terrestrial
Plant
Terrestrial
Calkins J. (2011). MN NWAC Risk Assessment Worksheet: Polygonum
sachalinense. Retrieved from (link)
Minnesota
Polygonum sachalinense (Hartig); Fallopia
sachalinensis
Giant Knotweed
Terrestrial
Plant
Terrestrial
Ricke
M., & Culley T. (2017). Ohio Invasive Plant Assessment Protocol: Fallopia
sachalinensis. Retrieved from (link)
Ohio
Polygonum
sachalinense (Hartig); Fallopia sachalinensis
Giant Knotweed
Terrestrial Plant
Terrestrial
Sheehan M. (2007). Wisconsin Department of Natural Resources
Literature Review: Polygonum sachalinense. Retrieved from (link)
Wisconsin

 

Pomacea
canaliculata
Channeled Applesnail

 

Aquatic Invertebrate
Aquatic
European
and Mediterranean Plant Protection Organisation. (2015). Report of a Pest
Risk Analysis for Pomacea canaliculata. Retrieved from (link)
Europe
Pomacea
canaliculata
Channeled Applesnail

 

Aquatic Invertebrate
Aquatic
U.S. Fish and Wildlife Service.
(2018). Ecological Risk Screening Summary: Channeled Applesnail (Pomacea
canaliculata). Retrieved from (link)
United States

 

Ponticola
platyrostris
Flatsnout Goby
Fish
Aquatic
U.S. Fish and Wildlife Service. (2019). Ecological Risk
Screening Summary: Flatsnout Goby (Ponticola platyrostris). Retrieved from (link)
United States

 

Ponticola ratan
Ratan
Goby
Fish
Aquatic
U.S. Fish and Wildlife Service. (2019). Ecological Risk
Screening Summary: Ratan Goby (Ponticola ratan). Retrieved from (link)
United States

 

Pontogammarus robustoides

 

 
Aquatic
Invertebrate

 

Aquatic

 

U.S. Fish and Wildlife Service. (2018). Ecological Risk
Screening Summary: Pontogammarus robustoides. Retrieved from (link)
United States

 

Popillia
japonica

 

Japanese
Beetle
Insect
Terrestrial
Oregon Department of Agriculture. (n.d). Economic Risk
Analysis: Oregon and the Japanese Beetle (Popillia japonica) Newman.
Retrieved from (link)
Oregon
Populus alba
White
Poplar
Terrestrial
Plant
Terrestrial
Glenn S., & Moore G. (2008). New York Non-Native Plant
Invasiveness Ranking Form: Populus alba. Retrieved from (link)
New
York
Potamogeton crispus
Curly-leaved
Pondweed; Curly Pondweed; Curly-leaf Pondweed; Curly Leaved Pondweed

 

Aquatic
Plant

 

Aquatic
Ma J., & Moore G. (2009). New York Non-Native Plant
Invasiveness Ranking Form: Potamogeton crispus. Retrieved from (link)
New York
Potamogeton
crispus
Curly-leaved
Pondweed; Curly Pondweed; Curly-leaf Pondweed; Curly Leaved Pondweed

 

Aquatic
Plant

 

Aquatic
Mastalerz A., & Culley T. (2015). Ohio Invasive Plant
Assessment Protocol: Potamogeton crispus. Retrieved from (link)
Ohio
Potamogeton crispus
Curly-leaved Pondweed; Curly Pondweed;
Curly-leaf Pondweed; Curly Leaved Pondweed

 

Aquatic Plant

 

Aquatic
U.S. Fish and Wildlife Service. (2019). Ecological Risk
Screening Summary: Curly Leaved Pondweed (Potamogeton crispus). Retrieved
from (link)
United
States

 

Potamogeton
crispus
Curly-leaved
Pondweed; Curly Pondweed; Curly-leaf Pondweed; Curly Leaved Pondweed

 

Aquatic
Plant

 

Aquatic
Wisconsin Department of Natural Resources. (n.d.). Aquatic
Invasive Species Literature Review: Potamogeton crispus. Retrieved from (link)
Wisconsin

 

Potamopyrgus antipodarum
New Zealand Mudsnail
Aquatic Invertebrate

 

Aquatic
DFO. (2011). Science Advice from the Risk Assessment of New
Zealand Mud Snail (Potamopyrgus antipodarum) in Canada. Retrieved from (link)
Canada
Potamopyrgus antipodarum
New
Zealand Mudsnail
Aquatic
Invertebrate

 

Aquatic
Therriault T.W., Weise A.M., Gillespie G.E., & Morris T.J.
(2010). Risk Assessment for New Zealand Mud Snail (Potamopyrgus antipodarum)
in Canada. Retrieved from (link)
Canada
Potamopyrgus
antipodarum
New Zealand Mudsnail
Aquatic Invertebrate

 

Aquatic
GB Non-Native Species Secretariat. (2011). GB Non-Native
Organism Risk Assessment Scheme for New Zealand Mudsnail (Potamopyrgus
antipodarum). Retrieved from (link)
Great
Britain
Potamopyrgus
antipodarum
New Zealand Mudsnail
Aquatic Invertebrate

 

Aquatic
Schwartzberg E. (2013). New York Fish & Aquatic
Invertebrate Invasiveness Ranking Form: Potamopyrgus antipodarum. Retrieved
from (link)
New
York
Potamopyrgus antipodarum
New
Zealand Mudsnail
Aquatic
Invertebrate

 

Aquatic
U.S. Fish and Wildlife Service.
(2015). Ecological Risk Screening Summary: New Zealand Mudsnail (Potamopyrgus
antipodarum). Retrieved from (link)
United States

 

Potamopyrgus antipodarum
New Zealand Mudsnail
Aquatic Invertebrate

 

Aquatic
Wisconsin Department of Natural Resources. (n.d.). Literature
Review: Potamopyrgus antipodarum. Retrieved from
(link)
Wisconsin

 

Praxelis
clematidea
Praxelis
Terrestrial Plant
Terrestrial
CFIA
Categorization Assessment
Canada
Praxelis clematidea
Praxelis
Terrestrial
Plant
Terrestrial
United States Department of
Agriculture. (2014). Weed Risk Assessment for Praxelis clematidea R. M. King
& H. Rob. (Asteraceae) – Praxelis. Retrieved from (link)

 

United States

 

Proboscidea
louisianica
Common Devil's Claw; Louisiana
Devil's-claw; Devil's-claw; Ram's Horn
Terrestrial Plant
Terrestrial
CFIA
Categorization Assessment
Canada
Procambarus
acutus
White River Crayfish
Aquatic
Invertebrate
Aquatic
Stebbing P. (2015). GB Non-native Species Rapid Risk Assessment
(NRRA) for White River Crayfish (Procambarus acutus). Retrieved from (link)
Great Britain
Procambarus acutus
White
River Crayfish
Aquatic
Invertebrate
Aquatic
U.S. Fish and Wildlife Service.
(2015). Ecological Risk Screening Summary: White River Crayfish (Procambarus
acutus). Retrieved from (link)
United States

 

Procambarus
clarkii
Red Swamp Crayfish
Aquatic Invertebrate
Aquatic
GB Non-Native Species Secretariat. (2011). GB Non-Native
Organism Risk Assessment Scheme for Red Swamp Crayfish (Procambarus clarkii).
Retrieved from (link)

 

Great
Britain
Procambarus clarkii
Red
Swamp Crayfish
Aquatic
Invertebrate
Aquatic
U.S. Fish and Wildlife Service.
(2015). Ecological Risk Screening Summary: Red Swamp Crayfish (Procambarus
clarkii). Retrieved from (link)
United States

 

Procambarus
virginalis
Marmokrebs
Aquatic
Invertebrate
Aquatic
U.S. Fish and Wildlife Service.
(2018). Ecological Risk Screening Summary: Marmokrebs (Procambarus
virginalis). Retrieved from (link)
United
States

 

Proterorhinus
marmoratus
Tubenose
Goby
Fish
Aquatic
Schwartzberg E. (2013). New York Fish & Aquatic
Invertebrate Invasiveness Ranking Form: Proterorhinus marmoratus. Retrieved
from (link)
New York
Proterorhinus
marmoratus
Tubenose
Goby
Fish
Aquatic
Wisconsin Department of Natural Resources. (n.d.). Literature
Review: Proterorhinus marmoratus. Retrieved from
(link)
Wisconsin

 

Proterorhinus
semilunaris
Western Tubenose Goby
Fish
Aquatic
U.S. Fish and Wildlife Service.
(2015). Ecological Risk Screening Summary: Western Tubenose Goby
(Proterorhinus semilunaris). Retrieved from (link)
United
States

 

Prunus avium
Sweet Cherry; Wild Cherry; Gean
Terrestrial
Plant
Terrestrial
Glenn S., & Moore G. (2009). New York Non-Native Plant
Invasiveness Ranking Form: Prunus avium. Retrieved from (link)
New
York
Prunus cerasus
Sour
Cherry; Tart Cherry; Dwarf Cherry
Terrestrial
Plant
Terrestrial
Glenn S. & Moore G. (2009). New York Non-Native Plant
Invasiveness Ranking Form: Prunus cerasus. Retrieved from (link)
New York
Prunus
padus
European Bird Cherry; Bird
Cherry; Hackberry; Hagberry; Mayday Tree
Terrestrial Plant
Terrestrial
Moore G. (2009). New York Non-Native Plant Invasiveness Ranking
Form: Prunus padus. Retrieved from (link)
New York
Pseudodiaptomus
inopinus
Asian Calanoid Copepod
Aquatic Invertebrate
Aquatic
U.S. Fish and Wildlife Service.
(2018). Ecological Risk Screening Summary: Pseudodiaptomus inopinus.
Retrieved from (link)
United
States

 

Pseudopolydora
cf. kempi
 
Aquatic Invertebrate

 

Aquatic
Alaska Center for Conservation Science. (2017). Bering Sea
Marine Invasive Species Assessment: Pseudopolydora cf. kempi. Retrieved from (link)
Alaska
Pseudorasbora
parva
Stone Moroko; Topmouth Gudgeon
Fish

 

Aquatic
GB Non-Native Species Secretariat. (2011). GB Non-Native
Organism Risk Assessment Scheme for Topmouth Gudgeon (Pseudorasbora parva).
Retrieved from (link)
Great Britain
Pseudorasbora
parva
Stone Moroko; Topmouth Gudgeon
Fish

 

Aquatic

OMNRF Risk Assessment

Ontario
Pseudorasbora parva
Stone Moroko; Topmouth Gudgeon
Fish

 

Aquatic
U.S. Fish and Wildlife Service. (2019). Ecological Risk
Screening Summary: Pseudorasbora parva. Retrieved from (link)
United States

 

Psidium
cattleianum
Strawberry Guava; Cattley Guava; Cherry
Guava;

 

Chinese Guava
Terrestrial Plant
Terrestrial
CFIA
Categorization Assessment
Canada
Pterygoplichthys pardalis
Amazon
Sailfin Catfish
Fish

 

Aquatic
U.S. Fish and Wildlife Service. (2018). Ecological Risk
Screening Summary: Amazon Sailfin Catfish (Pterygoplichthys pardalis).
Retrieved from (link)
United
States

 

Pueraria
montana; Pueraria lobata
Kudzu; Japanese Arrowroot; Porch-vine;
Telephone Vine
Terrestrial Plant
Terrestrial
CFIA Risk Assessment
Canada
Pueraria montana; Pueraria lobata
Kudzu;
Japanese Arrowroot; Porch-vine; Telephone Vine
Terrestrial
Plant
Terrestrial
CFIA
Risk Management
Canada
Pueraria
montana; Pueraria lobata
Kudzu; Japanese Arrowroot;
Porch-vine; Telephone Vine
Terrestrial Plant
Terrestrial
European and Mediterranean Plant Protection Organisation.
(2007). Pest Risk Analysis for Pueraria Montana Var. Lobata. Retrieved from (link)
Europe
Pueraria montana; Pueraria
lobata
Kudzu;
Japanese Arrowroot; Porch-vine; Telephone Vine
Terrestrial
Plant
Terrestrial
European and Mediterranean Plant Protection Organization.
(2006). Report of a Pest Risk Analysis: Pueraria montana var. lobata.
Retrieved from (link)
Europe
Pueraria
montana; Pueraria lobata
Kudzu; Japanese Arrowroot; Porch-vine;
Telephone Vine
Terrestrial Plant
Terrestrial
Paulone P. M., & Jacquart E.
(2012). Indiana Non-Native Plant Invasiveness Ranking Form: Pueraria montana.
Retrieved from (link)
Indiana
Pueraria montana; Pueraria lobata
Kudzu;
Japanese Arrowroot; Porch-vine; Telephone Vine
Terrestrial
Plant
Terrestrial
Glenn S., & Moore G. (2008).
New York Non-Native Plant Invasiveness Ranking Form: Pueraria montana.
Retrieved from (link)
New York
Pueraria
montana; Pueraria lobata
Kudzu; Japanese Arrowroot; Porch-vine;
Telephone Vine
Terrestrial Plant
Terrestrial
Mastalerz A. (2016). Ohio Invasive Plant Assessment Protocol:
Pueraria lobata. Retrieved from (link)
Ohio
Pueraria
montana; Pueraria lobata
Kudzu;
Japanese Arrowroot; Porch-vine; Telephone Vine
Terrestrial Plant
Terrestrial
Forney T. (2010). Oregon Department of Agriculture Noxious
Weed Pest Risk Assessment for Kudzu, Pueraria montana. Retrieved from (link)
Oregon
Pueraria montana; Pueraria lobata
Kudzu; Japanese Arrowroot;
Porch-vine; Telephone Vine
Terrestrial Plant
Terrestrial
Forney T. (2010). Oregon Department of Agriculture Plant Pest
Risk Assessment for Kudzu, Pueraria montana. Retrieved from (link)
Oregon
Pueraria montana; Pueraria
lobata
Kudzu;
Japanese Arrowroot; Porch-vine; Telephone Vine
Terrestrial
Plant
Terrestrial
Sheehan M. (2007). Wisconsin Department of Natural Resources
Literature Review: Pueraria montana. Retrieved from
(link)

 

Wisconsin

 

Pygocentrus
nattereri
Red
Piranha; Red-bellied Piranha
Fish
Aquatic

 

U.S. Fish and Wildlife Service.
(2018). Ecological Risk Screening Summary: Pygocentrus nattereri. Retrieved
from (link)
United
States

 

Pylodictis
olivaris
Flathead
Catfish; Mudcat; Shovelhead Cat
Fish

 

Aquatic
U.S. Fish and Wildlife Service.
(2019). Ecological Risk Screening Summary: Pylodictis olivaris. Retrieved
from (link)
United
States

 

Pyrus calleryana
Callery Pear
Terrestrial Plant
Terrestrial
Sweet L. (2016). Pyrus calleryana Risk Assessment. Retrieved
from (link)
California
Pyrus calleryana
Callery Pear
Terrestrial Plant
Terrestrial
Jacquart E. (2012). Assessment of Invasive Species in Indiana's
Natural Areas; Official Callery Pear (Pyrus calleryana) Assessment. Retrieved
from (link)
Indiana
Pyrus
calleryana
Callery Pear
Terrestrial Plant
Terrestrial
Glenn S., & Moore G.
(2008). New York Non-Native Plant Invasiveness Ranking Form: Pyrus
calleryana. Retrieved from (link)
New
York
Pyrus
calleryana
Callery Pear
Terrestrial Plant
Terrestrial
OIPC Team. (2014). Ohio Invasive Plant Assessment Protocol:
Pyrus calleryana. Retrieved from (link)
Ohio
Quercus
acutissima
Sawtooth Oak

 

Terrestrial Plant
Terrestrial
Jacquart E., Collins K., & O'Connor P. (2006). Assessment
of Invasive Species in Indiana's Natural Areas; Official Sawtooth Oak
(Quercus acutissima) Assessment. Retrieved from (link)
Indiana
Quercus
acutissima
Sawtooth Oak

 

Terrestrial Plant
Terrestrial
Sheehan M. (2007).
Wisconsin Department of Natural Resources Literature Review: Quercus
acutissima. Retrieved from (link)
Wisconsin

 

Ranunculus arvensis
Corn
Buttercup; Devil-on-all-sides; Scratch Bur
Terrestrial
Plant
Terrestrial
CFIA
Categorization Assessment
Canada
Ranunculus repens
Creeping Butter-cup; Creeping
Crowfoot; Sitfast
Terrestrial Plant
Terrestrial
Glenn S., & Moore G. (2009). New York Non-Native Plant
Invasiveness Ranking Form: Ranunculus repens. Retrieved from (link)
New York
Rapistrum
perenne
Perennial Bastardcabbage
Terrestrial Plant
Terrestrial
CFIA
Categorization Assessment
Canada
Rauvolfia
vomitoria
Poison
Devil's Pepper
Terrestrial
Plant
Terrestrial
CFIA
Categorization Assessment
Canada
Rhamnus
alaternus
Italian Buckthorn; Mediterranean Buckthorn
Terrestrial Plant
Terrestrial
Wolf K. (2016). Rhamnus alaternus Risk Assessment. Retrieved
from (link)
California
Rhamnus
alaternus
Italian Buckthorn; Mediterranean Buckthorn
Terrestrial Plant
Terrestrial
CFIA Categorization Assessment
Canada
Rhamnus
cathartica
Common
Buckthorn; European Buckthorn
Terrestrial
Plant
Terrestrial
Jacquart E., Collins K., O'Neill B., et al. (2003). Assessment
of Invasive Species in Indiana's Natural Areas; Official Common Buckthorn
(Rhamnus cathartica) Assessment. Retrieved from
(link)

 

Indiana
Rhamnus
cathartica
Common Buckthorn; European Buckthorn
Terrestrial Plant
Terrestrial
Cortilet A.B. (2013). MN NWAC Risk Assessment Worksheet:
Rhamnus cathartica. Retrieved from (link)
Minnesota
Rhamnus
cathartica
Common Buckthorn; European Buckthorn
Terrestrial Plant
Terrestrial
Cortilet A.B. (2016). MN NWAC Risk Assessment Worksheet:
Rhamnus cathartica. Retrieved from (link)
Minnesota
Rhamnus cathartica
Common Buckthorn; European
Buckthorn
Terrestrial Plant
Terrestrial
Glenn S., & Moore G. (2010). New York Non-Native Plant
Invasiveness Ranking Form: Rhamnus cathartica. Retrieved from (link)
New York
Rhamnus cathartica
Common
Buckthorn; European Buckthorn
Terrestrial
Plant
Terrestrial
OIPC Team. (2014). Ohio Invasive Plant Assessment Protocol:
Rhamnus cathartica. Retrieved from (link)
Ohio
Rhamnus cathartica
Common
Buckthorn; European Buckthorn
Terrestrial
Plant
Terrestrial
Sheehan M. (2007). Wisconsin Department of Natural Resources
Literature Review: Rhamnus cathartica. Retrieved from (link)
Wisconsin

 

Rhamnus
frangula; Frangula alnus
Glossy
Buckthorn; Alder Buckthorn; Breaking Buckthorn; European Alder Buckthorn
Terrestrial
Plant
Terrestrial
Jacquart E., Collins K., O'Neil B., et al. (2003). Assessment
of Invasive Species in Indiana's Natural Areas; Official Glossy Buckthorn
(Frangula alnus) Assessment. Retrieved from (link)
Indiana
Rhamnus
frangula; Frangula alnus
Glossy Buckthorn; Alder Buckthorn;
Breaking Buckthorn; European Alder Buckthorn
Terrestrial Plant
Terrestrial
Cortilet A.B. (2013). MN NWAC Risk Assessment Worksheet:
Frangula alnus. Retrieved from (link)
Minnesota
Rhamnus frangula; Frangula alnus
Glossy
Buckthorn; Alder Buckthorn; Breaking Buckthorn; European Alder Buckthorn
Terrestrial
Plant
Terrestrial
Cortilet A.B. (2016). MN NWAC Risk Assessment Worksheet:
Frangula alnus. Retrieved from (link)
Minnesota
Rhamnus frangula; Frangula alnus
Glossy Buckthorn; Alder
Buckthorn; Breaking Buckthorn; European Alder Buckthorn
Terrestrial Plant
Terrestrial
Glenn S., & Moore G. (2009). New York Non-Native Plant
Invasiveness Ranking Form: Frangula alnus. Retrieved from (link)
New York
Rhamnus frangula; Frangula alnus
Glossy
Buckthorn; Alder Buckthorn; Breaking Buckthorn; European Alder Buckthorn
Terrestrial
Plant
Terrestrial
OIPC Team. (2014). Ohio Invasive Plant Assessment Protocol:
Frangula alnus. Retrieved from (link)
Ohio
Rhamnus
frangula; Frangula alnus
Glossy Buckthorn; Alder Buckthorn;
Breaking Buckthorn; European Alder Buckthorn
Terrestrial Plant
Terrestrial
Sheehan M. (2007). Wisconsin Department of Natural Resources
Literature Review: Frangula alnus. Retrieved from (link)
Wisconsin

 

Rhodeus
ocellatus
Rose Bitterling; Rosy Bitterling
Fish
Aquatic
U.S. Fish and Wildlife Service.
(2012). Ecological Risk Screening Summary: Rhodeus ocellatus. Retrieved from (link)
United States

 

Rhodeus sericeus
Bitterling;
Amur Bitterling
Fish

 

Aquatic
U.S. Fish and Wildlife Service. (2015). Ecological Risk
Screening Summary: Bitterling (Rhodeus sericeus). Retrieved from (link)
United States

 

Rhodotypos scandens
Black
Jetbead; Jetberry Bush; Jetbead; White Kerria
Terrestrial
Plant

 

Terrestrial
Clemants S., & Moore G. (2009). New York Non-Native Plant
Invasiveness Ranking Form: Rhodotypos scandens. Retrieved from (link)
New
York
Richardia brasiliensis
Mexican
Clover; Brazilian Calla-lily; White-eye; Brazil Pusley; Tropical Mexican
Clover
Terrestrial
Plant
Terrestrial
CFIA Categorization Assessment
Canada
Robinia
hispida
Bristly
Locust; Mossy Locust; Rose Acacia
Terrestrial
Plant
Terrestrial
Moore G. (2010). New York Non-Native Plant Invasiveness Ranking
Form: Robinia hispida. Retrieved from (link)
New
York
Robinia
pseudoacacia
Black Locust; False Acacia; Yellow Locust
Terrestrial Plant

 

Terrestrial
Dehnen-Schmutz K. (2015). GB Non-native Species Rapid Risk
Assessment (NRRA) for False Acacia (Robinia pseudoacacia). Retrieved from (link)
Great
Britain
Robinia
pseudoacacia
Black Locust; False Acacia; Yellow Locust
Terrestrial Plant

 

Terrestrial
Graeve K. (2015). MN NWAC Risk Assessment Worksheet: Robinia
pseudoacacia. Retrieved from (link)
Minnesota
Robinia
pseudoacacia
Black Locust; False Acacia;
Yellow Locust
Terrestrial Plant

 

Terrestrial
Moore G. (2010). New York Non-Native Plant Invasiveness Ranking
Form: Robinia pseudoacacia. Retrieved from (link)
New York
Robinia pseudoacacia
Black
Locust; False Acacia; Yellow Locust
Terrestrial
Plant

 

Terrestrial
Matson E. (2011). Wisconsin Department of Natural Resources
Literature Review: Robinia pseudoacacia. Retrieved from (link)
Wisconsin

 

Rorippa
amphibia
Great Yellowcress; Water Yellowcress
Aquatic Plant
Aquatic
Clemants S. (2009). New York Non-Native Plant Invasiveness
Ranking Form: Rorippa amphibia. Retrieved from (link)
New
York
Rosa
multiflora
Baby Rose; Eijitsu Rose; Japanese Rose;
Many-flowered Rose; Multiflora Rose; Seven-sisters Rose
Terrestrial Plant
Terrestrial
Paulone P.M., & Jacquart E. (2012). Indiana Non-Native
Plant Invasiveness Ranking Form: Rosa multiflora. Retrieved from (link)
Indiana
Rosa multiflora
Baby
Rose; Eijitsu Rose; Japanese Rose; Many-flowered Rose; Multiflora Rose;
Seven-sisters Rose
Terrestrial
Plant
Terrestrial
Cortilet A. (2011). MN NWAC Risk Assessment Worksheet: Rosa
multiflora. Retrieved from (link)
Minnesota
Rosa multiflora
Baby
Rose; Eijitsu Rose; Japanese Rose; Many-flowered Rose; Multiflora Rose;
Seven-sisters Rose
Terrestrial Plant
Terrestrial
Ma J., & Moore G. (2009). New York Non-Native Plant
Invasiveness Ranking Form: Rosa multiflora. Retrieved from (link)
New
York
Rosa
multiflora
Baby Rose; Eijitsu Rose; Japanese Rose;
Many-flowered Rose; Multiflora Rose; Seven-sisters Rose
Terrestrial Plant
Terrestrial
OIPC Team. (2014). Ohio Invasive Plant Assessment Protocol:
Rosa multiflora. Retrieved from (link)
Ohio
Rosa
multiflora
Baby Rose; Eijitsu Rose; Japanese Rose;
Many-flowered Rose; Multiflora Rose; Seven-sisters Rose
Terrestrial Plant
Terrestrial
Sheehan M. (2007). Wisconsin Department of Natural Resources
Literature Review: Rosa multiflora. Retrieved from
(link)
Wisconsin

 

Rosa
rugosa
Rugosa Rose; Japanese Rose; Beach Rose
Terrestrial Plant
Terrestrial
Moore G. (2009). New York Non-Native Plant Invasiveness Ranking
Form: Rosa rugosa. Retrieved from (link)
New
York
Rose rosette emaravirus; Phyllocoptes
fructiphilus
Rose Rosette Disease and Eriophyid Mite
Virus
Terrestrial
European
and Mediterranean Plant Protection Organization. (2018). Pest Risk Analysis
for Rose rosette emaravirus and Its Vector Phyllocoptes fructiphilus.
Retrieved from (link)
Europe
Rotala wallichii
Whorly
Rotala
Aquatic
Plant
Aquatic
United States Department of
Agriculture. (2015). Weed Risk Assessment for Rotala wallichii (Hook. f.)
Koehne (Lythraceae) – Whorly rotala. Retrieved from (link)

 

United
States

 

Rottboellia cochinchinensis
Itchgrass; Raoulgrass; Corn
Grass; Rice Grass; Guinea-fowl Grass
Terrestrial Plant
Terrestrial
CFIA
Categorization Assessment
Canada
Rottboellia cochinchinensis
Itchgrass; Raoulgrass; Corn
Grass; Rice Grass; Guinea-fowl Grass
Terrestrial Plant
Terrestrial
CFIA
Risk Assessment
Canada
Rottboellia
cochinchinensis
Itchgrass; Raoulgrass; Corn
Grass; Rice Grass; Guinea-fowl Grass
Terrestrial Plant
Terrestrial
Graves W.J. (2000). Weed Initiated Pest Risk Assessment for
Rottboellia cochinchinensis. Retrieved from (link)
United States

 

Rubus
alceifolius
Giant Bramble
Terrestrial Plant
Terrestrial
CFIA Categorization Assessment
Canada
Rubus armeniacus; Rubus bifrons
Himalayan
Blackberry; Himalaya Giant Blackberry; Himalaya-berry
Terrestrial
Plant
Terrestrial
Moore G. (2009). New York Non-Native Plant Invasiveness Ranking
Form: Rubus bifrons. Retrieved from (link)
New
York
Rubus armeniacus; Rubus bifrons
Himalayan
Blackberry; Himalaya Giant Blackberry; Himalaya-berry
Terrestrial
Plant
Terrestrial
Dillard S. (2011). Wisconsin Department of Natural Resources
Literature Review: Rubus armeniacus. Retrieved from
(link)
Wisconsin

 

Rubus
laciniatus
Cutleaf
Evergreen Blackberry; Evergreen Blackberry

 

Terrestrial
Plant
Terrestrial
Glenn S., & Moore G. (2009). New York Non-Native Plant
Invasiveness Ranking Form: Rubus laciniatus. Retrieved from (link)
New
York
Rubus phoenicolasius
Wineberry; Japanese Wineberry;
Wine Raspberry; Dewberry
Terrestrial Plant
Terrestrial
Glenn S., & Moore G. (2009). New York Non-Native Plant
Invasiveness Ranking Form: Rubus phoenicolasius. Retrieved from (link)
New York
Rubus phoenicolasius
Wineberry;
Japanese Wineberry; Wine Raspberry; Dewberry
Terrestrial
Plant
Terrestrial
Vinnik I., & Vinnik Y. (2016). Ohio Invasive Plant
Assessment Protocol: Rubus phoenicolasius. Retrieved from (link)
Ohio
Ruditapes
philippinarum 
Manilla
Clam; Japanese Carpet Shell
Aquatic
Invertebrate

 

Aquatic
Sweet, N. and Sewell, J. (2011). GB Non-native Organism Risk
Assessment for Manilla Clam (Ruditapes philippinarum). Retrieved from (link)
Great
Britain
Rumex acetosella
Sheep Sorrel; Red Sorrel; Field
Sorrel; Sour Weed; Common Sheep Sorrel
Terrestrial Plant
Terrestrial
Clemants S., & Moore G. (2008). New York Non-Native Plant
Invasiveness Ranking Form: Rumex acetosella. Retrieved from (link)
New York
Rumex confertus
Russian
Dock; Asiatic Dock; Mossy Sorrel

 

Terrestrial
Plant
Terrestrial
United States Department of Agriculture. (2016). Weed Risk
Assessment for Rumex confertus Willd. (Polygonaceae) – Russian dock.
Retrieved from (link)
United States

 

Rumex nepalensis
 
Terrestrial
Plant
Terrestrial
CFIA
Categorization Assessment 
Canada
Rumex
pulcher
Fiddle Dock
Terrestrial Plant
Terrestrial
CFIA
Categorization Assessment
Canada
Rumex
sagittatus
Rambling
Dock; Turkey Rhubarb; Potato Vine; Climbing Dock

  

Terrestrial
Plant
Terrestrial
CFIA
Categorization Assessment
Canada
Rumex sagittatus
Rambling
Dock; Turkey Rhubarb; Potato Vine; Climbing Dock

  

Terrestrial
Plant
Terrestrial
United States Department of
Agriculture. (2013). Weed Risk Assessment for Rumex sagittatus Thunb.
(Polygonaceae) – Climbing dock. Retrieved from (link)
United
States

 

Rutilus rutilus
Roach; Common Roach
Fish
Aquatic
U.S. Fish and Wildlife Service. (2019). Ecological Risk
Screening Summary: Rutilus rutilus. Retrieved from (link)
United States

 

Saccharum
spontaneum
Wild Sugarcane
Terrestrial Plant
Terrestrial
CFIA
Categorization Assessment
Canada
Saccharum spontaneum
Wild
Sugarcane
Terrestrial
Plant
Terrestrial
CFIA
Risk Assessment
Canada
Saccharum
spontaneum
Wild Sugarcane
Terrestrial Plant
Terrestrial
United States Department of Agriculture. (2016). Weed Risk
Assessment for Saccharum spontaneum L. (Poaceae) – Wild sugarcane. Retrieved
from (link)
United
States

 

Sagittaria
pygmaea
Dwarf Arrowhead; Pygmy Arrowhead
Aquatic Plant

 

Aquatic
CFIA
Categorization Assessment
Canada
Salix atrocinerea/cinerea
Large
Gray Willow; European Gray Willow; Grey Willow; Gray Florist's Willow
Terrestrial
Plant
Terrestrial
Glenn S., & Moore G. (2008). New York Non-Native Plant
Invasiveness Ranking Form: Salix atrocinerea/cinerea. Retrieved from (link)
New York
Salmo salar
Atlantic Salmon; Ouananiche; Sebago Salmon
Fish
Aquatic
Bisson P. A. (2006). Assessment of the Risk of Invasion of
National Forest Streams in the Pacific Northwest by Farmed Atlantic Salmon.
Retrieved from (link)
Oregon
Salmo salar
Atlantic Salmon; Ouananiche;
Sebago Salmon
Fish
Aquatic
Reesman M. J., Boatner R., & Hill R. L. (2010). Pest Risk
Assessment for landlocked Atlantic salmon (Salmo salar) in Oregon. Retrieved
from (link)
Oregon
Salmo
salar
Atlantic Salmon; Ouananiche; Sebago Salmon
Fish
Aquatic
Alaska Center for Conservation Science. (2017). Bering Sea
Invasive Species Assessment: Salmo salar. Retrieved from (link)
United
States

 

Salmo
trutta
Brown Trout; von Behr Trout; Loch Leven
Trout; German Brown Trout

 

Fish
Aquatic
Schwartzberg E. (2013). New York Fish & Aquatic
Invertebrate Invasiveness Ranking Form: Salmo trutta. Retrieved from (link)
New
York
Salpichroa origanifolia
Lily
of the Valley Vine; Pampas Lily-of-the-valley; Cock's-eggs
Terrestrial
Plant
Terrestrial
Wolf K. (2016). Salpichroa origanifolia Risk Assessment.
Retrieved from (link)
California
Salvenlinus alpinus
Artic
Char; Artic Charr
Fish
Aquatic
U.S. Fish and Wildlife Service.
(2019). Ecological Risk Screening Summary: Salvenlinus alpinus. Retrieved
from (link)
United States

 

Salvia aethiopis
Mediterranean
Sage; African Sage
Terrestrial
Plant
Terrestrial
CFIA
Categorization Assessment
Canada
Salvia
sclarea
Clary Sage; Europe Sage; Clary

 

Terrestrial Plant
Terrestrial
CFIA
Categorization Assessment
Canada
Salvinia herzogii
Waterfern; Salvinia; Giant
Salvinia
Aquatic Plant
Aquatic
Wisconsin Department of Natural Resources. (n.d.). Aquatic
Invasive Species Literature Review: Salvinia herzogii. Retrieved from (link)
Wisconsin

 

Salvinia minima
Water
Spangles; Common Salvinia
Aquatic
Plant
Aquatic
U.S. Fish and Wildlife Service. (2019). Ecological Risk
Screening Summary: Water Spangles (Salvinia minima). Retrieved from (link)
United States

 

Salvinia
molesta
Giant Salvinia; Waterfern; Kariba Weed;
African Pyle; Aquarium Watermoss; Australian Azolla; Watermoss; Water Fern
Aquatic Plant

 

Aquatic
European and Mediterranean Plant Protection Organization.
(2017). Pest Risk Analysis for Salvinia molesta. Retrieved from (link)
Europe
Salvinia molesta
Giant Salvinia; Waterfern;
Kariba Weed; African Pyle; Aquarium Watermoss; Australian Azolla; Watermoss;
Water Fern
Aquatic
Plant

 

Aquatic
Newman J. (2015). GB Non-native Species Rapid Risk Assessment
(NRRA) for Giant Salvinia (Salvinia molesta). Retrieved from (link)
Great
Britain
Salvinia
molesta
Giant Salvinia; Waterfern; Kariba Weed;
African Pyle; Aquarium Watermoss; Australian Azolla; Watermoss; Water Fern
Aquatic
Plant

 

Aquatic
Moore G. (2008). New York Non-Native Plant Invasiveness Ranking
Form: Salvinia molesta. Retrieved from (link)
New
York
Salvinia molesta
Giant
Salvinia; Waterfern; Kariba Weed; African Pyle; Aquarium Watermoss;
Australian Azolla; Watermoss; Water Fern
Aquatic
Plant

 

Aquatic
U.S. Fish and Wildlife Service. (2019). Ecological Risk
Screening Summary: Giant Salvinia (Salvinia molesta). Retrieved from (link)
United States

 

Salvinia
molesta
Giant
Salvinia; Waterfern; Kariba Weed; African Pyle; Aquarium Watermoss;
Australian Azolla; Watermoss; Water Fern
Aquatic
Plant

 

Aquatic
Wisconsin Department of Natural Resources. (n.d.). Aquatic
Invasive Species Literature Review: Salvinia molesta. Retrieved from (link)

 

Wisconsin

 

Sander
lucioperca
Zander; Pike-perch; European Pike-perch
Fish

 

Aquatic
White E. (2013). New York Fish
& Aquatic Invertebrate Invasiveness Ranking Form: Sander lucioperca.
Retrieved from (link)
New
York
Sander lucioperca
Zander;
Pike-perch; European Pike-perch
Fish

 

Aquatic

OMNRF Risk Assessment

Ontario
Sander lucioperca
Zander;
Pike-perch; European Pike-perch
Fish

 

Aquatic
U.S. Fish and Wildlife Service. (2019). Ecological Risk
Screening Summary: Zander (Sander lucioperca). Retrieved from (link)
United States

 

Sander lucioperca
Zander; Pike-perch; European
Pike-perch
Fish

 

Aquatic
Wisconsin Department of Natural Resources. (n.d.). Literature
Review: Sander lucioperca. Retrieved from (link)
Wisconsin

 

Saponaria
officinalis
Bouncing Bet; Soapwort; Sweet Betty;
Bouncing Betty; Bouncing-bet
Terrestrial Plant
Terrestrial
Jacquart E. (2012). Indiana Non-Native Plant Invasiveness
Ranking Form: Saponaria officinals. Retrieved from
(link)
Indiana
Saponaria officinalis
Bouncing
Bet; Soapwort; Sweet Betty; Bouncing Betty; Bouncing-bet
Terrestrial
Plant
Terrestrial
Glenn S., & Moore G. (2009). New York Non-Native Plant
Invasiveness Ranking Form: Saponaria officinalis. Retrieved from (link)

 

New
York
Saponaria
officinalis
Bouncing Bet; Soapwort; Sweet Betty;
Bouncing Betty; Bouncing-bet
Terrestrial Plant
Terrestrial
Morgan
K., & Culley T. (2017). Ohio Invasive Plant Assessment Protocol:
Saponaria officinalis. Retrieved from (link)
Ohio
Sargassum muticum 
Wireweed;
Japanese Wireweed
Aquatic
Plant
Aquatic
GB Non-Native Species Secretariat. (2011). GB Non-Native
Organism Risk Assessment Scheme for Wireweed (Sargassum muticum). Retrieved
from (link)
Great
Britain
Sarotherodon melanotheron
Blackchin
Tilapia
Fish

 

Aquatic
U.S. Fish and Wildlife Service. (2012). Ecological Risk
Screening Summary: Blackchin Tilapia (Sarotherodon melanotheron). Retrieved
from (link)
United States

 

Scardinius
erythrophthalmus
Rudd; Common Rudd
Fish
Aquatic
Adams D. (2013). New York Fish & Aquatic Invertebrate
Invasiveness Ranking Form: Scardinius erythrophthalmus. Retrieved from (link)
New
York
Scardinius erythrophthalmus
Rudd;
Common Rudd
Fish
Aquatic
U.S. Fish and Wildlife Service.
(2015). Ecological Risk Screening Summary: Scardinius erythrophthalmus.
Retrieved from (link)
United States

 

Scardinius erythrophthalmus
Rudd; Common Rudd
Fish
Aquatic
Wisconsion Department of Natural Resources. (n.d.). Literature
Review: Scardinius erythrophthalmus. Retrieved from
(link)
Wisconsin

 

Schedonorus arundinaceus
Tall
Fescue; Tall Rye Grass
Terrestrial
Plant
Terrestrial
Jacquart E., Phillabaum R., Good T., et al. (2004). Assessment
of Invasive Species in Indiana's Natural Areas: Schenodorus arundinacea.
Retrieved from (link)
Indiana
Schedonorus
phoenix
Tall Fescue; Kentucky Fescue; Reed Fescue;
Coarse Fescue; Alta Fescue
Terrestrial Plant
Terrestrial
Moore G. (2009). New York Non-Native Plant Invasiveness Ranking
Form: Schedonorus phoenix. Retrieved from (link)
New York
Schizoporella spp.
Orange
Ripple Bryozoan
Aquatic
Invertebrate

 

Aquatic
Alaska Center for Conservation
Science. (2017). Bering Sea Marine Invasive Species Assessment: Schizoporella
japonica. Retrieved from (link)
Alaska
Scolytus
jacobsoni (Spessivtsev, 1919)
Elm Bark Beetle
Insect
Terrestrial
CFIA
Risk Assessment
Canada
Scolytus
schevyrewi (Semenov)
Banded
Elm Bark Beetle
Insect
Terrestrial
CFIA
Risk Assessment
Canada
Scorzonera
tau-saghyz
 
Terrestrial Plant
Terrestrial
CFIA Categorization Assessment
Canada
Senecio
angulatus
Creeping Groundsel; Cape-ivy
Terrestrial Plant
Terrestrial
CFIA
Categorization Assessment
Canada
Senecio
angulatus
Creeping Groundsel; Cape-ivy
Terrestrial Plant
Terrestrial
United States Department of Agriculture. (2013). Weed Risk
Assessment for Senecio angulatus L. f. (Asteraceae) – Cape-ivy. Retrieved
from (link)
United States

 

Senecio inaequidens
Narrow-leaved
Ragwort; South African Ragwort
Terrestrial
Plant
Terrestrial
CFIA Categorization Assessment
Canada
Senecio inaequidens
Narrow-leaved
Ragwort; South African Ragwort
Terrestrial
Plant
Terrestrial
CFIA Risk Assessment
Canada
Senecio
inaequidens
Narrow-leaved Ragwort; South African
Ragwort
Terrestrial Plant
Terrestrial
CFIA Risk Management
Canada
Senecio inaequidens
Narrow-leaved
Ragwort; South African Ragwort
Terrestrial
Plant
Terrestrial
European and Mediterranean Plant Protection Organisation.
(2006). Pest Risk Analysis for Senecio inaequidens. Retrieved from (link)
Europe
Senecio inaequidens
Narrow-leaved
Ragwort; South African Ragwort
Terrestrial
Plant
Terrestrial
United States Department of Agriculture. (2005). Weed Risk
Assessment for S. inaequidens DC. and S. madagascariensis Poir (Asteraceae).
Retrieved from (link)

 

United
States

 

Senecio jacobaea 
Tansy-Ragwort
Terrestrial Plant
Terrestrial
Glenn S., & Moore G. (2009). New York Non-Native Plant
Invasiveness Ranking Form: Senecio jacobaea. Retrieved from (link)
New York
Senecio madagascariensis
Madagascar
Ragwort; Madagascar Groundsel; Fireweed
Terrestrial
Plant
Terrestrial
CFIA Risk Assessment
Canada
Senecio
madagascariensis
Madagascar Ragwort; Madagascar Groundsel;
Fireweed
Terrestrial Plant
Terrestrial
CFIA Risk Management
Canada
Senecio
madagascariensis
Madagascar Ragwort; Madagascar Groundsel;
Fireweed
Terrestrial Plant
Terrestrial
United States Department of Agriculture. (2005). Weed Risk
Assessment for S. inaequidens DC. and S. madagascariensis Poir (Asteraceae).
Retrieved from (link)

 

United States

 

Senecio
pterophorus
African
Daisy
Terrestrial
Plant
Terrestrial
CFIA
Categorization Assessment
Canada
Senecio vernalis
Spring
Groundsel; Eastern Groundsel
Terrestrial
Plant
Terrestrial
CFIA
Categorization Assessment
Canada
Senecio vernalis
Spring
Groundsel; Eastern Groundsel
Terrestrial
Plant
Terrestrial
United States Department of Agriculture. (2016). Weed Risk
Assessment for Senecio vernalis Waldst. & Kit. (Asteraceae) – Eastern
groundsel. Retrieved from (link)
United States

 

Senegalia catchetu
Catechu;
Kher; Cachou; Cutchtree; Black Cutch; Black Catechu
Terrestrial
Plant
Terrestrial
CFIA
Categorization Assessment
Canada
Senna
obtusifolia
Java-bean; Sicklepod
Terrestrial Plant
Terrestrial
CFIA Categorization Assessment
Canada
Senna occidentalis
Coffee
Senna; Septicweed; Ant Bush; Antbush; Arsenic Bush; Negro Coffee; Nigerian
Senna; Sickle Pod; Stink Weed; Stinking Pea; Stinking Weed; Stinkingweed;
Stinkweed; Styptic Weed
Terrestrial
Plant
Terrestrial
CFIA
Categorization Assessment
Canada
Senna
tora
Sickle Senna; Sickle Wild
Sensitive-plant; Sickle Pod; Tora; Coffee Pod
Terrestrial
Plant
Terrestrial
CFIA
Categorization Assessment
Canada
Sesbania
exaltata
Coffeeweed; Bigpod Sesbania; Colorado
River-hemp
Terrestrial Plant
Wetland
CFIA
Categorization Assessment 
Canada
Setaria pumila pallidefusca
Cattail
Grass
Terrestrial
Plant
Terrestrial
CFIA
Categorization Assessment
Canada
Sida acuta
Common
Wireweed
Terrestrial
Plant
Terrestrial
CFIA
Categorization Assessment
Canada
Sideritis montana
Mountain
Ironwort
Terrestrial
Plant
Terrestrial
CFIA
Categorization Assessment
Canada
Sideritis montana
Mountain Ironwort
Terrestrial Plant
Terrestrial
United States Department of
Agriculture. (2012). Weed Risk Assessment for Sideritis montana L.
(Lamiaceae) – Mountain ironwort. Retrieved from
(link)
United States

 

Silene pendula
Nodding
Catchfly
Terrestrial
Plant
Terrestrial
CFIA
Categorization Assessment
Canada
Silurus
asotus
Amur Catfish; Japanese Common Catfish
Fish
Aquatic
U.S. Fish and Wildlife Service.
(2018). Ecological Risk Screening Summary: Amur Catfish (Silurus asotus).
Retrieved from (link)
United
States

 

Silurus
glanis
Sheatfish; Wels Catfish
Fish
Aquatic

OMNRF Risk Assessment

Ontario
Silurus glanis
Sheatfish;
Wels Catfish
Fish
Aquatic
U.S. Fish and Wildlife Service.
(2014). Ecological Risk Screening Summary: Silurus glanis. Retrieved from (link)
United States

 

Sinanodonta woodiana
Chinese
Pond Mussel; Eastern Asiatic Freshwater Clam; Swan-mussel
Aquatic
Invertebrate

 

Aquatic
U.S. Fish and Wildlife Service. (2015). Ecological Risk
Screening Summary: Chinese Pond Mussel (Sinanodonta woodiana). Retrieved from
(link)
United
States

 

Sinelobus
cf. stanfordi
 
Aquatic Invertebrate

 

Aquatic
Alaska Center for Conservation Science. (2017). Bering Sea
Marine Invasive Species Assessment: Sinelobus cf. stanfordi. Retrieved from (link)
Alaska
Siraitia
grosvenorii
Monk Fruit; Luo Han Guo
Terrestrial Plant
Terrestrial
CFIA Categorization Assessment
Canada
Sirex noctilio; Amylostereum areolatum
Sirex
Woodwasp; Symbiotic Fungus
Insect;
Fungus
Terrestrial
Adams D. (2013). New York
Terrestrial Invertebrates Invasiveness Ranking Form: Sirex noctilio;
Amylostereum areolatum. Retrieved from (link)
New
York
Sirex
noctilio

 

European Woodwasp
Insect
Terrestrial
Pest Risk Assessment for the State of Oregon Sirex noctilio
Fabricius – European woodwasp. (n.d.). Retrieved from (link)

 

Oregon
Sirococcus
clavigignenti-juglandacearum
Butternut Canker Pathogen
Fungus
Terrestrial
Carlson J.C. (2007). Wisconsin Department of Natural Resources
Literature Review: Sirococcus clavigignenti-juglandacearum. Retrieved from (link)
Wisconsin

 

Sium sisarum
Skirret
Terrestrial
Plant
Terrestrial
CFIA
Categorization Assessment
Canada
Solandra
maxima
Gold Vine; Cup of Gold Wine; Golden
Chalice Vine; Hawaiian Lily; Chalice Vine
Terrestrial Plant
Terrestrial
CFIA Categorization Assessment
Canada
Solanum aviculare
Poroporo;
Kangaroo Apple; Pam Plum; New Zealand Nightshade
Terrestrial
Plant
Terrestrial
Wolf K. (2016). Solanum aviculare

 

Risk Assessment. Retrieved from (link)
California
Solanum
aviculare
Poroporo; Kangaroo Apple; Pam Plum; New
Zealand Nightshade
Terrestrial Plant
Terrestrial
CFIA Categorization Assessment
Canada
Solanum
carolinense
Carolina
Horsenettle; Horse Nettle; Horsenettle
Terrestrial
Plant
Terrestrial
Brusati E.D. (2016). Solanum carolinense Risk Assessment.
Retrieved from (link)
California
Solanum dulcamara
Trailing
Nightshade; Bittersweet Nightshade; Climbing Nightshade
Terrestrial
Plant
Terrestrial
Clemants S. (2009). New York Non-Native Plant Invasiveness
Ranking Form: Solanum dulcamara. Retrieved from
(link)
New
York
Solanum
elaeagnifolium
Silverleaf Nightshade; Silver-leaved
nightshade; White Horsenettle; Silverlead Nettle; Tomato Weed; Tomatillo;
Texas Blueweed
Terrestrial Plant
Terrestrial
CFIA Risk Assessment
Canada
Solanum
elaeagnifolium
Silverleaf Nightshade; Silver-leaved
nightshade; White Horsenettle; Silverlead Nettle; Tomato Weed; Tomatillo;
Texas Blueweed
Terrestrial Plant
Terrestrial
CFIA Risk Management
Canada
Solanum
elaeagnifolium
Silverleaf Nightshade; Silver-leaved
nightshade; White Horsenettle; Silverlead Nettle; Tomato Weed; Tomatillo;
Texas Blueweed
Terrestrial Plant
Terrestrial
European and Mediterranean Plant Protection Organisation.
(2006). Pest Risk Analysis for Solanium elaeagnifolium. Retrieved from (link)
Europe
Solanum elaeagnifolium
Silverleaf Nightshade;
Silver-leaved nightshade; White Horsenettle; Silverlead Nettle; Tomato Weed;
Tomatillo; Texas Blueweed
Terrestrial Plant
Terrestrial
European
and Mediterranean Plant Protection Organization. (2007). Report of a Pest
Risk Analysis Solanum elaeagnifolium. Retrieved from (link)
Europe
Solanum elaeagnifolium
Silverleaf
Nightshade; Silver-leaved nightshade; White Horsenettle; Silverlead Nettle;
Tomato Weed; Tomatillo; Texas Blueweed
Terrestrial
Plant
Terrestrial
Sharratt D., & Barrett R. (2011). Oregon Department of
Agriculture Plant Risk Assessment for Silverleaf Nightshade, Solanum
elaeagnifolium Cav.. Retrieved from (link)
Oregon
Solanum
sisymbriifolium
Sticky Nightshade; Vila-vila; Red
Buffalo-bur; Fire-and-ice Plant; Litchi Tomato; Morelle de Balbis
Terrestrial Plant
Terrestrial
CFIA
Categorization Assessment
Canada
Solanum sisymbriifolium
Sticky
Nightshade; Vila-vila; Red Buffalo-bur; Fire-and-ice Plant; Litchi Tomato;
Morelle de Balbis
Terrestrial
Plant
Terrestrial
United States Department of
Agriculture. (2013). Weed Risk Assessment for Solanum sisymbriifolium Lam.
(Solanaceae) – Sticky nightshade. Retrieved from
(link)
United
States

 

Soliva sessilis
Field
Burrweed; Onehunga-weed; Lawn Burrweed; Lawnweed; Common Soliva; Bindi Weed;
Bindii; Bindi-eye
Terrestrial
Plant
Terrestrial
CFIA
Risk Assessment
Canada
Sorbaria
sorbifolia
False Spiraea; False Spirea; False Goat's
Beard; Sorb-leaved Schizonotus; Ural False Spirea
Terrestrial Plant
Terrestrial
Moore G. (2010). New York Non-Native Plant Invasiveness ranking
Form: Sorbaria sorbifolia. Retrieved from (link)
New
York
Sorghum
bicolor drummondii
Shattercane; Chicken Corn; Black Amber;
Wild Corn; Wild Cane; Early Amber
Terrestrial Plant
Terrestrial
United States Department of
Agriculture. (2015). Weed Risk Assessment for Sorghum bicolor (L.) Moench
nothosubsp. drummondii (Steud.) de Wet ex Davidse (Poaceae) – Shattercane.
Retrieved from (link)
United States

 

Sorghum halepense
Johnsongrass; Johnson Grass
Terrestrial Plant
Terrestrial
Deitch Z., & Jacquart E.
(2013). Indiana Non-Native Plant Invasiveness Ranking Form: Sorghum
halepense. Retrieved from (link)
Indiana
Sorghum halepense
Johnsongrass;
Johnson Grass
Terrestrial
Plant
Terrestrial
United States Department of
Agriculture. (2015). Weed Risk Assessment for Sorghum halepense

 

(L.) Pers. (Poaceae) – Johnsongrass.
Retrieved from (link)
United States

 

Sorghum
halepense
Johnsongrass; Johnson Grass
Terrestrial Plant
Terrestrial
St. Aubin E. (2011). Wisconsin Department of Natural Resources
Literature Review: Sorghum halepense. Retrieved from
(link)
Wisconsin

 

Spartina
ssp.

 

Spartina; Cordgrass
Aquatic Plant
Aquatic
Park A. (2011). Oregon Department of Agriculture Plant Pest
Risk Assessment for Spartina, Spartina ssp.. Retrieved from (link)
Oregon
Spartium junceum
Spanish
Broom; Weaver's Broom
Terrestrial
Plant
Terrestrial
CFIA
Categorization Assessment
Canada
Spermacoce alata
Winged
False Buttonweed
Terrestrial
Plant
Terrestrial
CFIA
Categorization Assessment
Canada
Sphaerophysa salsula
Alkali
Swainsonpea; Red-bladder Vetch; Swainsonpea; Austrian Peaweed
Terrestrial
Plant
Terrestrial
Robison R. (2016). Sphaerophysa salsula Risk Assessment.
Retrieved from (link)
California
Sphaerophysa
salsula
Alkali Swainsonpea; Red-bladder Vetch;
Swainsonpea; Austrian Peaweed
Terrestrial Plant
Terrestrial
CFIA
Categorization Assessment
Canada
Stachys annua
Annual
Hedgenettle; Annual Woundwort; Annual Hedge-nettle
Terrestrial
Plant
Terrestrial
CFIA
Categorization Assessment
Canada
Stephanodiscus
binderanus
Diatom
Algae
Aquatic
U.S. Fish and Wildlife Service.
(2018). Ecological Risk Screening Summary: Diatom (Stephanodiscus
binderanus). Retrieved from (link)
United States

 

Stratiotes aloides
Water
Soldier; Water Aloe; Pineapple Plant
Aquatic
Plant
Aquatic
Moore G. (2009). New York Non-Native Plant Invasiveness
Ranking Form: Stratiotes aloides. Retrieved from (link)
New
York
Stratiotes
aloides
Water Soldier; Water Aloe; Pineapple Plant
Aquatic Plant
Aquatic
United States Department of Agriculture. (2017). Weed Risk
Assessment for Stratiotes aloides

 

L.
(Hydrocharitaceae) – Water soldier. Retrieved from (link)
United States

 

Stratiotes aloides
Water Soldier; Water Aloe;
Pineapple Plant
Aquatic Plant
Aquatic
Wisconsin Department of Natural Resources. (n.d.). Aquatic
Invasive Species Literature Review: Stratiotes aloides. Retrieved from (link)

 

Wisconsin

 

Stratiotes sp.
 
Aquatic
Plant
Aquatic
OMNRF
Risk Assessment
Ontario
Styela clava
Clubbed
Tunicate; Stalked Sea Squirt; Club Sea Squirt; Club Tunicate; Asian Tunicate;
Leathery Sea Squirt; Rough Sea Squirt
Aquatic
Invertebrate

 

Aquatic
Alaska Center for Conservation Science. (2017). Bering Sea
Marine Invasive Species Assessment: Styela clava. Retrieved from (link)
Alaska
Styela clava
Clubbed
Tunicate; Stalked Sea Squirt; Club Sea Squirt; Club Tunicate; Asian Tunicate;
Leathery Sea Squirt; Rough Sea Squirt
Aquatic
Invertebrate

 

Aquatic
DFO. (2013). Science Advice from a Risk Assessment of Five
Sessile Tunicate Species. Retrieved from (link)
Canada
Styela clava
Clubbed Tunicate; Stalked Sea Squirt; Club
Sea Squirt; Club Tunicate; Asian Tunicate; Leathery Sea Squirt; Rough Sea
Squirt
Aquatic Invertebrate

 

Aquatic
Therriault T.W., Herborg L.M. (2007). Risk Assessment for Two
Solitary and Three Colonial Tunicates in Both Atlantic and Pacific Canadian
Waters. Retrieved from (link)
Canada
Sus scrofa
European
Wild Boar; Eurasian Boar; Wild Boar; Wild Swine; Common Wild Pig; Wild Pig
Mammal
Terrestrial
Schwartzberg E. (2013). New York Terrestrial Vertebrate
Invasiveness Ranking Form: Sus scrofa. Retrieved from (link)
New York
Synchytrium
endobioticum

 

Potato Wart Disease
Fungus
Terrestrial
Osterbauer N.K. (2010). Synchytrium endobioticum (Schilb.)
Percival Pest Risk Assessment for Oregon. Retrieved from (link)
Oregon
Synidotea
laticauda
 
Aquatic Invertebrate

 

Aquatic
Alaska Center for Conservation Science. (2017). Bering Sea
Marine Invasive Species Assessment: Synidotea laticauda. Retrieved from (link)
Alaska
Syringa
josikaea
Hungarian Lilac
Terrestrial Plant
Terrestrial
CFIA Categorization Assessment
Canada
Syringa
komarowii reflexa
Nodding Lilac; Pendulous Lilac
Terrestrial Plant
Terrestrial
CFIA Categorization Assessment
Canada
Syringa
oblata
Early Lilac; Early Blooming Lilac;
Broadleaf Lilac
Terrestrial Plant
Terrestrial
CFIA
Categorization Assessment
Canada
Syringa
pubescens microphylla
Littleleaf Lilac
Terrestrial Plant
Terrestrial
CFIA Categorization Assessment
Canada
Syringa
reticulata
Japanese Tree Lilac
Terrestrial Plant
Terrestrial
CFIA
Categorization Assessment
Canada
Syringa reticulata
Japanese
Tree Lilac
Terrestrial
Plant
Terrestrial
Moore G. (2011). New York
Non-Native Plant Invasiveness Ranking Form: Syringa reticulata. Retrieved
from (link)
New
York
Syringa
villosa
Late Lilac; Villous Lilac
Terrestrial Plant
Terrestrial
CFIA
Categorization Assessment
Canada
Syringa
wolfii
Wolf's Lilac
Terrestrial Plant
Terrestrial
CFIA
Categorization Assessment
Canada
Taeniatherum
caput-medusae
Medusahead;
Medusahead Rye
Terrestrial
Plant
Terrestrial
CFIA Risk Assessment
Canada
Taeniatherum
caput-medusae
Medusahead;
Medusahead Rye
Terrestrial
Plant
Terrestrial
St. Aubin E. (2011). Wisconsin Department of Natural Resources
Literature Review: Taeniatherum caput-medusae. Retrieved from (link)
Wisconsin

 

Tagetes
minuta
Muster-John-Henry; Stinking Roger; Mexican
Marigold
Terrestrial Plant
Terrestrial
CFIA
Categorization Assessment
Canada
Tamarix species
Saltcedar; Tamarisk
Terrestrial Plant
Terrestrial
CFIA Risk Assessment
Canada
Tamarix spp.
Tamarisk;
Saltcedar; Salt Cedar
Terrestrial
Plant
Terrestrial
CFIA
Risk Assessment
Canada
Tanacetum vulgare
Tansy;
Common Tansy; Bitter Buttons; Cow Bitter; Golden Buttons
Terrestrial
Plant
Terrestrial
Chandler M. (2013). MN NWAC Risk Assessment Worksheet:
Tanacetum vulgare. Retrieved from (link)
Minnesota
Tanacetum
vulgare
Tansy;
Common Tansy; Bitter Buttons; Cow Bitter; Golden Buttons
Terrestrial
Plant
Terrestrial
Glenn S., & Moore G. (2009). New York Non-Native Plant
Invasiveness Ranking Form: Tanacetum vulgare. Retrieved from (link)
New
York
Tanacetum
vulgare
Tansy;
Common Tansy; Bitter Buttons; Cow Bitter; Golden Buttons
Terrestrial
Plant
Terrestrial
Annen C. (2007). Wisconsin Department of Natural Resources
Literature Review: Tanacetum vulgare. Retrieved from
(link)
Wisconsin

 

Taraxacum kok-saghyz
Kazakh
Dandelion; Rubber Root; Russian Dandelion; Rubber Dandelion
Terrestrial Plant
Terrestrial
CFIA
Categorization Assessment
Canada
Taraxacum
kok-saghyz
Kazakh Dandelion; Rubber Root; Russian
Dandelion; Rubber Dandelion
Terrestrial Plant
Terrestrial
CFIA Risk Assessment
Canada
Taraxacum
kok-saghyz
Kazakh Dandelion; Rubber Root; Russian
Dandelion; Rubber Dandelion
Terrestrial Plant
Terrestrial
CFIA Risk Management
Canada
Tarchonanthus camphoratus
Camphor
Bush; Wild Camphor Bush
Terrestrial
Plant
Terrestrial
CFIA
Categorization Assessment
Canada
Teredo
navalis
Naval
Shipworm
Aquatic
Invertebrate

 

Aquatic
Alaska Center for Conservation
Science. (2017). Bering Sea Marine Invasive Species Assessment: Teredo
navalis. Retrieved from (link)
Alaska
Tetropium
fuscum (Fabricius)
Brown
Spruce Longhorn Beetle
Insect
Terrestrial
CFIA
Risk Assessment
Canada
Tetropium
fuscum (Fabricius)
Brown Spruce Longhorn Beetle
Insect
Terrestrial
Department of Natural Resources Forest Protection Shubenacadie,
Nova Scotia. (2014). Pest Risk Analysis: Risk Assessment of the Threat of
Brown Spruce Longhorn Beetle to Nova Scotia Forests. Retrieved from (link)
Nova Scotia
Thekopsora
minima
Blueberry Leaf Rust
Fungus
Terrestrial
European
and Mediterranean Plant Protection Organization (EPPO). (2017). Pest Risk
Analysis for Thekopsora minima. Retrieved from
(link)
Europe
Thermocyclops
crassus
 
Aquatic Invertebrate
Aquatic
U.S. Fish and Wildlife Service.
(2016). Ecological Risk Screening Summary: Thermocyclops crassus. Retrieved
from (link)
United
States

 

Thesium
ramosum
Thesium; Field Thesium

 

Terrestrial Plant
Terrestrial
CFIA Categorization Assessment
Canada
Thesium
ramosum
Thesium; Field Thesium

 

Terrestrial Plant
Terrestrial
CFIA Risk Assessment
Canada
Thesium ramosum
Thesium;
Field Thesium

 

Terrestrial
Plant
Terrestrial
United States Department of Agriculture. (2019). Weed Risk
Assessment for Thesium ramosum

 

Hayne
(Thesiaceae) – Thesium. Retrieved from (link)
United
States

 

Thlaspi
arvense
Field Pennygrass
Terrestrial Plant
Terrestrial
United States Department of
Agriculture. (2015). Weed Risk Assessment for Thlaspi arvense L.
(Brassicaceae) – Field pennycress. Retrieved from
(link)
United
States

 

Thymallus
arcticus
Arctic Grayling
Fish

 

Aquatic
U.S. Fish and Wildlife Service. (2018). Ecological Risk
Screening Summary: Artic Grayling (Thymallus arcticus). Retrieved from (link)

 

United
States

 

Thymallus thymallus
Grayling
Fish
Aquatic
U.S. Fish and Wildlife Service.
(2018). Ecological Risk Screening Summary: Grayling (Thymallus thymallus).
Retrieved from (link)
United States

 

Thymelaea passerina
Spurge
Flax
Terrestrial
Plant
Terrestrial
United States Department of
Agriculture. (2017). Weed Risk Assessment for Thymelaea passerina

 

(L.) Coss & Germ (Thymelaeaceae) –
Spurge flax. Retrieved from (link)
United States

 

Tilapia
sparrmanii
Banded Tilapia
Fish
Aquatic
U.S. Fish and Wildlife Service. (2015). Ecological Risk
Screening Summary: Banded Tilapia (Tilapia sparrmanii). Retrieved from (link)
United
States

 

Tinca tinca
Tench; Eurasian Tench; Doctoe
Fish
Fish

 

Aquatic
Adams D., & Corser J. (2013).
New York Fish and Aquatic Invertebrate Invasiveness Ranking Form: Tinca
tinca. Retrieved from (link)
New
York
Tinca
tinca
Tench; Eurasian Tench; Doctoe
Fish
Fish

 

Aquatic
U.S. Fish and Wildlife Service.
(2018). Ecological Risk Screening Summary: Tench (Tinca tinca). Retrieved
from (link)
United States

 

Tinca
tinca
Tench; Eurasian Tench; Doctoe Fish
Fish

 

Aquatic
Wisconsin Department of Natural Resources. (n.d.). Literature
Review: Tinca tinca. Retrieved from (link)
Wisconsin

 

Toona sinensis
Chinese
Toon; Chinese Mahogany
Terrestrial
Plant
Terrestrial
CFIA
Categorization Assessment

 

Canada
Toona
sinensis
Chinese Toon; Chinese Mahogany
Terrestrial Plant
Terrestrial
United States Department of Agriculture. (2012). Weed Risk
Assessment for Toona sinensis

 

(A.
Juss.) M. Roem. (Meliaceae) – Chinese toon/Chinese mahogany. Retrieved from (link)
United
States

 

Tordylium
maximum
Hartwort
Terrestrial Plant
Terrestrial
CFIA Categorization Assessment
Canada
Torilis arvensis
Common
Hedge Parsley; Spreading Hedgeparsley; Tall Sock-destroyer
Terrestrial
Plant
Terrestrial
CFIA
Categorization Assessment
Canada
Torilis arvensis
Common
Hedge Parsley; Spreading Hedgeparsley; Tall Sock-destroyer
Terrestrial
Plant
Terrestrial
Sheehan M. (2007). Wisconsin Department of Natural Resources
Literature Review: Torilis arvensis. Retrieved from
(link)
Wisconsin

 

Torilis japonica
Japanese
Hedge-parsley; Erect Hedge-parsley
Terrestrial
Plant