Economic impacts of invasive species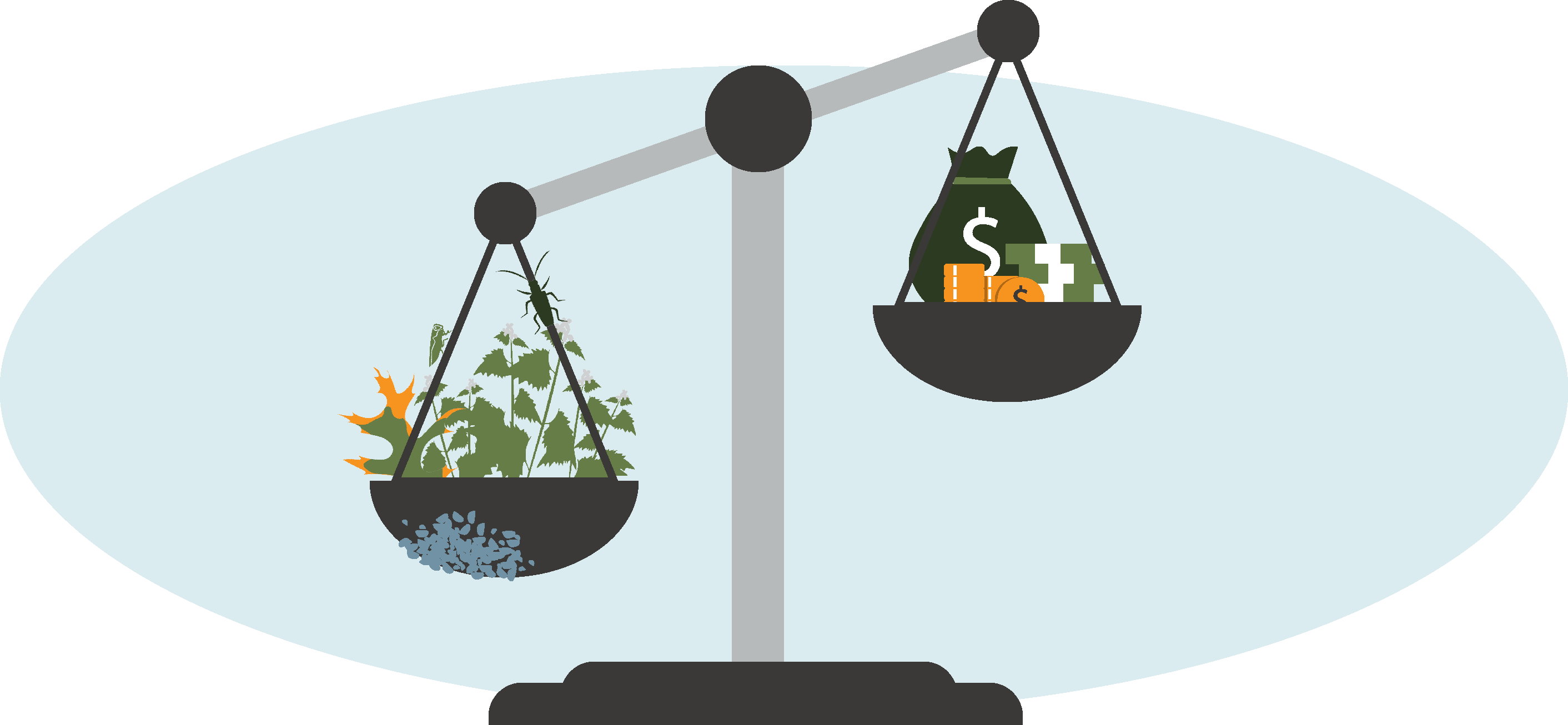 Municipalities and conservation authorities are estimated to spend $50.8 million per year on invasive species in Ontario alone. Across Canada, invasive species pose economic threats at the federal, provincial, municipal, and individual levels.
2021 National Invasive Species Municipal Expenditures Survey
With funding provided by Environment and Climate Change Canada, the ISC collaborated with the Invasive Alien Species National Committee to survey municipalities across Canada to find out more about their invasive species expenditures and priorities.
We disseminated the survey in 2021 and received responses from 231 municipalities reporting their data from 2020. Key results from the final report will be shared soon. You can read the report in full here.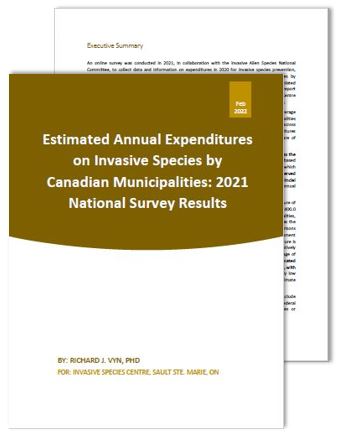 Direct economic impacts
Direct economic impacts of invasive species include management costs (mechanical, chemical, and biological), research and monitoring programs, reduced crop yield, job losses (such as in the case of reduced forestry production), damage to infrastructure, and impacts to international trade and tariffs.
Indirect economic impacts
Indirect economic impacts of invasive species can be much more challenging to quantify, and in some cases, are significantly more devastating. Examples include loss of ecosystem services (i.e. increasing flooding, reducing resiliency to climate change), reduced biodiversity, reduced resource production, impacts to tourism and recreation, and reduced property values (such as cottage properties overrun by zebra mussels or city lots with trees affected by emerald ash borer).
Economic costs of invasive species are much lower when funds are invested in prevention and early detection efforts. Once an invasive species spreads, management is exponentially more expensive and less efficient.
2019 Economic Impacts Study
Between 2017-2019, we reached out to Ontario municipalities and conservation authorities via phone and email to find out how much they spend on invasive species each year. We received data from 147 municipalities and 23 conservation authorities specific to the most recent fiscal year or annual expenditures.

This report estimates how much Ontario municipalities and conservation authorities are spending on invasive species, but this is just a fraction of the economic impacts of invasive species. Combined potential impacts on agriculture, fisheries, forestry, healthcare, tourism, and the recreation industry are estimated to be approximately $3.6 billion per year in Ontario!
Where does the money go?
Our study found that municipalities and conservation authorities are spending the most money on emerald ash borer. The next highest expenditures for municipalities are zebra and quagga mussels and Spongy moth.
To learn more about the economic impacts of invasive species on Ontario municipalities and conservation authorities, check out our fact sheet and read the full study below!
Environmental Impacts
Invasive species are among Canada's greatest threats to the survival of our wild animal and plant life. These invasive species arrive, often accidentally, from elsewhere in the world and, in the absence of natural predators, kill, crowd out or otherwise devastate native species and their ecosystems.
Recreational Impacts
Invasive species have the ability to severely alter a landscape and ecosystem. This not only puts native species at risk but also how the land is being used.
Further Readings
Urban Forests: The Value of Trees in the City of Toronto
This report examines the benefit of investment into the urban forests in Toronto and how much should be spent to maintain them.
A Value of Urban Forests in Cities across Canada
This report examines the economic and environmental benefits of forests in and around Halifax, Montreal, and Vancouver.
Invasive Species: A Costly Catastrophe for Native Biodiversity
This study looks at the public cost of invasive species that are brought in for ornamental use but spread to the natural environment.
An Ounce of Prevention or a Pound of Cure: Bioeconomic Rick Analysis of Invasive Species
This study determines optimal resource allocation to prevention versus control of invasive species, finding that we should be investing more into prevention.
Economic Impacts of Non-Native Forest Insects in the Continental United States
This study developed a model for determining current and future costs of invasive forest insects, providing more information for evaluating policy and management option.
Estimates of the Potential Cost of Emerald Ash Borer (Agrilus planipennis) in Canadian Municipalities
This study looks at the costs associate with street and backyard trees being removed due to emerald ash borer infestations.
Economics of Harmful Invasive Species: A Review
This study reviews the economics behind how to manage invasive species with regard to the difficultly of policy making.