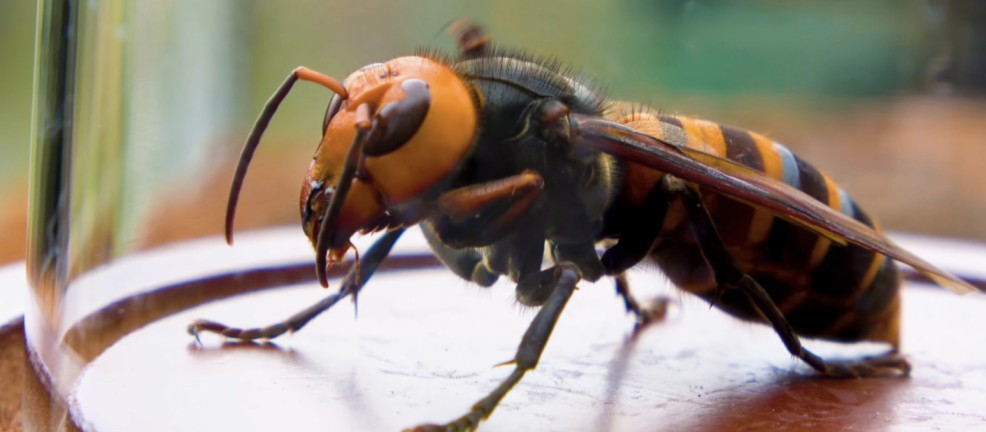 French common name: Frelon Géant Asiatique
Order: Hymenoptera
Family: Vespidae
As their name suggests, Asian giant hornets are native to temperate regions in China, Korea, Japan, and India. Along with their name and aggressive appearance, their size is quite intimidating, ranging from 3.5 to 5 cm in length. This qualifies them as the largest species of hornet in the world (Government of Ontario).
These hornets were first spotted in Canada in August 2019 on Vancouver Island. Following the first sighting, a pest alert for Asian giant hornets was issued by the Ministry of Agriculture in British Columbia (Invasive Species Compendium).  They pose a threat in their non-native range as they feed on insects and are predators of honeybees. They feed on individual honeybees from spring to mid-summer and can work their way to attacking full honeybee colonies, killing the entire colony in less than 24 hours (Government of Ontario).
Did you know?
Asian giant hornets are commonly referred to as 'murder hornets' in the media. Their name has led the public to believe they present a terrible danger or threat to humans. Contrary to popular belief, they got their nickname from their predatory habits towards insects, including honeybees! They will only attack humans if their colonies and nests are being threatened.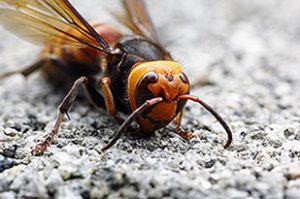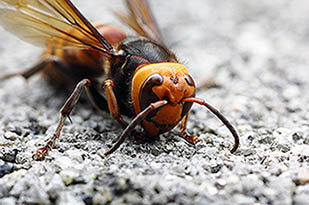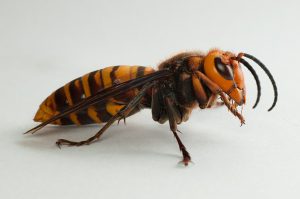 Asian giant hornets can be compared to the lions and great white sharks of the insect world. They are carnivores that kill other insects for food. Unfortunately, they can have a large impact on honeybee populations and can cause serious damage to a honeybee hive.
A colony of Asian giant hornets can kill up to 30,000 honeybees in a few hours. The destruction of honeybee populations can have large impacts to the environment and food production industry, because of their important role as pollinators.
Asian giant hornets can have large impacts to honeybee populations, which affects native plants, crop yields, and the honey industry. As well as impacting the food industry, hikers and other recreational activities can be affected by these hornets. If the nests are disturbed, Asian giant hornets can become aggressive and territorial, chasing hikers away from trails.
A recent European study analyzed the cost of fighting the invasion of the Asian giant hornet (which essentially consists of the cost of nest destruction). The research team studied information about the companies providing the nest destruction services, extrapolated the cost of nest destruction spatially and modelled the potential distribution of the invasive.  The calculations show that the estimated yearly cost for eradication would be $44.6 million Canadian for three European countries (Barbet-Massin et al., 2020).
The prevention of spread of these invasive hornets is the most crucial control method. This includes destroying nests when found, trapping, and physical or chemical destruction. These methods are all to be done AFTER properly being reported and only by a professional (Government of Ontario).
How to report a sighting of Asian giant hornets or their nests:
By learning how to properly identify and prevent the spread of Asian giant hornets, we can protect ecosystems and insect species from this carnivorous pest!
Further Reading and Resources