Beech Bark Disease (Cryptococcus fagisuga/Neonectria spp. complex)
French common name: Maladie corticale du hêtre
Beech bark disease (BBD) occurs as the result of an insect-fungus complex where an invasive beech scale insect (Cryptococcus fagisuga) feeds on the bark of the tree, creating cracks that allow a native canker fungi (Nectria) to enter. Between 50-85% of infected beech trees will die within 10 years of infestation. The scale insect comes from Europe and was first introduced into Nova Scotia in the late 1800s. Beech bark disease can be found throughout all of the maritime provinces and has moved through the beech bark range into Quebec and Ontario.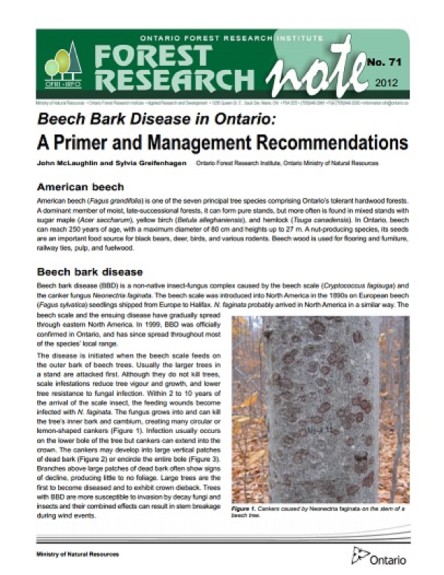 Management Recommendations
The Invasive Species Centre aims to connect stakeholders. The following information below link to resources that have been created by external organizations.