Jumping worms (Amynthas spp., Metaphire spp., Pheretima spp.)
Other common names: Asian jumping worms, Asian crazy worm, Alabama or Jersey jumper, Jersey wriggler, snake worm
French common name: Le ver asiatique sauteur
Order: Crassiclitellata
Suborder: Megascolecida
Family:  Megascolecidae
Genera: Amynthas, Metaphire, Pheretima
Did you know? When threatened, jumping worms thrash wildly from side to side (giving them their nicknames the 'snake worm' or the 'crazy worm'). If their frenzied thrashing isn't enough to deter a predator, they can resort to breaking off segments of their tail to escape.
The name jumping worms describes species of pheretimoid earthworms belonging to several genera including Amynthas, Metaphire, and Pheretima, which are native to East-Central Asia.
Introduced to North America in the late 1800s, they have recently begun invading natural habitats in the Northeast and Midwest, spreading primarily through horticultural trade. There is also a possibility of their introduction through sale as baitworms, however, this has not yet been documented in Canada.
These invasive worms outcompete other earthworms and their castings degrade soil quality, leaving it inhospitable to many native plant species and susceptible to increased erosion.
As they are voracious eaters, jumping worms quickly consume the top layer of organic material, making it difficult for plants to remain rooted and allowing nutrients to be washed away by rain.
Despite their wide dispersal across the United States, knowledge and research gaps concerning their biology and ecology persist. More research into traits linked to their dispersal capacity, establishment and spread is needed to counter their invasion (Amynthas agrestis (crazy worm) (cabi.org)).
Avoid Importing Jumping Worms
Preventing their introduction is the most effective method of controlling jumping worm spread into new habitats (Chang et al., 2021). This is of particular importance in Canada, where their invasion is still relatively recent (Reynolds and McTavish, 2021).
Invasive jumping worms are transported into Canada primarily through horticulture. For this reason, it's important to avoid buying mulch, compost, nursery stocks, or potting mixes from areas with established jumping worm infestations, as these may contain egg-filled cocoons which are difficult to distinguish from the surrounding soil or debris (Chang et al., 2021). Once in the garden, worms can spread to surrounding natural areas and pose a threat to the ecosystem.
Jumping worms may also be introduced as baitworms, although this has not yet been documented in Canada. Anglers should therefore avoid buying baitworms advertised as "snake worms," "Alabama jumpers," or "crazy worms".  If baitworms are used, it is vital to follow all proper procedures, euthanize worms before disposal, and never dispose of unused live worms into the environment.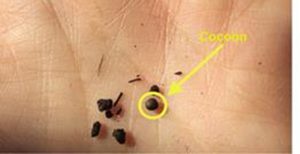 Report Them
Given their relatively recent spread into Ontario, early detection and rapid response (EDRR) is critical to managing the Canadian jumping worm population. Citizen science has been shown to be an effective tool in the detection, monitoring and research of jumping worms in Canada (Ziter et al., 2021; Reynolds and McTavish, 2021).
So, if you see a jumping worm, report it! Uploading a photograph along with observations will help in confirming species identity.
Kill Them
Any jumping worm discovered should be killed before being disposed of. The most humane method to euthanize jumping worms is using isopropyl alcohol, which will kill them within seconds.
Another effective method is to seal them in a clear plastic bag and leave them in direct sunlight. If you discover jumping worms in horticultural material such as soil, dispose of the contaminated material in a plastic bag, which can be left out in the sun or frozen to kill any jumping worms it may contain.