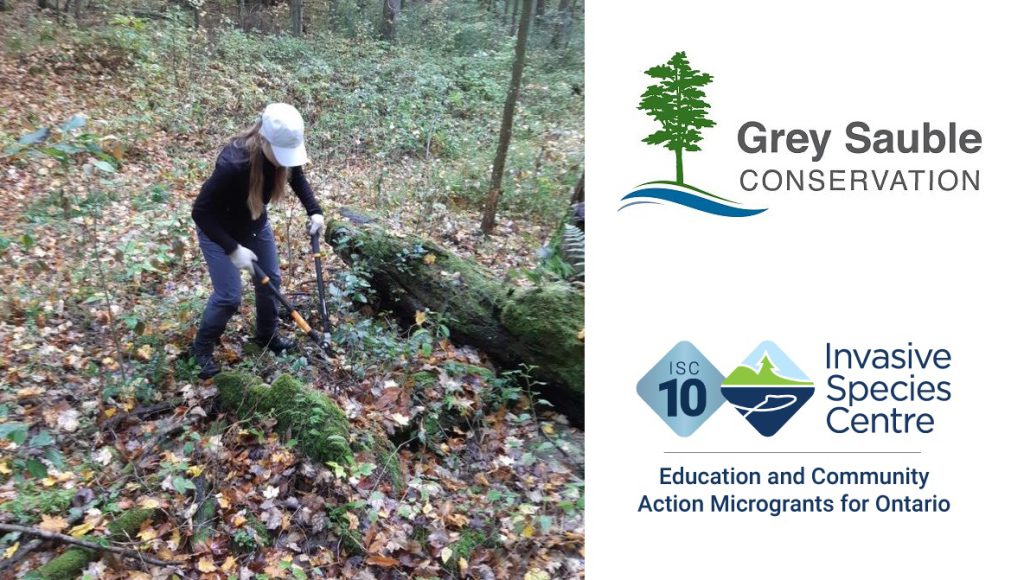 As part of the Invasive Species Centre's 10-Year Anniversary, the Invasive Species Centre has awarded 24 microgrants of $1,000 each to support invasive species education and community action in Ontario. We're featuring these projects throughout the year to help amplify the exciting microgrant project work being completed this year to support prevention and management of invasive species.
On October 13, 2021, Grey Sauble Conservation Authority (GSCA) Forestry and Lands staff began controlling common buckthorn at Massie Hills Management Area. A combination of methods were used, which included cutting, pulling and herbicide application.
This project has reduced the amount of Common Buckthorn present in the Massie Hills Management Area allowing native species to return and thrive. The Common Buckthorn on this property exists in the juvenile seedling stage (<1m in height, <0.5 cm in diameter) as well as larger "Parent" trees. Proactive management now will prevent significant cost and effort in the future. GSCA staff are hopeful that by targeting lands where the buckthorn population is still somewhat manageable that they can help native vegetation establish and avoid buckthorn infestations as seen elsewhere in Grey County.
Common buckthorn seed is easily spread via the droppings of wildlife. Once established the species forms extremely dense stands which effectively shade out native species. Additionally, a longer 'leaf-on' period than native species and the species' allelopathic properties, reduce native seed germination and reduce available resources. The presence of SAR on this property makes dealing with the buckthorn critically important. 
Grey Sauble Conservation (GSC) is one of 36 Conservation Authorities in the Province of Ontario. GSC owns and manages 11,734 hectares (28,995 acres) of scenic and environmentally sensitive lands in Grey and Bruce Counties. Their watershed encompasses both Lake Huron and Georgian Bay shorelines and a significant segment of the Niagara Escarpment. They strive to promote and undertake sustainable management of renewable natural resources and to provide responsible leadership to enhance biodiversity and environmental awareness. 
Learn more about Grey Sauble Conservation Authority by visiting their website here. 
To learn more about all the recipients of the Education and Community Action Microgrant Awards for Ontario, visit our ISC 10 Microgrants webpage.