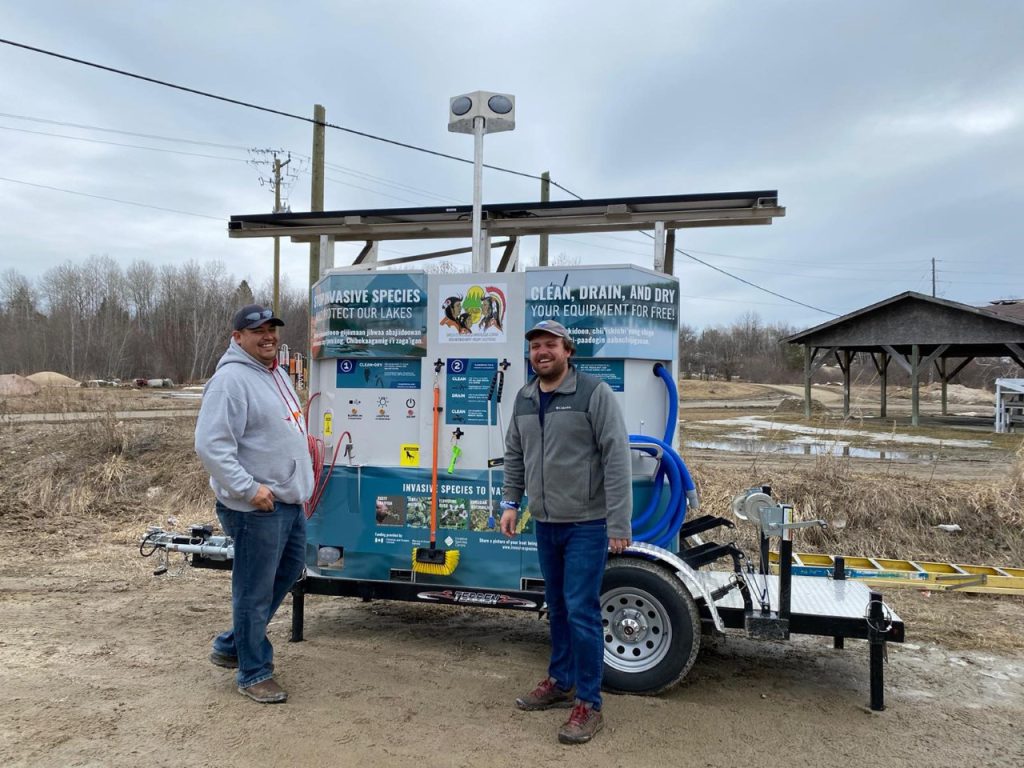 A CD3 mobile boat cleaning station has been installed at Iskatewizaagegan #39 Independent First Nation (Shoal Lake #39), the first of its kind in Ontario, and the third in Canada. The unit will support the community, and other watercraft users in preventing the introduction of aquatic invasive species such as zebra mussels, spiny waterflea, and aquatic plants.
An invasive species is an organism that causes, or is likely to cause, ecological, economic, or social harm in a new environment. Invasive species reduce the diversity of plant and animal species and can put native species at risk. They do this by crowding-out native species or competing for resources like light, water, and nutrients, preying on native species, or acting as carriers for diseases or parasites that could spread to native species. Learn more about the impacts of invasive species here.
Aquatic invasive species can pose a risk to the environment, including to species at risk. They can harm native species by outcompeting for food, carrying pathogens that cause illness and disease, reducing critical habitat, and preying on native species. For example, the mapleleaf mussel, considered a threatened species, is negatively affected by habitat changes caused by invasive species like zebra and quagga mussels. Another example, the invasive Phragmites plant, also alters wetlands, outcompeting native plants and changing the landscape, which reduces suitable habitat for fish and turtle species at risk. Find out more about aquatic invasive species here.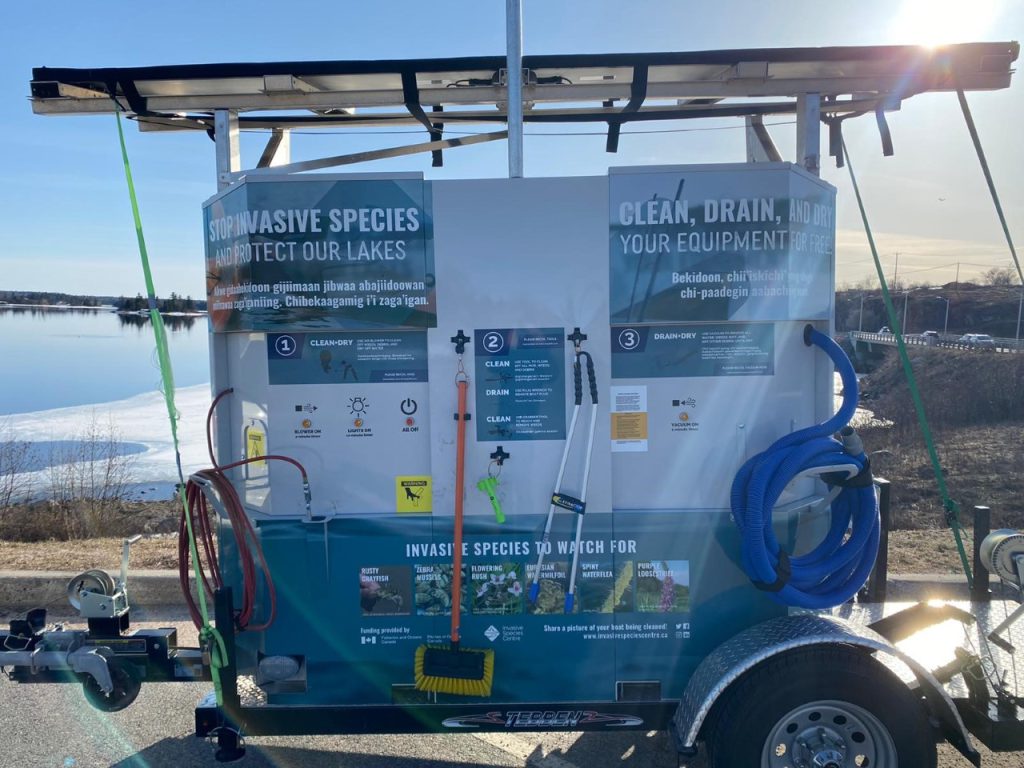 "Shoal Lake is an important waterbody because of its ecological importance and its reputation as an angling destination," says Colin Cassin, Invasive Species Policy Manager at the Invasive Species Centre. "Also, Northwestern Ontario is an important region for invasive species prevention because it is the 'leading edge' of the invasion for many aquatic invasive species that are already established in Southern and Central Ontario. We want to stop the spread of these species and with the high return on investment delivered through prevention, efforts like these will ensure our environment and economy are protected from the many costs of established invasive species."
The CD3 unit provides lake-goers with tools to thoroughly clean their watercraft and related equipment of aquatic invasive species. The unit contains a wet/dry vacuum, air compressor, three hand tools, and lighting for public use. The CD3 unit is powered by solar panels and its tools are remotely monitored by sensors. Even if you do not have a CD3 unit at your lake, remember to Clean, Drain, and Dry your watercraft and related equipment to prevent the spread of invasive species, as regulated in Ontario under the Invasive Species Act since January 1st, 2022.
This project, in partnership with Shoal Lake #39, the Ministry of Northern Development, Mines, Natural Resources and Forestry Kenora District, and the Invasive Species Centre, was made possible through funding support from Fisheries and Oceans Canada via the Canada Nature Fund for Aquatic Species at Risk.