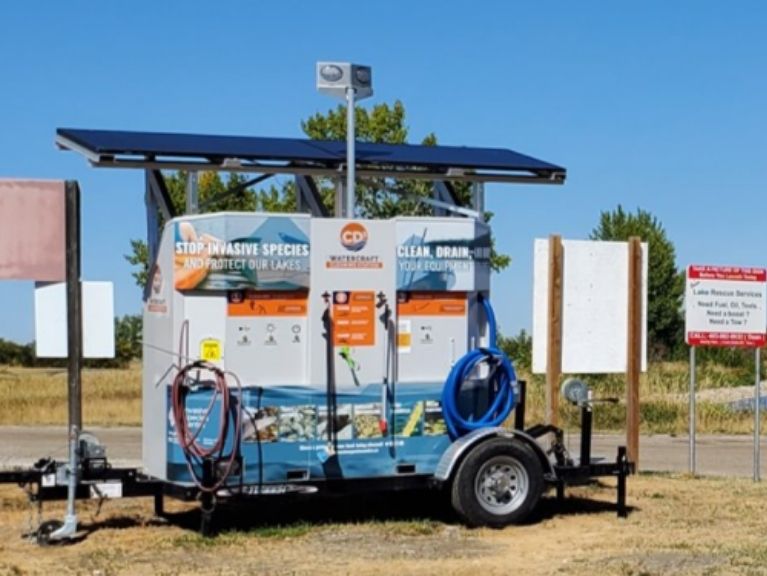 The Invasive Species Centre (ISC) has put a bow on another successful season of aquatic invasive species decontamination at Lake McGregor, Alberta. After deploying Canada's first CD3 mobile decontamination unit in 2020, the unit was redeployed at a Lake McGregor boat launch during summer 2021 with the chief goal of hindering Chinese mystery snail spread from the lake. The CD3 unit provided lake-goers with tools to thoroughly clean their watercraft and related equipment of aquatic invasive species.
The CD3 deployment is a part of a bigger effort to curb the spread of aquatic invasive species in order to protect species at risk throughout the Southern Prairie Priority Area. The CD3 unit contains a wet/dry vacuum, air compressor, 3 hand tools, and lighting for public use. The CD3 unit is powered by solar panels and its tools are remotely monitored by sensors.
During the 2021 season, we were pleased to see a marked increase in the use of the CD3 decontamination unit from last year. The hand tools were used a total of 305 times, pressurized air was used 483 times and the vacuum was used 217 times by users to clean their watercraft equipment. We hope to see even more success next summer. Even if you don't have a CD3 unit at your lake, remember to Clean, Drain, and Dry your watercraft and related equipment!
This project was made possible with guidance from Manitoba, Alberta and Saskatchewan Provincial Government partners, on-sight support from Bow River Irrigation District, and the funding support of the Department of Fisheries and Oceans Canada.