As part of the Invasive Species Centre's 10-Year Anniversary, the Invasive Species Centre has awarded 24 microgrants of $1,000 each to support invasive species education and community action in Ontario. We're featuring these projects throughout the year to help amplify the exciting microgrant project work being completed this year to support prevention and management of invasive species.
Current feature:
In June of 2021, volunteers for The Township of Woolwich Environmental Enhancement Committee (TWEEC) began removing invasive phragmites from the Elmira Nature Reserve.
Invasive phragmites is an aquatic plant that outcompetes and crowds out native plants. This creates large, monoculture (single plant) stands of phragmites that replace food sources for native species and whose rigid stalks hinder the movement of wildlife, leading to further biodiversity loss.
The eradication efforts by volunteers assisted in clearing the space for the development of the Elmira Nature Reserve. This project will restore the local ecosystem and expand public access to naturalized areas by planting native species and expanding and maintaining trails. This will increase biodiversity in the area and enhance education and recreational opportunities for the local community.
After researching the best methods to control invasive phragmites, TWEEC developed their removal plan.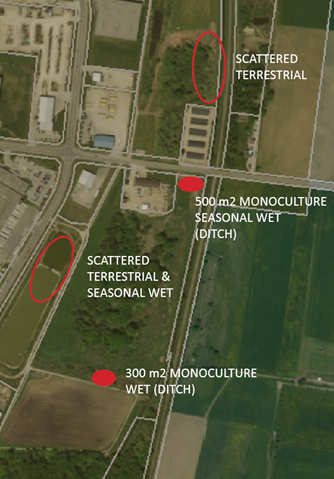 Starting in June, volunteers and a local contractor who donated machine time, worked to hand and machine remove invasive phragmites on the property. The removal of the dead stalks meant that herbicide could be used to treat new green shoots only, saving time and money. Herbicide spraying took place in mid-October.
Despite some bad weather, the team persevered and was able to eradicate the phragmites in the area. This will make way for native plants and stop the spread of invasive phragmites. Community volunteers involved in the project were educated about invasive phragmites as well as other invasive species and taught about how to identify and prevent them in their community. Ultimately, the project contributed to creating a recreational landscape where native species can flourish, attracting birds, insects and pollinators, without competition from invasive species.
The Township of Woolwich Environmental Enhancement Committee (TWEEC) is a partnership between Woolwich Healthy Communities and the Township of Woolwich. It is made up of volunteers dedicated to improving the natural environment in Woolwich and educating the community about its value. Formed in February 2004, their major effort is tree planting, and they've planted over 34,000 trees since 2011 with the participation of groups from local schools, service clubs, church groups and businesses.
Find out more about The Township of Woolwich Environmental Enhancement Committee here.
To learn more about all the recipients of the Education and Community Action Microgrant Awards for Ontario, visit our ISC 10 Microgrants webpage.